Vegan Chocolate Chip Cookie Dough Ice Cream Sandwiches
jump to recipe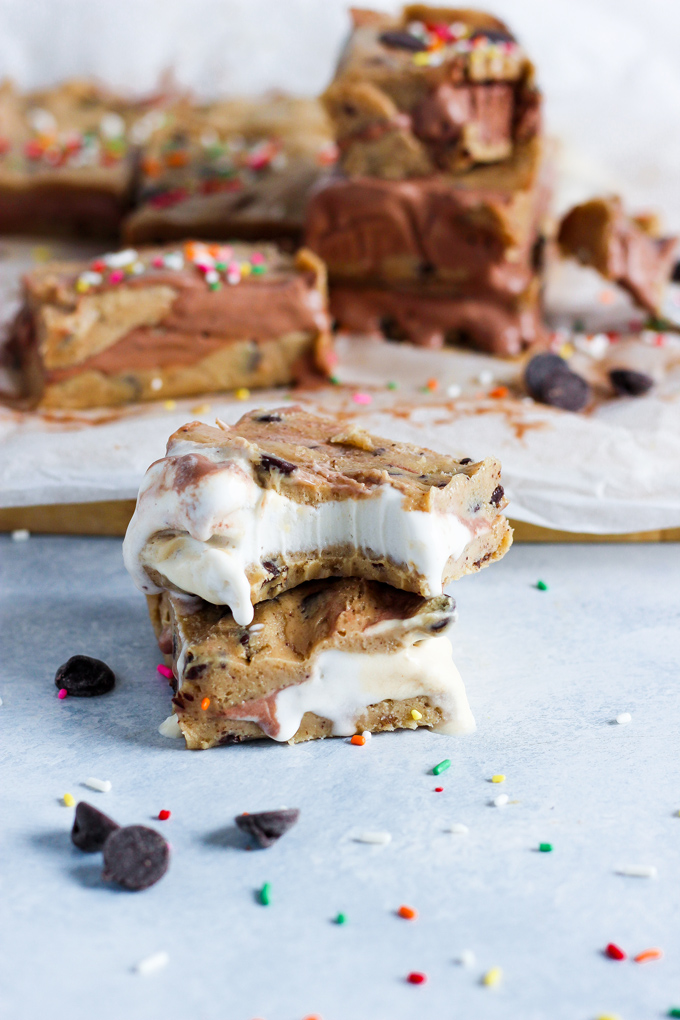 Today's blog post is sponsored by Nadamoo! Dairy-free ice cream made with organic coconut milk!*
Vegan Chocolate Chip Cookie Dough Ice Cream Sandwiches — Yes you read that correctly. I absolutely love cookie dough and I absolutely love ice cream so I put them together and created this sandwich using Nadamoo's The Rockiest Road and Birthday Cake Cookie Dough, two of their newest flavors. Let me tell you…Ah-mazing. Like literally mouth watering, finger licking good delicious. Their ice cream is so creamy, they use non-gmo ingredients, and make combinations you will salivate over. Not. Even. Kidding.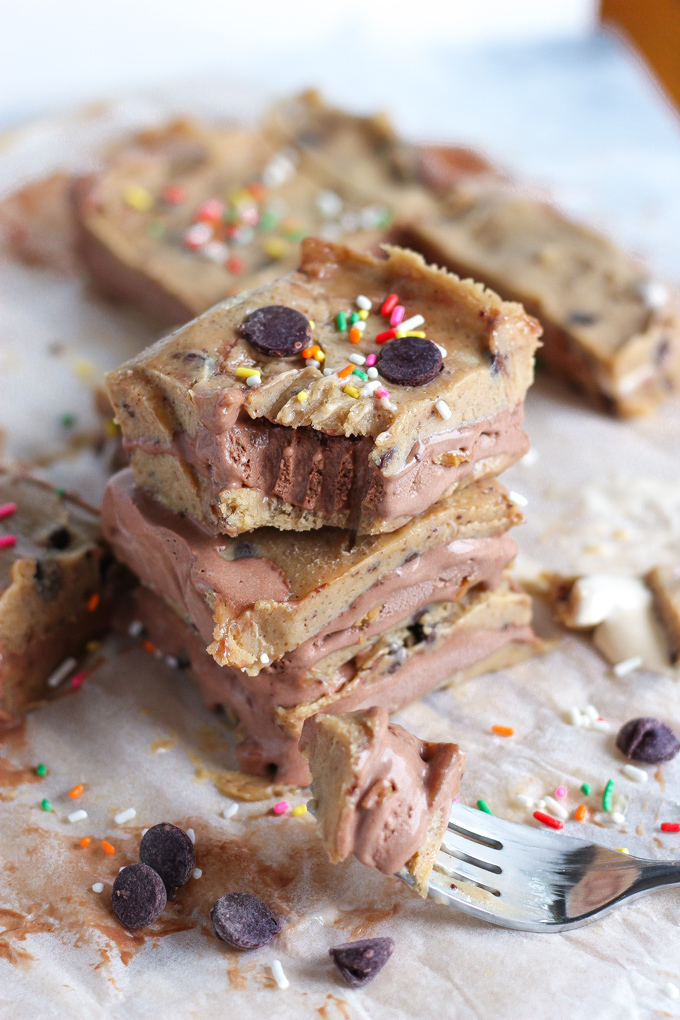 With spring here and the whether being warmer, treats like this are a must in my house. My son and husband LOVE when I make this stuff. It's messy, it's chocolatey, it's cookie dough (both outside and in), I mean what more can you ask for in a dessert?! What I really like about Nadamoo's ice cream is that it reminds me of soft serve. It's not overly frozen. Has anyone ever had an ice cream like that? Where you have to wait like hours for it to defrost? It can't be just me but anyway. I take it right out of the freezer, it's not runny but it's the perfect ice cream consistency. Even making these vegan chocolate chip cookie dough ice cream sandwiches, it was a match made in heaven. I used my Ultimate Vegan Cookie Dough recipe for this and it came out 100% fantastic, can't you tell *hair flip. LOL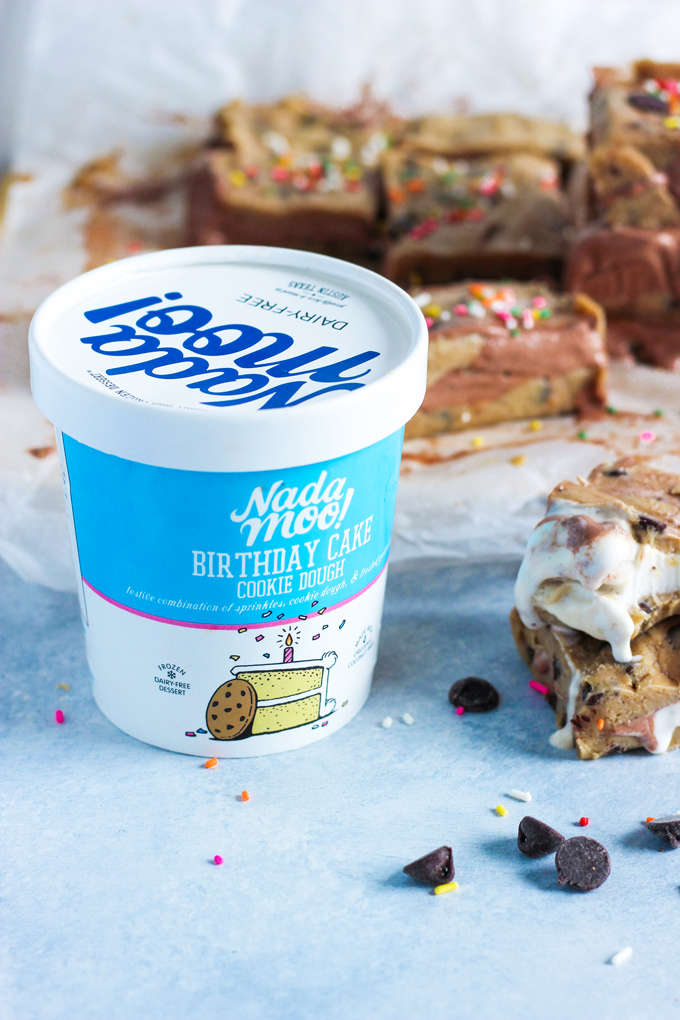 Let's talk about this Birthday Cake Cookie Dough for a sec…(taking a moment to drool) This frozen, dairy free dessert is a festive combination of sprinkles, cookie dough, and of course frosted yellow cake. Can you even deal with that! Now I've had my fair share of vegan dairy free ice creams, some good, some eh, some bleh, but this one is right on the money. It legit tastes like ice cream. And if we want people to steer clear of dairy products, products like Nadamoo have to be made because otherwise people get turned off and think the dairy free options are yucky business. But with this type of ice cream, honestly, no one would even know the difference.
Between you and me…I can eat a whole pint to the face. I know I know, you don't have to tell me.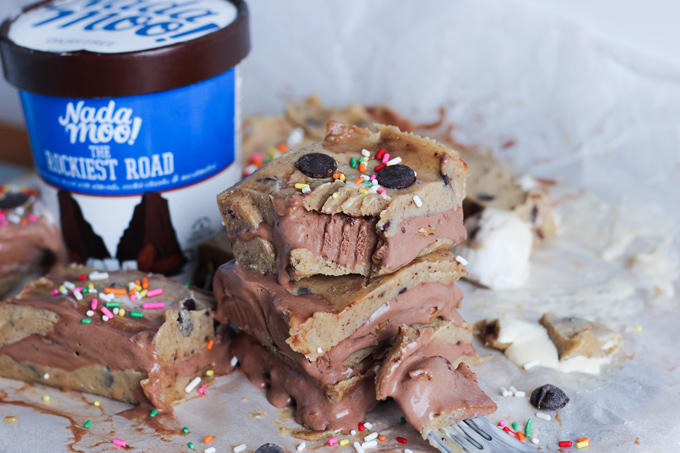 The Rockiest Road is soooo bomb!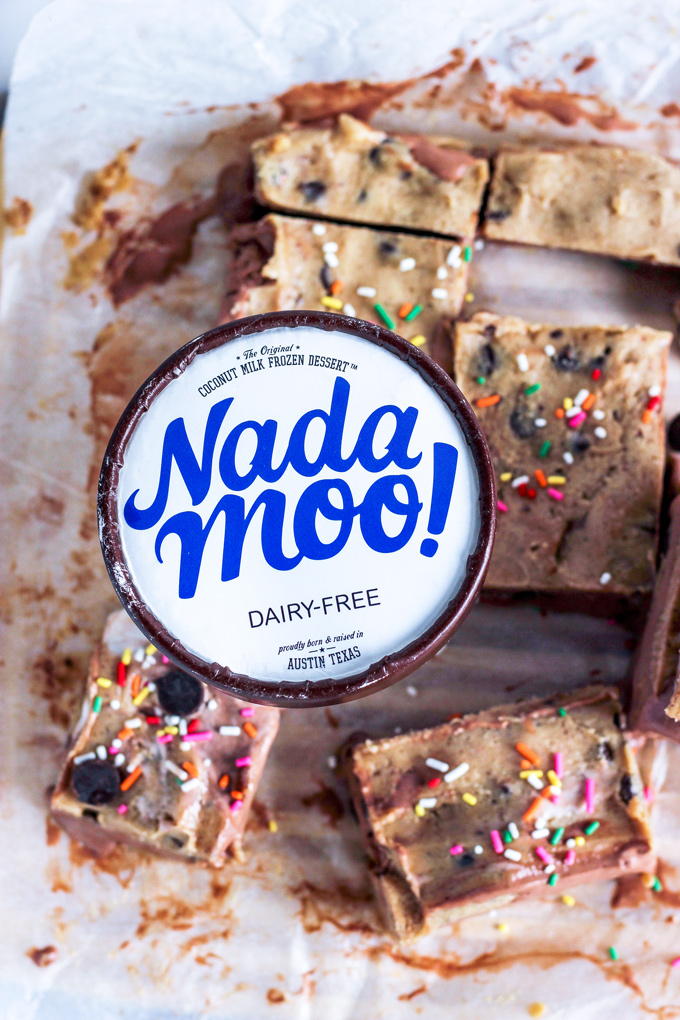 This yummy delight is a creamy chocolate mixed with almonds, cookie chunks (omg), and marshmallows. And let me tell ya, you get each one of those in every bite! They aren't cheap with the fixings. I don't like when I have to dig through an entire pint of ice cream to get like one cookie or chocolate chunk. I think to myself "If I wanted plain ice cream I would of bought plain ice cream". But this one is true to it's name as it is The Rockiest Road.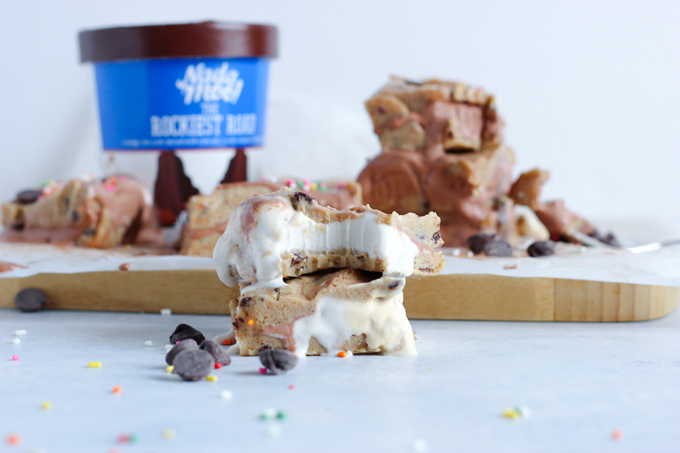 Making this recipe is not complicated. All you need is an 8×8″ baking dish, some parchment paper, cookie dough and the best dairy free ice cream from Nadamoo. The prep time is about 10 minutes. There's no cook time but you do have to let it set in the freezer for at least 2 hours although I suggest doing it overnight. The cookie dough is vegan so there is no raw egg or anything dairy in it that you have to worry about. It's completely guilt free and can be eaten raw or cooked! It's a triple win, you will not be disappointed.
You have a to Grab Life By the Coconuts! Thanks again Nadamoo for sponsoring this post! Make sure to visit their website Nadamoo.com to grab your own dairy free frozen treat!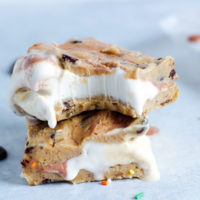 Vegan Chocolate Chip Cookie Dough Ice Cream Sandwiches
The most delicious vegan ice cream sandwiches filled with dairy free rocky road and birthday cake!
Ingredients:
Vegan Cookie Dough
1/2 c vegan butter, melted
1/2 c brown or coconut sugar
1 1/2 c whole wheat pastry flour or any flour of choice
1 tsp vanilla extract
1/4c almond milk
pinch of salt
1 c dairy free chocolate chips
Ice Cream Center
Directions:
Cream together butter and sugar.
Add in the rest of the ingredients and mix until well combined.
Fold in chocolate chips.
Line an 8x8" baking dish with parchment paper to where it's hanging over all 4 sides.
Press the cookie dough down evenly on the baking dish.
Spread out either ice cream over the first layer of cookie dough. Alternatively you can do one side one flavor and the other side a different flavor. Place in the freezer while you make another batch of the cookie dough.
Once your cookie dough is ready take the dish out of the freezer and gently press the cookie dough on top, spreading it out evenly. It doesn't have to be perfect.
Place back in the freezer and let set at least 2 hours or overnight. When ready to serve take out of the freezer and warm a large knife to help cut clean bars. Serve immediate and Enjoy!
You will have to make two batches of the above cookie dough recipe
You can sub the vegan butter for coconut oil.