Pumpkin Streusel Muffins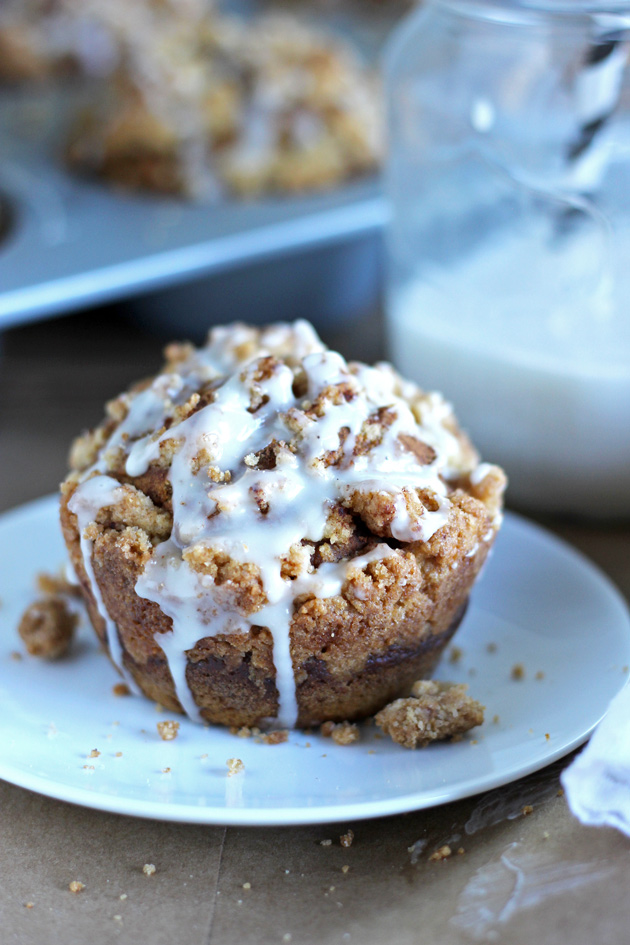 It's Sunday morning, and there ain't no better way to start this October morning than with a large Pumpkin Streusel Muffin in hand. You know what's up. Grab the coffee…
So here's the deal, I love pumpkin, it's fall, tis the season, I love crumbs, I think they're fantastic and also icing, like come on, you cannot have streusel without icing!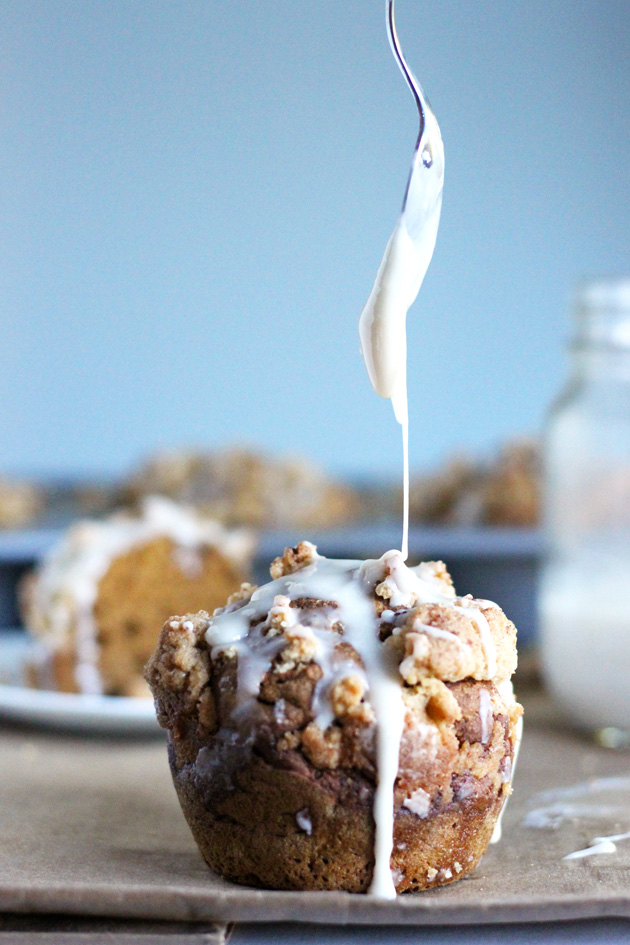 I'm so glad the weather is finally cooling up and becoming less humid. I can't stand retiring my flip-flops for the season and being uncomfortably hot in grimy weather having to wear my boots. And I can't just pop out with my pumpkin stuff because it needs to feel like fall to me. I can't fake it. I like warm, chai flavors during this time of year. It's like having a hot bowl of soup on a swamp ass kinda day. Whomp to the Whomp, right, Who wants that?!
These muffins. These. Freakin'. Muffins. They're vegan, moist, warm, pumpkin-y, fall, sweet, flavorful, amazing and just a fantastic pumpkin score! I can coo all day over them but then that'll get us no where.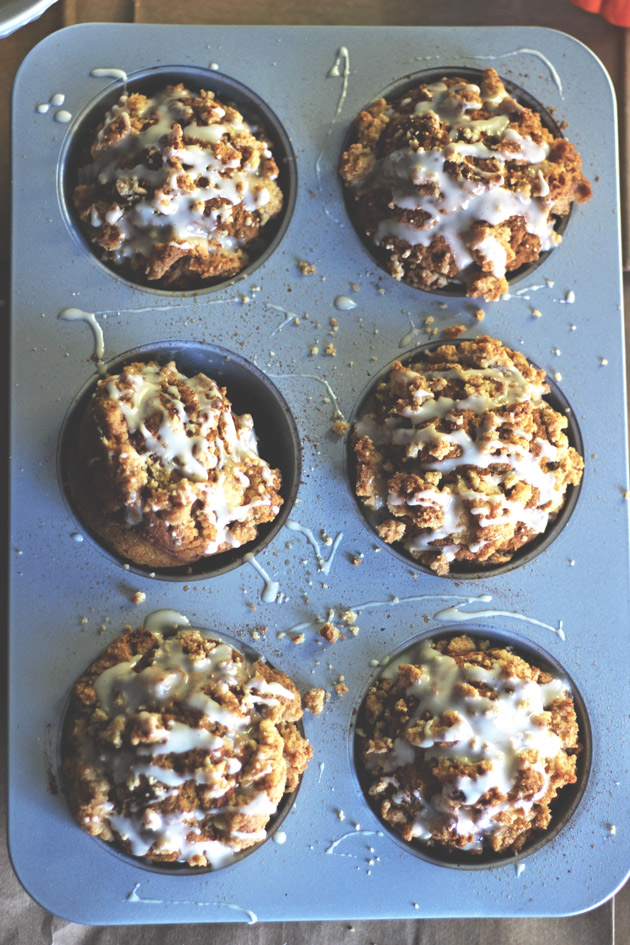 Usually the muffin itself tends to be on the less sweeter side, which I like. What makes muffins sweet is either blueberries added, or chocolate chips, and even coconut. The streusel in this love muffin is what makes it sweet, but not overpowering. It's like the perfect amount of sweetness. What I don't like is too sweet, where you feel like you're eating just sugar. This recipe does have some sugar in but not much and you can even go without the streusel if it really bothers you but I highly, like highly recommend you made at least half the batch with streusel and the icing, just for fun and perhaps some dabbling. No one is looking. 😉
On Saturday's or Sunday's I like to make snacks for the week. At least that's the goal anyway. This week it's these babies. Last week it was coconut yogurt with fruit and some non dairy chocolate chips because well, I'm totes cool like that. The week before was an assortment of chia puddings. I make it for all of us in the house so we can grab healthier things to snack on. I'm a snacker, not the best thing to be doing but it could be worse right? Hello I am a responsible sweet toother remember!!!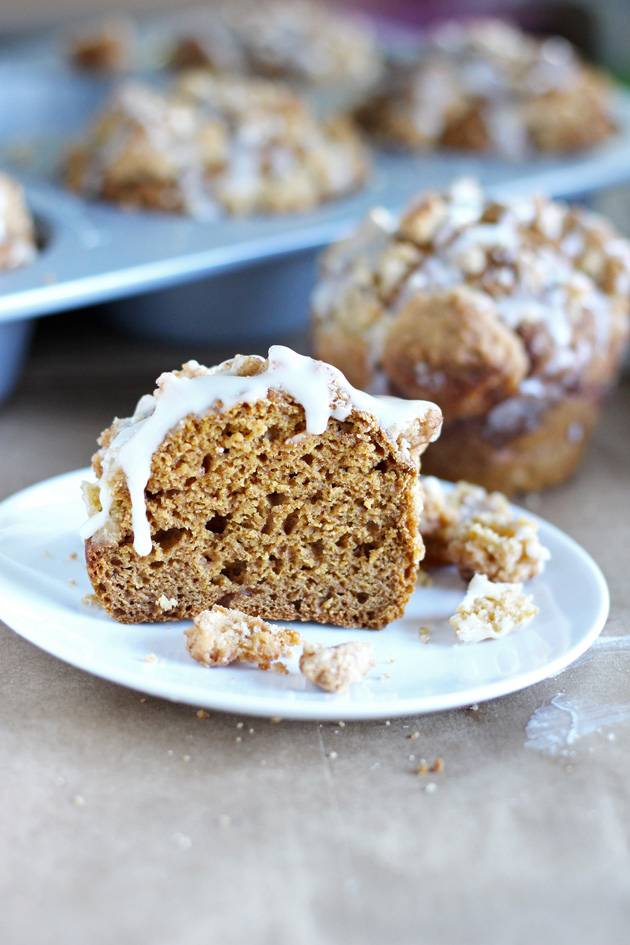 The ingredients in this recipe are fairly simple. I didn't have to use any egg replacers, no oil or anything like that. The icing is just a splurge and you don't even have to put that much. They're quite the uncomplicated muffin. Topped with a crunchy streusel and vanilla glaze, perfect for that cool fall breakfast or dessert that is sure to win over the hearts of many. And yes, you have to share. Well, I guess that's debatable.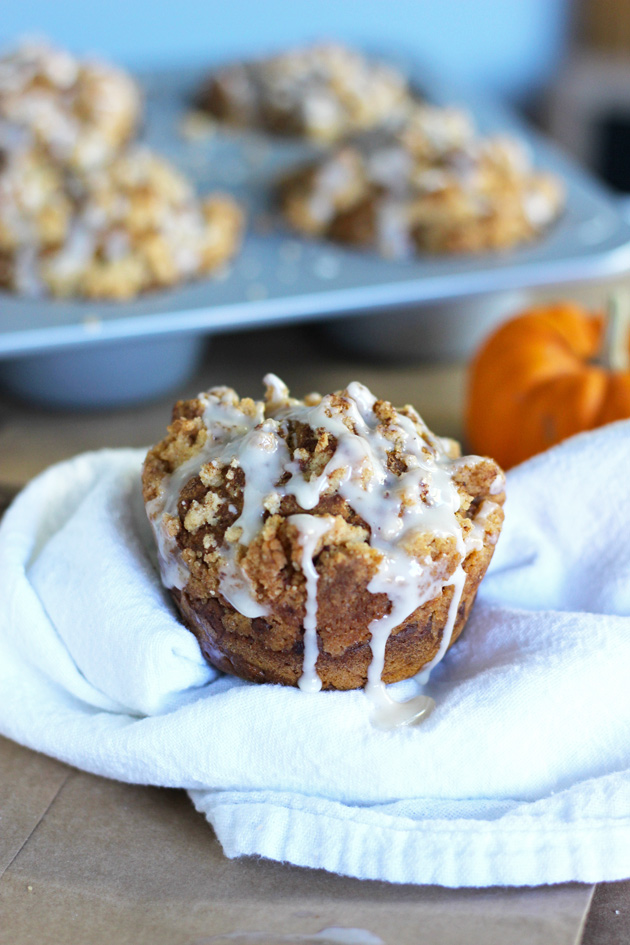 I used a 6 cup muffin tin because I wanted my muffins on the larger side, but feel free to use a smaller 12 cup muffin tin if you'd like or even a mini muffin tin. Those would be easy peasy to grab and go, so just keep that in mind. These will hold up well about 5 days either in the fridge or out of the fridge, it depends on your preference.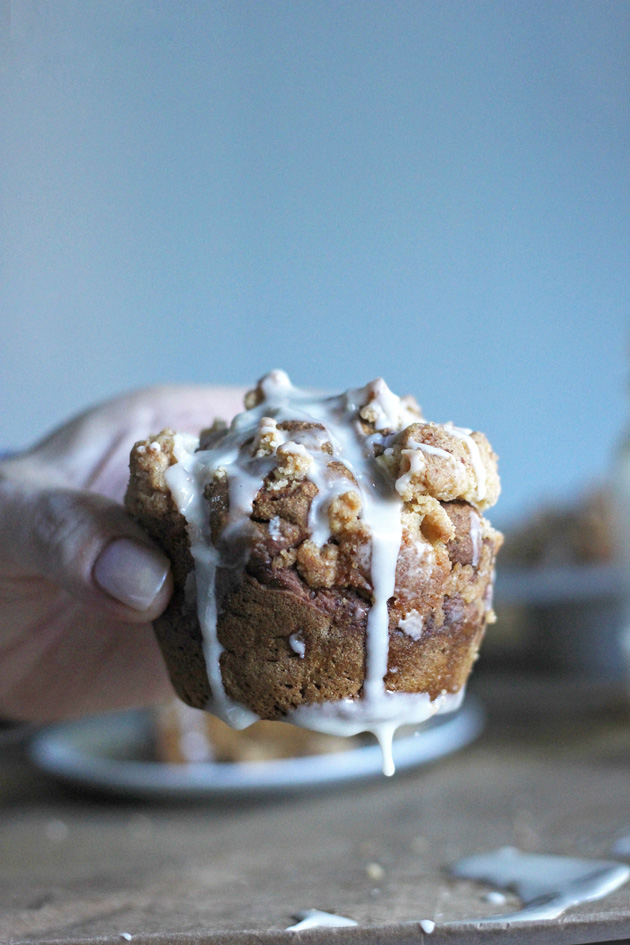 I like to warm mine up again for a few minutes in the oven the next day(s). I don't own a micro but you can heat it up in there too for like a minute I guess. When I did own a microwave I always thought it stripped my food of any flavor possible (plus the nutrients) and I never liked the texture I was left with. So the oven works better for me because all stays intact. Either way, do what's easiest for you. Go get yo Pumpkin Streusel Muffins on. 🙂 Holla!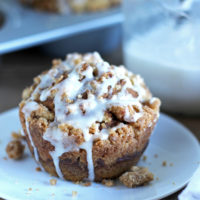 Pumpkin Streusel Muffins
These muffins are topped with a crunchy streusel and sweet vanilla glaze. Perfect for that cool fall morning breakfast or dessert that is sure to win over the hearts of many.
Ingredients:
2 cups whole wheat pastry flour
2 tsp baking powder
1 tsp baking soda
pinch of salt
1 tbsp pumpkin spice
1 tsp cinnamon
1 cup pumpkin puree
1/4 cup organic sugar, (I use Florida Crystals) or coconut sugar
1 cup almond milk, unsweetened
Streusel Topping
4 tbsp coconut butter, melted
1/4 cup organic sugar
1/2 cup whole wheat pastry flour
1 cup powdered sugar
2 tbsp vanilla almond milk
Vanilla Glaze
1 cup powdered sugar
2 tbsp vanilla almond milk
Directions:
Preheat oven to 350F and spray 6 cup muffin tin with coconut oil spray or non stick cooking spray.
Sift together the dry ingredients, flour, baking soda, baking powder, pumpkin spice, cinnamon and salt.
In a separate bowl, using a hand mixer, beat together pumpkin puree, sugar and almond milk, mixing well until creamy.
Fold in wet ingredients to the dry ingredients until well combined. Do not over mix.
Evenly distribute muffin batter between the 6 muffin cups.
To make the streusel, in a small bowl mix melted butter, sugar and whole wheat pastry flour. It will become crumbly.
Place the crumbs on top of the ready to be baked muffins. Place in the oven and bake for 40 minutes.
Once muffins are done, let cool in pan (not on the stove top) for 10 minutes.
Drizzle with vanilla glaze.
Serve and Enjoy! 🙂
-The coconut butter I use is from Earths Balance not to be confused with cacao butter. However, any vegan butter will work. -Any nut milk can be subbed, I would suggest coconut milk. -Add milk accordingly to icing to desired consistency. -Bake time may vary as each oven is different, so check them at the 25 minute mark to see where they are at. You want them golden and the streusel to be crunchy not burned or else the streusel will become too hard. -You can make smaller muffins using a 12 muffin cup or mini muffin tin. Be mindful of the timing as well, being that they're smaller may require less cook time. Stores well in the fridge or out of the fridge for up to 5 days.