Toasted Coconut Cheesecake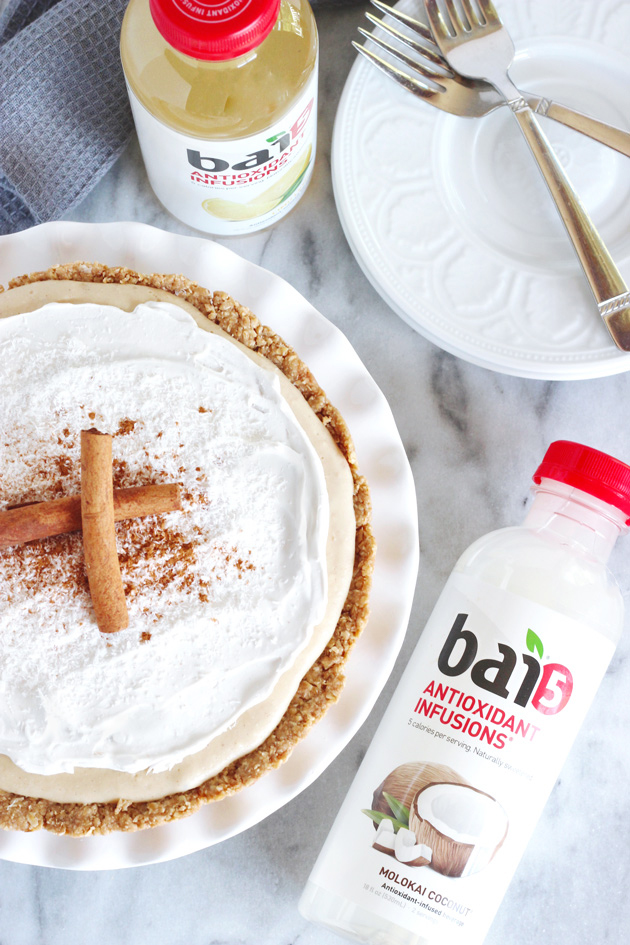 Hellooo Toasted Coconut Cheesecake, where have you been all my life?!?!
I'm just going to hit you up with all the goodness right now. It's vegan, no bake, refined sugar free, naturally sweet, and loaded with antioxidants that will knock your healthy socks off.
Things are about to get super coco-nutty up in here today. First, it's the weekend, Whoop Whoop! I don't know why I even care, I still have things to do but that's besides the point. There is just something about the weekend that screams, "You can wear your pajamas all day if you want to"! Well, it screams that to me, am I alone in this? 🙂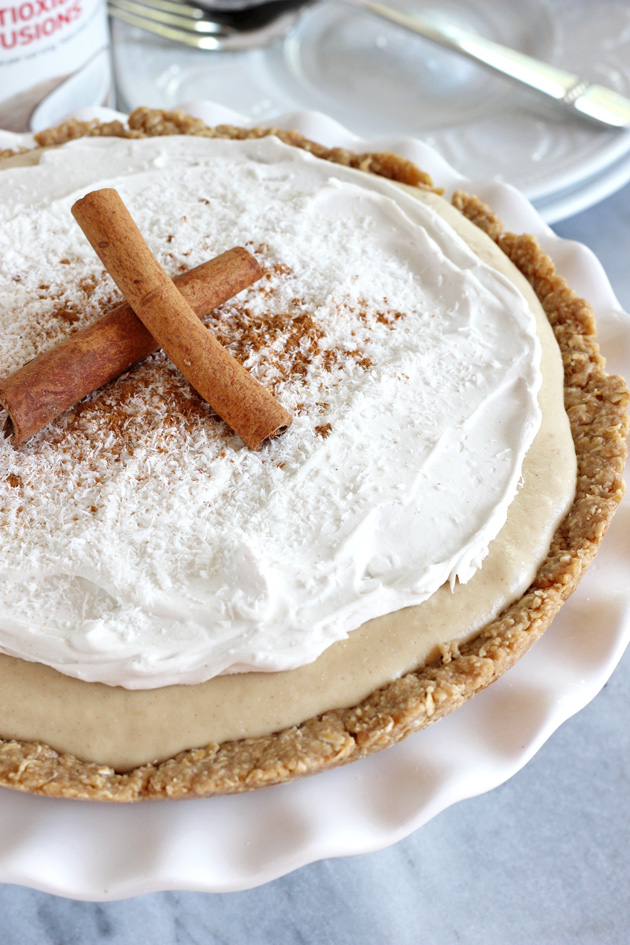 Today's post is sponsored by the Refreshingly Delicious, Antioxidant Infused Bai5! With only 5 calories per serving, 1 gram of sugar, and being naturally sweet, it's for sure, my kind of beverage. 😉 They have so many flavors to choose from. Go get your antioxidants on!
---
So let me tell you how this cake came about. You know it's been pretty cool in the northeast lately, so all things comfort come to mind on the home/kitchen front. I wanted something toasted, something coconut, something cheesecake-y. I reached in the fridge and grabbed my Bai5 Molokai Coconut and Bai5 Limu Lemon beverages. I thought, boom, here it is, this will give my cheesecake the flavor it needs. BONUS~~~> will also add to the nutritional content in an awesome way…#Winning!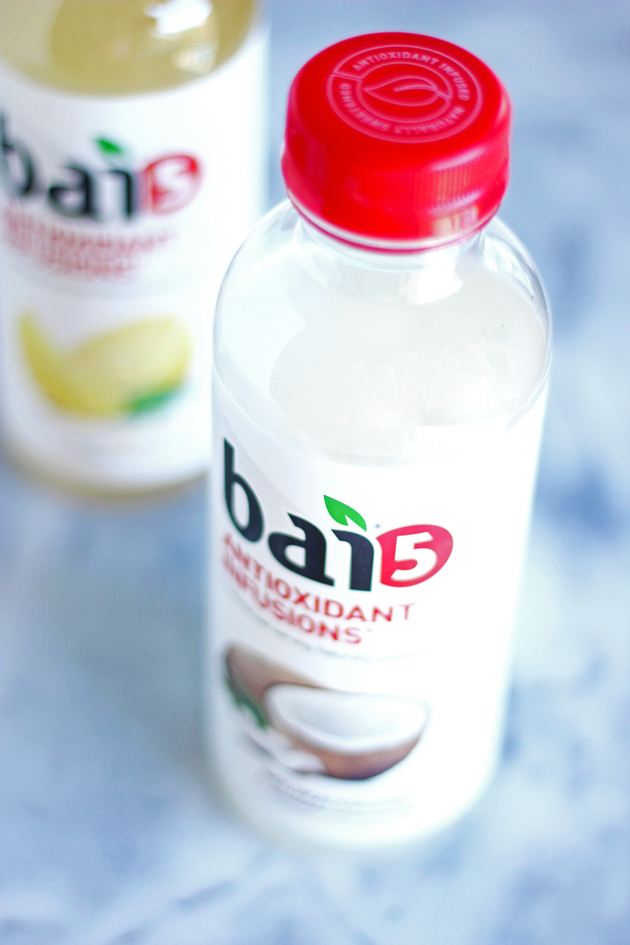 I wanted this coconut sensation to resemble a real New York cheesecake type texture so I went with using oat flour as the base in the crust. It gives it a sort of baked texture without being baked.
It's a very creamy cake that's subtly sweet. It has the texture of a cheesecake but resembles the taste of coconut custard pie. Again, tis the season! It's brilliant with a cup of joe (not a guy named Joe…Well, that's up to you). 😀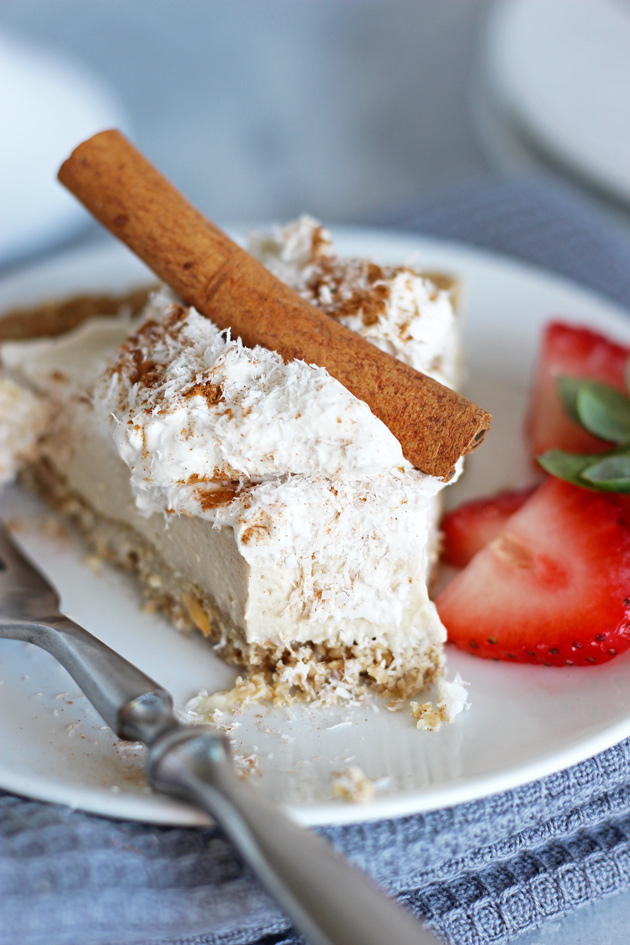 This is best served 2 hours after being placed in the freezer. Usually with my no bake cakes, I leave them in 4 hours or more but I didn't want this one completely frozen, then have it thawed. I wanted it to firm up just right, then I stored it in the fridge to keep the texture as is.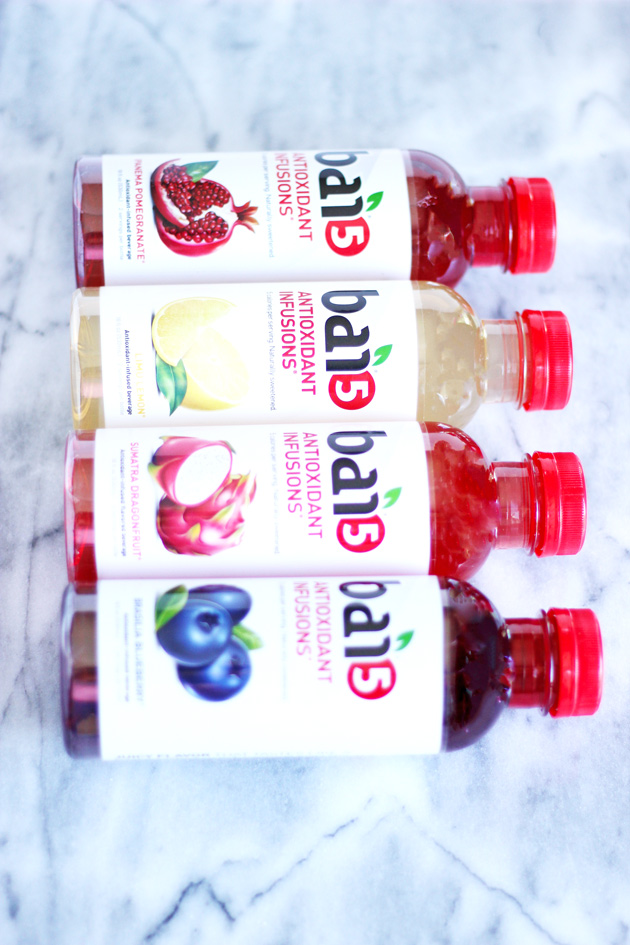 It's not a complex cake. I would suggest giving it a go before the holidays so you can taste test it. There's always a reason or excuse for more healthy cake, lol. The holidays are coming people, it's real and it's happening!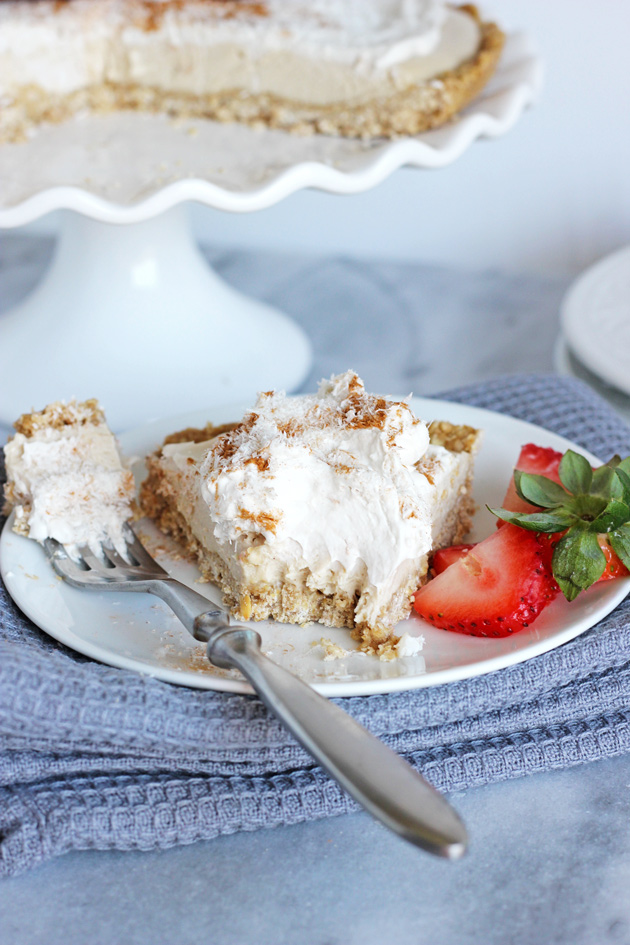 Why is this cake a must? Let's go over it. It's made with cashews and coconut which we know are both a good source of protein and healthy fats. (Click here for my Coconut Whip Cream recipe.) Added to the list of nutritional greatness, is Bai5 with their bold flavor of real fruit that is not only good for you, but taste good too. Cyber high fives for everyone!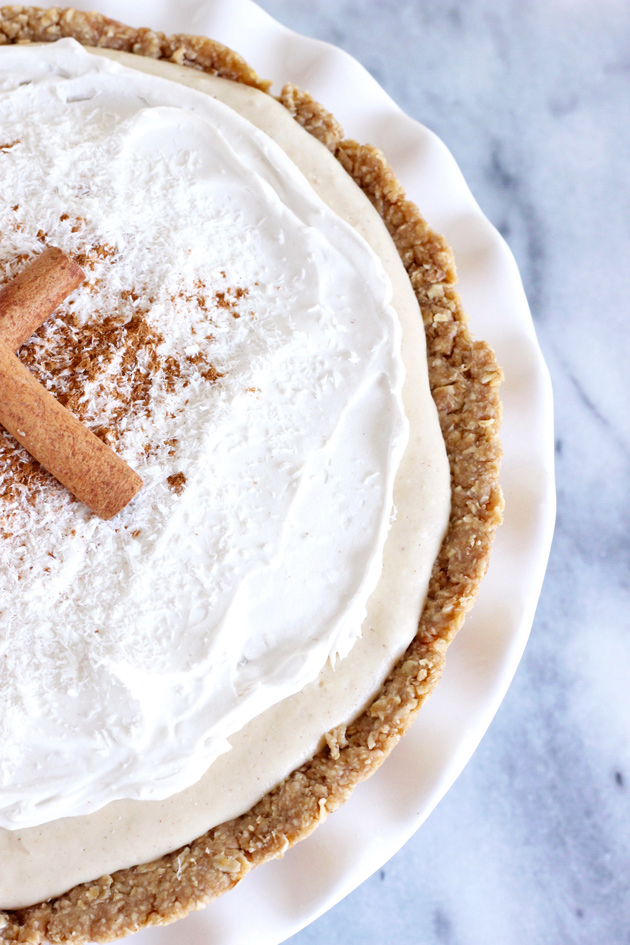 Thank you Bai5 for sponsoring today's post!
Crust recipe adapted from TheVegan8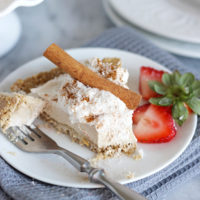 Toasted Coconut Cheesecake
Creamy, fluffy, delicious, healthy, vegan and totes coco-nutty. Naturally Sweet!
Ingredients:
The Crust
1 1/2 cup oat flour
1/4 cup toasted shredded coconut
4 1/2 tbsp maple or brown rice syrup
3 tbsp melted coconut manna (butter)
2 tbsp Bai5 Molokai Coconut
2 tsp cinnamon
Cheesecake Filling
2 cups cashews soaked 2-4 hours
3/4 cup full fat coconut milk
1/2 cup coconut manna (butter)
1/4 cup maple syrup or agave nectar
1 tbsp Bai5 Limu Lemon
2 tbsp Bai5 Molokai Coconut
2 tsp vanilla extract
1/4 cup almond milk
1/4 cup toasted shredded coconut
2 tsp cinnamon
pinch of salt
Toppings
Coconut Whipped Cream
Shredded Coconut
Cinnamon
Cinnamon sticks and Strawberries to garnish
Directions:
Toasted Coconut
Preheat oven to 350F. Line a baking sheet with parchment paper and place all shredded coconut needed for the recipe on the baking sheet. Toast for 10 minutes until coconut is slightly browned. Divide accordingly.
For the Crust
Line 8" baking dish with plastic wrap. Set aside while you prepare the crust.
To make oat flour, pour a little more than 2 cups of rolled oats into a blender or processor and run until a find powder forms.
In a large bowl combine all ingredients and mix until well combined. It will have a wet, crumbly texture. Make sure the coconut manna is melted. It will turn brownish in color. I melt mine in the oven and sometimes it gets a little burnt but it adds in the toasted-ness of this recipe, so don't worry if that happens.
Press the dough out into prepared baking dish, evenly distributing and flattening around the edges.
Place in the freezer while you prepare the filling.
Cheesecake Filling
Rinse and drain cashews well.
Place all ingredients in a blender and run until smooth.
Add in more liquid if need be.
Adjust taste and sweetness according to your liking.
Pour filling into prepared crust and place in the freezer for 2 hours to set.
Once set, remove from freezer, top with coconut cream, shredded coconut, cinnamon, and strawberries or any other fruit if desired.
Slice, Serve and Enjoy! 🙂
Store in the fridge for up to 4 days in an air tight container.
Coconut Whipped Cream Recipe here
-Coconut Manna is the meat of mature coconuts. It's 60% oil plus meat where as Coconut Oil is just oil. They look the same but differ in taste and consistency. Coconut Manna is sweeter and when melted turns brownish in color. This can be eaten plain, on toast, in smoothies, or anything else you can think of. -If you want a smoother filling consistency, add a liquid like
Bai5
or almond milk by the table spoon until desired. You don't want it too runny. Smooth yet somewhat thick but not too thick.