Toasted Avocado and Bean Pitas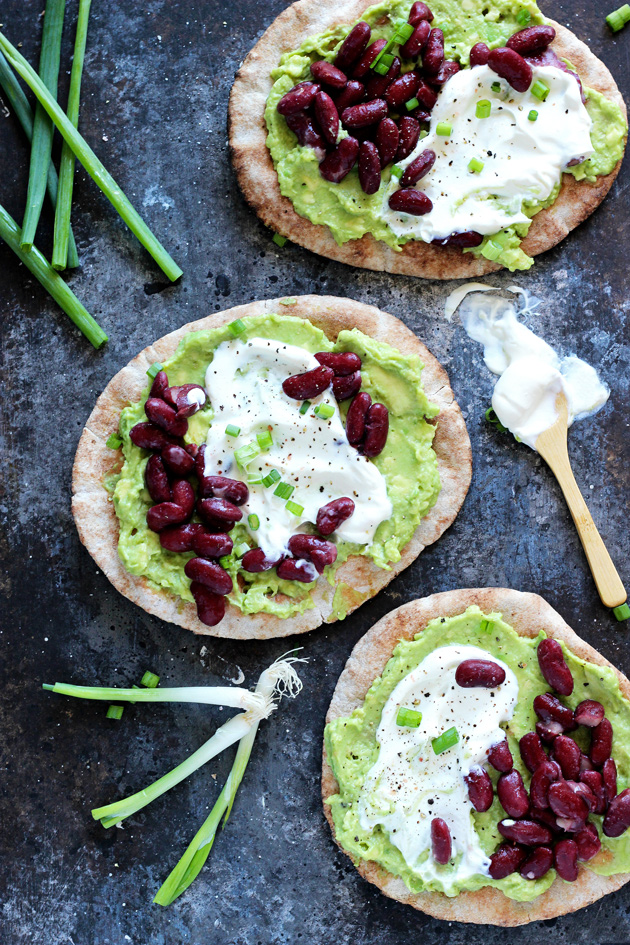 Happy freakin' Monday people! And yes, it's a happy one indeed, and why you ask? Well because I am officially done with my first trimester of school and onto winter break I go. Now I know I'm not a twenty something year old, more like a 30 something year old, but I'm still looking forward to less of a work load for the next couple of weeks.
Last week I didn't post on the blog because I was really focusing on getting all my final papers in and studying hard for my exams. Right now my GPA is streaming between a 3.5 to 4.0 average. But we shall see on which side that ball I land when I get my final grades the end of this week. Either way, not too shabby. Being older I have more of an appreciation for learning.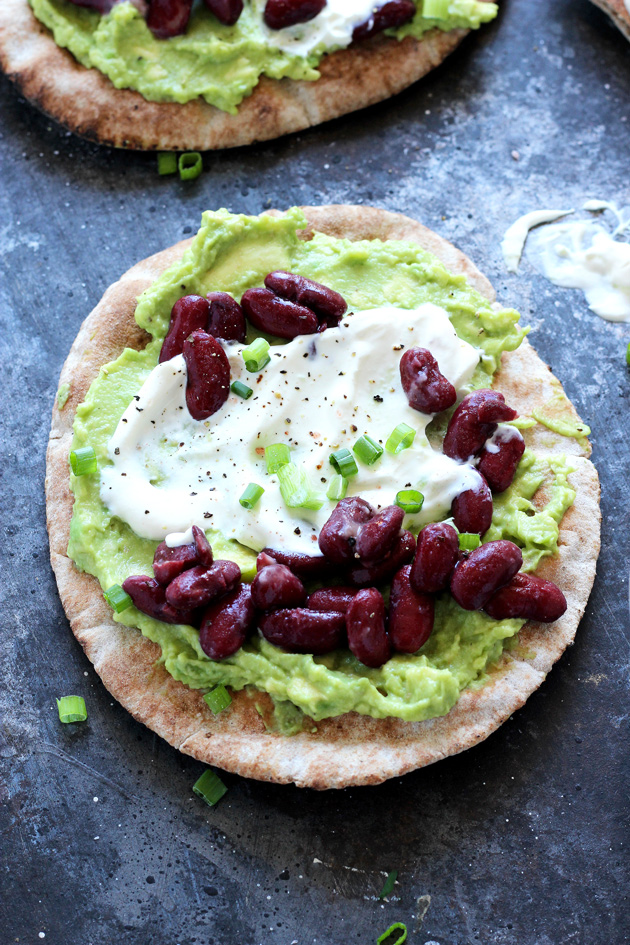 Now that I have all this time off, I'm really going to dedicate myself to my blog. I have a bunch of cool things in store for this month. I absolutely love this time of year. Like I'm totes cray about it. With all the shit going on in the world we need to keep happiness alive, keep the joy and laughter coming in. We all need it, the world needs it.
Speaking of joy, have you seen these Toasted Avocado and Bean Pitas? It's thee simplest thing to make yet so tasty, healthy and tasty. Oh wait did I say that already? Whoops (lol) ok what I meant to say was and they're super delicious. But the word delicious is such an understatement sometimes. It gets thrown around too easily. In all honesty though, this is delicious.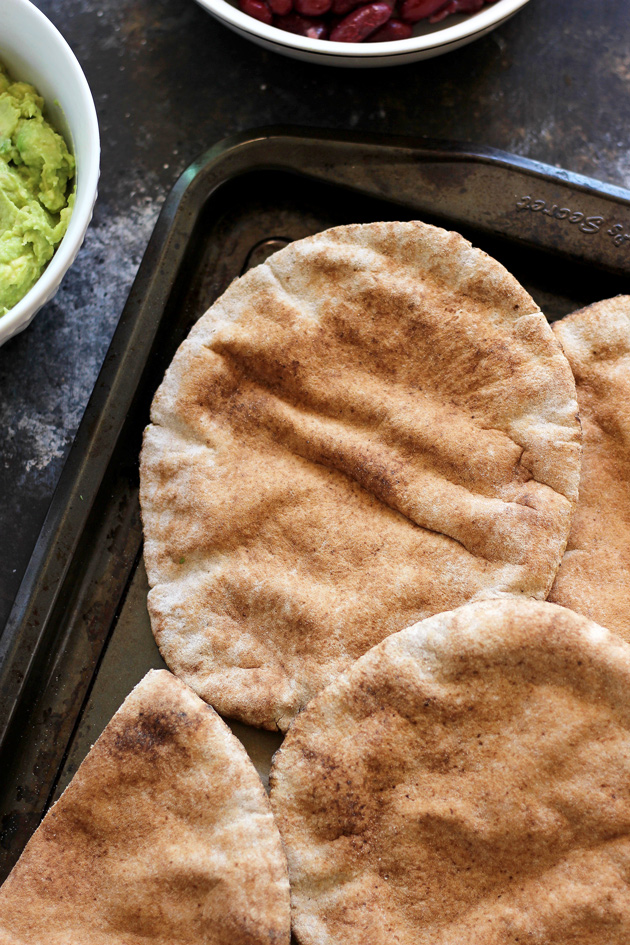 I like to slightly toast my pitas otherwise they will get super crisp and too hard. Nothing like an over toasted pita, am-i-rite!? Not first world problems I know but it can be a bit of a bummer when you bite into something and it cracks a tooth. Not my kinda thang. So slightly toasted it is, just to get some warmth into them.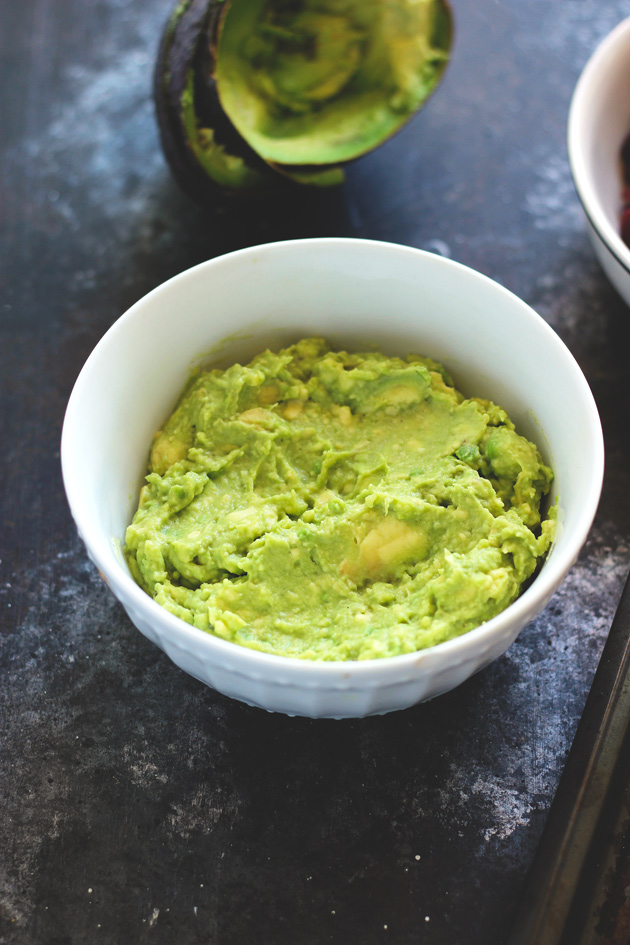 I didn't make guacamole. I just took about 4 nicely riped avocados (luck was on my side) and I mashed them up using a fork. I added seasonings like salt, pepper, and garlic powder to give it some added yummy flavor. Avocados are great with just about anything, plus they're the healthy fats we need in our systems. Did you know an avocado a day can keep the doctor away? Too cliche? Too corny? Ahh well I'm in a corny cheerful mood. 😉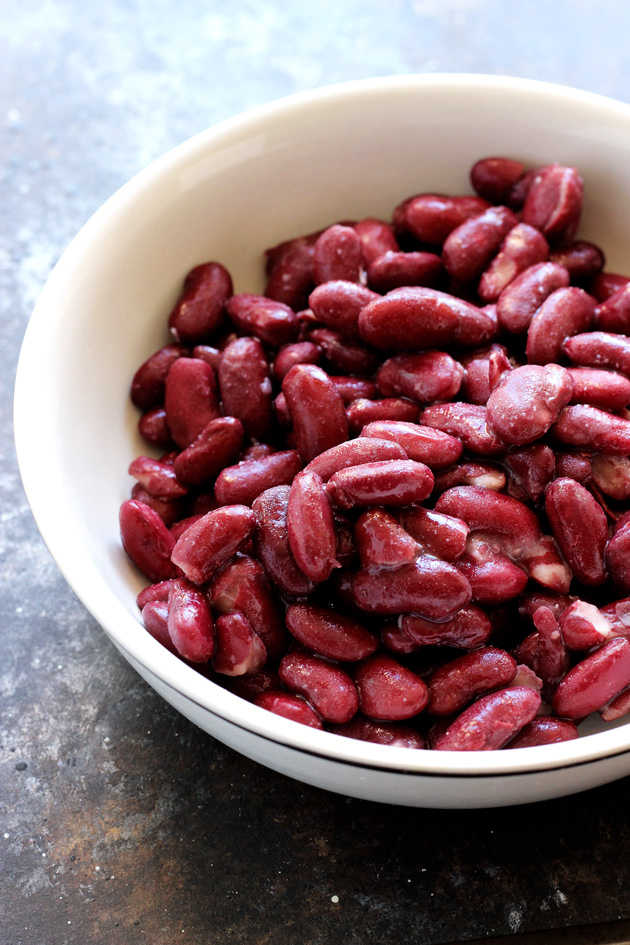 Now let's talk BEANS! Beans are a great, and I mean a great source of protein for vegans/vegetarians or anyone for that matter. Eating too many beans can lead to some unpleasant aromas (if you get what I'm saying), so I tend to stay with a serving of about 1/4th to 1/3rd cup in a meal. My tummy can get a tad rumbly if I go over board on the bean wagon. But they are sooo good for you on so many levels. And not just red kidney beans, mung beans are especially amaze, garbanzo beans, white beans, black beans…you see where I'm going with this? 🤗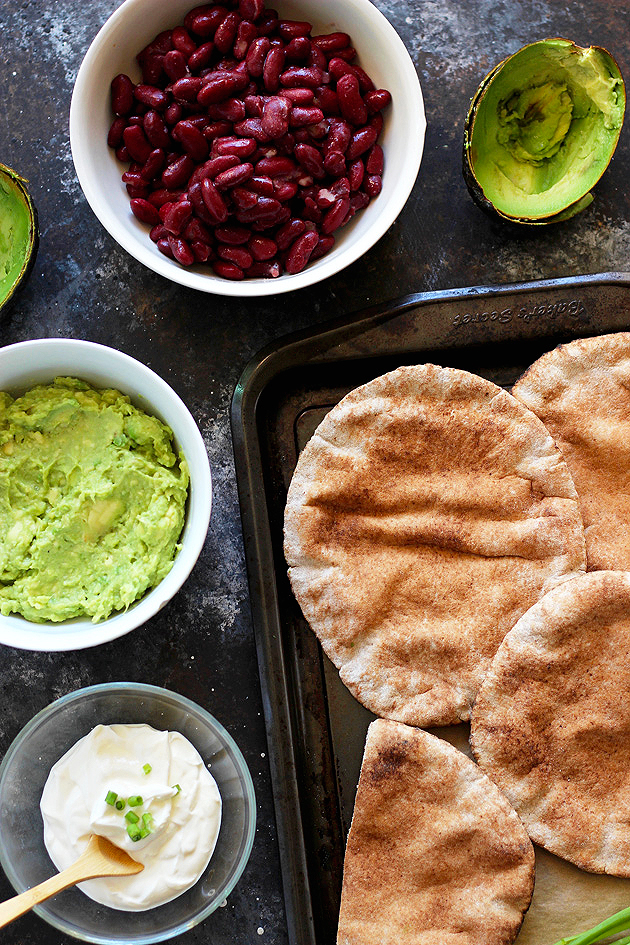 hashtag droolfest! 😍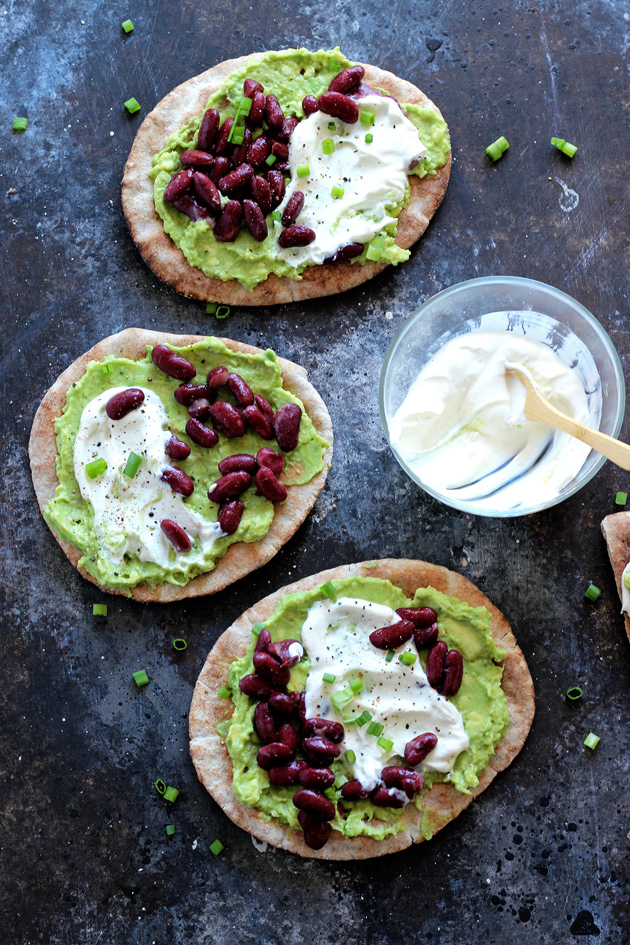 You can tell from the pictures how easy this comes together. It's a generous slab of avocado here, a dollop of vegan sour cream there, kidney beans, salt and pepper to taste, with some green onions cruising about. These four ingredients were kinda sorta meant to be together in this way. Warning: it will be hard to have just one, so my advice…get small pitas. 🙂 I know I know, I think of everything. I'm a hungry gal and I can overeat on healthy.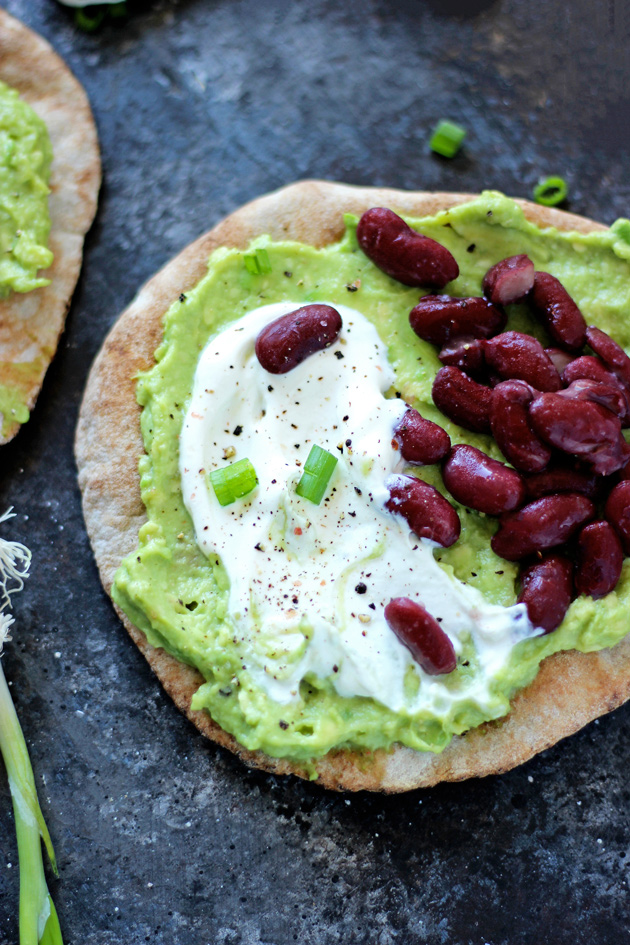 This is one of the things I'll make for my son's lunch. Obvi I use smaller pitas and sometimes I'll use hummus instead of the vegan sour cream, and he Loves it. I feel they are a good snack or lunch, depending on the size you choose. They can always be an option for dinner too! Add a little tempeh with grilled veggies to the mix and you'll have yourself a sizzling fajita! 💃
Now go enjoy your Toasted Avocado and Bean Pitas people! 🙂
Ps…I just figured out how to use emojis in WordPress, forgive me if I tend to overuse them. I'm known to be very emoji expressive. 🙃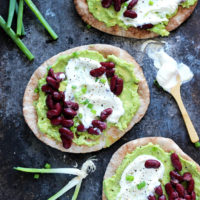 Toasted Avocado and Bean Pitas
These Toasty Avocado and Bean Pitas will keep you warm and full on those chilly winter days.
Ingredients:
4 pitas of choice, I used wholewheat. Make sure they're vegan
1, 15oz can red kidney beans
4 ripe avocados
dollop of vegan sour cream per pita
handful of green onions or scallions
salt/pepper to taste
2 teaspoons garlic powder, divided, plus more to taste
Directions:
The Pitas
Preheat oven to 325F and line baking sheet with parchment paper.
Place pitas on baking sheet and let them get warm for about 10 minutes. Remember, you don't want them too crispy, unless you like them like that then go ahead and leave them in longer.
While the pitas are toasting in the oven, heat up the beans in a small fry pan and add seasonings like salt, pepper, and garlic powder. Leave on the fry pan about 5-6 minutes, just until warm.
Mash up 4 avocados. Add seasonings salt, pepper and garlic powder, mix well.
Once your pitas are toasty, and the beans are ready you can assemble accordingly.
The Assemble
Take a generous spoonful of mashed avocado and spread it across your warm, toasty pita.
Throw on about 1/4 to 1/3 cup of beans to each pita.
Dollop each pita with a serving of vegan sour cream or hummus.
Sprinkle with green onions or scallions, season with salt/pepper, and Enjoy!😊
Make sure your pitas are organic and vegan.
You can sub any bean of choice.
Swap out the vegan sour cream for hummus.
Don't over toast your pitas.