Vegan Banana Foster Pancakes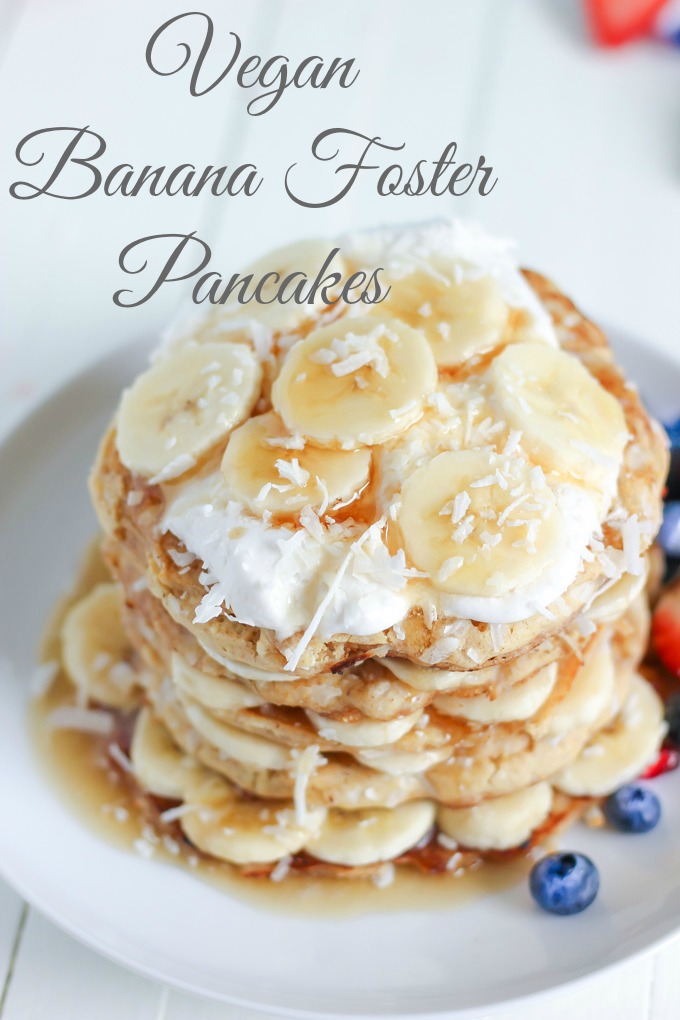 We are well into April and Easter is this Sunday. Can you even believe it??? Already? How time freakin' flies. Anyway, for this upcoming holiday I thought it would be a nice treat to have you all wake up to this delicious stack of Vegan Banana Foster Pancakes! Let's let that sink in for a minute because I know it's hard to fathom that one can enjoy such amazingness in one sitting – for breakfast – on Easter. I feel your excitment.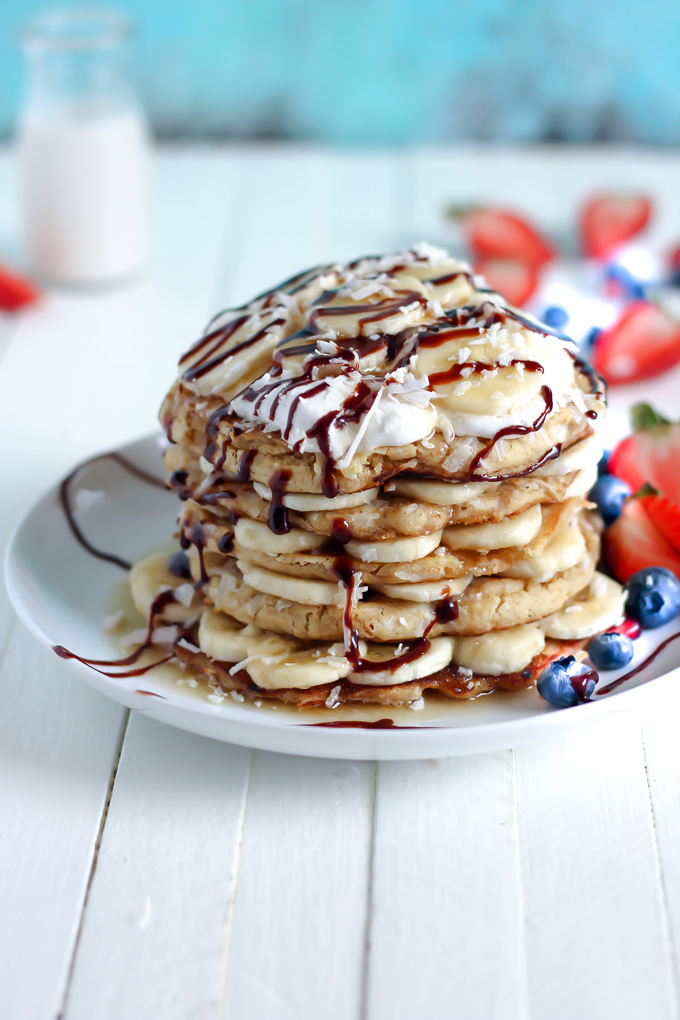 Traditionally in banana foster you'll add rum extract. There is an alcohol free one but most usually contain some alcohol. Not so much where it will make ya tipsy but enough to make me not want to give it to my son. But if you're hell bent on having that rum flavor not to worry. You can either make the pancake mix without the rum extract, and pour about a 1/2 teaspoon of it in your own coconut whipped topping and filling which takes the place of vanilla ice cream. This way saves you time so you don't have to make a separate batter. Unless you don't mind then by all means.
On the other hand I'm totally not against some dairy free vanilla ice cream if that's what your banana foster heart desires in place of the coconut whip. The coconut whip serves up as the healthier yet tasty version. It's so fluff and airy, coconut whip is a staple fun treat in the vegan, plant based world. It has gained so much popularity over the past couple of years. And I'm not surprised because it's so good, good for you, chemical free, and has the same consistency as store bought cool whip. It's a win win.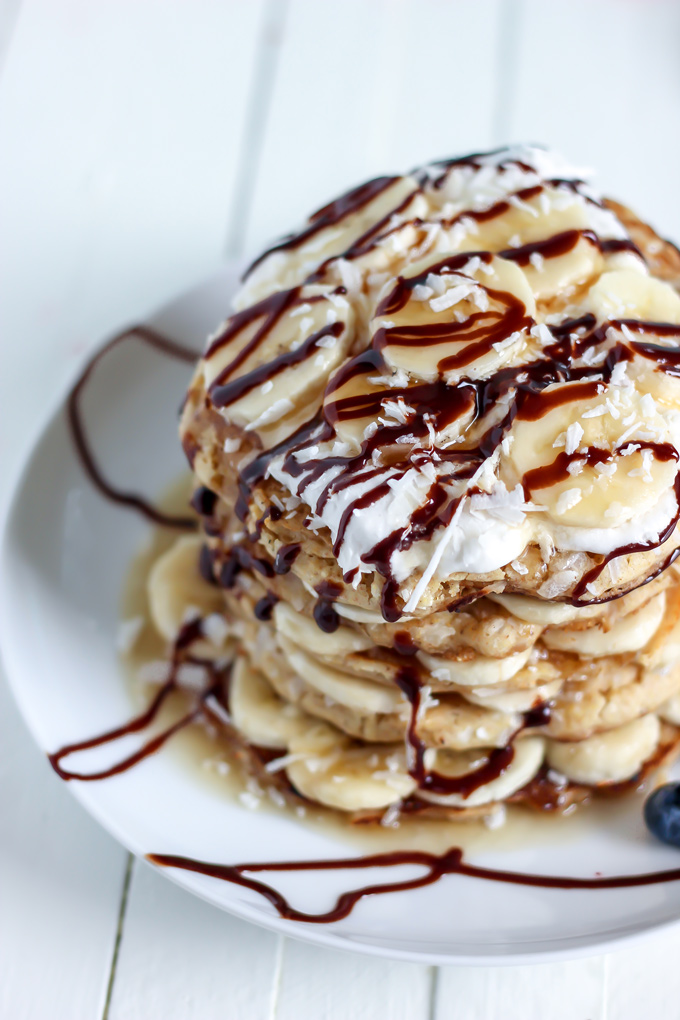 Another thing I like to substitute is the brown sugar for coconut sugar. Coconut sugar has health benefits to it like high amounts of zinc, iron, and antioxidants. And it does a pretty damn good job at subbing for brown sugar. I put some directly in the pancake batter.
In traditional banana foster you have to caramelize the bananas but since the bananas in this recipe cook inside the pancake, I skip that extra step because they caramelize in the pancake itself! While it's cooking you can sprinkle some extra coconut sugar on top. Although I personally find bananas to be sweeter when they're warm, it's my favorite.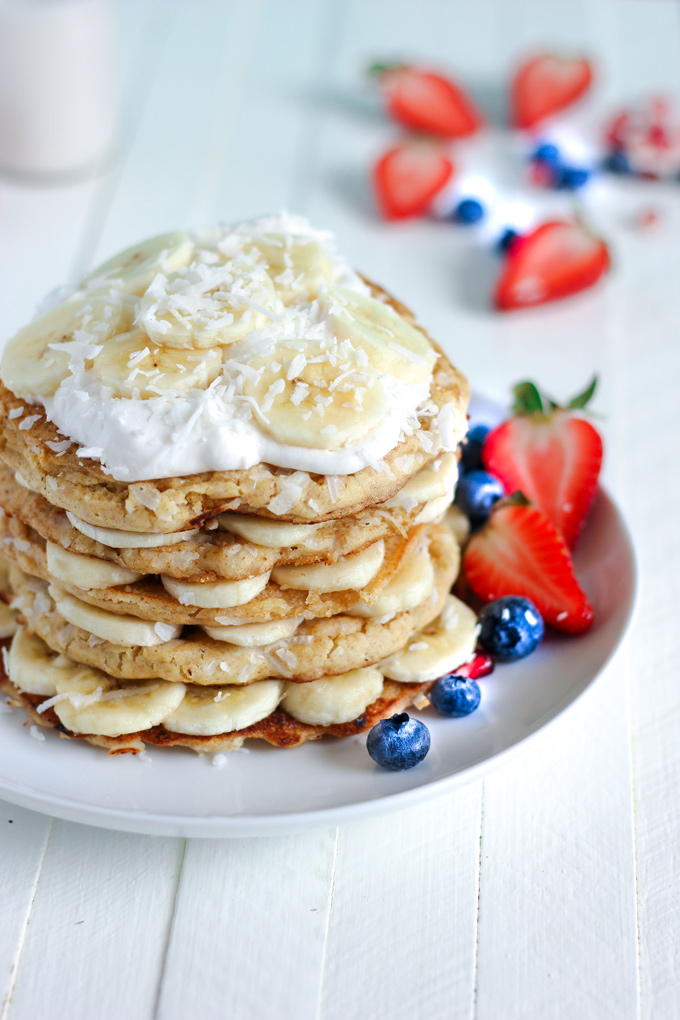 The dark chocolate drizzle is totally optional. But being that I'm a true chocoholic I couldn't resist. I thought to myself "Why the flip not". This dessert breakfast is definitely an indulgence but one you can feel good about because it's not loaded with refined sugars and processed shenanigans. It's made with the best ingredients, easy, it's budget and time friendly, and it's the perfect treat to have the whole family wake up to Easter morning. It's the ultimate spring breakfast.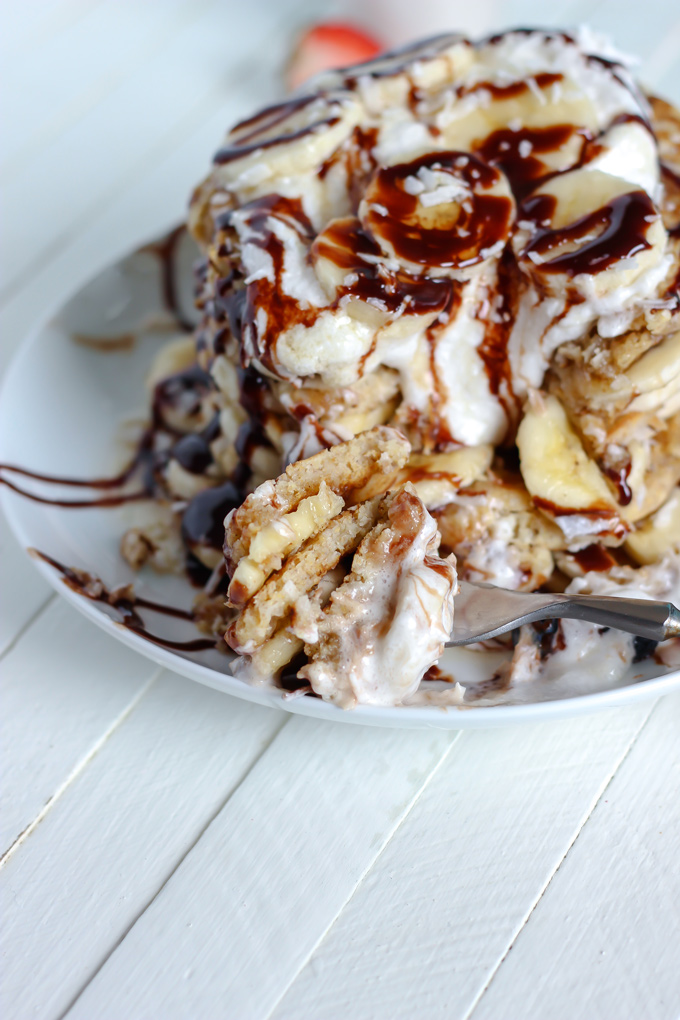 How have you turned the classic Banana Foster recipe into your own? I'd love to see what twists you've put on it as it's one of my fave things to eat. Drop me a line below!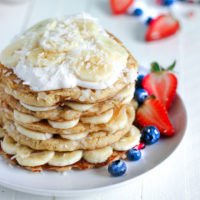 Vegan Banana Foster Pancakes
Wake up Easter morning to a delicious stack loaded sweet bananas, coconut whip, and dark chocolate drizzle.
Ingredients:
3/4 cup multigrain pancake mix
3/4 cup almond milk
1 tbsp coconut oil, melted
2 bananas, sliced
2-3 tbsp coconut sugar
1 tsp coconut extract
1 cup coconut flakes
coconut whip cream (store bought or homemade see how to make it here)
maple syrup (optional)
vegan dark chocolate sauce (optional)
Directions:
Place all pancake ingredients into large bowl and stir until no lumps appear. Mix, almond milk, coconut oil, coconut sugar, coconut (or rum) extract (if desired).
Spray a pan with non stick cooking spray. Pour 1/4 cup of the batter into the pan using a ladle or pourer. Place 4-5 slices of banana and a handful of coconut flakes on the side facing up. Sprinkle with extra coconut sugar. Once bubbles form on surface and the edges begin to dry, flip over the pancake and cook another minute or until you feel the pancake is fully cooked. Repeat these steps for all pancakes.
To assemble a stack, place one pancake on the bottom, layer with bananas and coconut cream then top with another pancake. Repeat these steps until full stack is formed.
Drizzle the tops with extra coconut sugar, maple syrup, and dark chocolate drizzle.
Also note you can add the coconut or rum extract to the coconut whip cream instead of the pancake mix.
Serve with a side of fresh berries and Enjoy!