Vanilla Protein Applesauce Waffles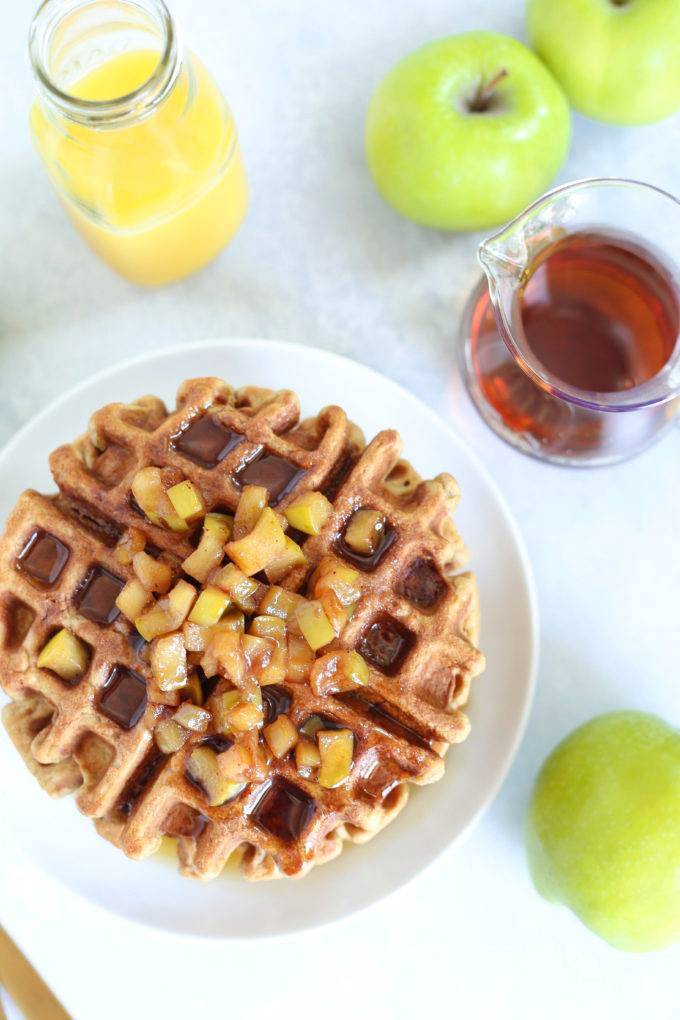 In my house breakfast is a big deal, especially on the weekends. We like to keep it traditional (most of the time) but also healthy without compromising flavor or texture of whatever it is we're making. Enter these vanilla protein applesauce waffles.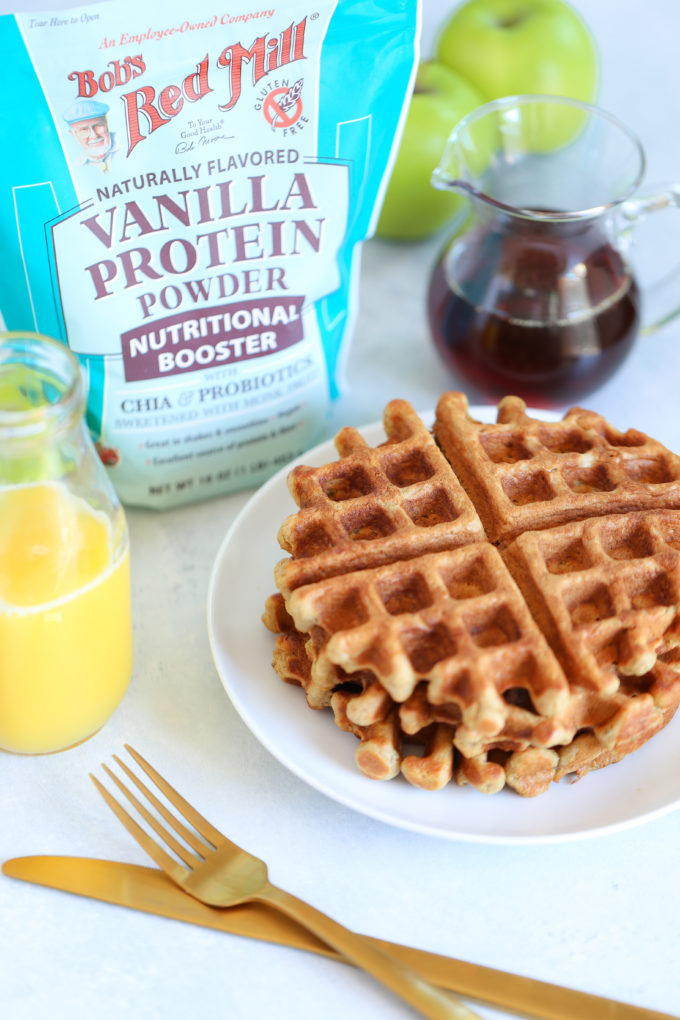 You never really hear of applesauce waffles, maybe pancakes, definitely poundcake but rarely waffles. These are a must have, a must try, just a huge must! They're fluffy but moist, light yet cake like, it's like how are these even real!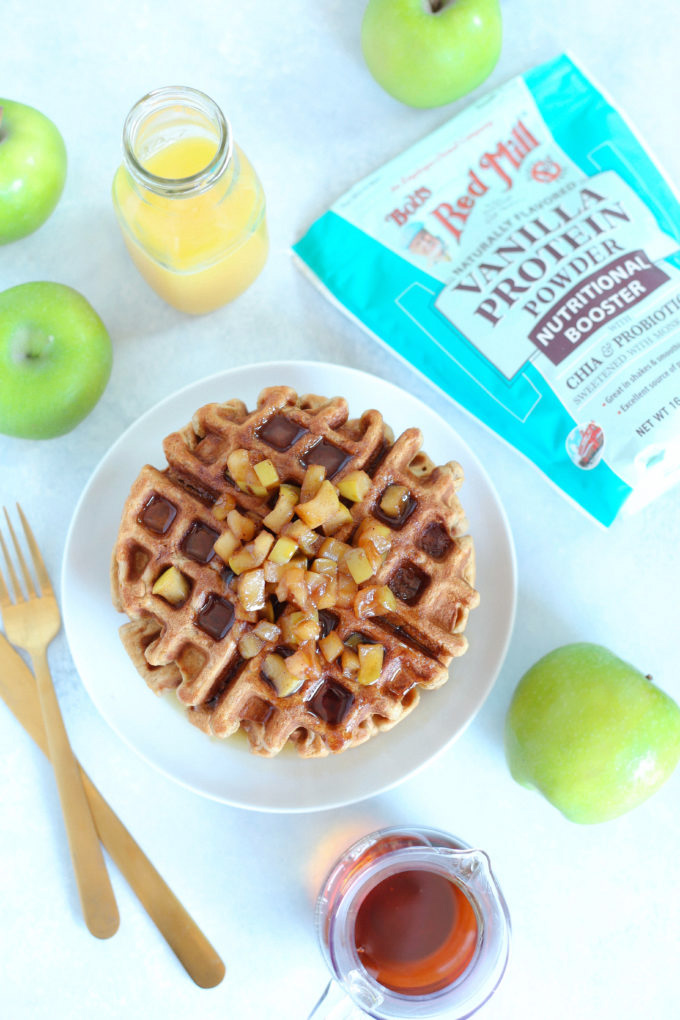 *This post is sponsored by BobsRedMill – Thanks Bobs for supplying me with the yummiest plant-based vanilla protein!*
These waffles are made from scratch with the easiest of ingredients. I topped these with warm apples marinated in coconut sugar and some maple syrup. Think apple turnovers or pastries. You can also leave out the protein if you'd like but I added it in for our early morning energy boost. And here's why I think you should leave it in too…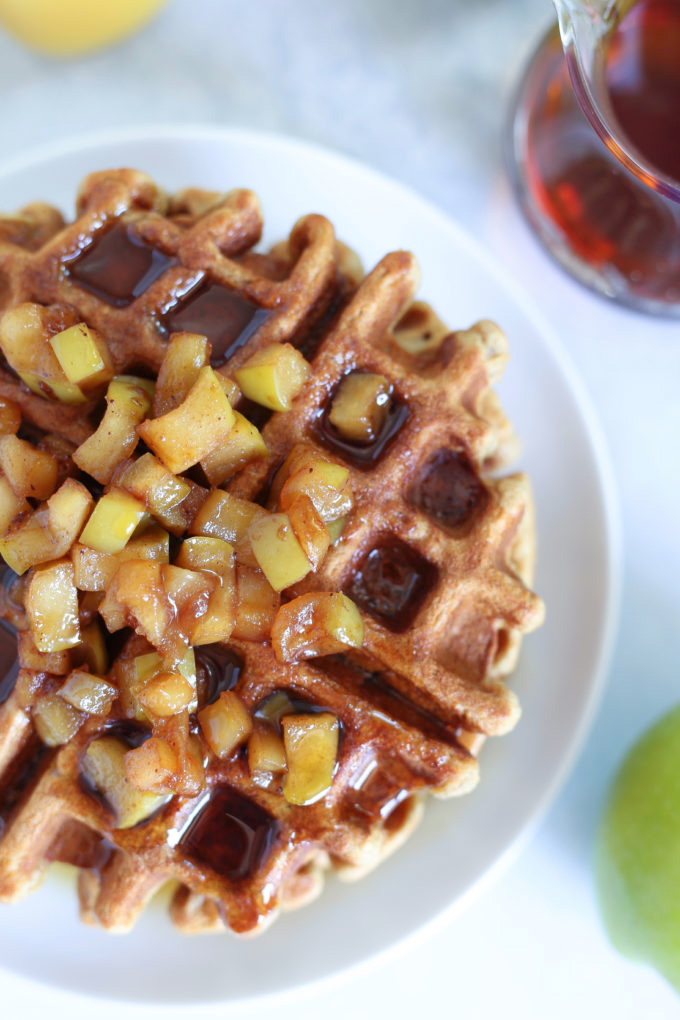 For starters it doesn't have that cardboard, chalky taste to it at all. It's not gritty as some powders can be even in smoothies. This one blends in so well you would never even know there's added protein!
Secondly this particular protein that comes in 3 different flavors by the way, vanilla, chocolate and chai, are all sweetened with monk fruit, are loaded with prebiotic and probiotics, are an excellent source of fiber, and in literally one serving you'll get your daily recommend value of protein at a whopping 20g per serving!
Everyone thinks protein powders are exclusive to shakes or smoothies but I'm here to tell you that you ain't neva had a protein waffle like this before.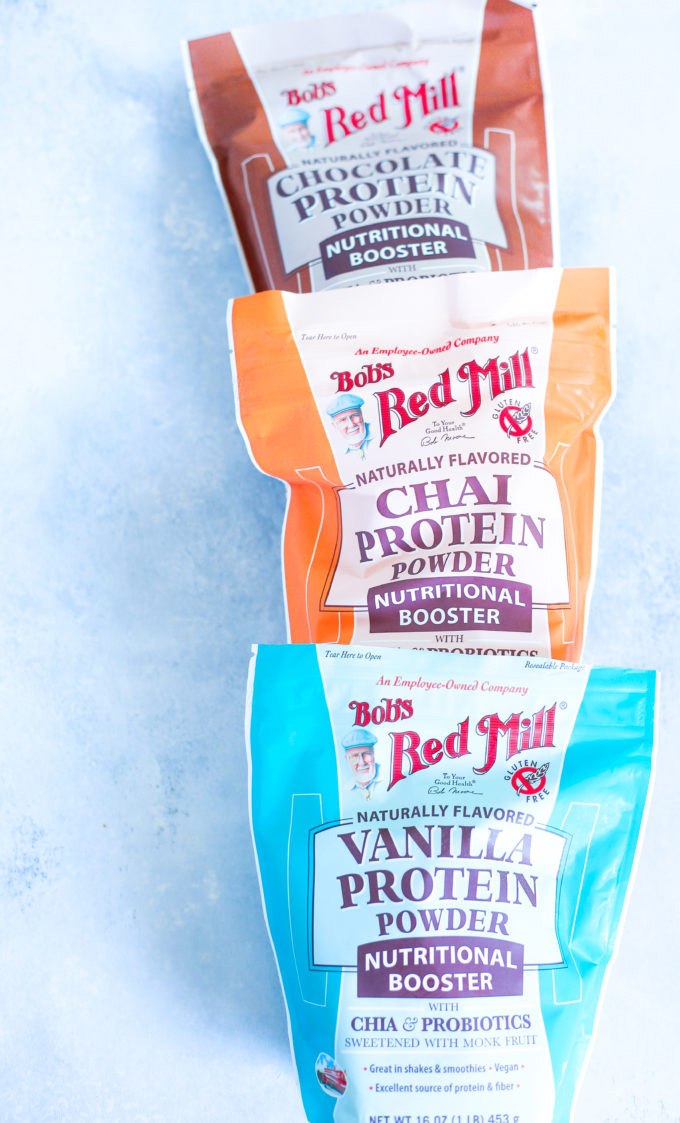 It's also no secret that chia seeds are healthy and should be in your diet on a regular basis. I talk about chia seeds all the time, I love them as should you. I use them as egg replacers, for overnight oats, chia pudding, and the list goes on! They're a great source of
iron and omega-3's.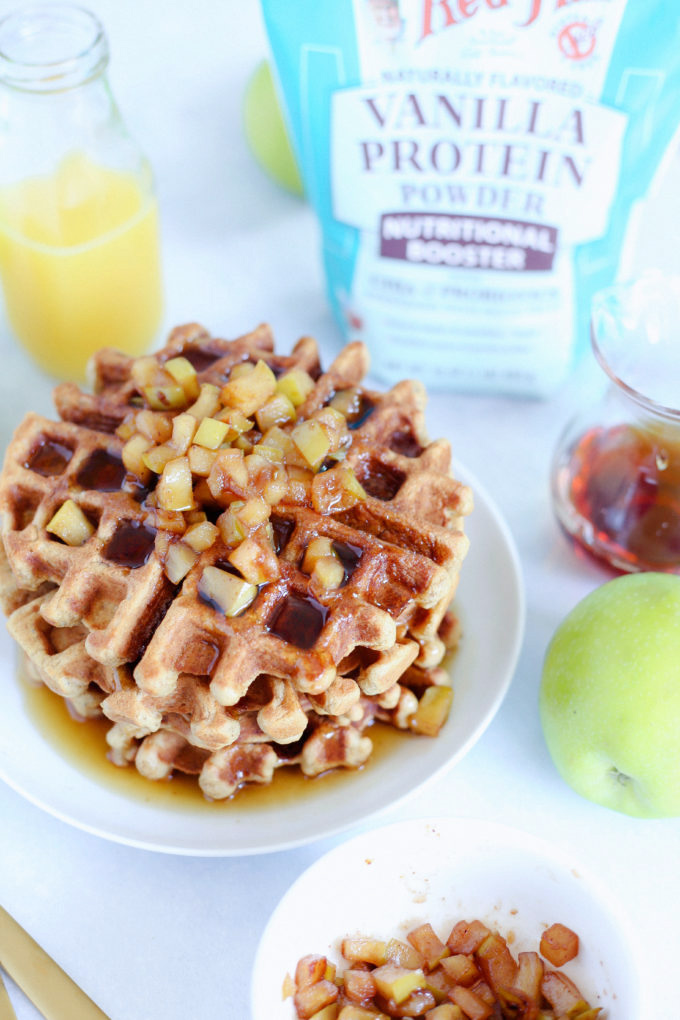 Now that I'm most certain I got you hungry (or it could even be hangry at this point) let me not keep you much longer with my rambling and get right to the good stuff…the recipe.
Thanks Bobs Red Mill & Happy Waffles!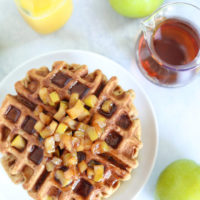 Vanilla Protein Applesauce Waffles
Easy to make, fluffy, highly nutritious without sacrificing texture or flavor, a must try!
Ingredients:
The Waffles
2 cups all purpose flour
1 1/2 tsp baking powder
1 tsp baking soda
1 tsp cinnamon
1/4 tsp nutmeg
pinch of salt
1/3 cup coconut sugar or brown sugar
1 1/2 cup almond milk
1 flax egg
2/3 cup applesauce
1/4 cup maple syrup
Warm Apple Topping
2 green apples (or any apples you have on hand)
1/4 cup coconut or brown sugar
1/4 cup water
1 tsp cinnamon
1/4 tsp nutmeg
1/2 tsp apple cider vinegar
maple syrup to top
Directions:
In a large bowl fork together all dry ingredients.
In a separate bowl mix together all wet ingredients.
Pour wet ingredients onto of dry ingredients and mix. Don't over mix, you want there to be little lumps in the batter.
Let it sit for 5 minutes and you'll start to see it slightly bubble. This makes for a fluffy waffles.
Prepare your waffle maker according to manufacturers instructions. Be careful.
Spray both sides of waffle maker with a non stick cooking spray.
Pour batter into waffle molds and cook until golden or desired texture.
Prepare the Warm Apple Topping
In a saucepan on medium heat combine all ingredients. Mis occasionally for 8 minutes. The texture will start to thicken.
Once thick enough to you liking remove from pan and top on homemade waffles.
Drizzle with maple syrup, serve and Enjoy!
~Pin This Recipe~