Carrots in a Blanket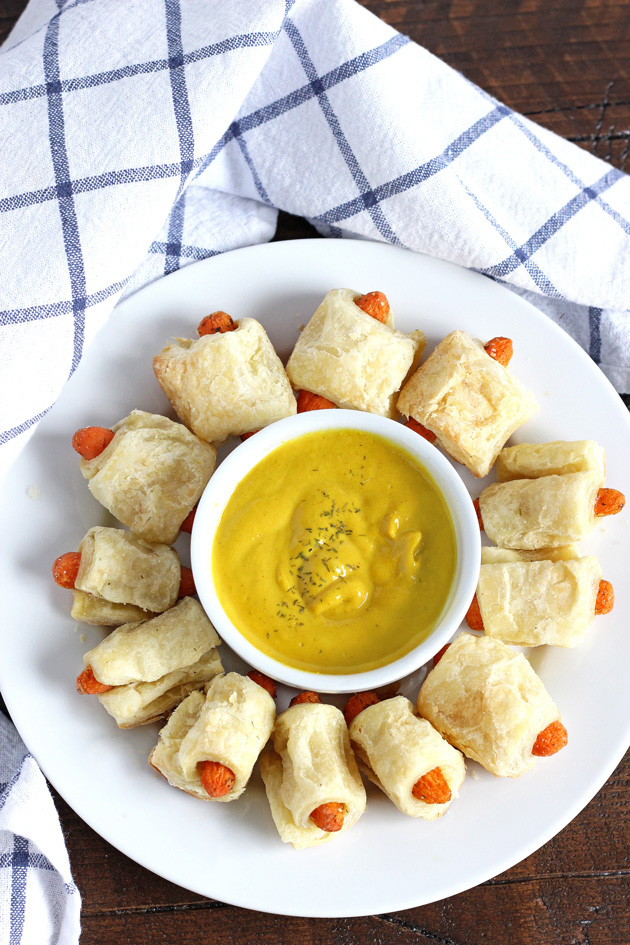 Wait hold up, those aren't "pigs" in a blanket,  no no. They are Carrots in a Blanket! How stinking cute right! Who wants to eat adorable, cuddly pigs in a pastry puff? <~~~Not this gal. This is one of my favorite appetizers, and yes I eats them with yellow mustard.
My son absolutely loves these. Like really, finger food is the best right, but it doesn't always have to be processed. I mean ok yes, the pastry puff is not thee healthiest, I get it, but we have to make due some how. Compromise a bit. Still yes, organic, non gmo, or you can even make vegan pastry puffs yourself. Just read the label to make sure it's vegan, some are not.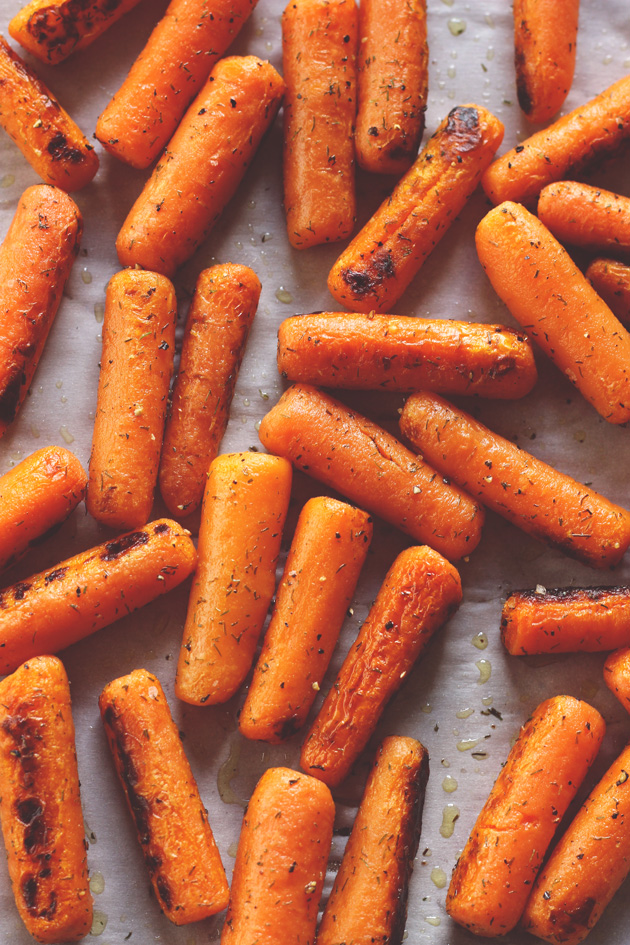 These are so so easy to make and take literally maybe 10 to 15 minutes of your time. You got that right? So what I do is I buy organic carrots already cut in half to lesson the work load. I don't want to cut and skin and all that other jazz. Plus when you buy them already halved they are the same, even size and great to work with. Especially the thicker, fatter carrots.
Step one is to boil them until just tender. Not too tender, or they will start to break. Remember, you're going to be lightly frying them and placing them in the oven too, so they will be cooking there as well. As soon as your fork easily goes through one while boiling, remove from water and let cool about 5 minutes.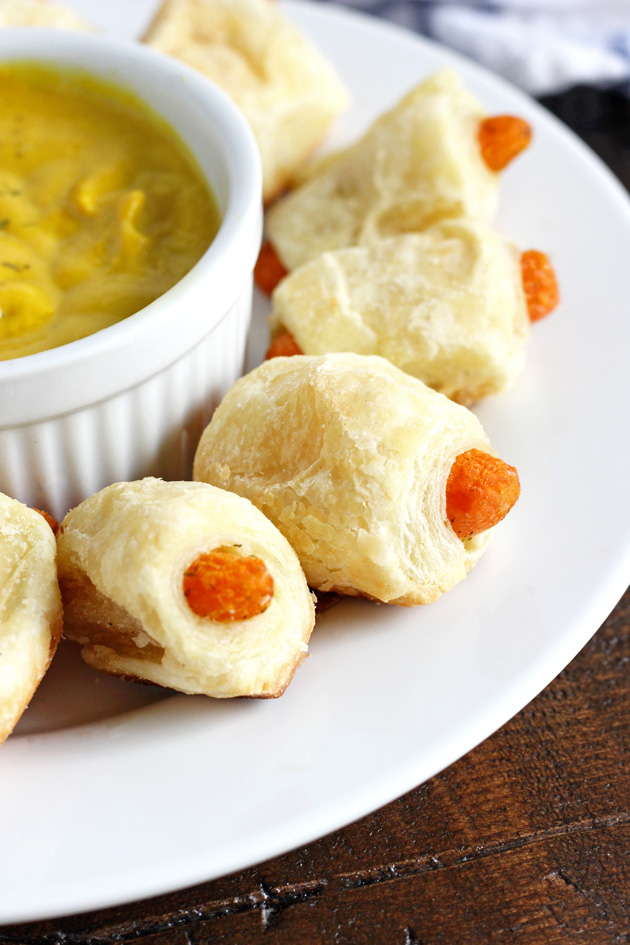 After they have cooled a bit place in a fry pan with a tablespoon of coconut or olive oil. I like either or and have made these with both. Sprinkle salt, pepper and dill. Toss around just until the carrots are more golden in color, about 5-6 minutes.
Depending on how many carrots you have, lets say 12 for instance. Cut 12 small rectangles of the pastry puff. You don't want them too wide or too small, just a good size to where the carrot will stick out on both ends. Fairly simple.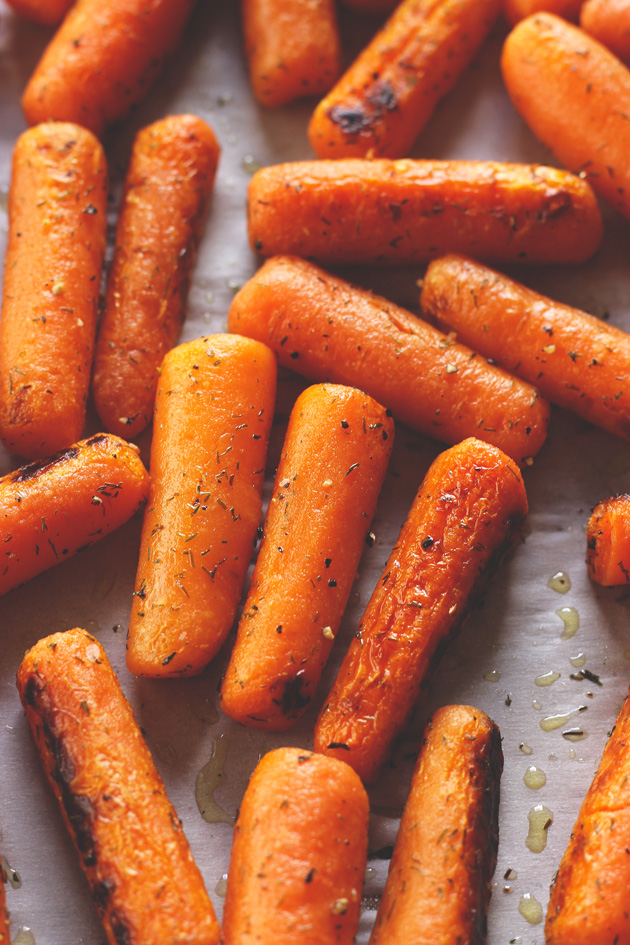 Preheat oven to 350F or according to vegan pastry puff directions and line a baking sheet with parchment paper.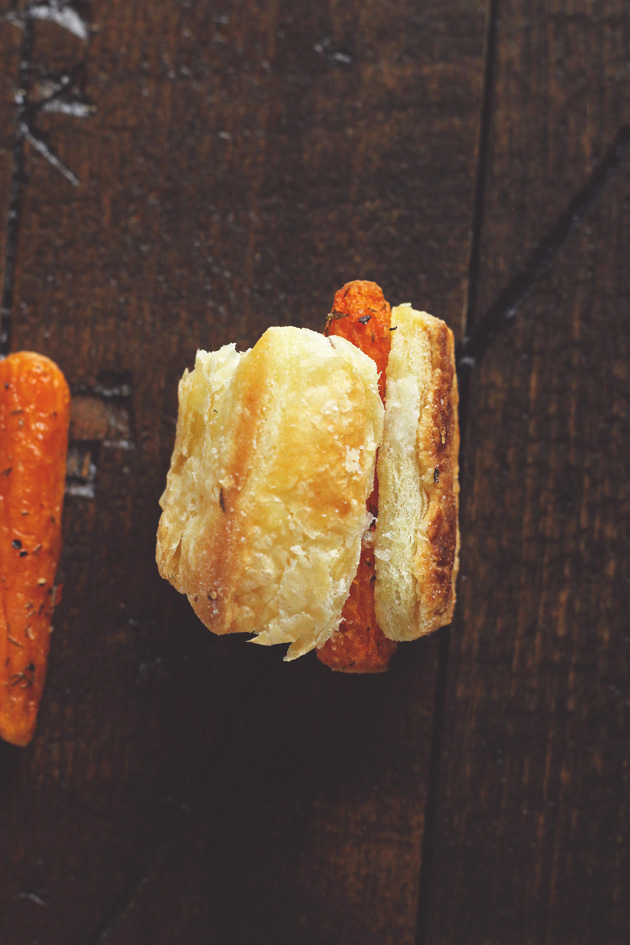 In this photo although I pinched it sealed, during baking, it still opened, but that's alright because it was still obviously edible and yum-mazing!
Roll each carrot into it's own pastry puff. Wet the tip of your finger(s) with water or oil from the pan, and pinch the ends together to seal it closed. Place the pinched side down on sheet. Your Carrots in a Blanket are now ready for baking, Yaaaay! 😀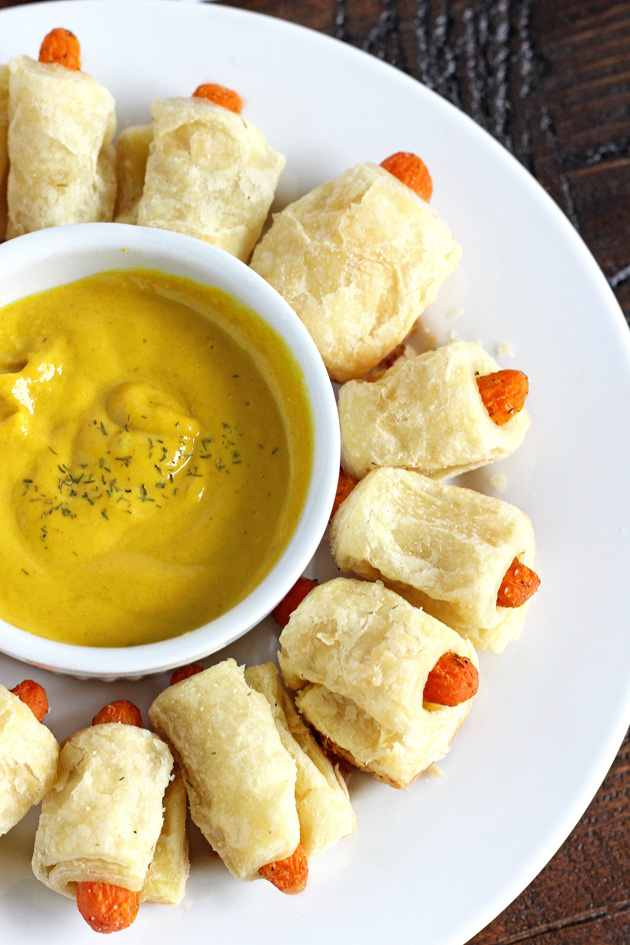 Place your yummy, healthy, appetizer in a dish and serve them with yellow mustard. Always a hit and still a classic, just a veggie version. 🙂
Make this as one of your many fun appetizers this Thanksgiving, don't tell anyone they are carrots until they're all gone! It's always fun to watch the surprising looks on family and friends faces. LOL
Want another fun appetizer to serve your guests? These 3 Ingredient Beer Battered Artichoke Hearts are da bomb.
Recipe from SandraVegan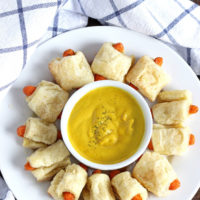 Carrots in a Blanket
The perfect veggie appetizer for kids and adults alike. Dip into classic yellow mustard and enjoy the flakiness of the puff and sweetness of the carrot.
Ingredients:
1 1/2 cup carrots, previously halved
1 tbsp coconut oil or olive oil
salt/pepper to taste
1 generous tbsp dill
1 package vegan puff pastry, thawed
classic yellow mustard for dipping
Directions:
Preheat oven to 350F and line baking sheet with parchment paper.
Boil carrots in water until just tender. Do not let them get super soft otherwise they will break.
When carrots are done boiling, remove from water and let cool for 5 minutes off the stove.
In a fry pan or skillet, heat up some coconut oil or olive oil. Toss in carrots with seasonings, salt, pepper, and dill, and cook until extra golden, 5-6 minutes. Make sure all carrots are coated with seasonings and oil.
Roll out vegan pastry puff, and depending on how many carrots in a blanket you're making, say 12, cut 12 rectangular pieces of the puff. Please note, do not cut them too wide or too small. You want it just the right size to where the carrot is sticking out of both ends.
Roll carrots into vegan pastry puff. Wet finger tips with water, pinch and seal closed. Lay prepared carrots, pinched/sealed side down on baking sheet. Repeat until all carrots made are rolled and ready to go.
Place in oven and cook 15-20 minutes or until pastry puffs are golden and crisp.
Remove from oven, let cool 5 minutes before serving if you can wait! Serve with classic yellow mustard. Enjoy!
Be sure to read labels. Make sure the pastry puff you purchase is vegan.