Super Easy Vegan Tzatziki Sauce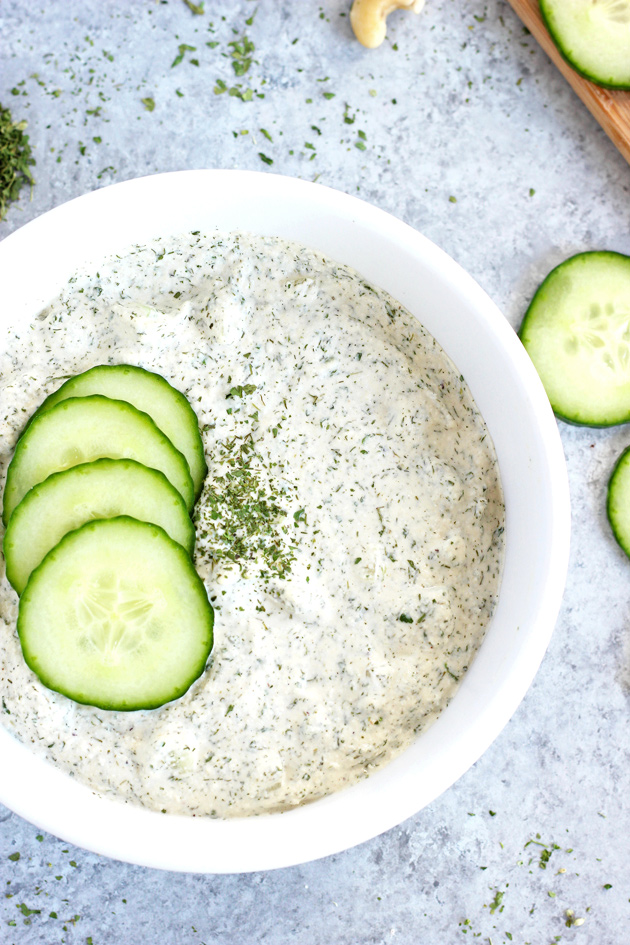 Going out to eat and trying to eat organic, non gmo is hard. Especially when the majority of restaurants use the basic, cheapest foods possible to create extremely expensive dishes. That has always boggled my mind. Like how can a person go to high end restaurant, eat food that's genetically modified, can possibly cause cancer, and pay 40 or 60 bucks a plate to inevitably, get sick.
When you dedicate yourself to eating a plant based diet on top of organic and gmo free it can become overwhelming and at times so hard to attain. I totally get it, I've been there. You think to yourself what am I going to eat tonight. Trust me, there are nights I don't feel like cooking or doing much of anything after a days work and a day full of studies. I have like 3 places, which are my go to places to eat out because they have either organic, non gmo foods, or have items that have been purchased at local farms that do not use gm seeds, with a wide variety for plant based eaters like myself.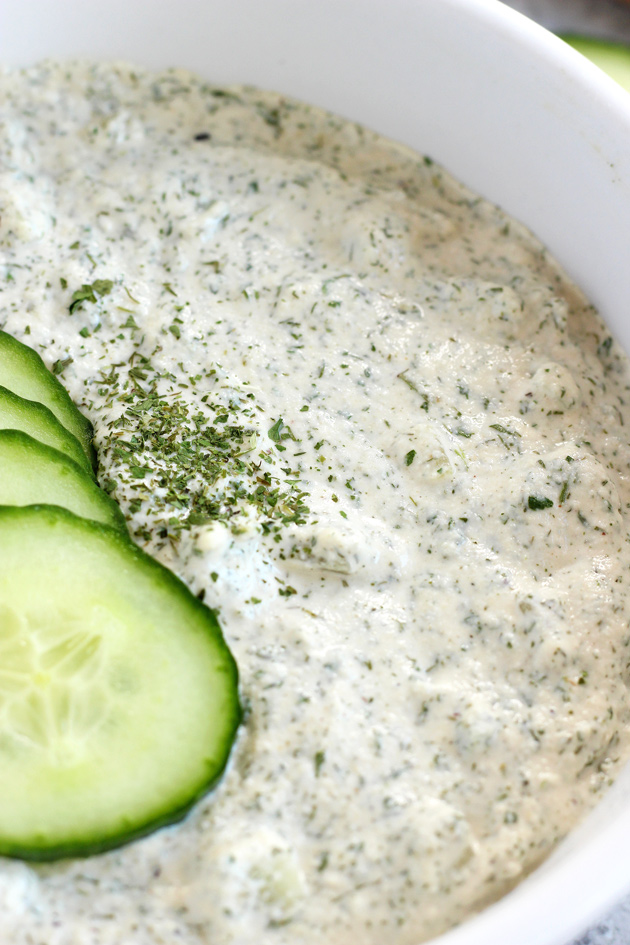 Cooking and prepping meals can, at times, acquire a lot of work. I know I don't have all day to spend in the kitchen, barefoot and not pregnant (LOL). Most of my vegan cheese sauces and dips I make in bulk because they last a good 5 days and you can pair them with anything. Like this Super Easy Vegan Tzatziki Sauce!
Before I was plant based I use to house some tzatziki sauce also known as cucumber yogurt sauce. I would eat it by itself, on my gyros, anything really. It's one of those condiments that just goes with everything, and it's so refreshing. Now if you think the "regular" version is bangin', then you will love my vegan version because not only is it good for you, it's even better than "the real thing" (whatever that is, antibiotics and hormones?). This Super Easy Vegan Tzatziki sauce is going to blow your freakin' mind. My hubs was shoveling heaping spoonfuls of it into his mouth when I first made it. Obviously the more you make things like this, the better at them you get because you know just the right amount of seasoning you like. Everything is done with a little trial and a little error, ya know what I mean.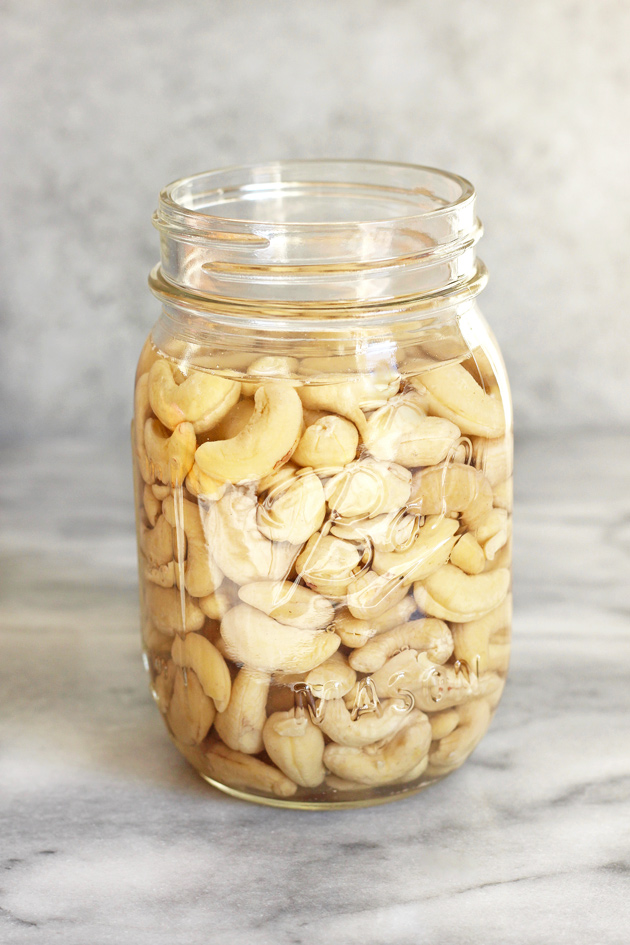 Two staple ingredients in this are cashews and cucumbers. I always soak my cashews either overnight or for 2-4 hours. However, if you don't want to spend the time soaking, or if you forgot to soak, you can flash soak them. That's when you heat up some water and let them sit in warm to hot water for about half hour. Soaking nuts, seeds, or grains are really good for you, but that's a whole other post. For now what soaking does for this recipe particularly is it softens the cashews. The softer the cashews the creamier the sauce, ya feel me.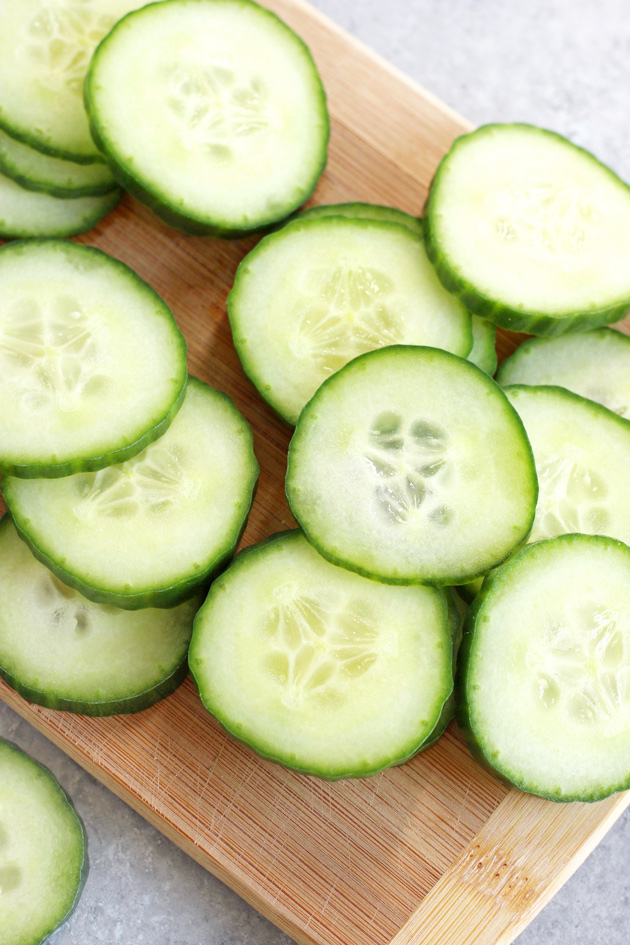 Aren't cucumbers so beautiful! 😍
Don't be shy with the cucumbers either. I used a whole english cucumber, partially because I was eating it along the way while I was slicing it up. But you want to actually dice the cucumber. You can leave the skin on or off, the choice is yours. Either way, it won't affect the flavor.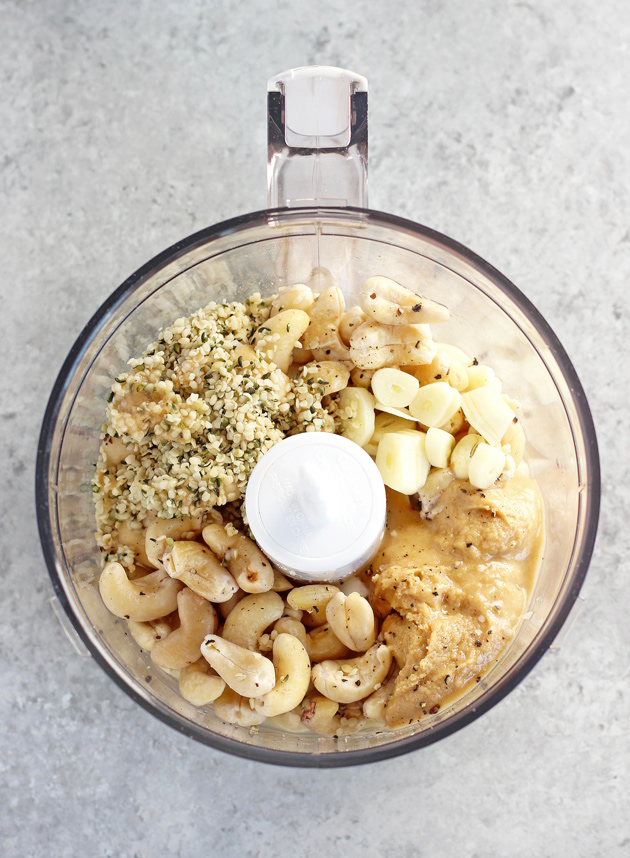 Hubba Hubba 😋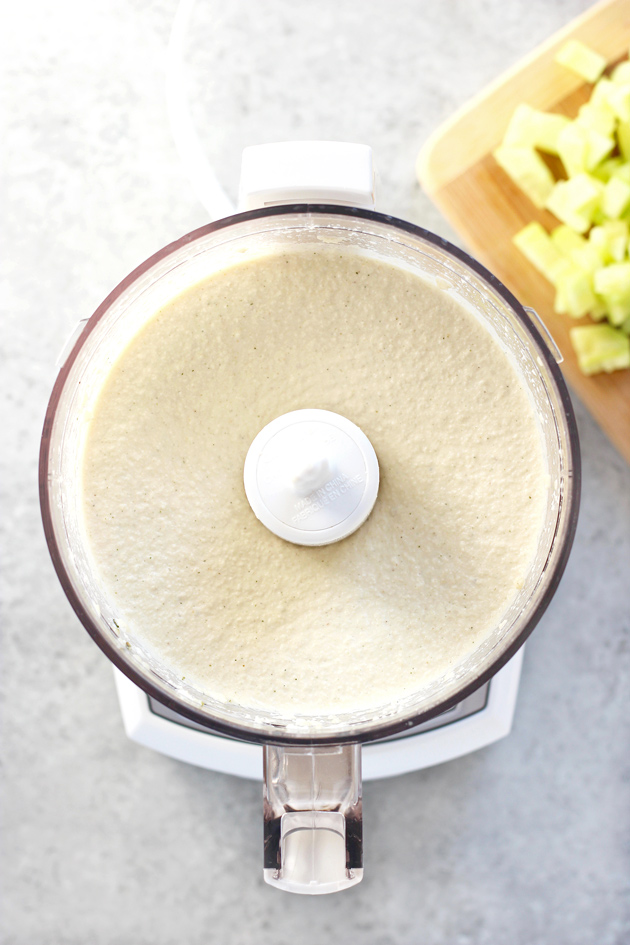 Look how creamy and super dreamy that is. I know right!?…Totally.
I used my small food processor for this recipe but you can use your blender too. What you'll need to do is add all ingredients except the herbs. So cashews, tahini, garlic, hemp seeds, lemon juice, water as necessary, and a little salt/pepper. I add the water by the tablespoon until I reach my desired consistency. I count usually 7 tablespoons.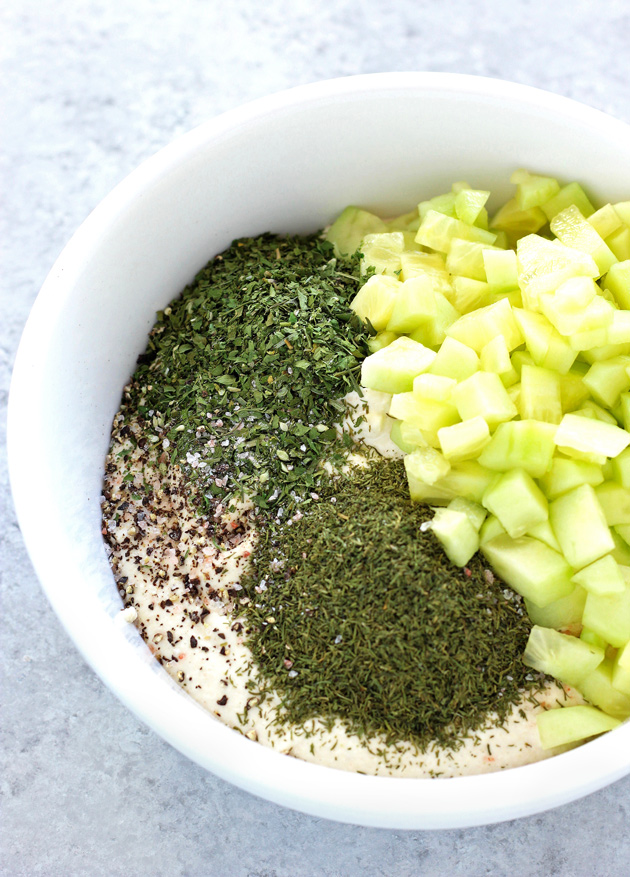 Once it's all super amazeballs creamy, transfer the sauce to a bowl and add all the spices, herbs, or seasonings. You can use fresh or dried herbs. I used what I had on hand which was dry. So you'll need, parsley, dill, and mint if you have it. If you don't have the mint not to worry it tastes just as good without it. I don't always have mint and I make this regardless.
Once you have all that ready to go, mix all ingredients until well combined. It will resemble like a spinach dip. Adjust the seasonings to your liking. I usually add a bit more salt and pepper.
Now that you've mixed, licked, and loved…it's time to dig in! Enjoy this with traditional recipes like Baked Vegan Falafel, Mediterranean Infused Bliss Bowls, or anything else vegan you want to get your sticky little hands on. This Super Easy Vegan Tzatziki Sauce will be good with crackers, pretzels, served up at a party with fresh veggies, I man the possibilities are endless people.
Recipe adapted from NutritionStripped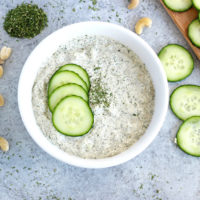 Super Easy Vegan Tzatziki Sauce
This healthy vegan and gluten free sauce is an ample dip that can be served with an endless amount of veggies.
Ingredients:
1 cup cashews soaked for 2-4 hours
4 tbsp lemon juice
2 tbsp tahini
2 garlic cloves
2 tbsp hemp seeds
7 tbsp of water (give or take)
1 cucumber, diced
1 tbsp dill
1 tbsp parsley
1/2 tbsp mint (optional)
salt/pepper to taste
Directions:
In a processor or blender place cashews, lemon juice, tahini, garlic cloves, hemp seeds, water, salt/pepper, and run until smooth and creamy, scrapping down the sides as necessary.
Remove from processor or blender and place mixture in a large mixing bowl.
Add all other ingredients, diced cucumbers, dill, parsley, mint (optional), and more salt/pepper to taste.
Adjust seasonings as desired. Serve with salads, falafel, or just simply as a dipping sauce for veggies. Enjoy!
See...Easy Peasy!
Keeps well in the fridge for up to 5 days.
If you don't want to wait 2-4 hours to soak the cashews, you can flash soak them by boiling up water and letting them sit in warm to hot water for 30 minutes to a full hour.