Baked Vegan Falafel
jump to recipe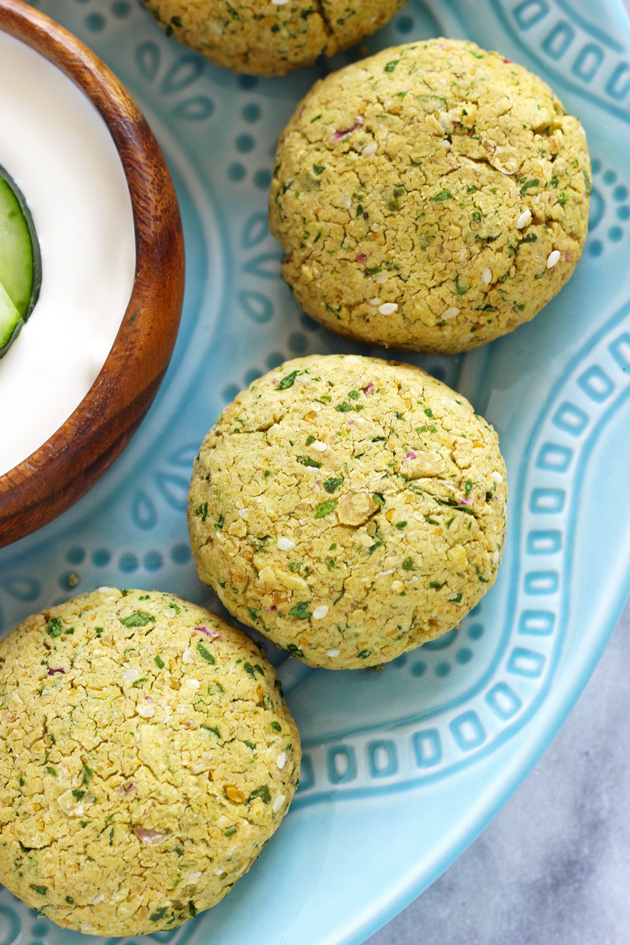 Mmmm Falafel. Deliciously Baked Vegan Falafel.
Can we just address how easy it is to make falafel. I mean, not only are they totes healthy right, they're just a few ingredients, some spices, and in the blink of an eye, they're done and gone. They go with everything too! Salads, pasta dishes, you can make burgers out of them, the creativity and possibilities are endless when it comes to these rounded beauties.
For those who don't really quite know what a falafel is, well it's pretty simple. Falafel are made up of chickpeas, mostly. However, they can be made up of lentils or split peas. A lot of healthy food bloggers will spice things up and use beans, or other legumes or seeds they see fit. But originally, it's the chickpea or garbanzo bean. And why yes, chickpea is also what makes up hummus! Whatta-ya-know, it's a diverse little seed.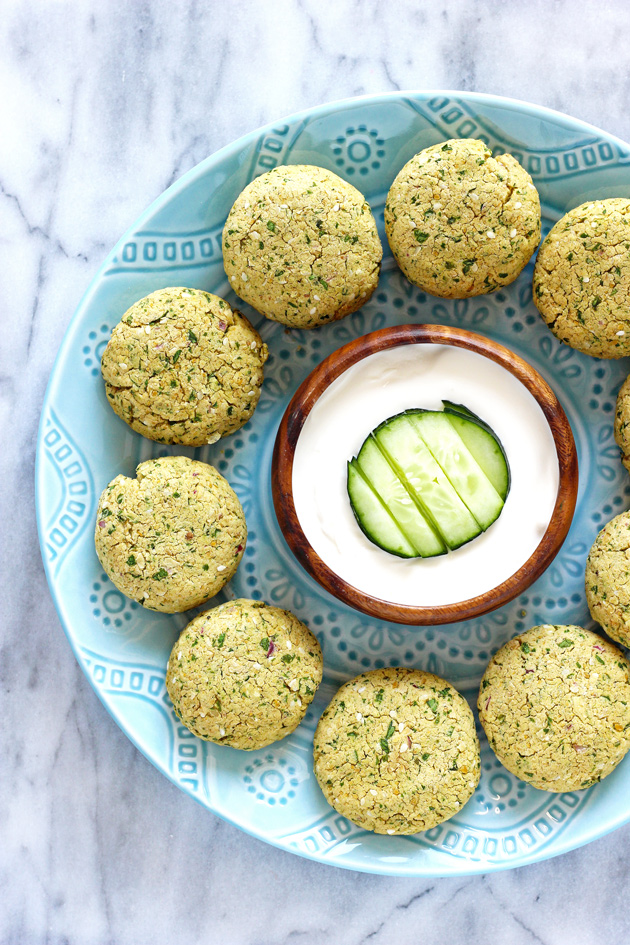 There are no tricks involved to making these. I used my food processor to ground up the chickpeas and other ingredients, gave it a pulse, whirl, what have you, and bam…incredible edible. What's really awesome is you can eat them "raw" before you bake them. Ok so you can leave them raw, bake, or fry them. I chose to keep some raw and to bake some, either way totally amaze and full of healthy awesome flavor. It's 2016, what other way would we roll. 😉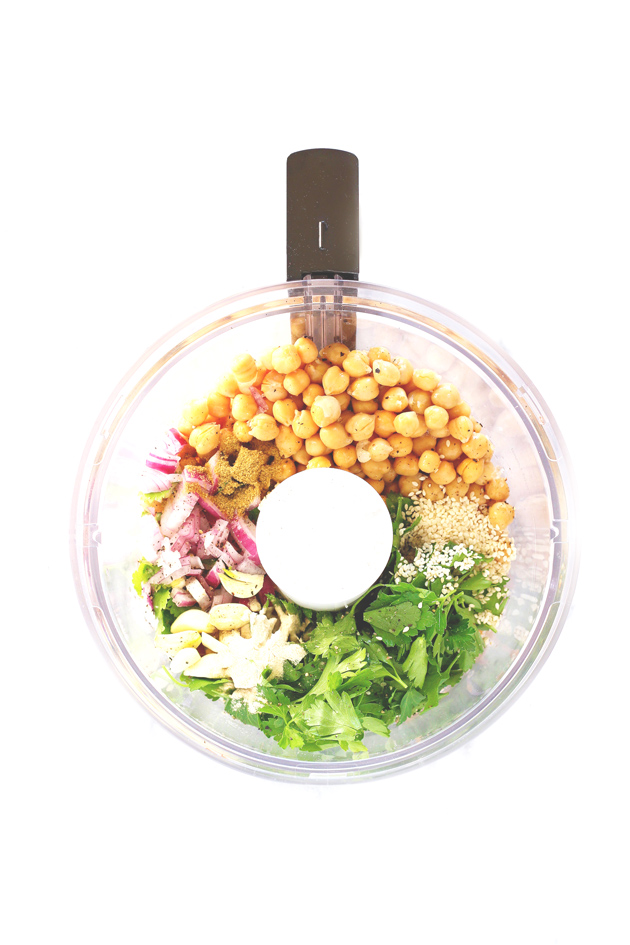 There are a few different varieties in the sense of what seasonings to add, what other veggies should go with it, but I just kept it basic. Chickpeas, fresh cilantro, fresh parsley, a few fresh garlic cloves, a red onion, sesame seeds, onion powder, garlic powder, cumin, salt/pepper to taste (as usual), a bit of lemon juice, gluten free brown rice flour, and a tad of extra virgin olive oil. Like seriously with the ingredients riiight.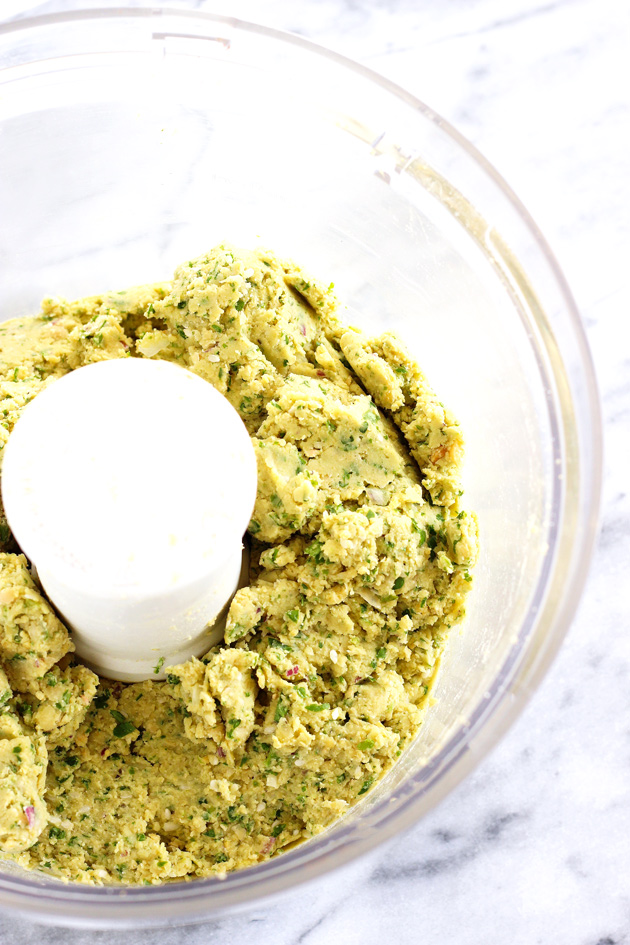 When all your ingredients are in the processor, pulse, scrape down the sides when necessary, and when it sticks together, you can create palm size falafel balls. Your tastebuds are gonna be like whoa, hello. 🤗
You can preheat your oven to 400F and line a standard baking sheet with parchment paper. Place your falafel balls on the prepared pan and brush the tops of each one with extra virgin olive oil.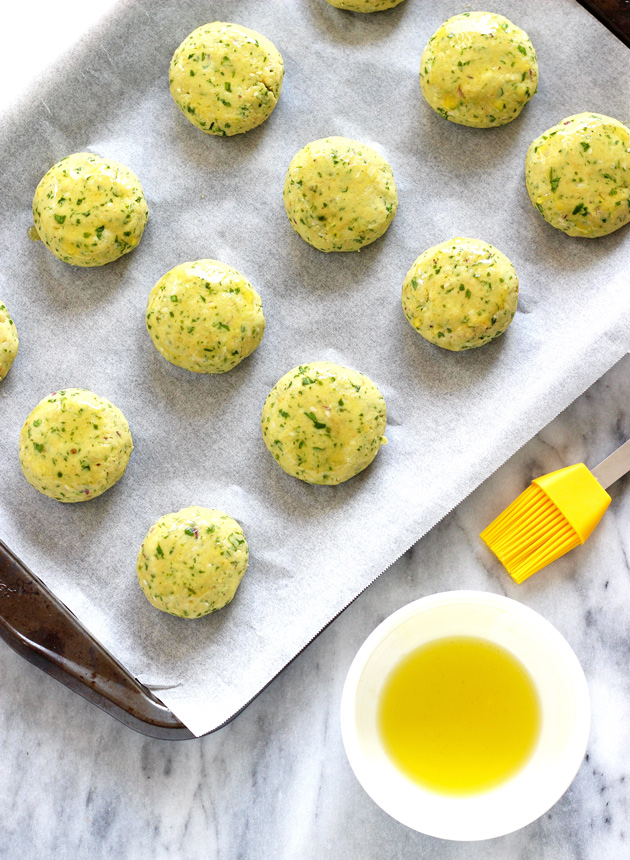 This will give them a bit more crunch when baked. I didn't turn mine over in the oven or anything, I just let them bake a full 30 minutes. You can leave them in longer if you'd like so they are a bit more browned and crisp on the edges.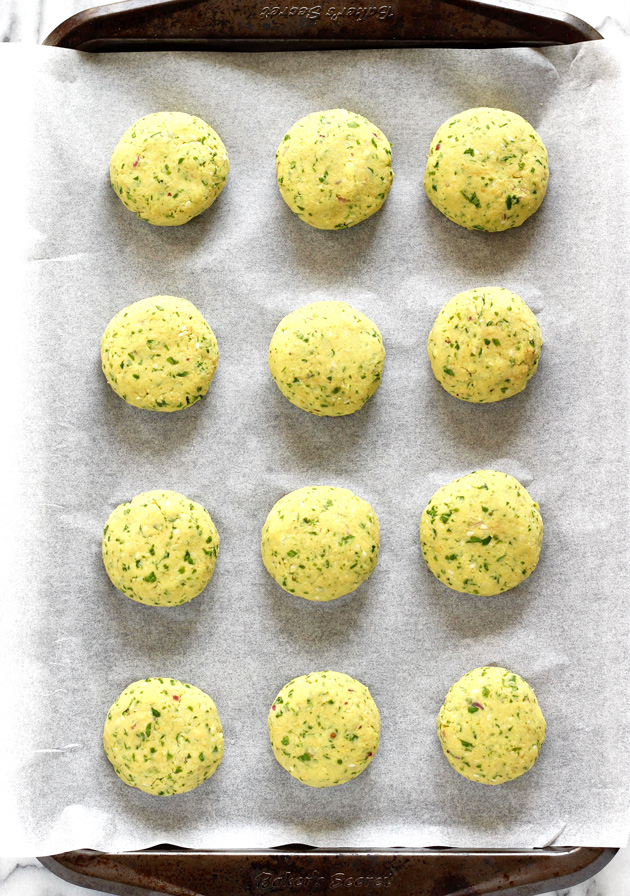 I did not use a any sort of scoop for them either. I just eyed the size I wanted and patted them with my hands to the shape. I swear it's as though they were meant to be falafel because they look almost perfect.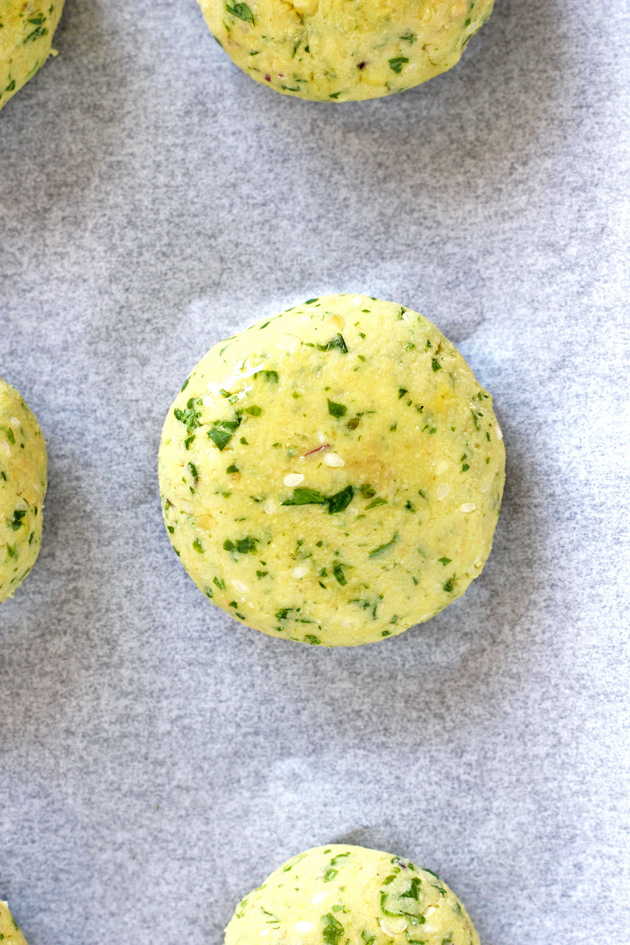 A fantastic side to these gems is a vegan tzatziki sauce or cucumber "yogurt" sauce, like what you would get on a gyro except obvi, it's vegan.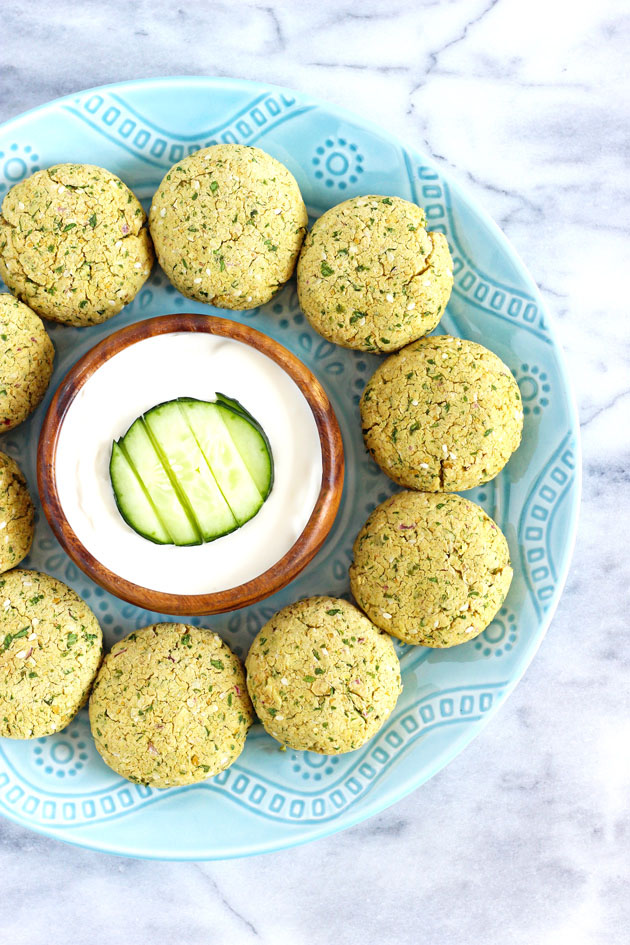 The cucumber or tzatziki sauce is easy peasy. Just some vegan yogurt of choice (I prefer plain), cucumbers, garlic, lemon juice, dill, salt/pepper, a little evoo, a bowl, spoon, and viola! 💃
Falafel is traditionally a Middle Eastern food, commonly served in a pita. But feel free to throw these in any dish you deem fit. The more veggies in anything, the better. Now go get your falafel on and thank me laterz. ✌🏻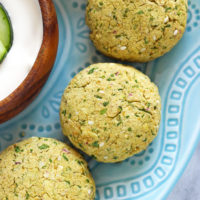 Baked Vegan Falafel
These baked patties are made with organic chickpeas and a healthy list of ingredients that will keep you properly nourished and taste totally amazing.
Ingredients:
2 15oz cans organic chickpeas
3 garlic cloves
1 red onion, chopped
1 cup fresh parsley
1 cup fresh cilantro
2 tsp garlic powder
2 tsp onion powder
1 1/2 tsp cumin
1 tbsp sesame seeds
2 tbsp lemon juice
1 tbsp extra virgin olive oil
2 tbsp water
2 tbsp gluten free brown rice flour
Cucumber "Yogurt" Sauce
1 cup vegan yogurt
1 garlic clove, minced
1 medium cucumber, chopped
1 tbsp fresh lemon juice
1 tbsp extra virgin olive oil
1 tbsp dill
salt/pepper to taste
Directions:
Falafel
Preheat oven to 400F and line baking dish with parchment paper.
In a food processor add all ingredients and pulse until it makes a course mixture.
Take generous tablespoon sized portions of the mixture to form your falafel balls.
Place on prepared baking sheet and brush the tops of each patty with extra virgin olive oil.
Bake for 30 minutes or until golden brown and crisp on the outside.
Cucumber "Yogurt" Sauce
Chop or mince garlic and add it to a bowl with salt and pepper.
Dice the cucumber and add it into the bowl along with yogurt, lemon juice, dill, and oil. Mix well.
Cover and refrigerate for 20 minutes (while your falafel balls are baking) so all the flavors marry together.
Once the falafel are done, serve dip and Enjoy!
Falafel balls do not have to be baked and can be eaten raw.
Keeps well in the fridge in an air tight container for up to 5 days.