Nut and Seed Fruit Yogurt Tarts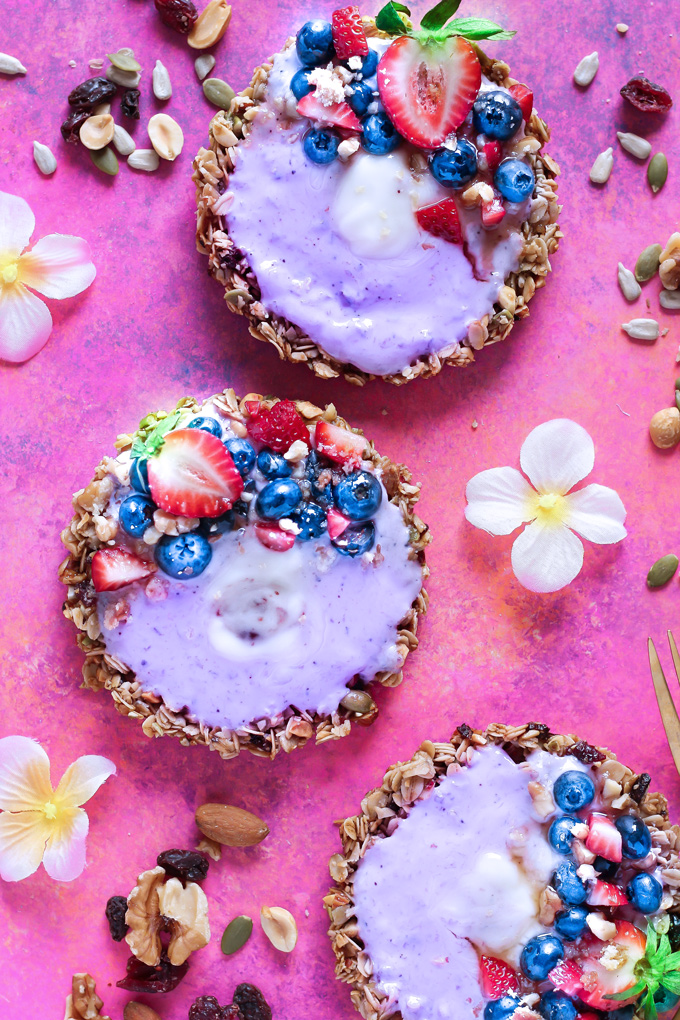 So the other day while I was food shopping I found this large tub of mixed nuts or a trail mix if you will. It has everything in it, walnuts, almonds, peanuts, sunflower seeds, cranberries and a few other varieties. When I saw it my first thought was "Oh great snack" except they're missing those chocolate chips I love to find (lol). When I got home, as I was unpacking the groceries and snacking on my new tub of mixed nuts and seeds I envisioned tarts filled with vegan yogurt, topped with fresh berries, and drizzled with maple syrup. I know I know, delectable. Hence why Nut and Seed Fruit Yogurt Tarts were born and they're vegan…oh and healthy. But also fantastically delicious.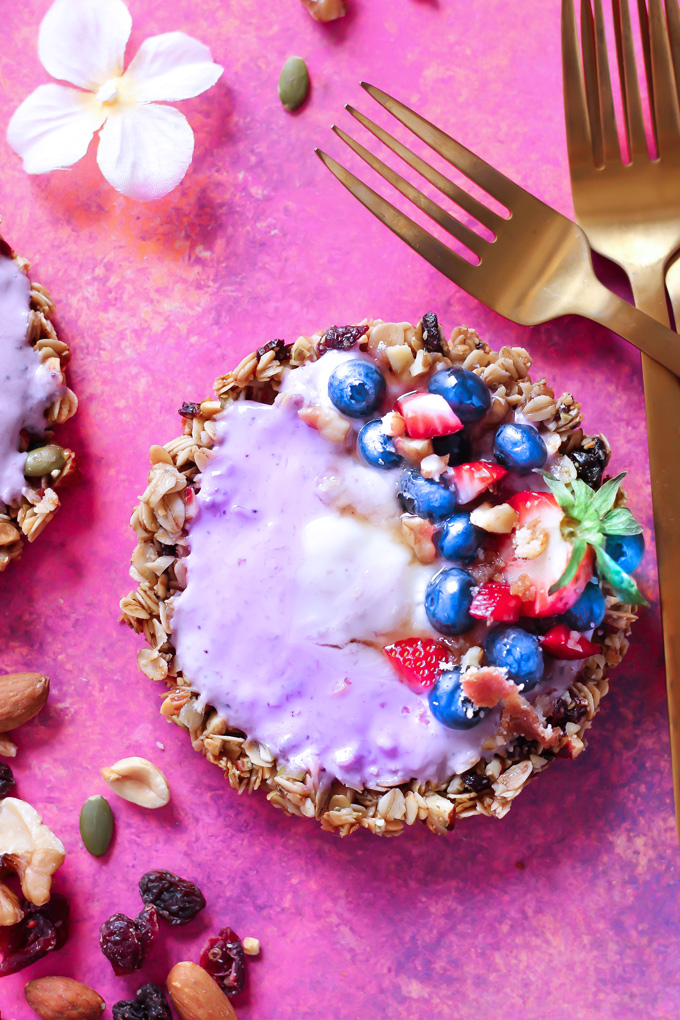 Nuts and seeds provide a lot of nutrition, from protein to healthy fats, omega 3's, iron, and even calcium. The website LiveStrong puts it perfectly when they say "Just a handful of nuts and seeds packs a powerful punch of vitamins, minerals and fats, all of which work together to affect your heart, your brain and your waistline". How awesome is that?! The even better thing about this is you can use the base and turn it into bars. Perfect for pre or post workout, or just a good snack to carry with you if you're traveling, hiking, having a picnic, etc. It's versatile in that way which is Ah-mazing. I added the yogurt because I figured Easter is this Sunday, this is perfect for either breakfast, a snack in between main meals or just dessert. It's full of so much sweet flavor but it's not over bearing. The tartness of the berries with the sweetness of the nuts and seeds has a great balance. In each bite you'll taste a bit of sweetness, salt, and then the fruit. When I make these they are gone shortly afterwards so that should tell you a lot. They don't make it to the next day and I usually make about 6. There's 3 of us.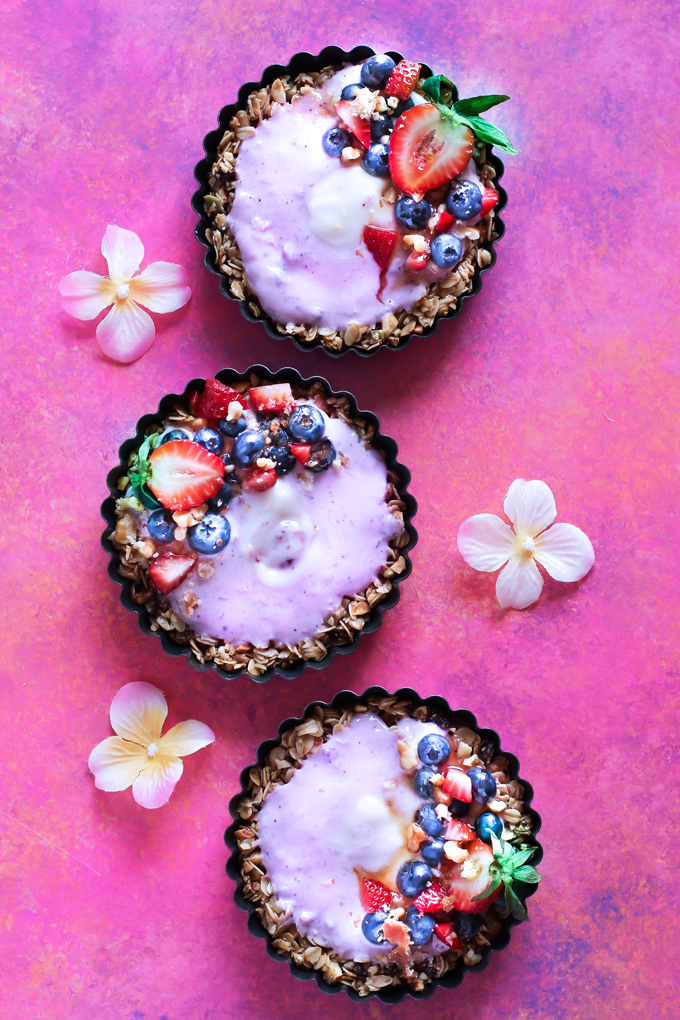 There's no fanciness going on for the filling. I simply used my coconut blueberry yogurt to fill the middle with. You can use anything from a vegan chocolate or vanilla pudding, to other flavors of yogurt. You know what would be so yum balls heaven in this would be my Vegan Custard. That's another good thing you can make for this holiday weekend. And it's all perfectly proportioned, or you can call it "single serve".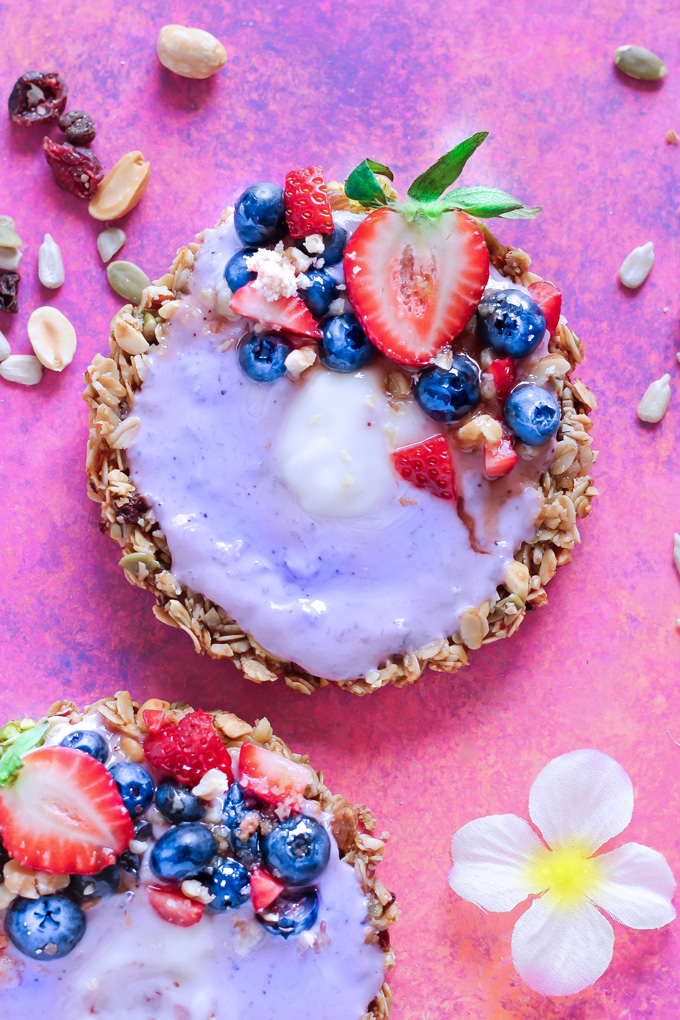 You're also not stuck with topping it with only berries. You can choose any fruit you like that fits with the theme of your tart. This is mostly the base we're after. You can do peaches, pineapple, or a combo of banana and chocolate with coconut. Just go with whatever your tastebuds tell you. You know what I did that was so so good but you can't really tell in the photos, well maybe a little, I crumbled on top some of my vegan blueberry muffins. It was on a whim because I was using berries to top but it worked out obviously so well.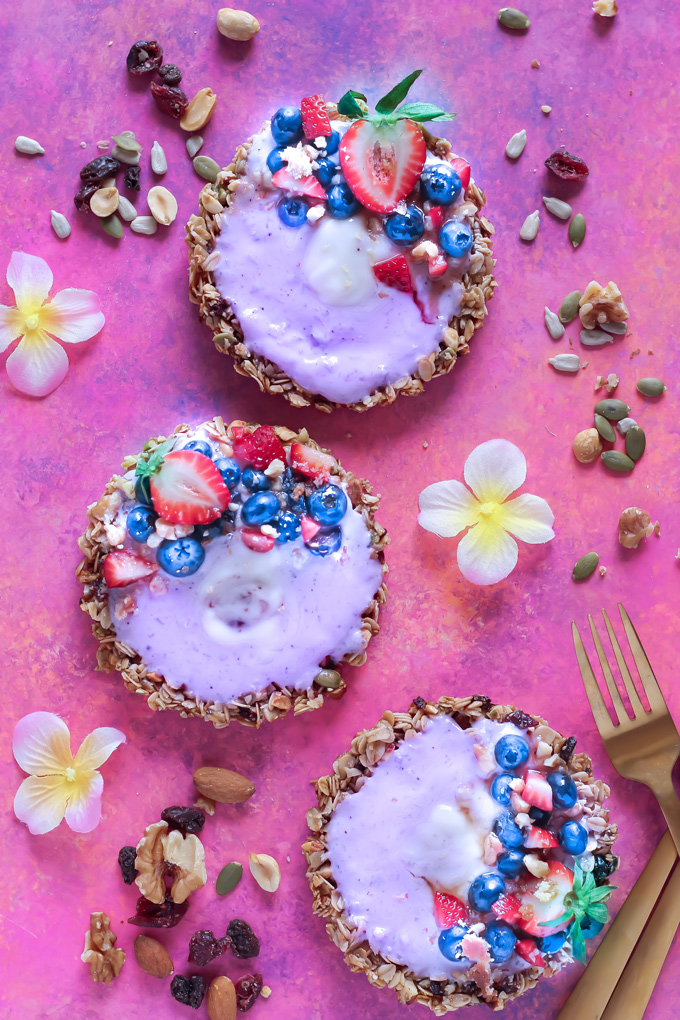 I think what I really love most about this snack is that although it looks straight out of a bakery, it's homemade and doesn't require a lot of time at all. The most work you'll do is maybe the 3-5 minutes it takes you to mix up the nuts and seeds. The hard part I guess would be just waiting the 10 minutes they're in the oven. If you're anything like me, you have no patience when it comes to snacks and want it right away. But 10 minutes isn't so bad.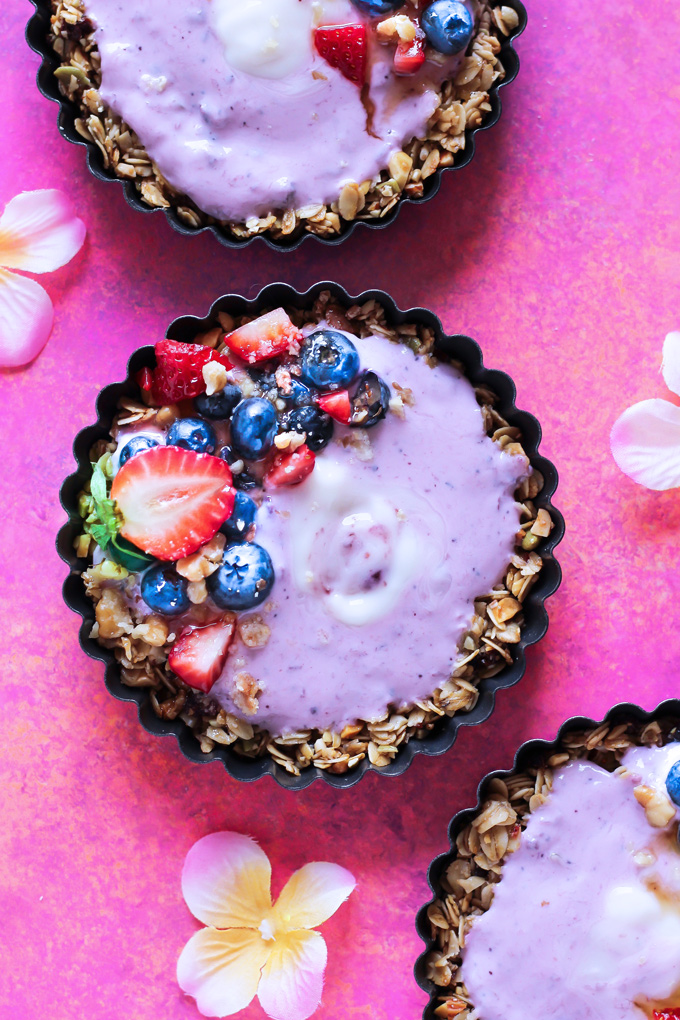 The best part though is when the yogurt sits on the crust or base, it softens it up. When your biting into it, it's not hard nuts and seeds, but soft and chewy almost like granola. You're going to love it. Keep me posted and drop me a line below, let me know what you think. Also let me know what fillings you used or another variety of tarts you make and love. I'm always game for adding more treats to my weekly rotation.
Enjoy the weekend and have a safe and fun Happy Easter!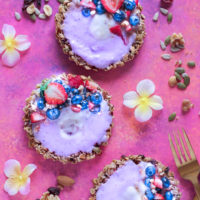 Nut and Seed Fruit Yogurt Tarts
Filled with dairy free blueberry yogurt and topped with sweet summer berries drizzled in maple syrup.
Ingredients:
1 cup mixed nuts, chopped
1 cup organic rolled oats, (can use gluten free oats too)
3 tbsp coconut oil, melted
2 tbsp maple syrup
1 tsp vanilla extract
pinch of salt
1 cup dairy free blueberry coconut yogurt
mixed berries to top
extra maple syrup to drizzle
Directions:
In a large bowl mix together mixed nuts and seeds, oats, coconut oil, maple syrup, vanilla, and salt.
Preheat oven to 350F. Press mixture evenly into 3 4x.75inch tart pans.
Bake for 10 minutes (15 if you want them crispier).
Remove from oven and let cool 5 minutes before filling up with yogurt.
Top with mixed berries and drizzle with extra maple syrup.
Serve immediately or store in the fridge until ready to eat. Enjoy!
Double this recipe to make 6 tarts.
You can use one mono nut to make the base if you don't have mixed nuts and seeds on hand.