Mini Vegan Custard Tarts With Raspberry
jump to recipe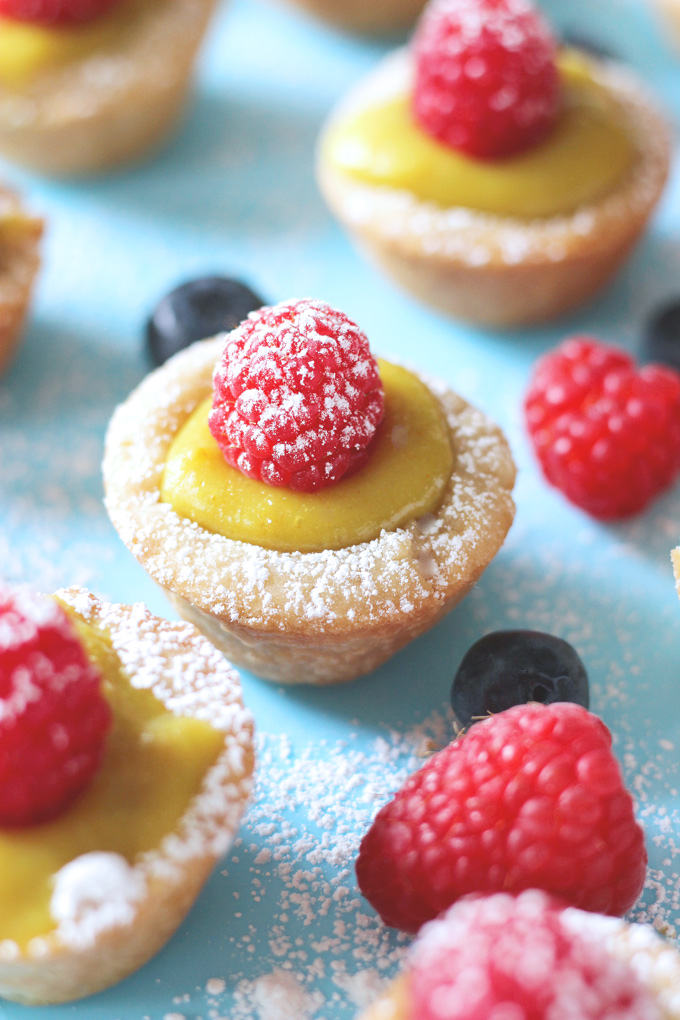 It's almost every moms dream to be able to make a homemade dessert that's super snazzy and doesn't require a lot of fuss. The least amount of fuss actually because ideally when you've got a ton to do, having to bake something up can seem daunting.
Sure we want to have the time to make a 3 hour cake, let it chill for another 3 hours, then get back at it again, spruce it up with some filling and frosting, but that's not always the case. Moms don't always have the freakin' time! (Gaaah) Enter these Mini Vegan Custard Tarts With Raspberry.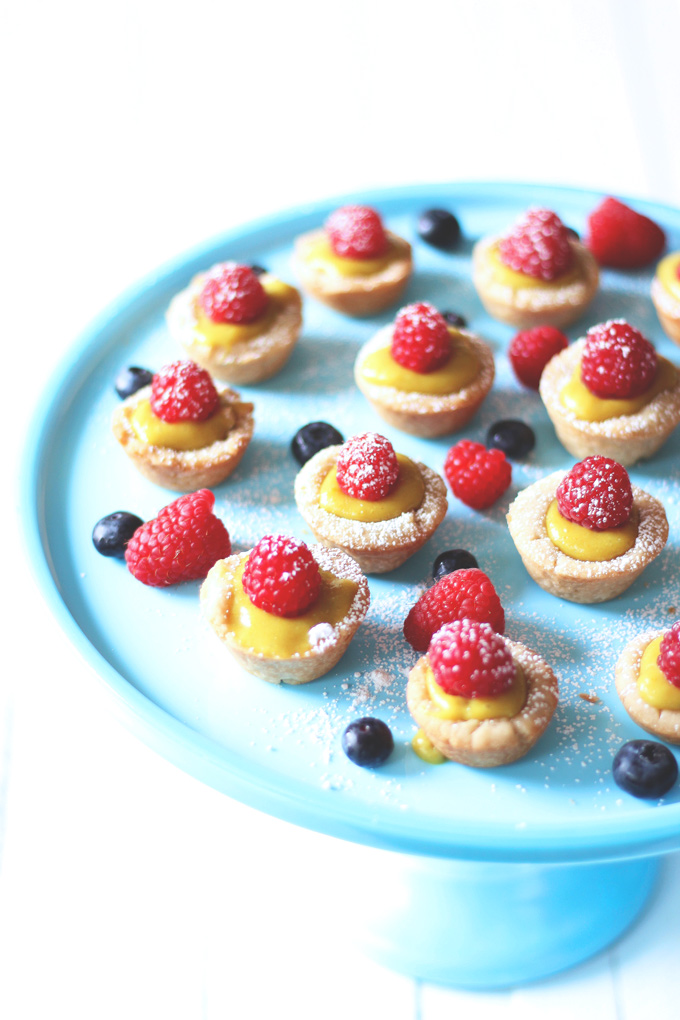 Raspberry is like the easiest, prettiest decoration. It doesn't need much else because well it's a raspberry and raspberries are like goddesses. They make anything look pretty. And adding a little dusting of coconut shreds or powdered sugar to really make it pop is a doozy.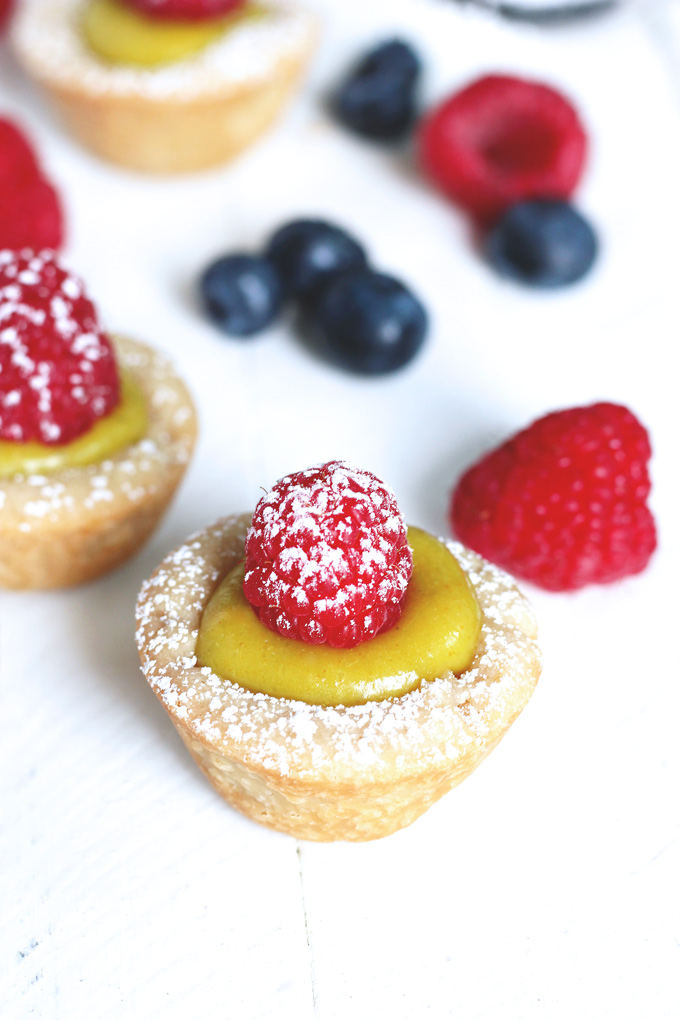 The base calls for only 4 ingredients and the easiest of measurements. You can legits do this half asleep and they'll still come out bomb diggity (are people still saying that?). And for the creamy vegan custard filling, the same thing, easy peasy. And I know you're thinking "but custard, doesn't it have eggs?" Not this version sweet friends, not this version. Vegan, healthy, and scrummily yummily all the way down to delish-ville.
Watch the video for recipe tutorial and instructions.
And you know I like mini. Mini is portion controlled so when you eat…i don't know….say 5 of anything mini it begs the question of "Does it really count"? haha No but seriously, these are healthy. Turmeric in the custard, yes mostly for color but you still reap the benefits of it because one: it's turmeric and two: it's paired with a healthy fat which amps up turmerics benefits. So I encourage you to enjoy these to the fullest.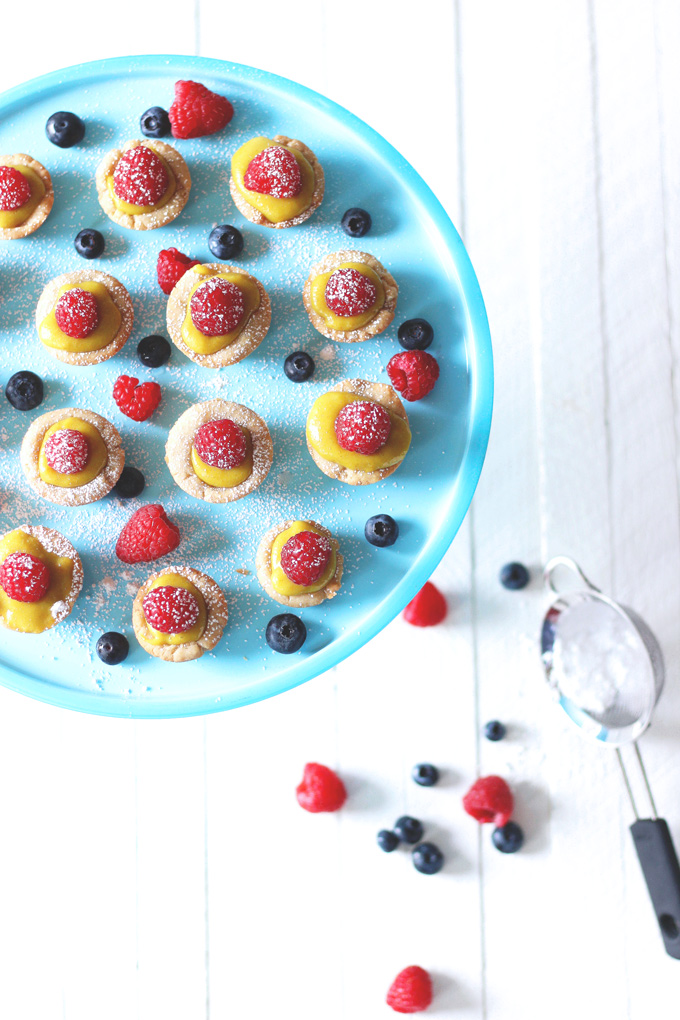 These are really super cute. You can make them for a special occasion, bring them with you to work, pack some for a fellow mom friend and give her this easy recipe. Tell her she deserves it and her family will love em'. Also just note that you can make a chocolate filling or pudding instead to put in the center if not a custard fan. And remember they don't have to be looking all perfect, just as long as you and them stay delicious. Tarts up!
Base loosely adapted from Bakerita and filling loosely adapted by NadiasHealthyKitchen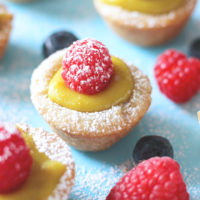 Mini Vegan Custard Tarts With Raspberry
These tarts are made with a cake crust and filled with a creamy, dreamy, heavenly vegan custard. Topped off with fresh raspberries and powdered coconut shreds for extra sparkle, making these bites sugar freakin' free!
Ingredients:
For the Crust
1 cup cake flour
1/2 cup coconut oil, melted
1/4 cup maple syrup
pinch of salt
Vegan Custard Filling
1 cup full fat coconut milk
2 tbsp cornstarch
1/2 tbsp agar agar or you can add one more tbsp of cornstarch for thickness
1/2 tsp turmeric
4 tbsp maple syrup
1 tsp vanilla extract
Directions:
The Crust
Watch video for recipe tutorial
Preheat oven to 350F and spray mini muffin tin with coconut oil spray or non stick cooking spray.
Place all ingredients in a bowl and mix until a dough forms.
Take 1/2 tbsp size portions and divide evenly in mini muffin molds. This makes 16 so you won't use up all 24 slots of the muffin tin.
Bake for 10 minutes or until golden brown on the edges. You won't need anymore than 12 minutes in the oven.
The Filling
Add milk, cornstarch, agar agar, and turmeric to a saucepan on medium heat. Whisk away any clumps.
Pour in maple syrup and vanilla extract, stirring consistently so it doesn't burn or stick to the bottom of the pan.
Once mini tarts are cool you can fill them with the custard. Use a spoon to evenly distribute the custard among the tarts. There will be leftover so you can place that in an air tight lid and eat later by itself as a snack!
Top with raspberries and powered coconut shreds (see notes).
You can eat them right away or have them sit in the fridge for 10 minutes to set but the custard thickens up pretty quickly. I do prefer to eat them cold because they taste like a pastry puff from a crafty bakery. Enjoy!
To make powdered coconut shreds place desired amount of coconut shreds into a processor or small blender. Run for a few seconds until it's a powdered form...and Voila!