Homemade Vegan Cocoa Puffs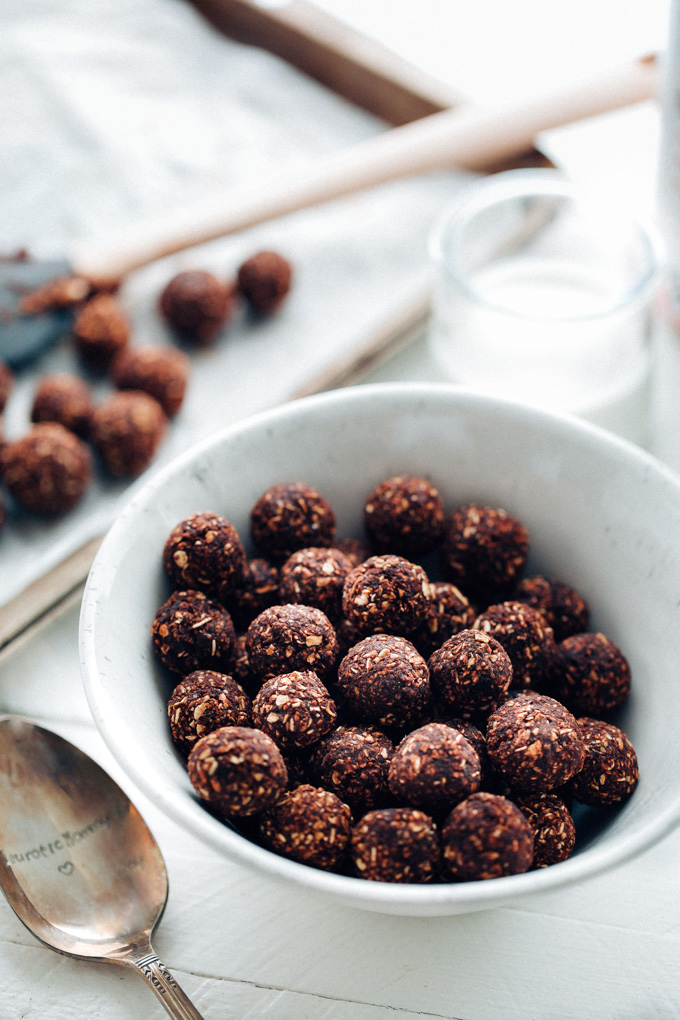 *This post is sponsored by Ripple Foods*
Did someone say Homemade Vegan Cocoa Puffs??? Why yes, I certainly did! This homemade cereal is naturally sweet, deliciously chocolatey, loaded with superfoods, healthy, and perfect for breakfast. Your kids will absolutely love this.
These little cocoa puff gems are what you need to replace the highly processed cereals you find in stores. Granted we all love a good bowl every now and then but you legit can't beat homemade. Especially when you're steering clear of the sugary filled sweets that our grocery stores are packed with.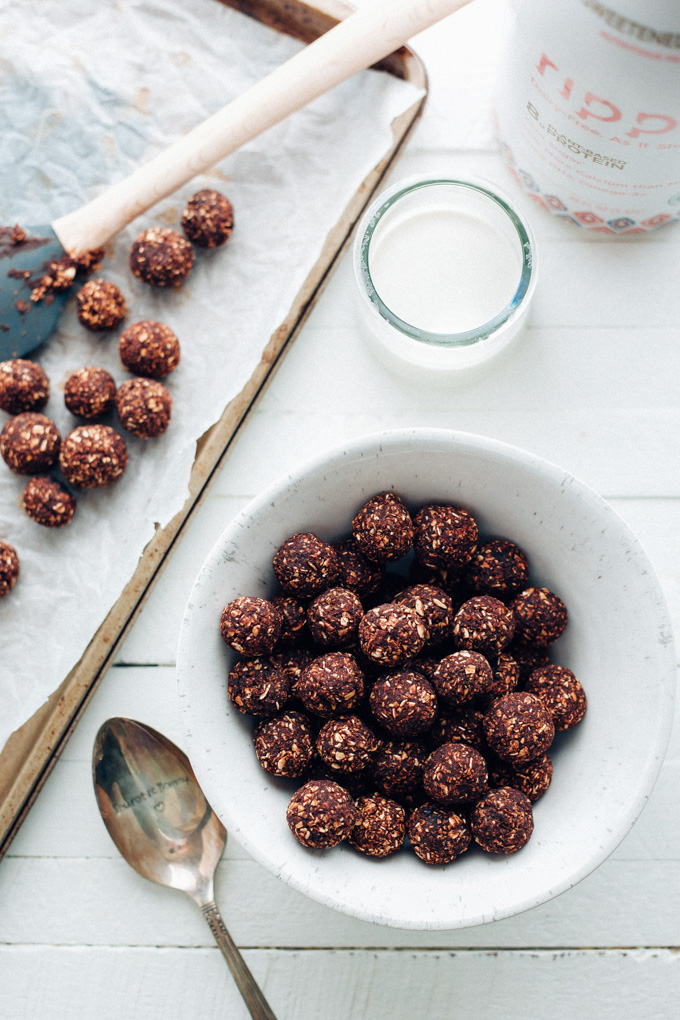 I love having these homemade vegan cocoa puffs with my new favorite plant-based nutritious pea milk on the market…Ripple Foods Unsweetened Vanilla. It doesn't have a weird aftertaste and it doesn't oddly taste like cardboard. I find some dairy-free milks can be a bit malty or grainy sometimes and I typically just stick with my go to's like almond and coconut milk. However, this unsweetened vanilla is up there with my regular unsweetened almond milk. It's not overly bearing with vanilla flavor. The vanilla is subtle which I really like because I don't want to drink anything that has a perfume type aftertaste. Clearly I'm picky with my milk.
This vanilla milk dream has:
8g plant-based protein per serving
Zero sugar
50% more calcium than 2% dairy milk
32mg DHA Omega-3's
An excellent source of Vitamin D
More iron than 2% dairy milk
Click here to see how Ripple Milk compares to dairy.
They also have dairy-free half & half out now in both original and vanilla flavor that goes well with your morning cup of joe to accompany your newfound homemade cereal. This is good for those of you who like your drinks extra creamy or if you're looking to sub a meal that typically uses cream in it, you can use this instead. It's not watery at all or thin like almond milk. The thickness of it holds up well.
Let's get back to the cocoa puffs shall we.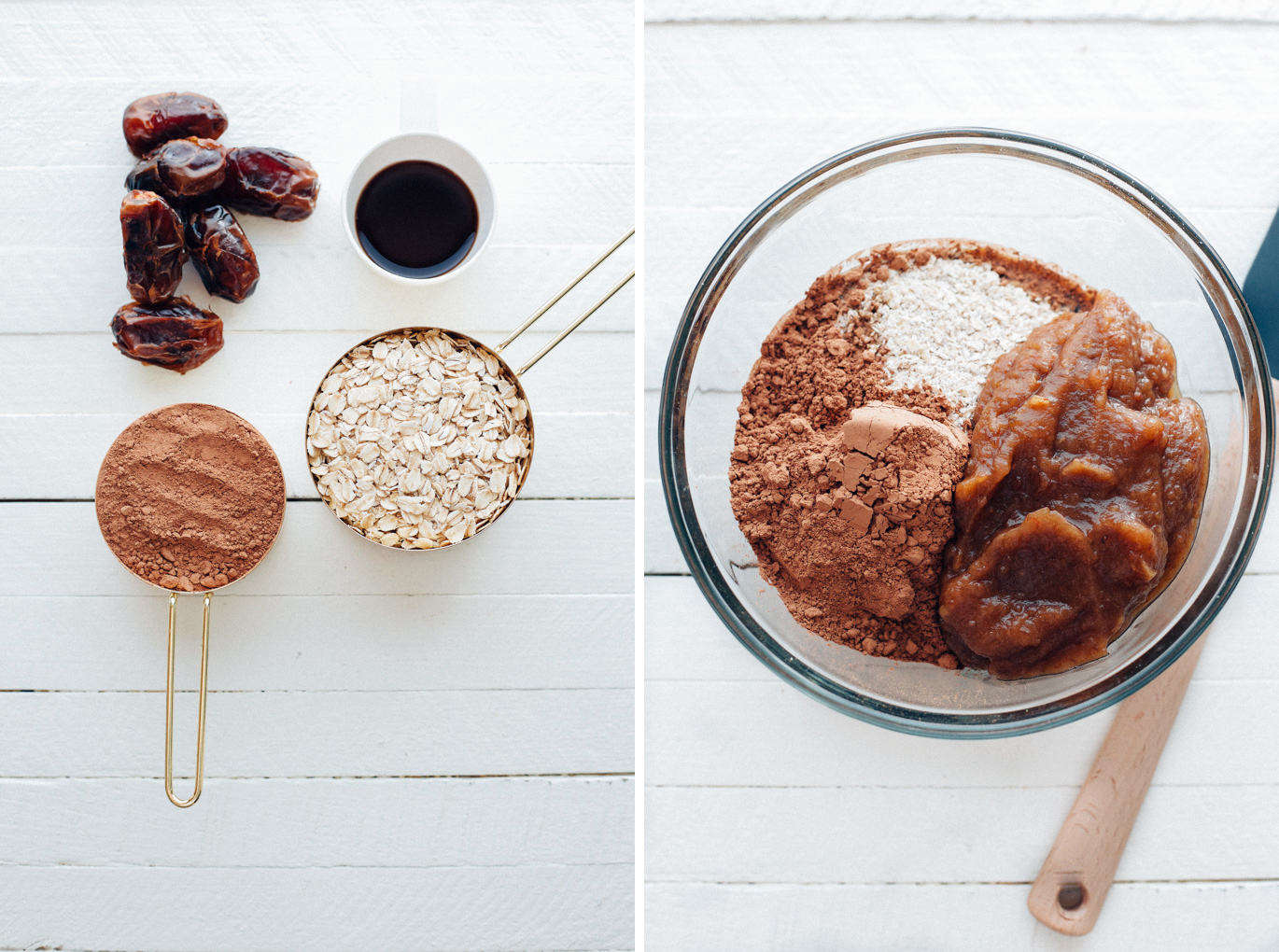 Made with only 4 ingredients, rolled oats, cacao or cocoa powder, date paste (instructions below), and vanilla extract. The cacao will give it a slightly more bitter taste but nothing you're not use to already if you are familiar with cacao. It's like dark chocolate plus it has a ton of health benefits. If you want it a bit sweeter and the dates alone aren't doing it for ya you can sprinkle in 2 tbsp of coconut sugar or add 2 tbsp of maple syrup. You can also do a pinch of pink himalayan rock salt to give it a nice salty and sweet flavor.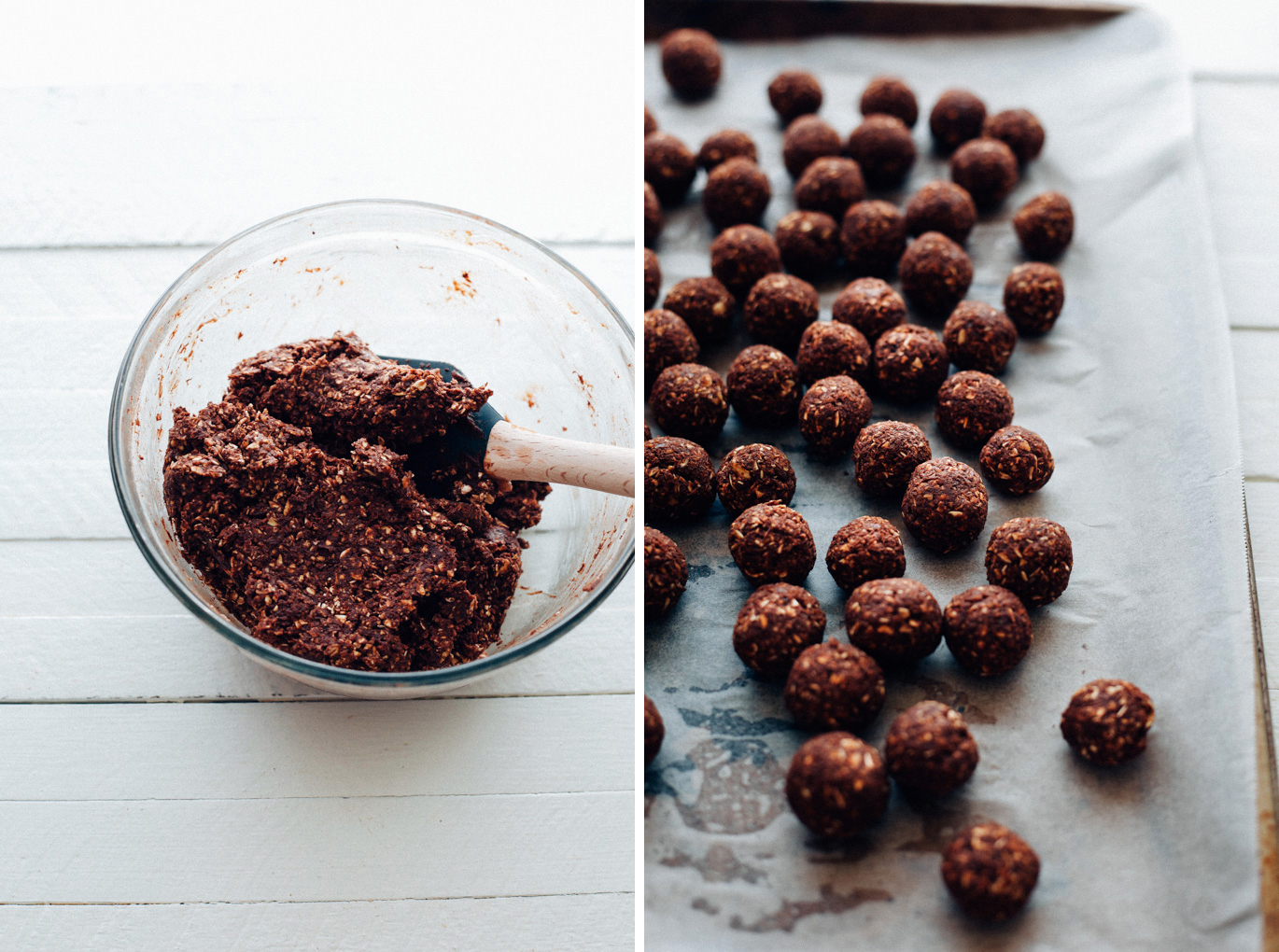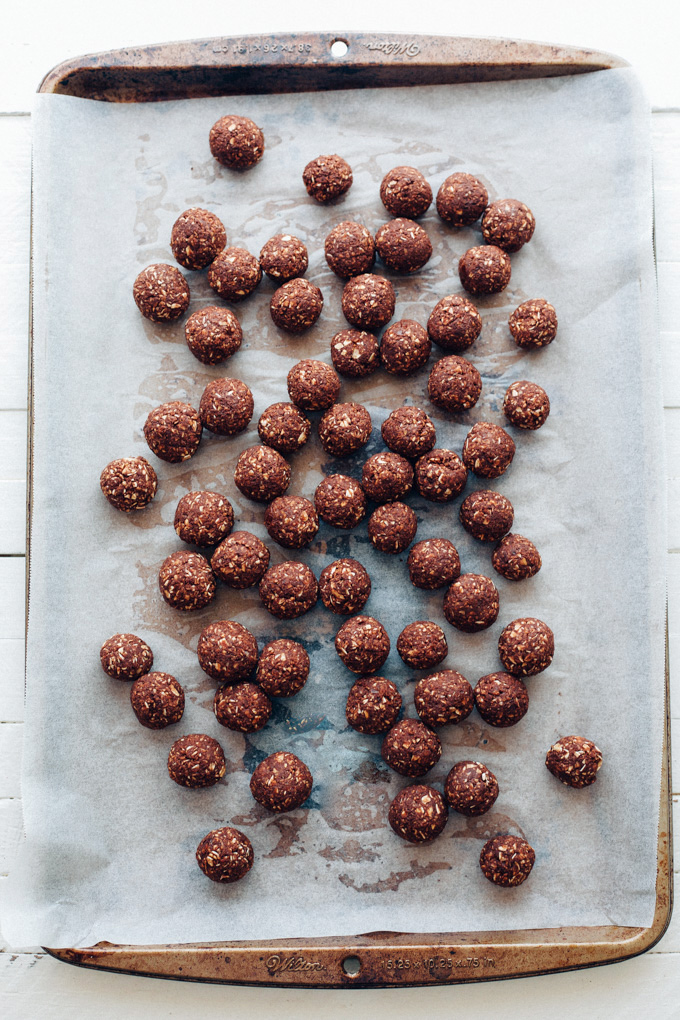 The texture??? To-Die-For — When they first come out of the oven they're all soft and chewy, but the longer they sit out the crunchier they get. They don't get too hard however to where it hurts your teeth. Then, when in the milk, it holds up exactly like cereal. Deeelicious.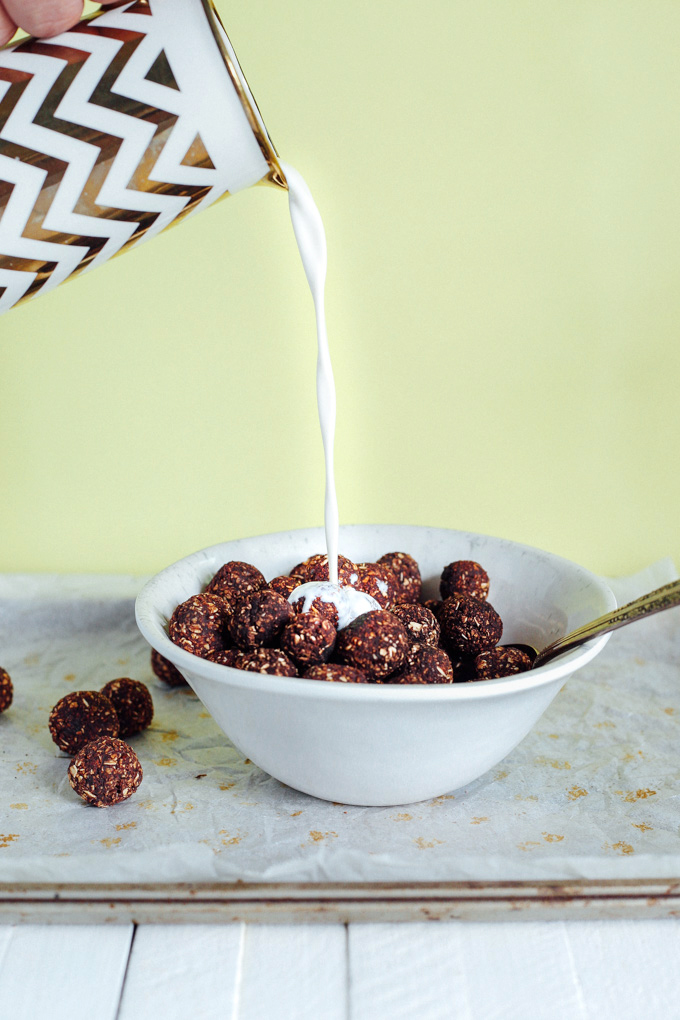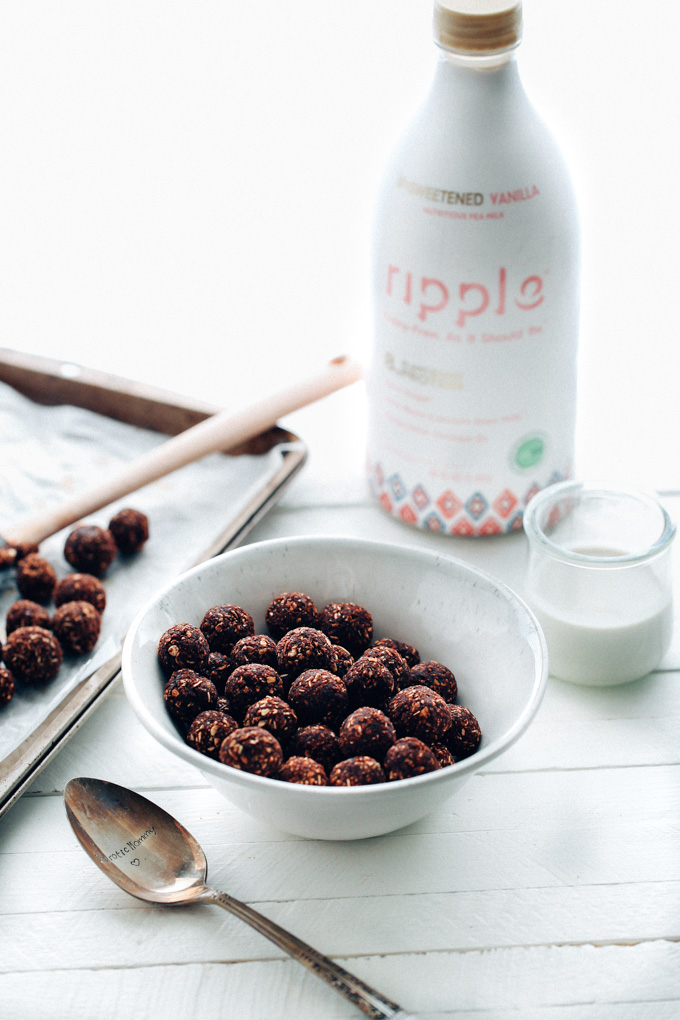 The really good thing about this recipe is that you can also eat them as a dry snack, send them off with your kids to school because they're also school safe, and they store well in the fridge for up to 5 days (if they even make it that long).
Don't know what snacks to send your kids to school with? See my Healthy Vegan Back to School Lunchbox Ideas.
Another little fun chocolate tip is you can melt down dark chocolate or chocolate chips and submerge these guys right into it. Pop them in the fridge after for 5 minutes till it sets and you basically have healthy brownie bites dipped in chocolate on your hands. The things you can do with some homemade vegan cocoa puffs. For me I'm always like "the more chocolate the better".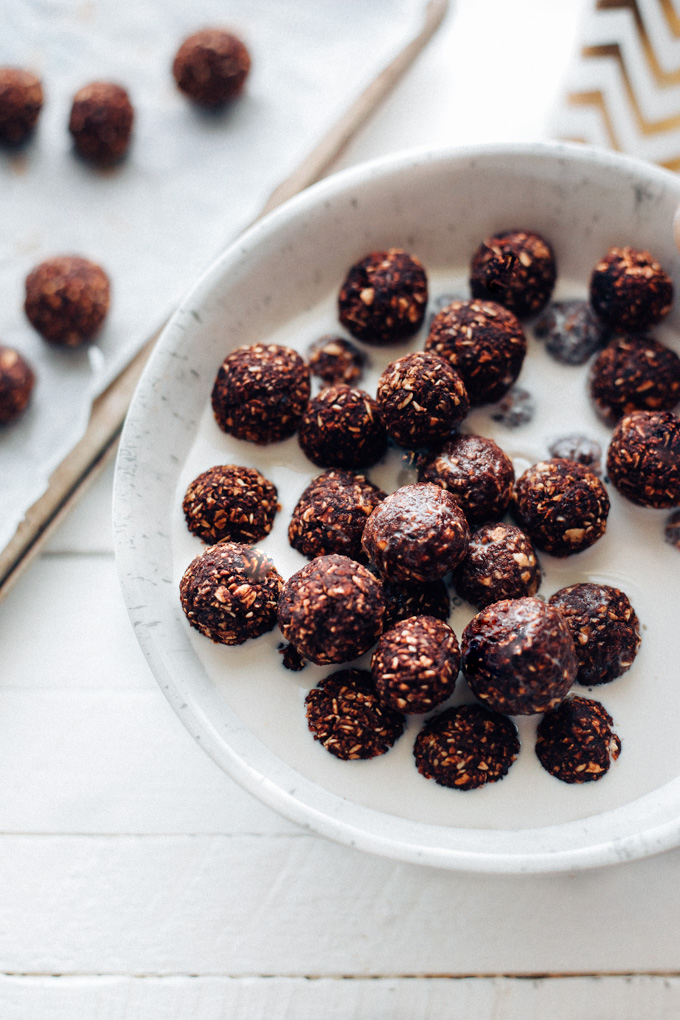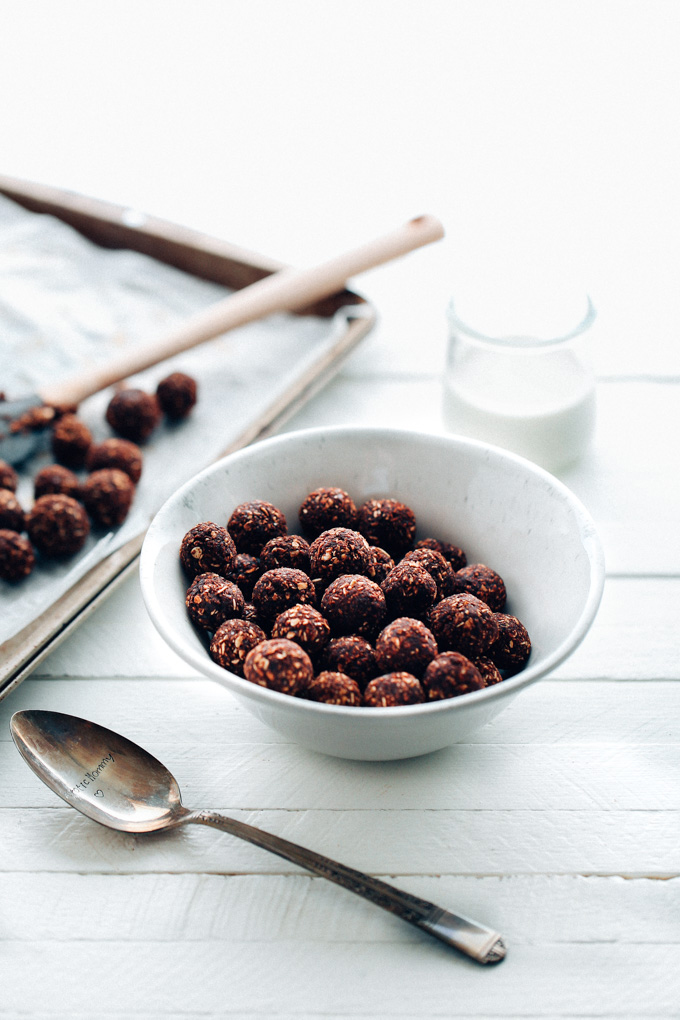 Now that you know there is a cereal out there with your healthy name on it you must make it ASAP. And don't forget to give Ripple Foods Unsweetened Vanilla Milk a go because it really complimented and brought to life this oh so wonderful breakfast.
Go, go now friends, chocolate waits for no one.
Thank you again to Ripple Foods for sponsoring this post.
To learn more about this pea milk, how it's made, where it comes from, and why it gives me all the plant-based, delicious feels visit RippleFoods or you can read this post.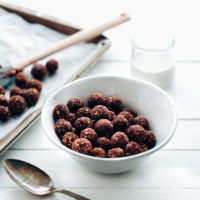 Homemade Vegan Cocoa Puffs
4 ingredient chocolatey cereal that's naturally sweetened, loaded with nutrients, healthy, and perfect for breakfast.
Ingredients:
2 cups rolled oats blended into flour
1/2 cup cacao powder
1 cup date paste (14 medjool dates blended with one cup of hot water)
1 1/2 tsp vanilla extract
pinch of salt (optional)
Directions:
Blend 2 cups of rolled oats until flour consistency.
Place all ingredients in a large bowl and mix until well combined.
Preheat oven to 350F and line baking sheet with parchment paper.
Take tsp size portions of dough and roll into round puffs.
Bake for 30 minutes. Remove from oven and allow to cool 5-10 minutes before eating.
You can alternatively make them then save them for a later time. The longer they stay out the more of a crunch you'll get. I preferably like them on the softer side.
Serve with Ripple Unsweetened Vanilla Milk (or any milk you have on hand) and Enjoy!
Recipe adapted from BeamingBanana
This post contains affiliate links.
~Pin This Recipe~