Sweet Potato Almond Butter Smoothie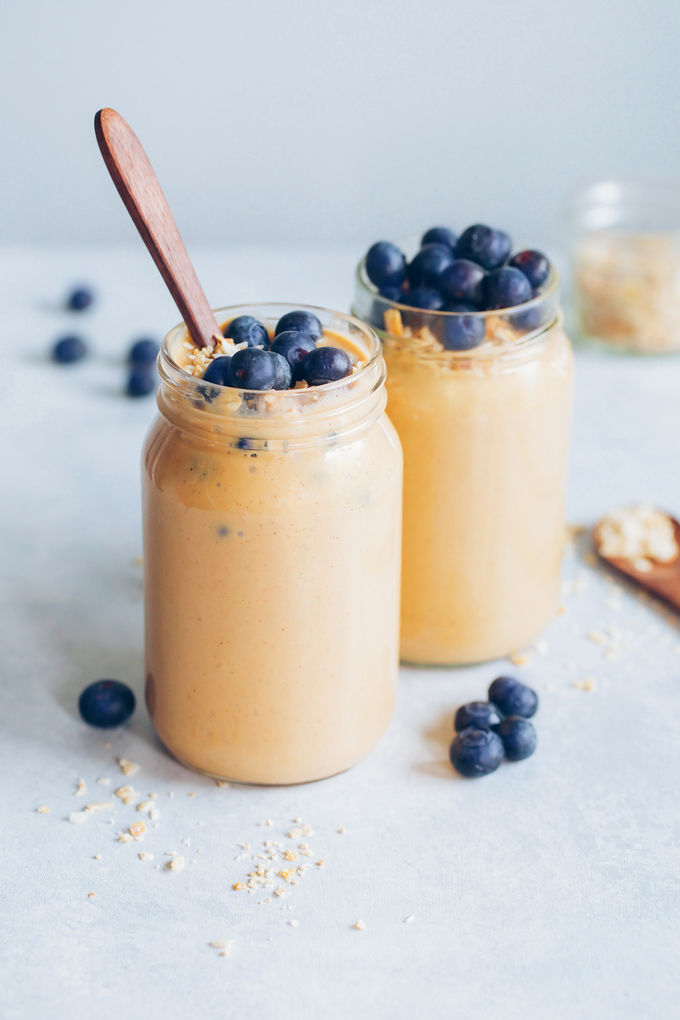 I've been on a sweet potato kick I'd say for like the past month now. Everyday I eat something that has to do with a sweet potato and this Sweet Potato Almond Butter Smoothie is no exception. I've always loved them, but I never made it a point to eat one every single day like I do now.
Sweet Potatoes are really really really good for you. Like so good. They're high in beta-carotene which is absorbed as vitamin A by the body which is in turn is excellent for healthy skin, mucus membranes, our immune system, good eye health and vision.
There are many different varieties of sweet potatoes too, they don't only come in the color orange everyone is use to. There are white, yellow, red and purple sweet potatoes as well, just as pretty, nutritious and delicious. Although shapes may be somewhat different, the health benefits remain.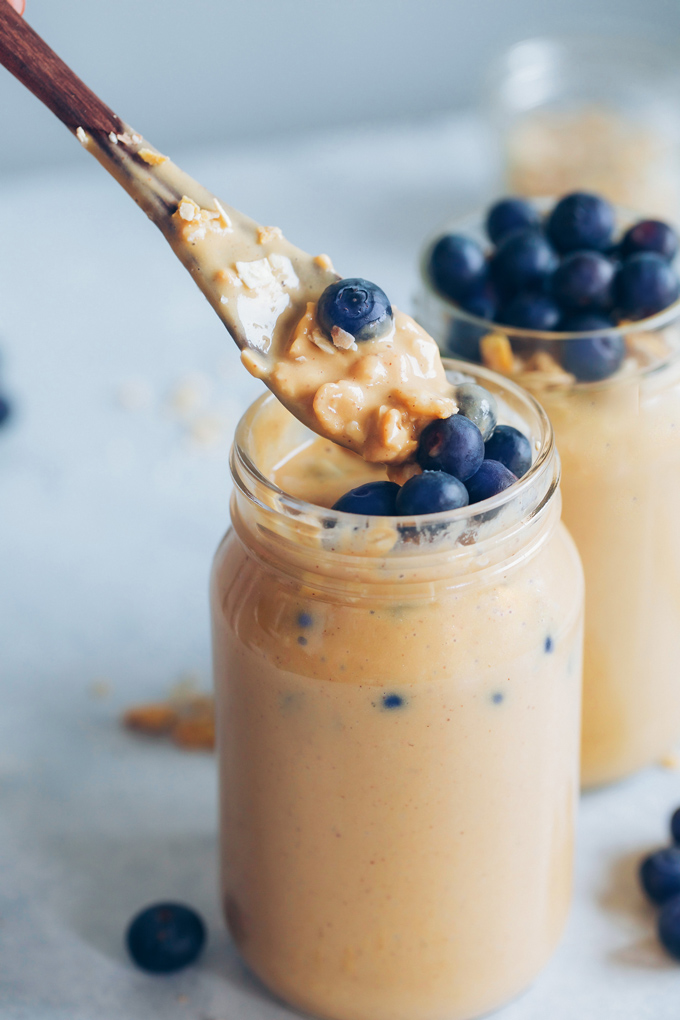 According to Chinese medicine, many root vegetables—and sweet potatoes in particular—can enhance Qi (pronounced chee) when consumed on a regular basis. … Qi is the animating principle of all life and of all objects. In Chinese medicine, the Qi of the digestive system is most often expressed through the Earth element. (1)
What happens when our Qi is weak?
Feel sluggish
Heavy limbs
Poor Posture
Congestion
Bloating
Brain Fog
Poor concentration
Sweet potatoes along with other root vegetables are considered warming to the body and help with digestion. Foods like sweet potatoes help support the body to give it fuel and nourishment so your limbs won't feel heavy, you won't be exhausted, you'll be able to think more clearly and function better, with clarity throughout the day.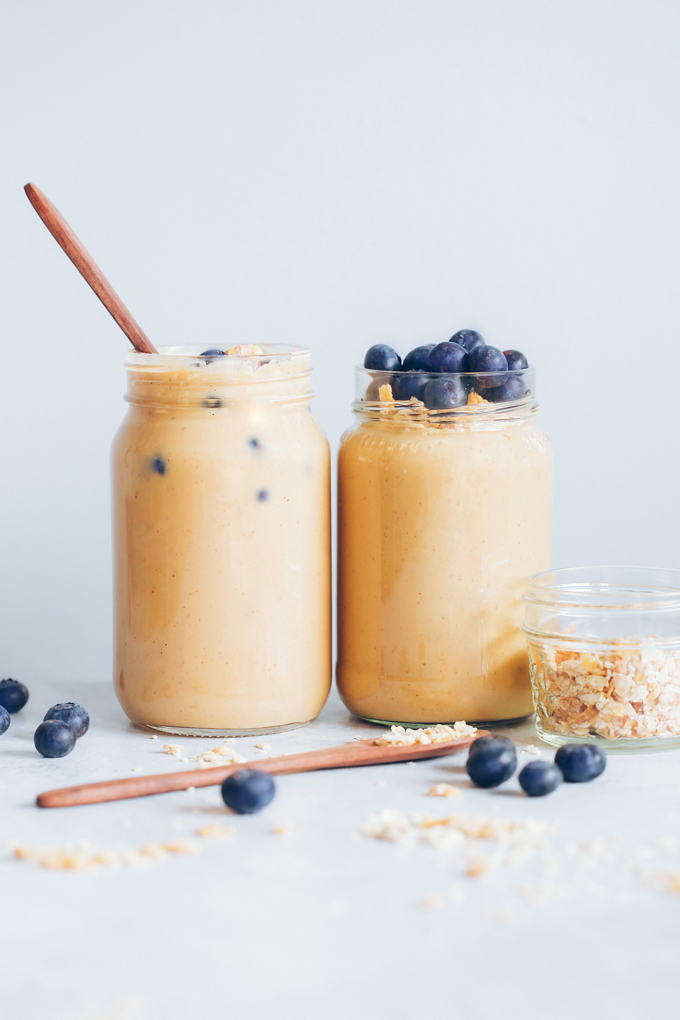 You can incorporate sweet potatoes into your diet in many different ways like this smoothie for instance, or you can bake them and have them with kale like I do in Kale Stuffed Sweet Potatoes and Sweet Potato and Kale Balls or you can use them as a the main ingredient in a pasta recipe like I do in my Sweet Potato Mac n' Cheese. These babies are so versatile so don't limit yourself. Smoothies have been my thing lately as they're so easy to throw together.
I bake my potatoes typically on Sunday so I have them prepped for the week. You can even freeze some so your smoothies will be nice and frothy too when the time comes. Baking is my favorite way to prepare them because the skin literally falls right off when they're done. You can also steam or boil them.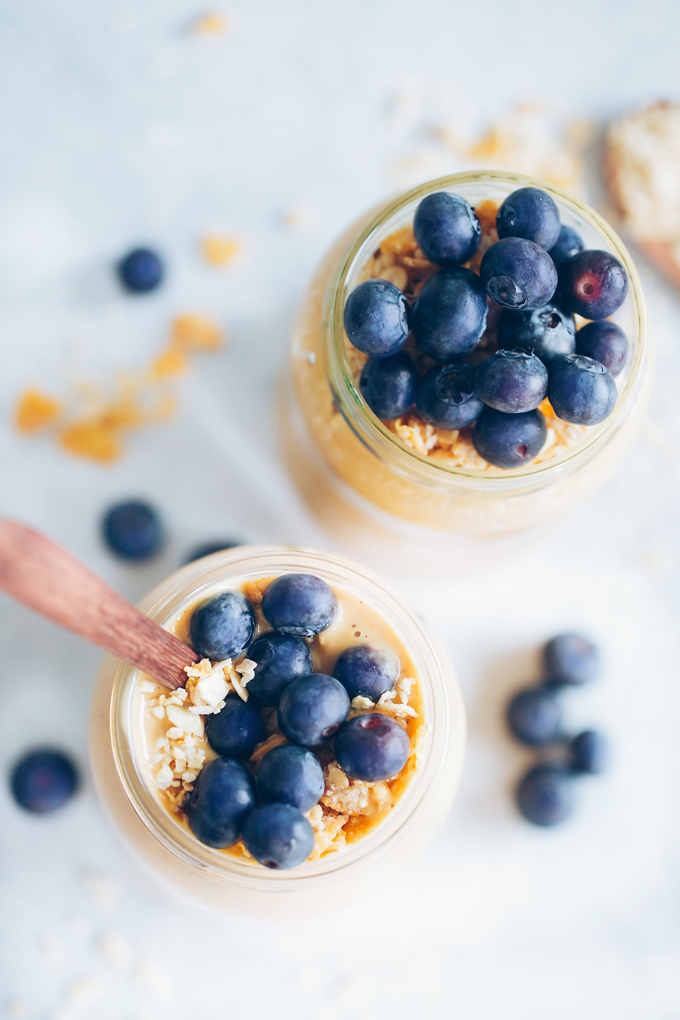 Making this Sweet Potato Almond Butter Smoothie is a great way to ensure your body is receiving the best of the best nutrients. Taking care of your digestive system is extremely important as our guts are our second brains. All disease  begins in the stomach they say, so make sure to provide yourself with key ingredients that support a flourishing healthy body. Smoothies are fun and easy to make. You never need more than 5 ingredients otherwise you'll just bombarding yourself with a ton of nutrients at the same time your body won't know what to do with all at once so keep it simple!
Watch this fun video on the making of this Smoothie!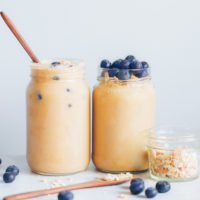 Sweet Potato Almond Butter Smoothie
This sweet potato almond butter smoothie is warming, naturally sweet and creamy, and packed with nutrition that is quality for keeping your Qi balanced.
Ingredients:
2 medium size sweet potatoes previously baked
2 bananas fresh or frozen
2 tbsp maple syrup (or extra for desired sweetness)
2 tbsp creamy almond butter
2 cups almond milk
2 tsp vanilla extract
ice as desired
handful of blueberries to top (optional)
handful of your favorite granola to top (optional)
Directions:
Place all ingredients in a blender and run until smooth and creamy.
Taste and adjust sweetness to your liking.
Add ice for desired consistency.
Pour into mason jars, top with fresh blueberries and granola, Enjoy!
This post contains affiliate links in which I may make a small commission. Opinions are in no way influenced by compensation. You can read our full disclosure policy for more information.
~Pin This Recipe~