Sweet Potato Mac & Cheese
jump to recipe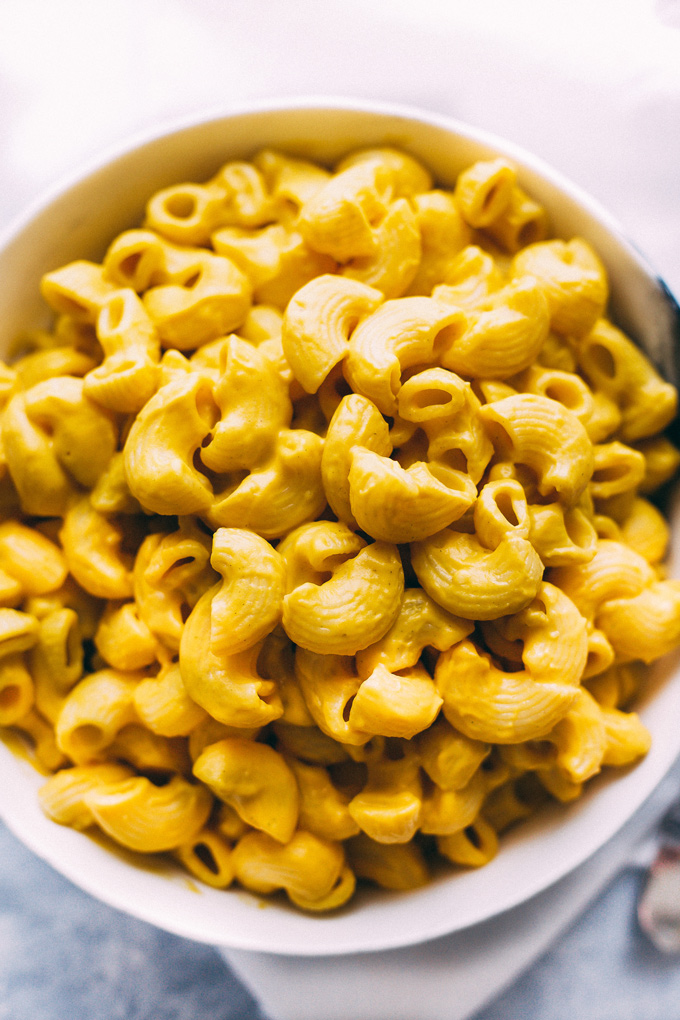 I don't know about you but I'm all for a good, quality vegan mac & cheese. I love making all sorts of cheese sauces because well for starters it's cheese sauce and second they're healthy and totally delicious. Enter Sweet Potato Mac & Cheese for the win.
I love that making these things require a bunch of different veggies. Then all of these veggies come together and make magic. Even the most skeptical of skeptics usually love these sauces. They are quite bangin'.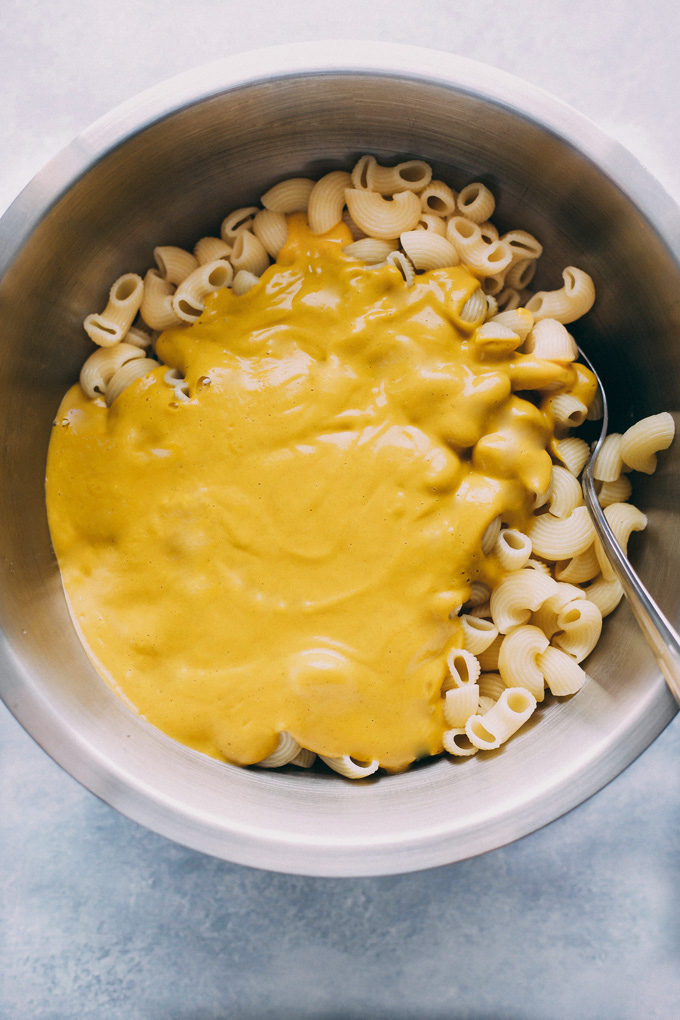 Now is this velveeta? No it's not, but we're not really trying to go for that anyway. Does it have the same consistency as say a box of store bought mac & cheese? Oh absolutely. It's fantastical. And it does taste like cheese! Just a much healthier, more delicious version, minus the hormones, antibiotics, infections, gmo's, sadness, and depression.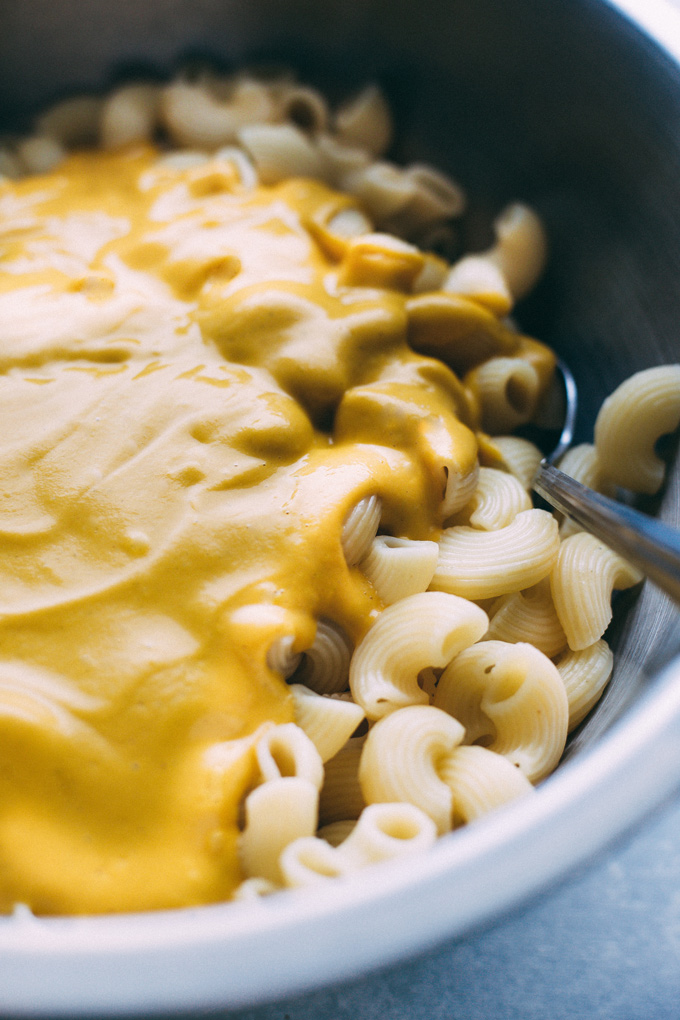 I usually make my vegan cheese wiz with red jacket potatoes and carrots, but for this I used the good ole sweet potato. They add a bit of sweetness to the sauce but not overload. It's the perfect balance of sweet and savory all while tasting like cheese. I know, sounds odd but so so true. That's why you have to make this for yourself. The ingredients list will WOW you.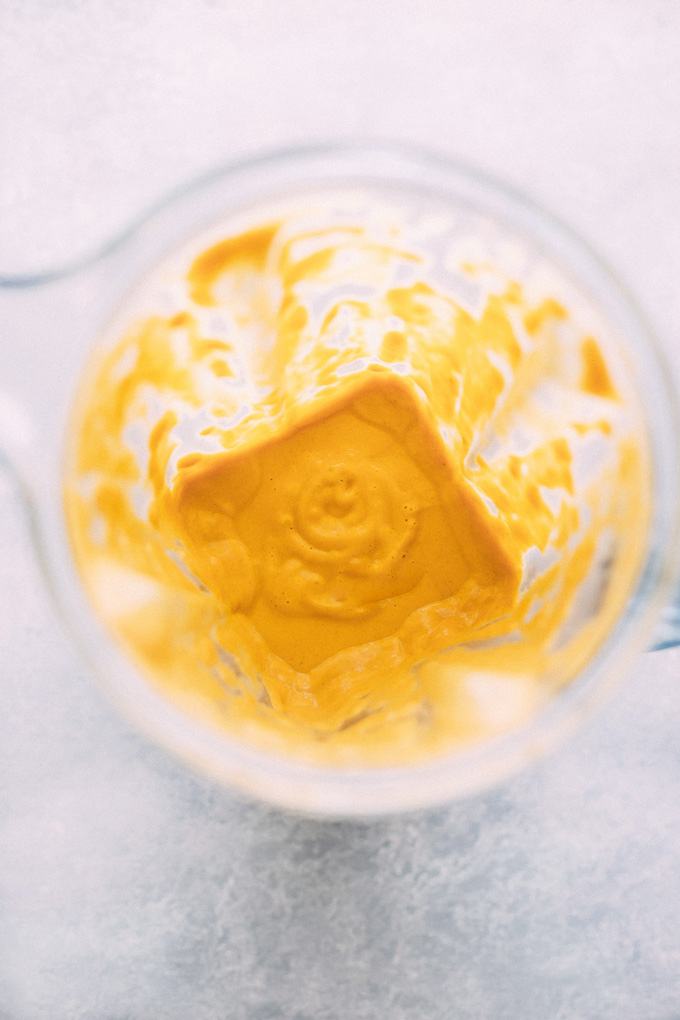 If you been following my InstaStories you know I made this in the beginning of the week and it was highly requested. It's one of those meals that people are just like "how?".
Here's what you got to look forward to and most likely you probably already have these ingredients lying around anyway. This is so super easy.
Sweet potatoes
Coconut cream
Water
Almond milk
Hemp seeds
Spices
Braggs liquid aminos or Soy sauce
Yellow mustard
Can you even deal with that?! Amazing right!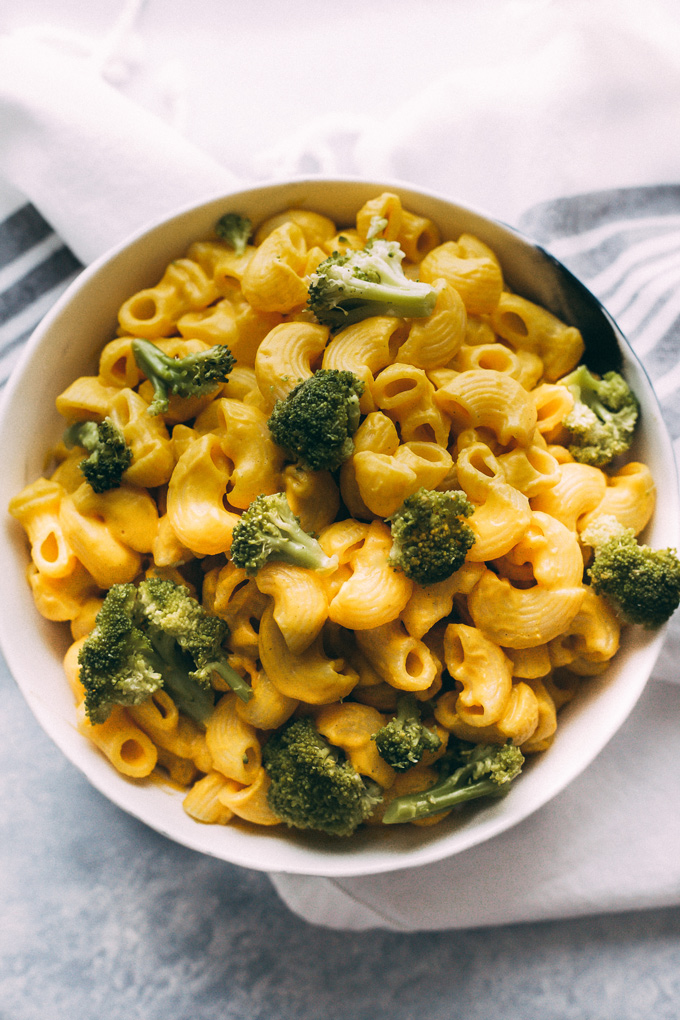 And then what you can do is you can add even more vegetables like I did here using broccoli. I love broccoli and cheese so I almost always add it to a lunch/dinner like this. Plus I like to dunk the broccoli in the leftover cheese sauce too. It's so yum.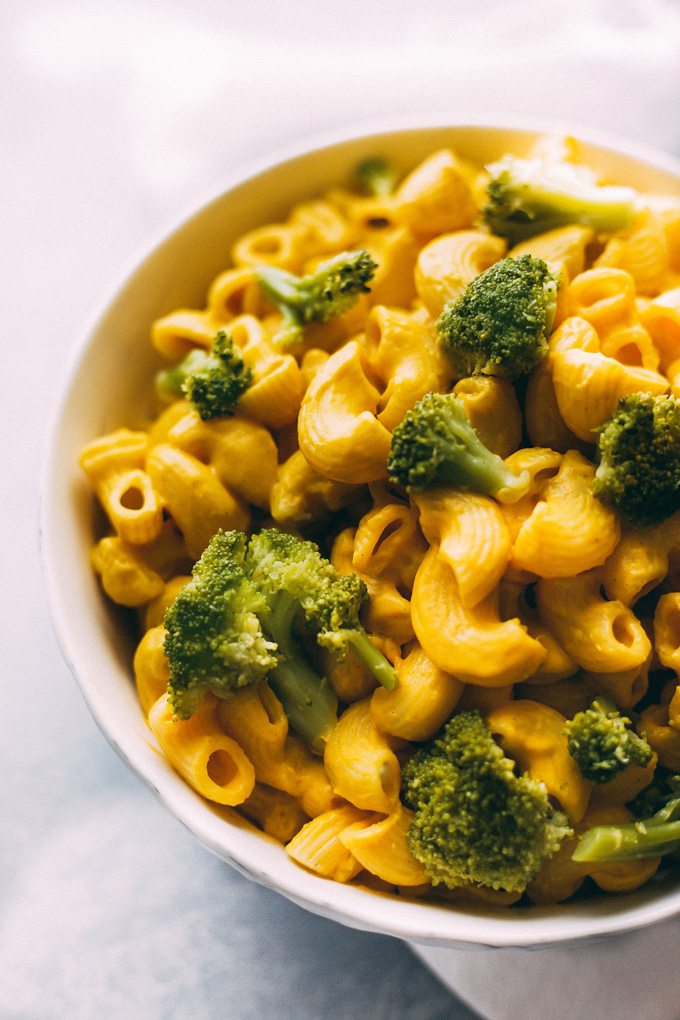 Another thing that I love to do is add applesauce. Oh Em to the Gee you guys don't knock it until you try it. It may seem like a pregnancy thing but trust me it's not.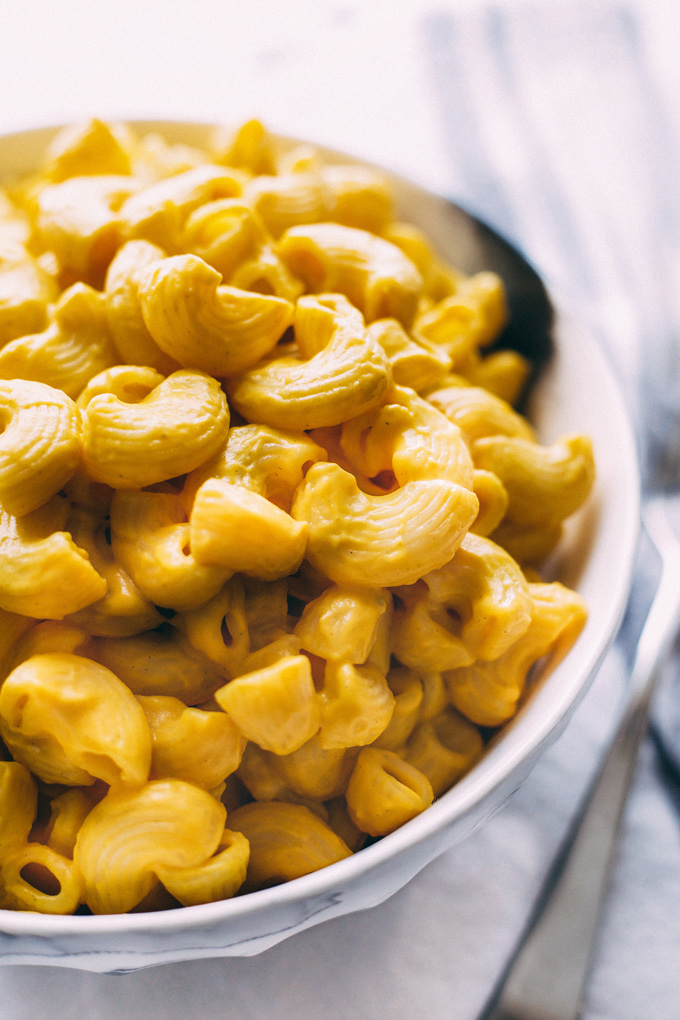 This recipe has no nuts or oil. If you don't want to add the coconut cream you can add more almond milk in it's place. If you are avoiding nuts all together use soy or rice milk. I haven't made this with either of those yet but I don't see them being a problem.
Make your sweet potatoes ahead of time so you have them on hand and all you have to do is whip up the cheese that takes 5 minutes and prepare your pasta. Easy freakin' peasy.
And remember, Sweet potatoes are an excellent source of vitamin A (in the form of beta-carotene). They are also high in vitamin C, manganese, copper, pantothenic acid and vitamin B6. Additionally, they are a good source of potassium, dietary fiber, niacin, vitamin B1, vitamin B2 and phosphorus. So get your sweet potatoes on!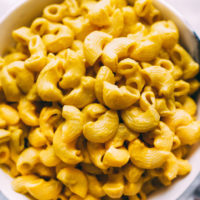 Sweet Potato Mac & Cheese
This will be your new favorite vegan cheese dish made with sweet potatoes! It's healthy, nut free, oil free, super smooth, creamy and delicious.
Ingredients:
16 oz of elbow macaroni (or any pasta of choice)
1 large sweet potato (or 1 cup), baked or boiled soft
1/2 cup water
1/4 cup almond milk
1/4 cup coconut cream
1 tsp braggs liquid aminos or organic soy sauce
1 tbsp hemp seeds
1/4 cup nutritional yeast
1 tsp yellow mustard
2 tsp garlic powder
2 tsp onion powder
2 tsp parsley
salt/pepper to taste
2 cups steamed broccoli (optional)
1 cup applesauce (optional)
Directions:
Prepare pasta according to package instructions.
Add all ingredients (except broccoli and applesauce) to a blender and run until smooth and creamy.
Taste and adjust seasonings to your liking.
If you want it a bit creamier and runny add a bit more milk or water but not too much.
Once pasta is done pour cheese sauce over and mix well.
Add broccoli and applesauce if desired, serve and Enjoy!
Recipe adapted from RunningwithSpoons.
Timing of this meal does not include prep time for cooking sweet potatoes. Baked sweet potatoes take about 50 minutes to cook and boiled sweet potatoes about 20 minutes. Be sure to discard the skin.
The sauce can be used as a dip.
Can sub the almond and coconut milk for your milk of choice.
~Pin this Recipe~