Vegan Sheet Pan Chocolate Peanut Butter Pancakes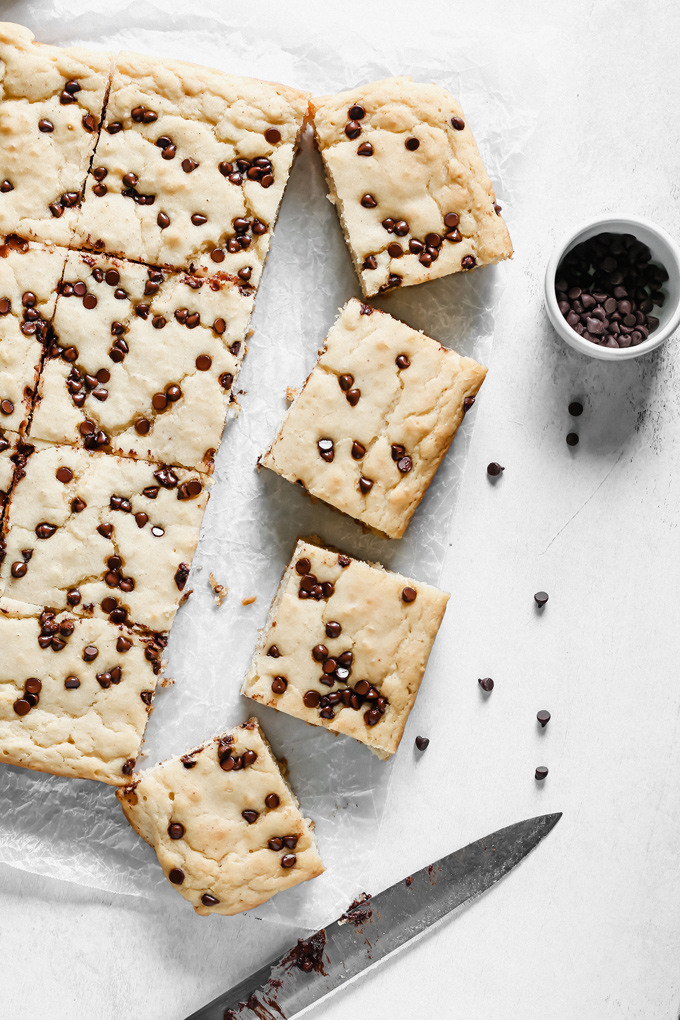 Breakfast is one of my favorite parts of the day, along with lunch, dinner and snack time, LOL. But I'll go to bed sometimes thinking about what I want for breakfast (please tell me I'm not the only one who does that). When I know I'm making these Vegan Sheet Pan Chocolate Peanut Butter Pancakes I get super excited–Pancakes smothered in vegan white chocolate peanut butter and dazzled with dairy free chocolate chips!? How can you go wrong!
And you know you can totes have breakfast for dinner right!? That's another thing we love to do in my house and pancakes are always a hit. These sheet pan pancakes however are an even bigger hit and they will be in your house too!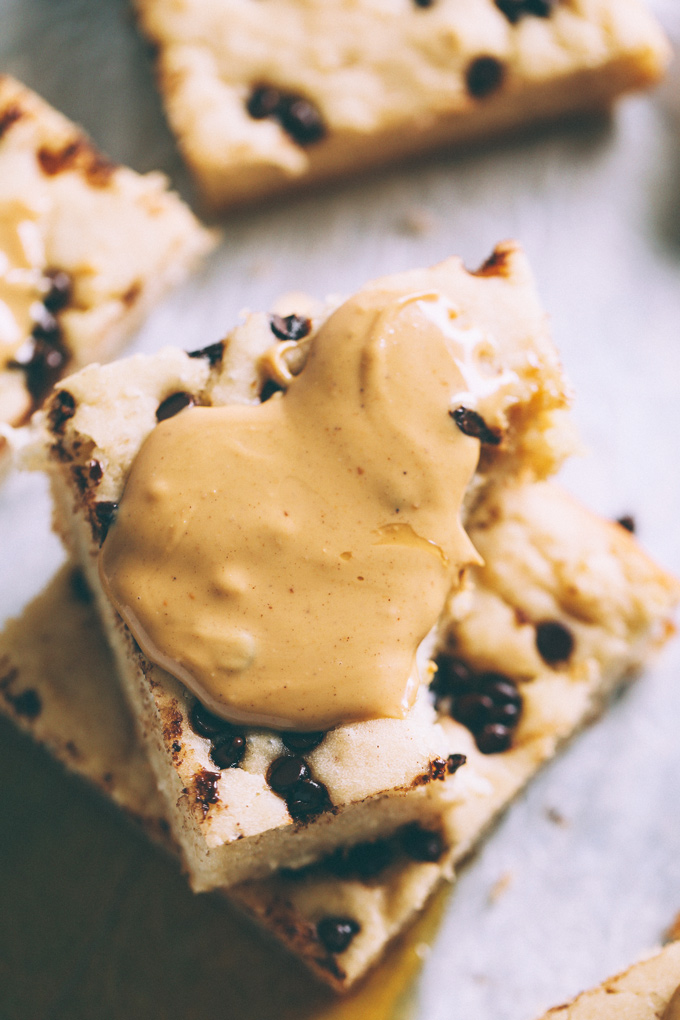 The easiness of these pancakes are beginner level. No pro-ness required. You can whip this up in minutes and save the "hard labor" for the oven.
I chose chocolate and peanut butter because as you know I love all things chocolate and peanut butter (obvi), they just melt so well together. But you can switch it up and top this with berries, bananas, peaches, plums, whatever you fancy! I personally like the berry, banana, chocolate trio myself.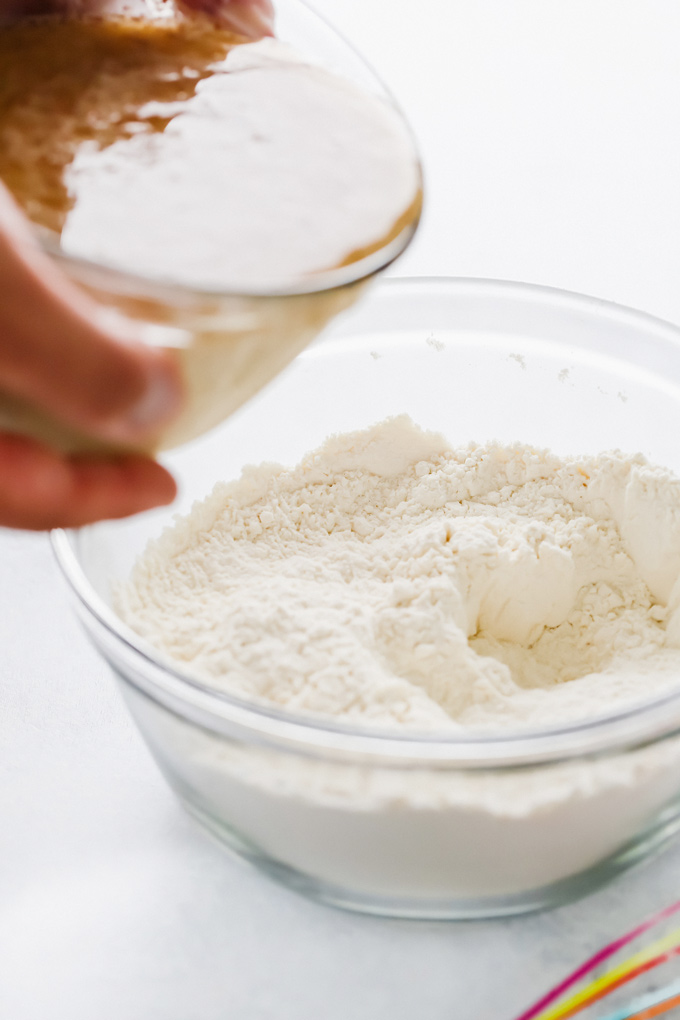 *This post contains affiliate links, which means that I make a small commission off all items you purchase at no additional cost to you. I appreciate your support in this way as it helps keep NM up and running.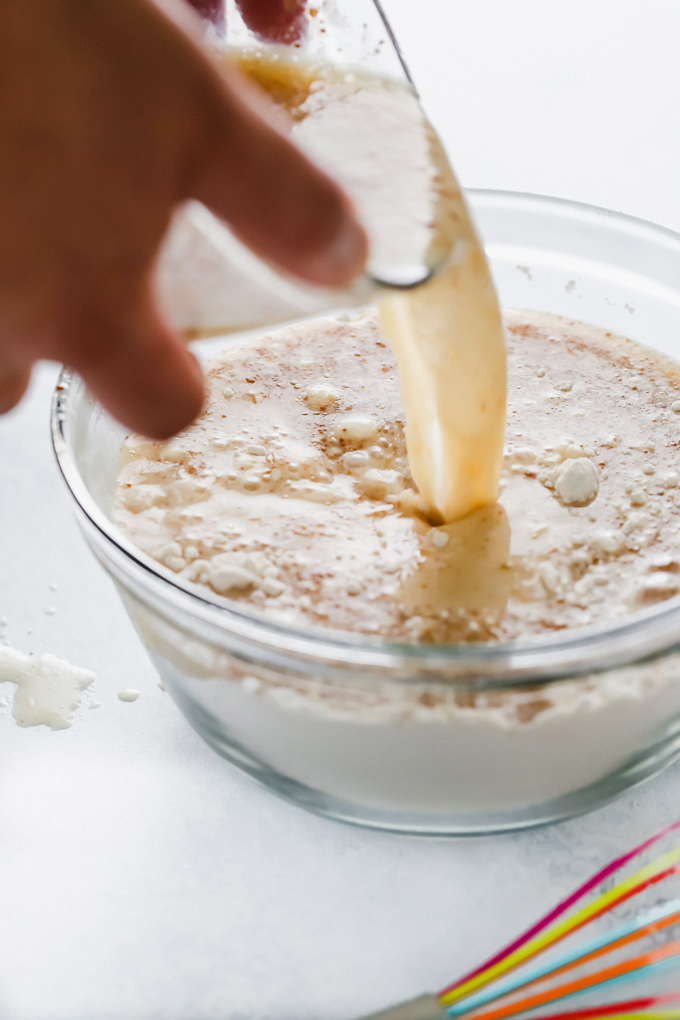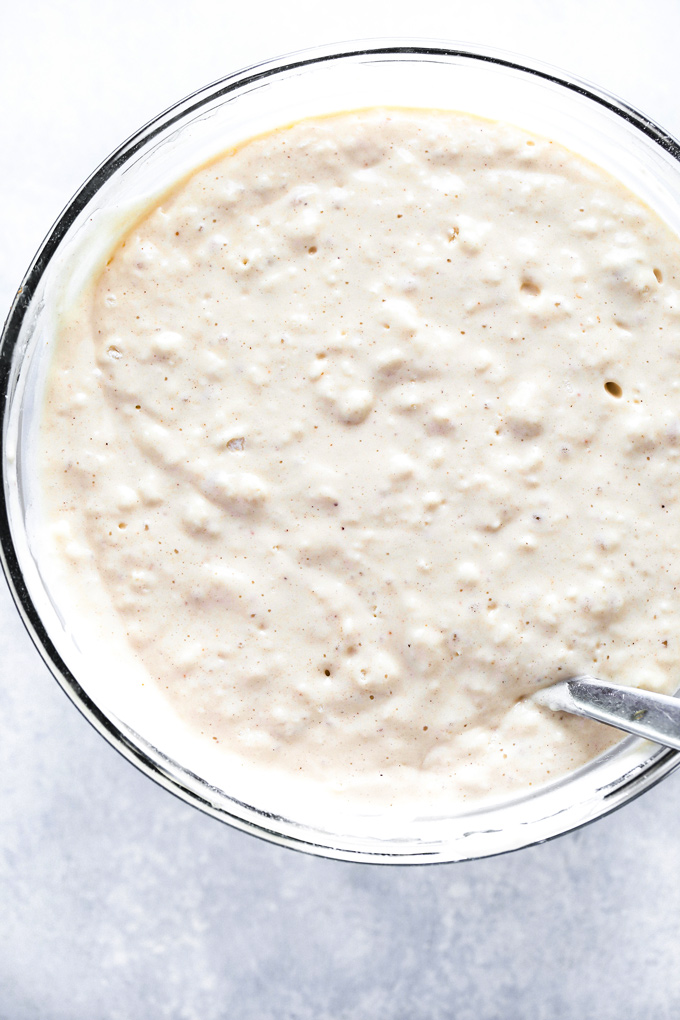 You'll add dry ingredients to one bowl, wet ingredients to another bowl, combine the two, mix with a fork, spray or line a baking sheet with parchment paper, pour the pancake batter in it, spreading it out evenly, top it with chocolate chips, place it in the oven, wait (the hardest part), take out of the oven, let stand for 5, smother the top with peanut butter, cut into squares and then proceed to shovel them in your mouth is all there is to it. I mean does it get any more delicious than that!? And it's vegan, and it's healthy-ish.
Side note though, you have to have to have to drizzle this with some maple syrup. Just be extra and do it, trust me you'll thank me laterz.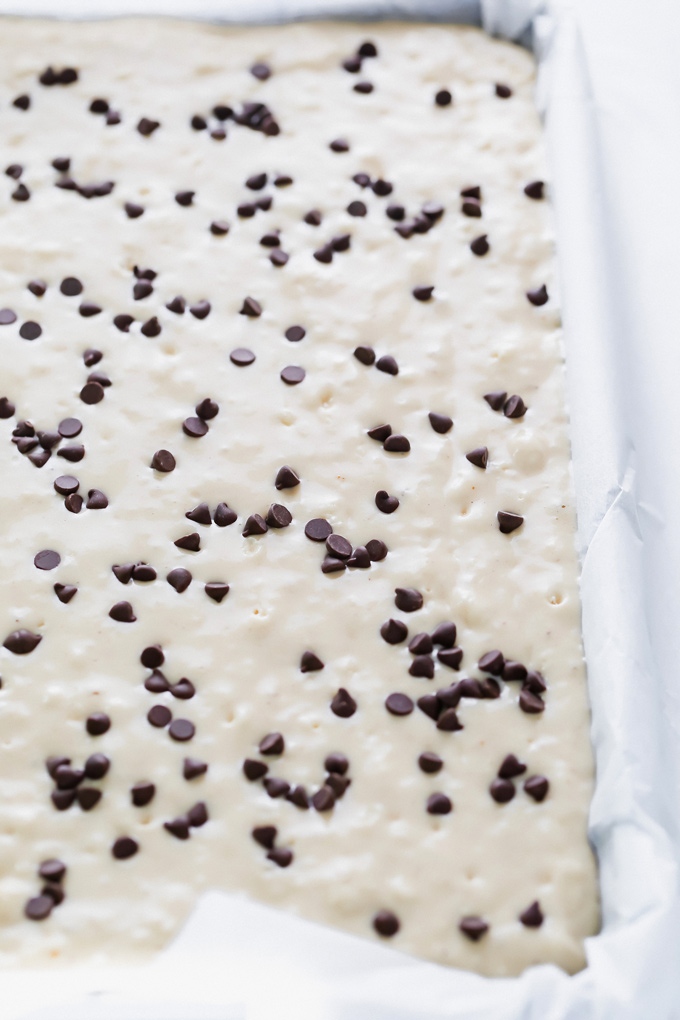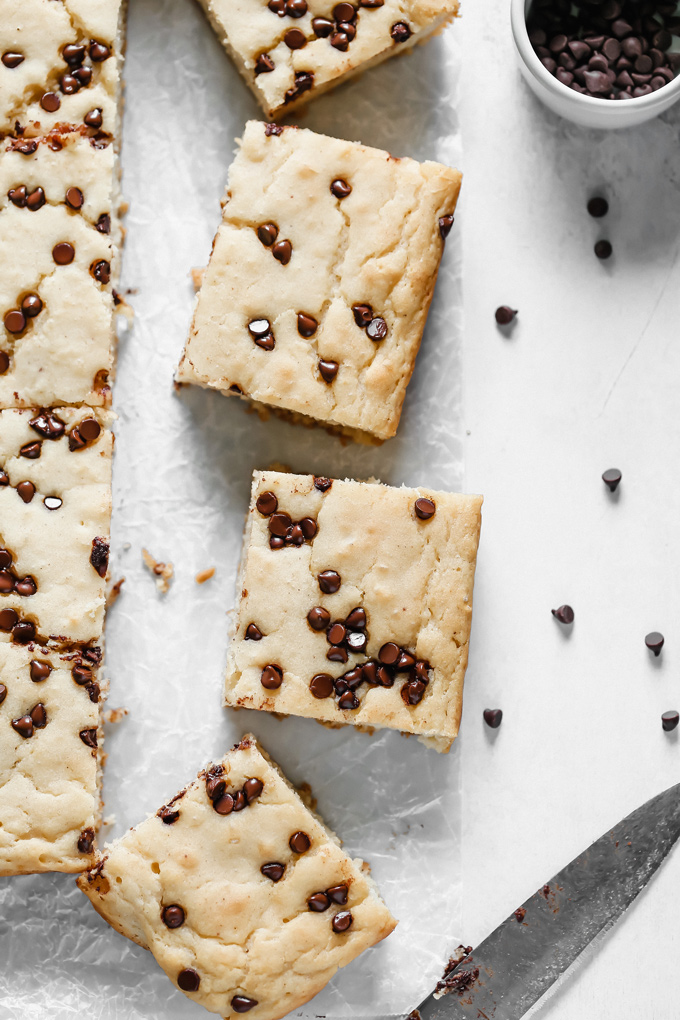 These pancakes are extremely filling. I can get through a bar and a half and be totally stuffed to the brim. You'll more than likely have leftovers and you can just put them in an air tight container and pop them in the fridge. These pancakes can be eaten cold or you can put them back in the oven to reheat for a few minutes and warm them up. They last about 3 days stored in the fridge. Warning: you will find yourself snacking on them during the wee hours of the night…sowwy :).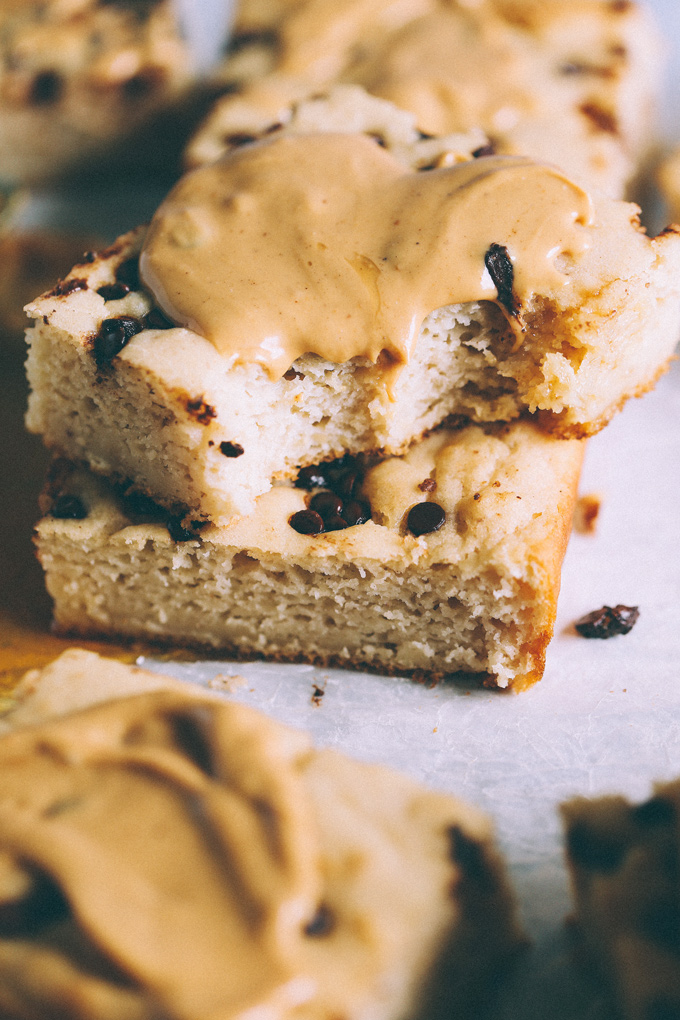 I mentioned that I used white chocolate peanut butter because that is legit my favorite peanut butter ever at the moment. I put it on everything, bananas, muffins, bagels, etc. It's vegan and totally smooth, rich and creamy. I love making these peanut butter cookies with it too. You can though use any peanut butter or nut butter you like, you are not chained to peanut butter. I love a good almond butter too. I usually find my fave at Trader Joe's. It's their unsalted raw creamy version. I've tried in the past making my own nut butter but to be completely honest with you it was a huge pain in the ass for me. I much rather save myself the time and headache and buy from a trusted source. Who knows, maybe I'll dabble trying to make them again in the future, but don't hold me to, LOL.
Brace yourselves, chocolate and peanut butter pancakes are coming…enjoy you sassy betches.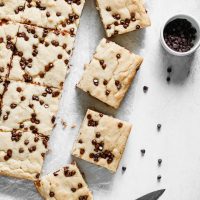 Vegan Sheet Pan Chocolate Peanut Butter Pancakes
Taking breakfast to a whole new level with these decked out pancake bars smothered with vegan white chocolate peanut butter and dazzled with dairy free chocolate chips.
Ingredients:
3 cups almond milk, unsweetened
1 tbsp apple cider vinegar
3 cups organic all purpose flour
3 tbsp baking powder
1/2 tsp cinnamon
1/2 tsp nutmeg
1 tsp salt
1/3 cup avocado oil
1/3 cup maple syrup
1 cup dairy free chocolate chips
1/2 cup peanut butter to top
extra maple syrup to drizzle (optional)
Directions:
Preheat oven to 425F and line an 11x16" baking sheet with parchment paper or spray it with non stick cooking spray.
In a large bowl mix together almond milk and apple cider vinegar. Set aside and let sit while you prep the dry ingredients. This process makes vegan butter milk.
In another large bowl whisk together all dry ingredients: flour, baking powder, cinnamon, nutmeg, and salt.
Go back to the bowl with the almond milk and ACV and add the rest of the wet ingredients into the now ready vegan buttermilk: vanilla, maple syrup, and avocado oil. Mix well.
Pour wet ingredients into dry ingredients and mix well with a fork. It will rise and become super fluffy. Let it sit like that for 5 minutes.
Pour pancake batter into prepared baking sheet and top with 1 cup chocolate chips.
Pop in the oven and let bake for 15-18 minutes.
Remove from oven when ready and let stand for 5 minutes. Spread peanut butter as desired across the top, cut into squares, drizzle with maple syrup, serve and enjoy!
Recipe adapted from rabbitandwolves.com
can sub peanut butter for any nut butter
can sub avocado oil for extra virgin olive oil
We are a participant in the Amazon Services LLC Associates Program, an affiliate advertising program designed to provide a means for us to earn fees by linking to Amazon.com and affiliated sites.
~Pin This Recipe~