Jumbo Bakery Style Chocolate Chip Muffins
jump to recipe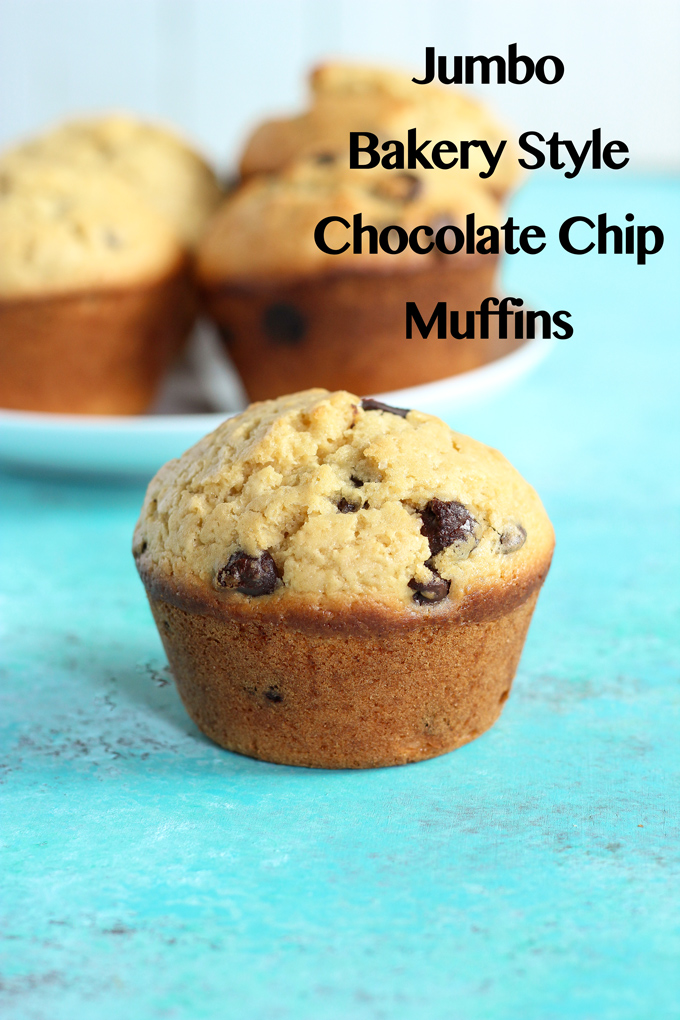 Working in NYC for more than half of my life I've become accustomed to their baked goods. Like Jumbo Bakery Style Chocolate Chip Muffins. The muffins in NY are incredible, they're fluffy, moist, and filled with melty chocolate chips in every bite. It use to be my go to breakfast every morning before work. I was also in my 20's so eating muffins on the regular didn't really phase me. I always loved carbs.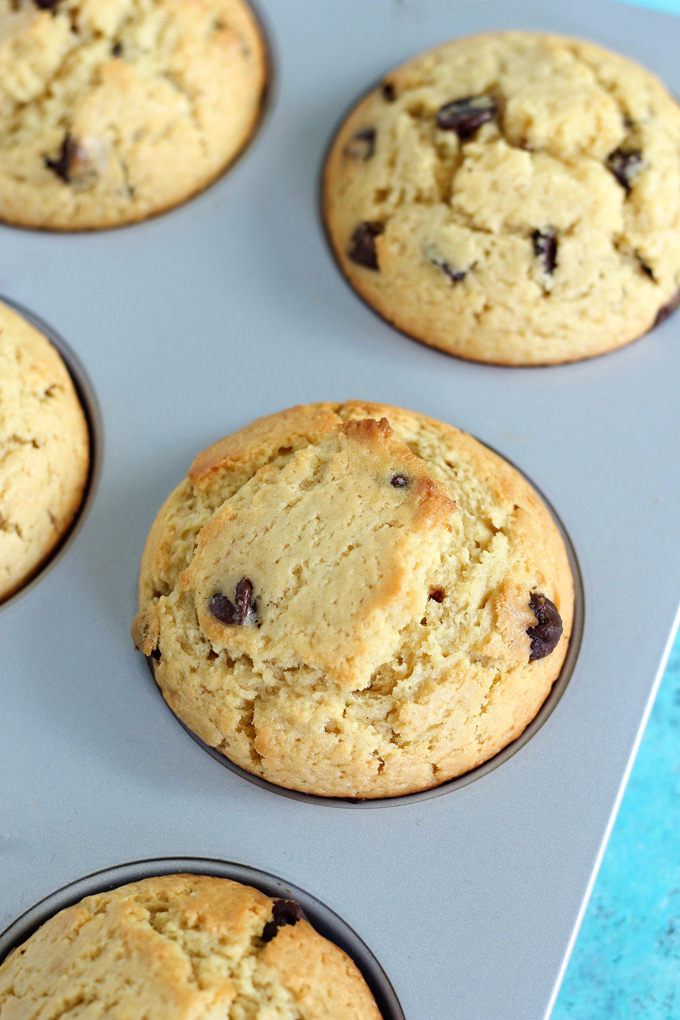 Anyway, I made these vegan, yes that's correct, no animal products in this baby and yet the taste and texture are that of my fave muffins in NY. Go freakin' figure.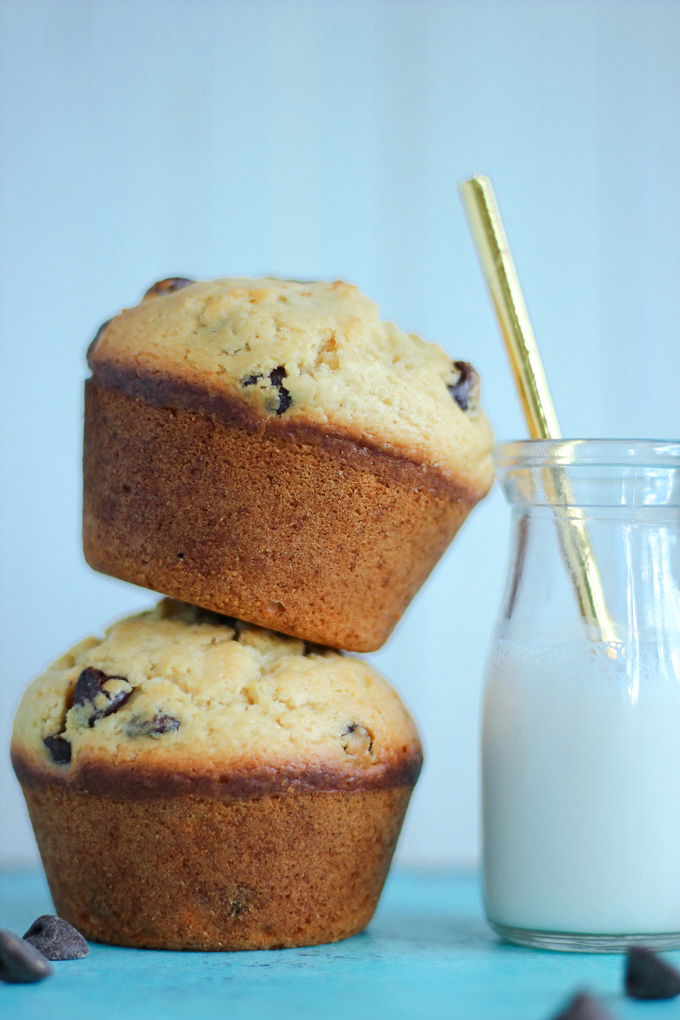 So for these instead of using a standard muffin tin, I used a jumbo 6 muffin cup tin. They come out perfect. But if you don't have a jumbo pan not to worry, you can make these in the standard and they will still come out ultra delish.
I typically make these on Saturday mornings to go along with our brunch theme and they last till about Sunday. My son absolutely loves them but he only gets through like half of one and is all stuffed to the brim. They're almost as big as his head, lol, not really but they are enormous.
You can also sub out the chocolate chips for blueberries! Those are spectacular too. With those I like to add on an top a little sugary dusting. But really I think for me it's just the knowing I'm eating a jumbo muffin and I don't ever really feel bad about it. Like ever.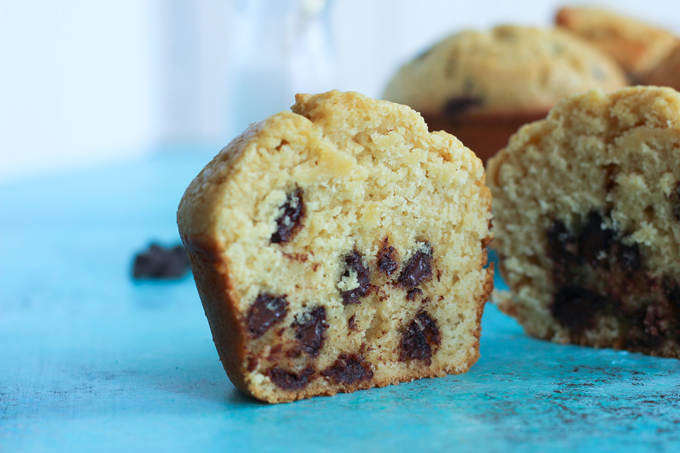 Sometimes muffins can be dry, like hard to get down dry, but these are super moist. Not like hasn't been baked all the way moist, more like perfect moist. I even like to spread a little vegan butter on them. (Because I basically love butter on anything)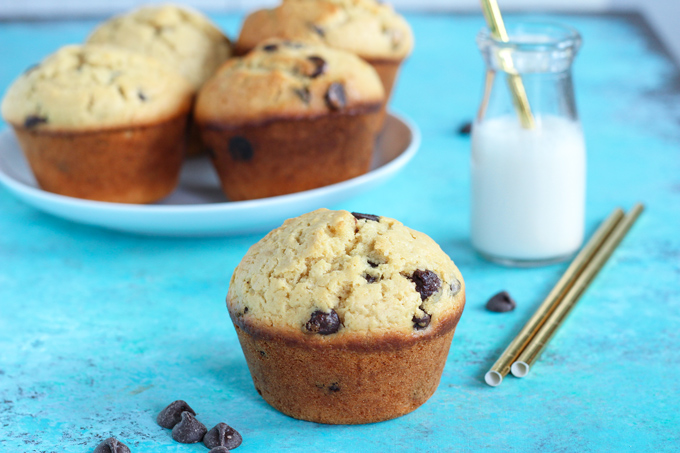 Pair them with some almond milk or a nice cup of joe or tea and you'll be all set. You're going to bite into them thinking "Er ma gawd, I need more!" happens to me every time. I mean muffins are basically life.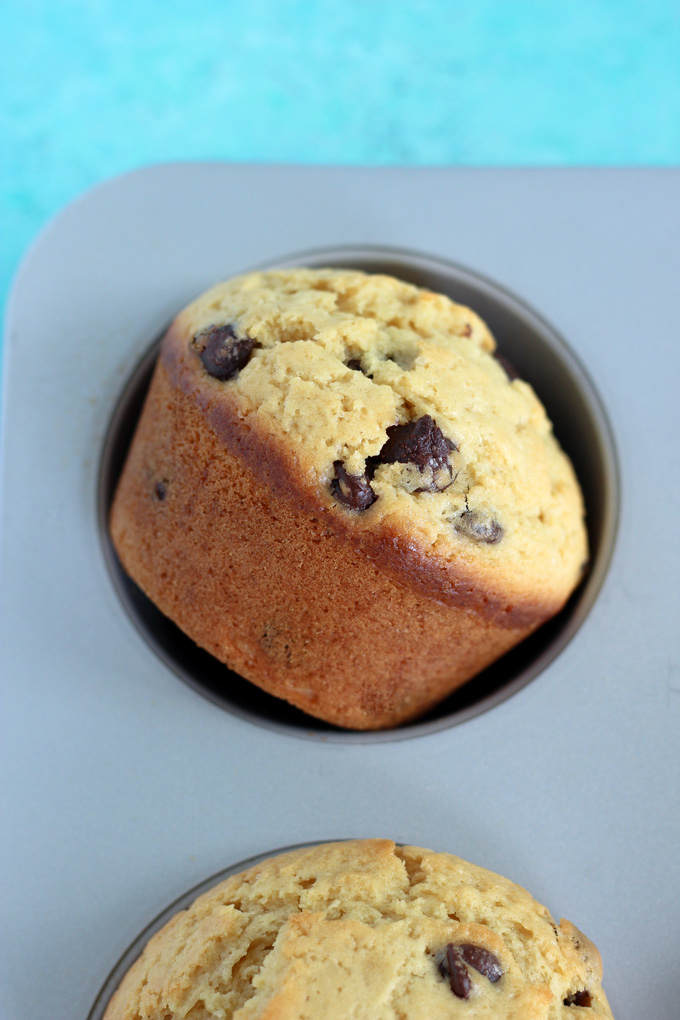 Not to mention these are like baking 101 easy to make. You don't need genius baking skills to whip these up and still have them be impressive. It's two bowls, no crazy kitchen appliances and takes 5 minutes to prepare and 15 minutes to bake. Can you even deal with that?!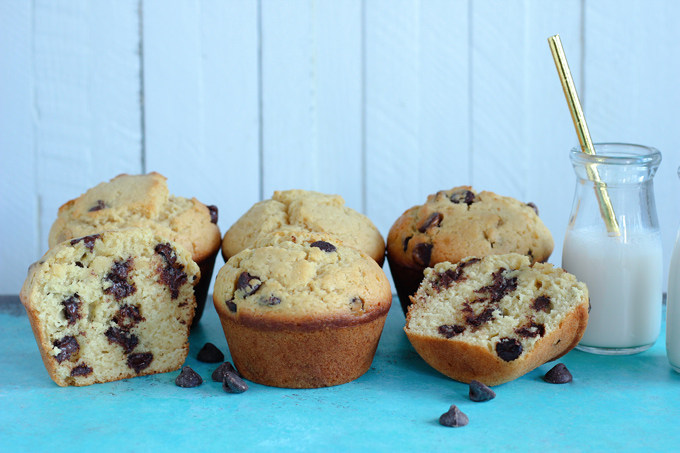 These will last you a good 5 days if you even have any leftover. I store mine in an air tight container outside of the fridge but you can keep them in the fridge if you prefer. They never lasted that long where I guess I would need to put them in the fridge either. I mean, you'll see what I'm talking about once you make these. When I showed this on my Instagram stories peeps went nuts over them so now that they're finally here, let's not waste any time and get this muffin party started.
Recipe adapted from BrooklynFarmGirl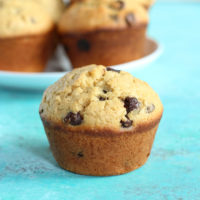 Jumbo Bakery Style Chocolate Chip Muffins
Vegan fluffy & moist muffins perfect for any time of day. Each bite filled with melty chocolate chips!
Ingredients:
2 cups AP flour or Whole Wheat Pastry flour
1/3 cup coconut sugar (or sub brown sugar)
1/3 cup organic cane sugar
2 tsp baking powder
pinch of salt
2/3 cup almond milk
1/2 cup melted vegan butter
2 flax eggs
2 tsp vanilla
1 tbsp lemon juice
1 tbsp coconut oil, melted
1 cup chocolate chips (or sub blueberries)
Directions:
Preheat oven to 400 degrees and spray muffin molds with non stick cooking spray. I use coconut oil spray.
In a large bowl stir together all dry ingredients: flour, sugar, baking powder and salt.
In a separate bowl mix together all wet ingredients: almond milk, vegan butter, flax eggs, vanilla, lemon juice, and melted coconut oil.
Add the wet ingredients to the dry ingredients and mix until well combined.
Fold in chocolate chips or blueberries.
Pour batter into muffin tins, filling them right to the top.
Bake for 15 minutes or until toothpick inserted comes out clean.
Once done let cool in pan for 5 minutes. You can serve immediately or later and Enjoy!
Store in an air tight container.