Balsamic Berry Vegan Grilled Cheese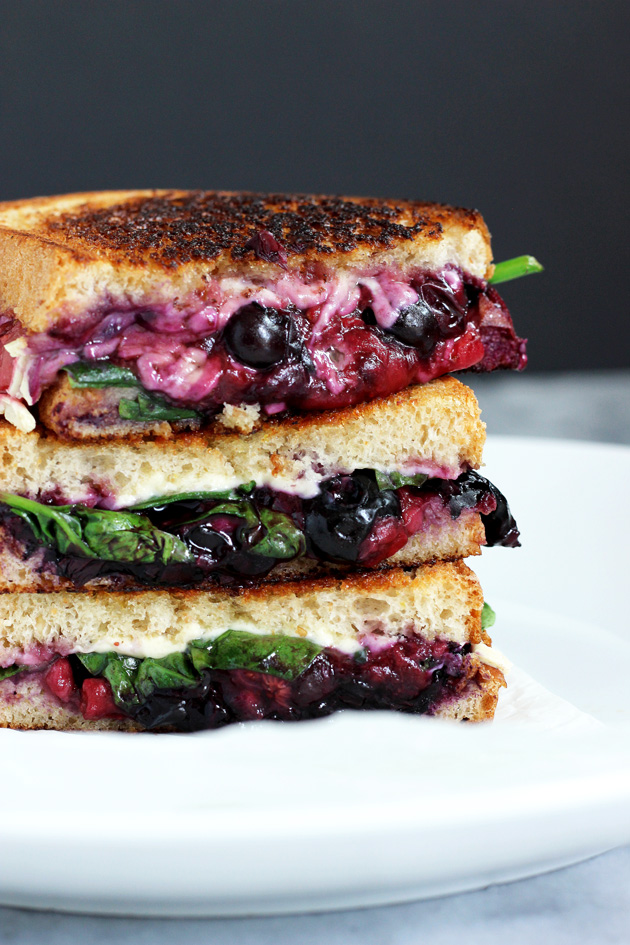 Friends…Friends…Friends…behold this Balsamic Berry Vegan Grilled Cheese!!! Ok, I know, before we get into it lets take a moment, capture this and let it all sink it. Dream about how very soon you'll be sinking your teeth into this magnificent bad boy of a sammie. Grilled cheeses are meant to be great. No need for us plant-based eaters to miss out on the fun right!?
No, it's not your typical grilled cheese but it is Bomb.Dot.Com. And I mean that in it's entirety. This is recipe #3, ending this weeks #beattheheat series featuring strawberries and blueberries. It was only right to go all out and end this with a BANG! We did people, we did. (5 second dance party👯)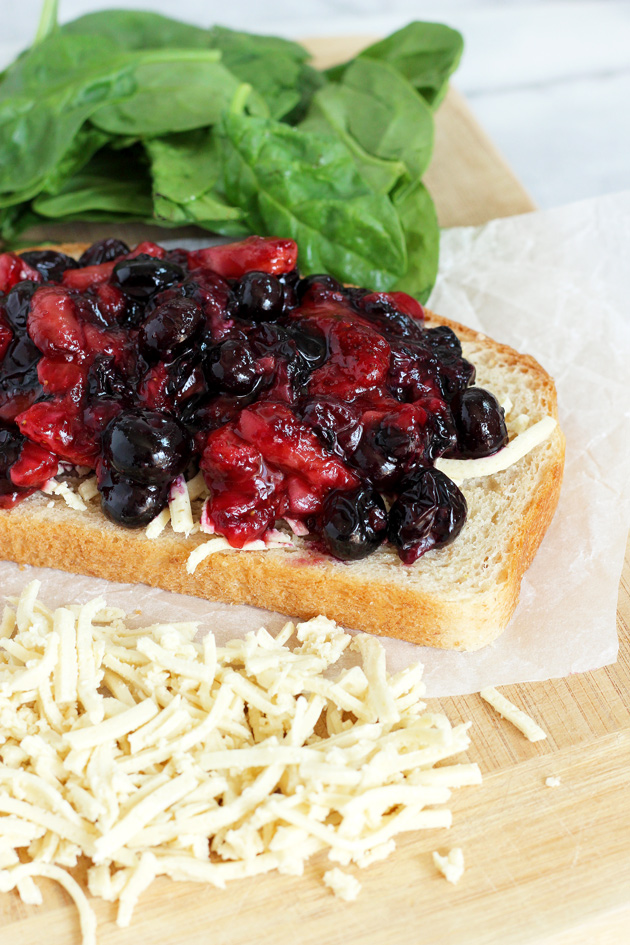 Since the whole theme this week was easy, cool, and yumtastic, this is no exception. You can whip this up in less than 10 minutes. Yes, it's that easy. Let it get messy too. While you're eating it, let the juice of the berries run down your hand, and let the cheese pull and stretch while you take infamous bites. Aaaand…uuuum…make more than one, just sayin'.😉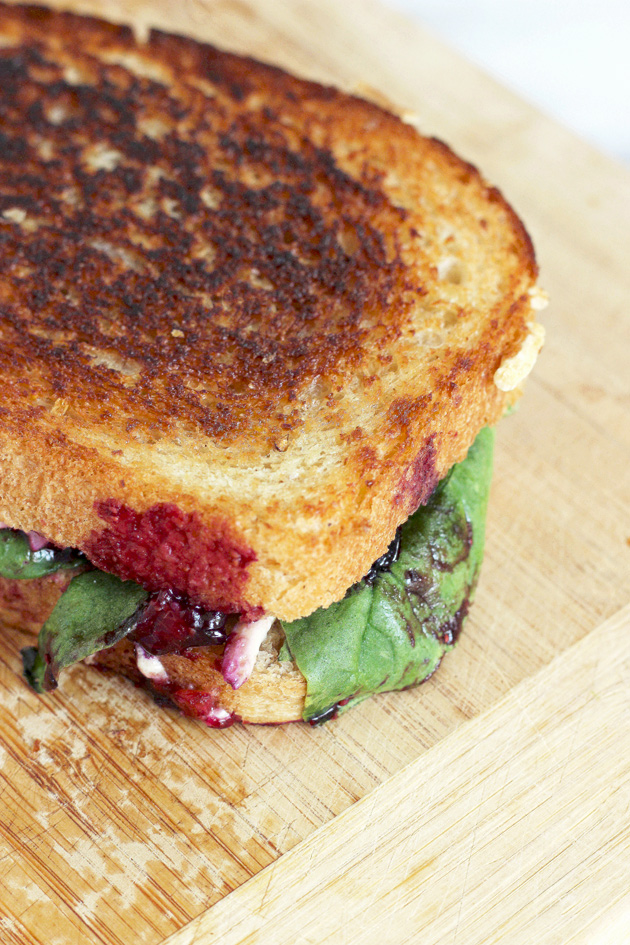 Ok so two things; you can use any cheese (I used Daiya mozzarella cheese shreds) and bread you fancy (I used a multi-grain), and you can also use something other than spinach. So like collard greens, mixed greens, arugula, etc. You get it. 🍃
The trick to making the bread super golden and just right is to spread a little vegan butter on the side of bread that will be on the fry pan. (I know you're thinking…YAAASSSS!). Do this for both slices and your balsamic berry vegan grilled cheese will come out puuurrrfect. Trust.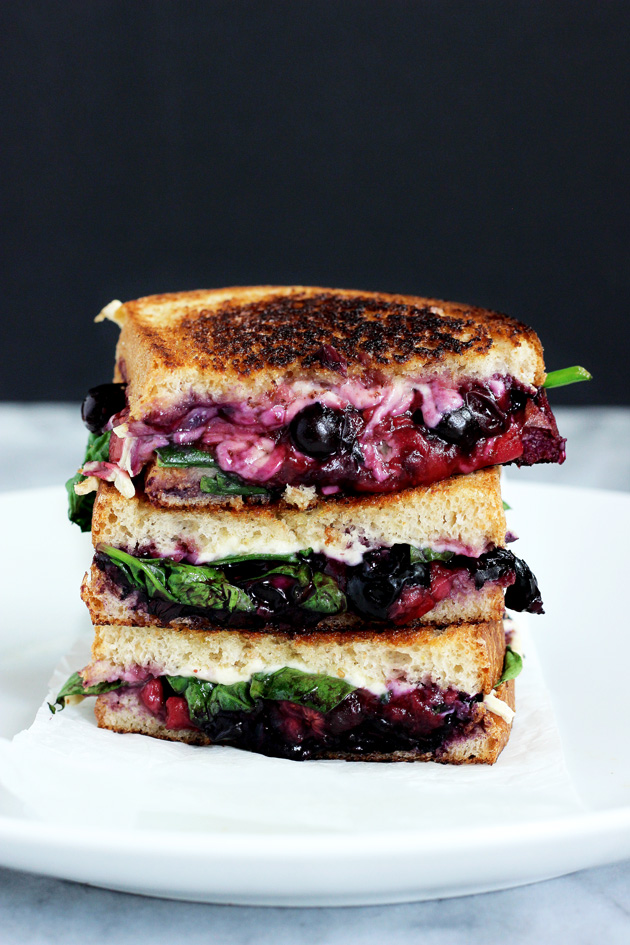 Take 1 cup of blueberries and 1 cup of sliced strawberries and put them in a saucepan with a bit of coconut sugar and balsamic vinaigrette. (Recipe below) Smash it a little with a fork or smasher and let it get to a boil. This takes 5 minutes max. The juices from the berries comes out right away especially since you're smashing them. Mix it well, then put it into a strainer over a bowl. You can use the juice as a salad dressing. (This recipe would be perfect for that.)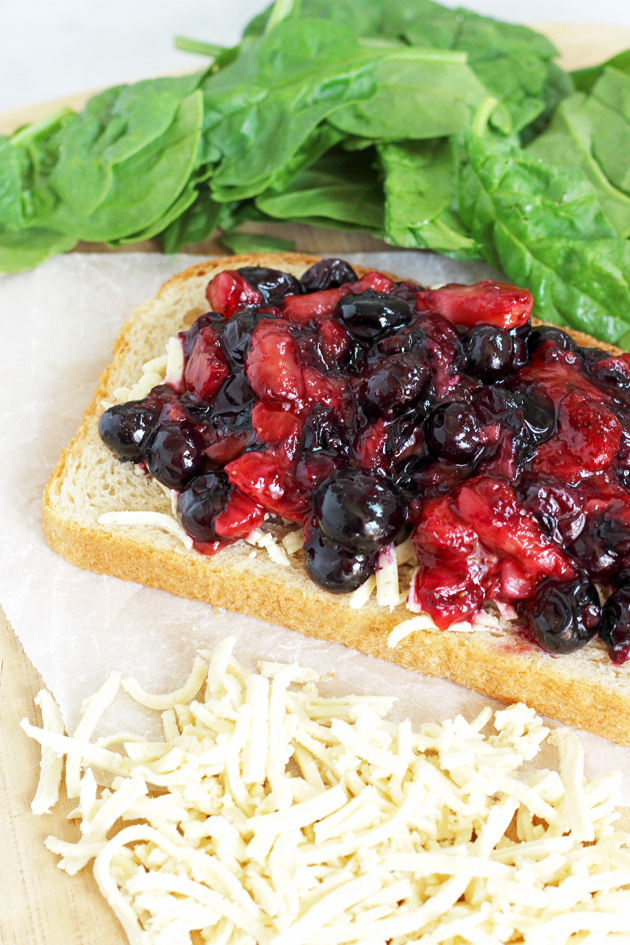 Place the cheese first then scoop on the berry mixture. You can eye it to see how much you want but I used about 1/4 cup. Top with spinach, more cheese (optional), sprinkle with salt/pepper, and fry or grill on both sides until golden brown. There is no right way or wrong way to do this. No matter how you layer it, it will still be bangin'.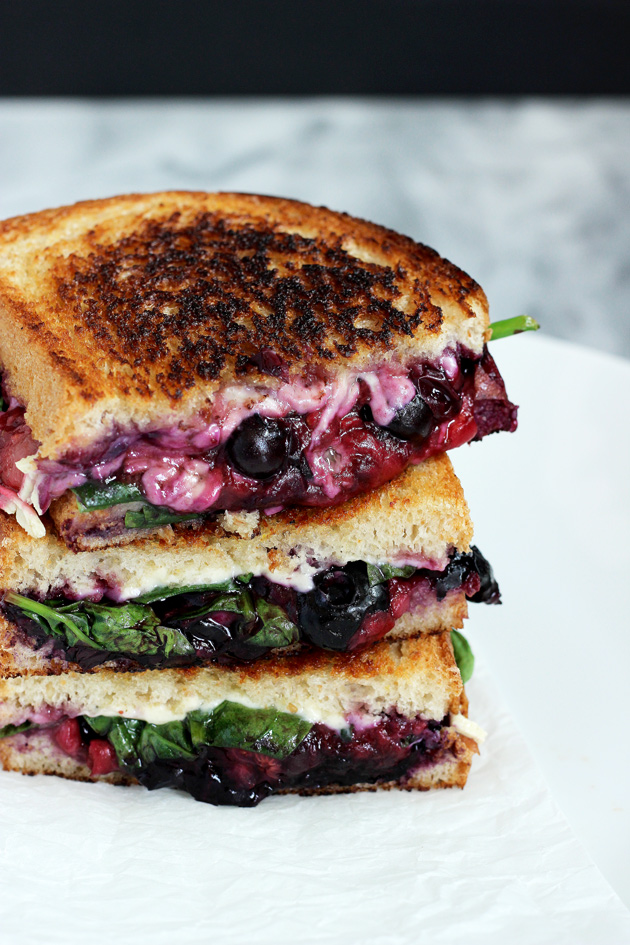 Once it's done and ready to go, you know what to do next. So I'll just go ahead and leave the recipe below and you can come back and comment later about your relationship with this wonderful grilled cheese. Warning:::you may fall deeply in-love, because like Cupid, this one will hit your heart in all the right places. Enjoy!💜
What ingredient would you like to see featured for next weeks #BeatTheHeat series? Drop me a line below.
Here are this weeks #BeatTheHeat Summer Series recipes:
Strawberry Blueberry Quinoa Summer Salad
Fruit Fun Yogurt Ice Pops (dairy-free)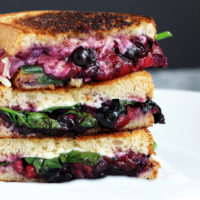 Balsamic Berry Vegan Grilled Cheese
This savory yet sweet sammie is perfect for summer. Melted cheese, berries & spinach make this an ultimate winner!
Ingredients:
1 cup blueberries
1 cup strawberries, sliced
1 1/2 tbsp coconut sugar
1 tbsp balsamic vinaigrette
2 cups spinach
1 cup vegan mozzarella cheese shreds
salt/pepper to taste
1 tsp vegan butter (1 tsp each spread on sides of the bread)
bread of choice
Directions:
In a saucepan, on medium heat, mix blueberries, strawberries, coconut sugar, and balsamic vinaigrette. Smash berries gently as you stir, letting it get to a boil.
Remove berries from saucepan and place in a strainer over a bowl. Use the leftover juice as a salad dressing.
Take one slice of bread and spread 1 tsp of vegan butter on the side you will be frying or grilling.
Place cheese shreds, berry mixture, spinach, more cheese, salt/pepper, and fry or grill on both sides until golden. Enjoy!
Make more of the berry mixture as needed.
Be generous when loading up the sandwiches.
A panini press would work great too.