Fruit Fun Yogurt Ice Pops
jump to recipe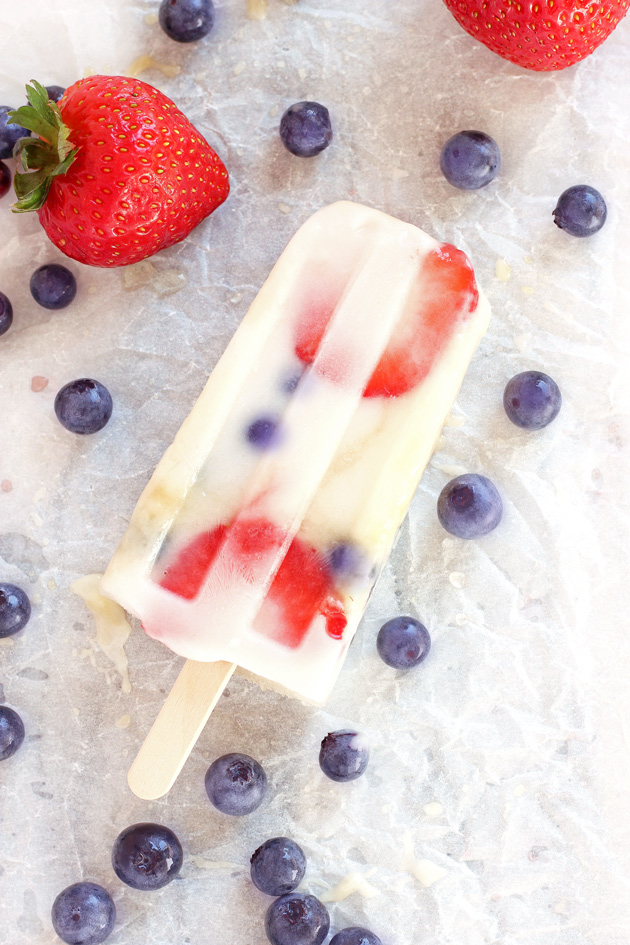 These Fruit Fun Yogurt Ice Pops are part 2 of my 3-part #beattheheat recipe series! With the famous star ingredients, strawberries and blueberries. Infused with maple sweetness. Whoop Whoop.
You can cool down with these pops anytime, anywhere. You can even have them for breakfast. Know why? Well because the base is made up of dairy-free vanilla coconut yogurt.
Say whoa💁🏼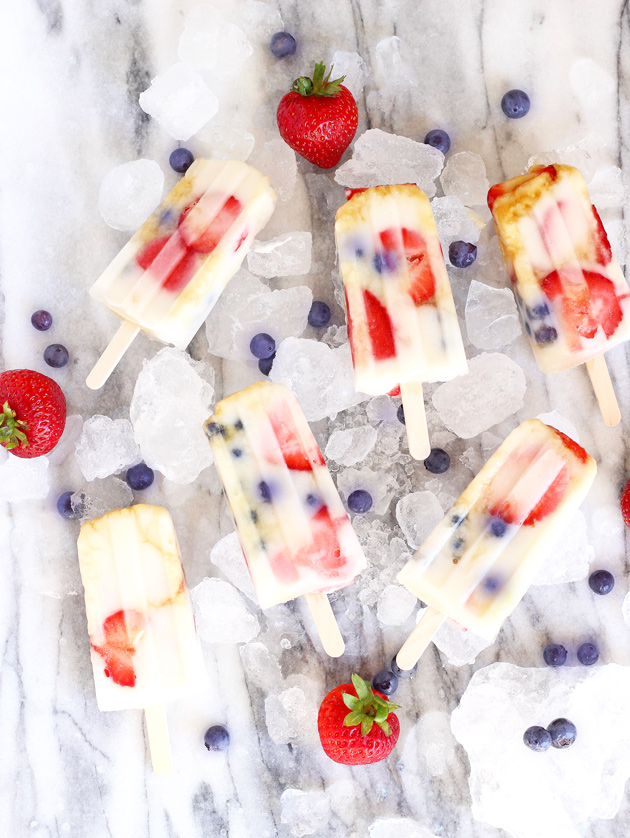 In yesterday's post, we got into the details of why strawberries and blueberries are staple fruits you should most definitely incorporate into your diet/eating habits. So be sure to check that out. There are so many ways to bring these fruits to your plate in creative ways, it's unbelievable. For instance when I was eating this ice pop first thing in the morning I was all like uuuum I'm eating dessert for breakfast like come on! It's fantastical. All it is, is some yogurt and fruit with a drizzle of maple syrup. I like to drizzle maple syrup on my fruit bowls anyway so I figured why not add it into my ice pops. It just made super sense, know what I mean.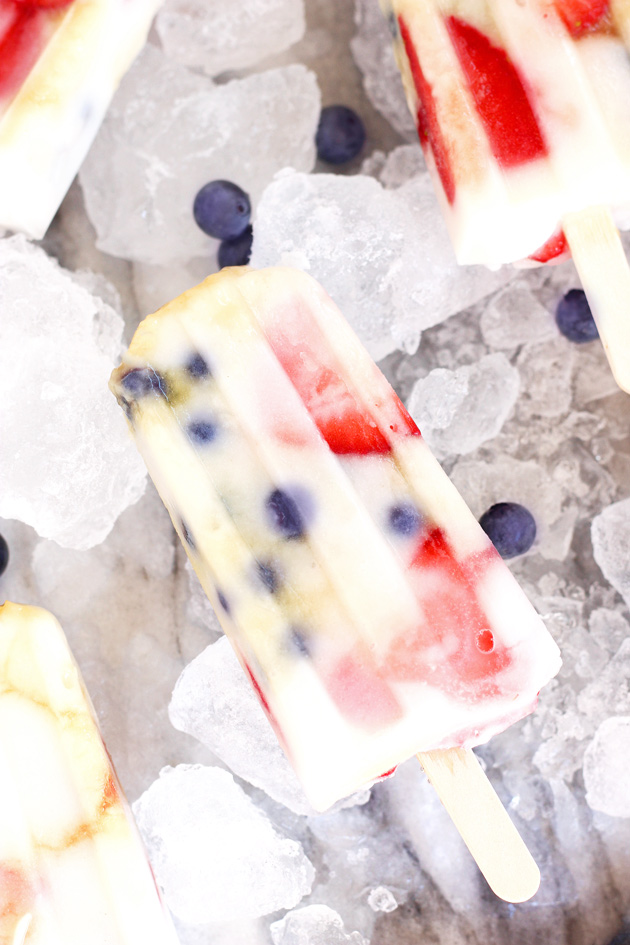 What you'll need to do is prep these the night before but I promise you, it won't take you any longer than 10 minutes, if that. It took me 6 minutes…I totally timed myself. It doesn't have to be perfect or look a certain way. I just sliced some strawberries, grabbed my blueberries, yogurt, and maple syrup and started filling in the ice pops molds.
First layer should be the yogurt followed by strawberry slices, blueberries, maple drizzle then repeat those steps until you fill them up to the top. You can take a stick or a butter knife and swirl it around before you place them in the fridge to set.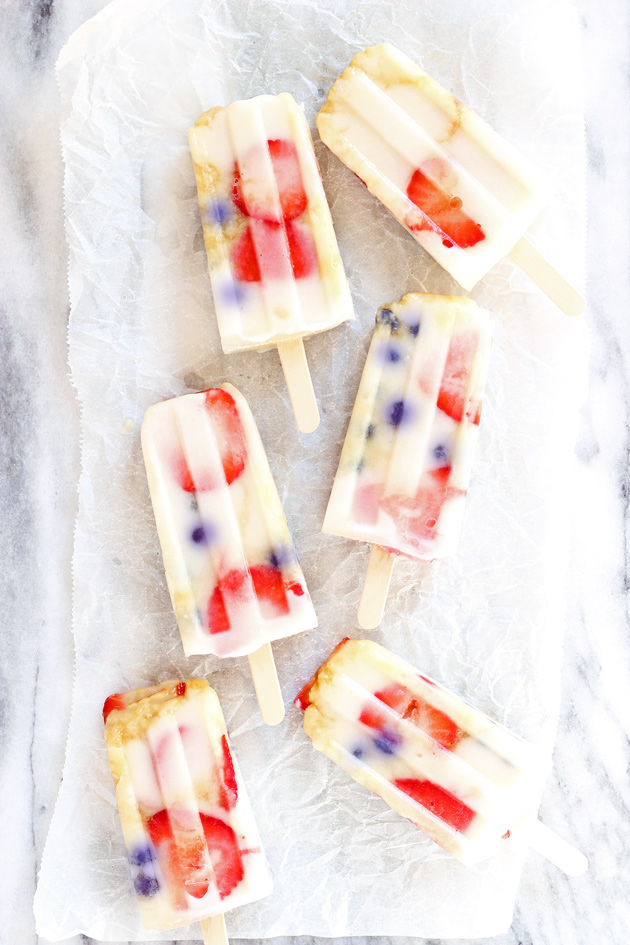 Now if you don't prep them the night before and you want to do them the same day it takes about 2 to 2 and a half hours to set. It would just be the wait time for them to freeze that would be a pain in the ass that's why I suggest you just throw them together the night before. Easy peasy, 1…2…3.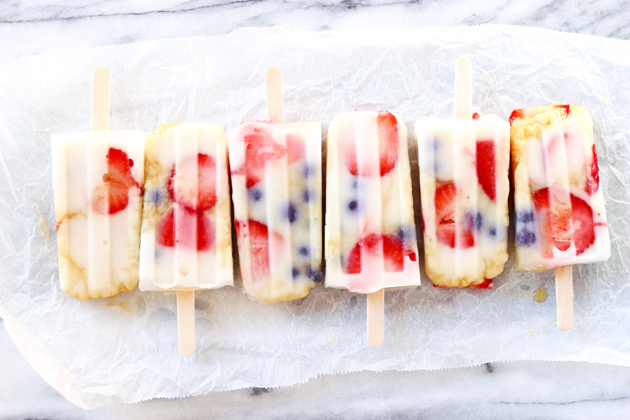 Cool down with these Fruit Fun Yogurt Ice Pops that your whole family will LOVE!  They're the perfect dairy-free frozen treat on the hottest of summer days.☀️
Don't forget to check back tomorrow for part 3 (finale) of this weeks #beattheheat summer series! Comment below and let me know what ingredients you'd like to see featured next week. I look forward to your responses!!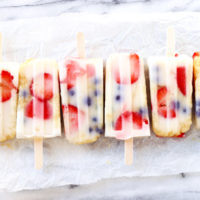 Fruit Fun Yogurt Ice Pops
Cool down with these fresh strawberry blueberry creamy yogurt ice pops that your whole family will LOVE! They're the perfect dairy-free frozen treat on the hottest of summer days.
Ingredients:
1 1/2 cup dairy free yogurt (I used vanilla coconut by so delicious)
5-6 large strawberries, hulled and sliced
1 cup fresh blueberries
maple syrup (optional)
Directions:
Pour in the yogurt first followed by the sliced strawberries then blueberries.
In between your first layer add in a teaspoon of maple syrup (optional).
Repeat the layering ending off with the yogurt till you reach the top of the ice pop molds. Give the molds a good bang on the counter. Use a stick or small nice to swirl things around.
Freeze for 2 1/2 hours, until solid or overnight preferably. Enjoy!
When you take the ice pops out of the freezer let them thaw for 5-10 minutes or you can run them under hot water so they slide out easily.
You can use any yogurt you like.
Depending on how many you make you may need more or less of the ingredients.
Adding a little bit of coconut water works too!