Strawberry Blueberry Quinoa Summer Salad
jump to recipe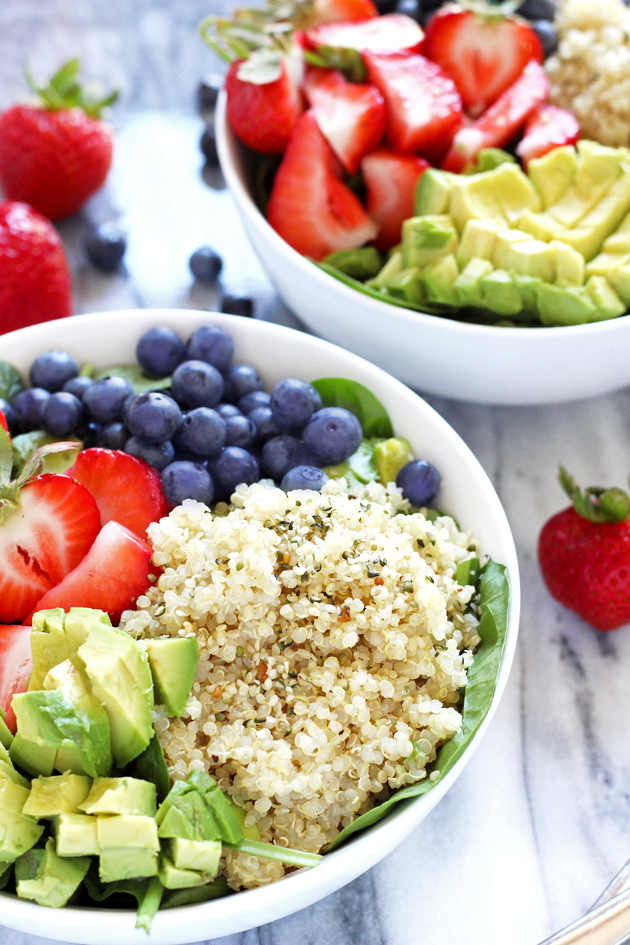 Happy Tuesday! Today kicks off my 3-part #beattheheat summer series because it's been crazy hot out. But I'm not complaining. Heat comes with the territory of summer so I make things that will not only fill me up, but that also keep me cool and taste YUM-Mazing!
This week I'm featuring two key ingredients; strawberries and blueberries. They are in season, sweet, and go with just about anything, like seriously. They aren't heavy on our digestive systems yet they pack a mother load of nutritional heat all on their own.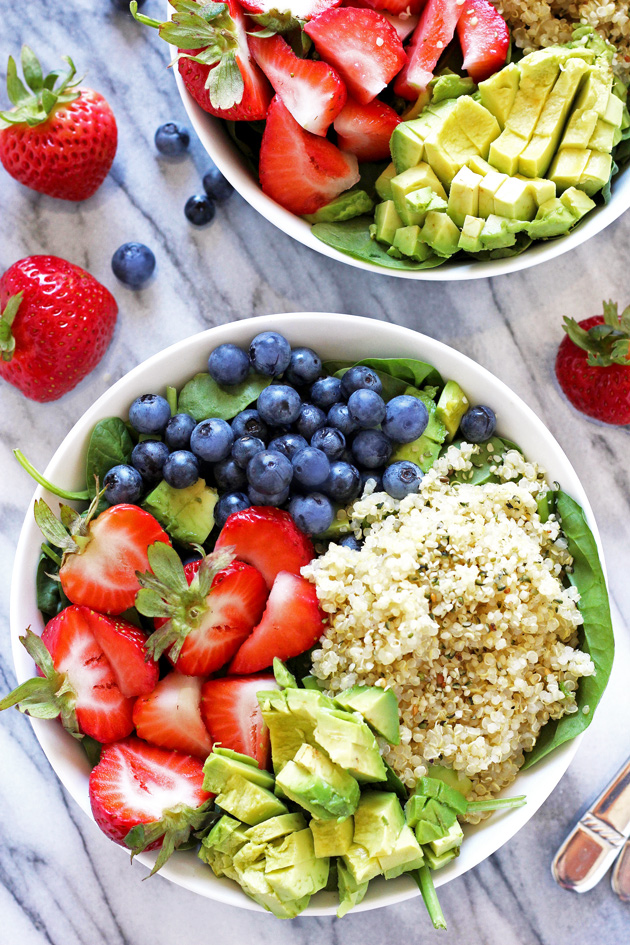 Berries in general are the lowest in natural sugar compared to other fruits. But please do not have a fruit fear! (Read the book Medical Medium to get over it if you do have one.) Let's start with strawberries shall we.
Strawberry Benefits
Excellent source of antioxidants which fight off free radicals, disease, etc.
Super high in good ole Vitamin C
Super high in manganese
High in iodine
High in 5-mthf aka Folate
Totes high in fiber (wink wink good for bowel movements)
And just as an added bonus: strawberries are a good source of copper, potassium, biotin, phosphorus, magnesium, vitamin B6, and omega-3 fatty acids.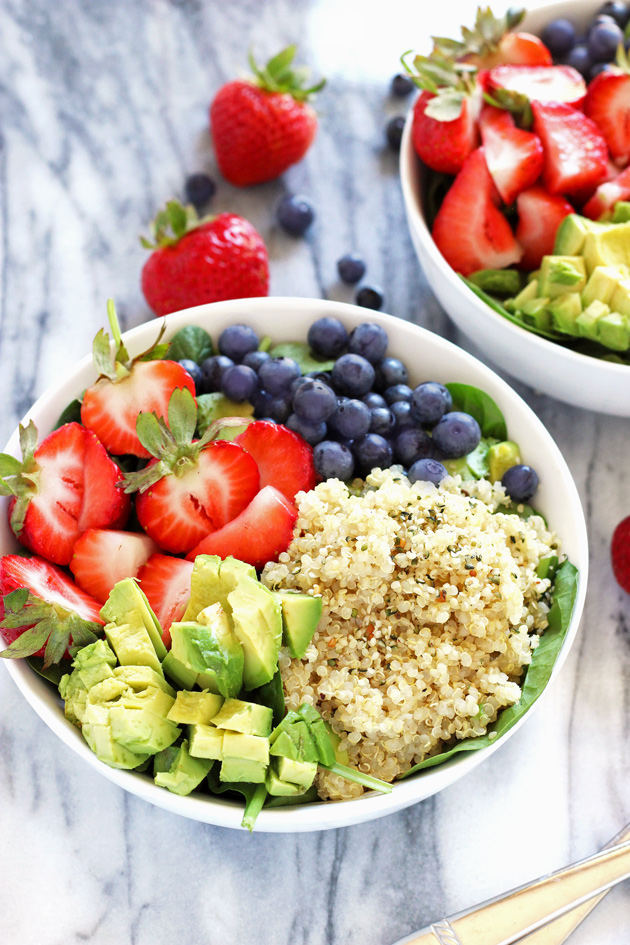 Blueberry Benefits
Blueberries prevent against heart disease and aid in healthy heart function
Super amazing for eye function and health
The fiber in blueberries helps lower cholesterol
High in calcium, supporting healthy bones
Aids in mental health – clarity
Super high in antioxidants
And just as an added bonus: blueberries help aid in weight loss and can keep you satiated when that sweet tooth arises. They are also high in iron, phosphorous, calcium, magnesium, manganese, zinc and vitamin K.
I don't think I need to convince you to eat these fruit in high amounts. The more the better and you'll be doing your body complete justice or injustice if you don't!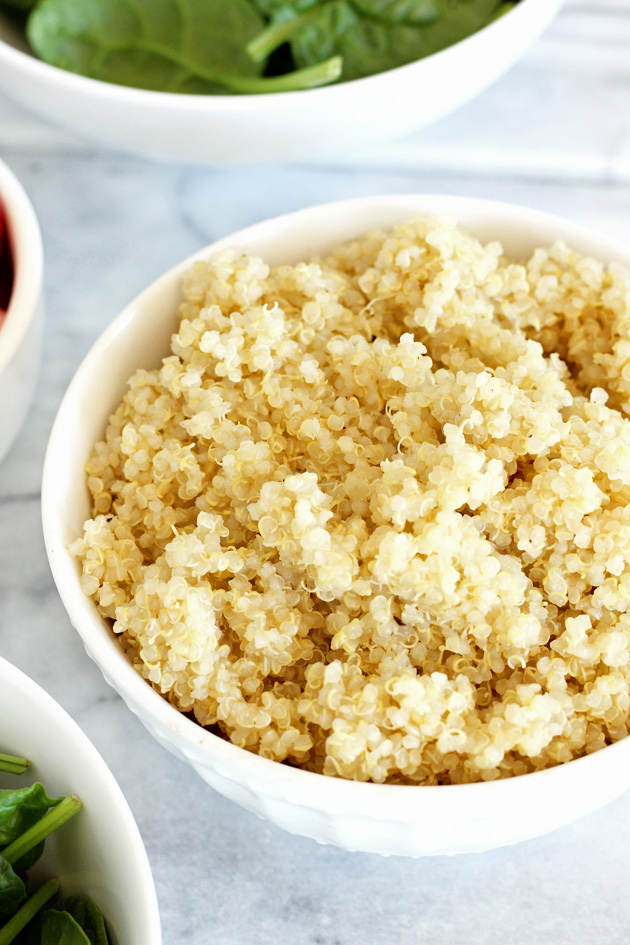 Quinoa is the highest form of protein you can get eating a plant based diet. It's technically a seed not a grain thus making it super easy for our bodies to digest. It's also gluten free. This tiny seed packs a hell of a nutritional punch. Eating quinoa along with dark leafy greens like spinach, then add in some strawberries and blueberries, your body will be all radiant, glowing, and having 10 second dance parties all the live long day. (To Taylor Swift obviously).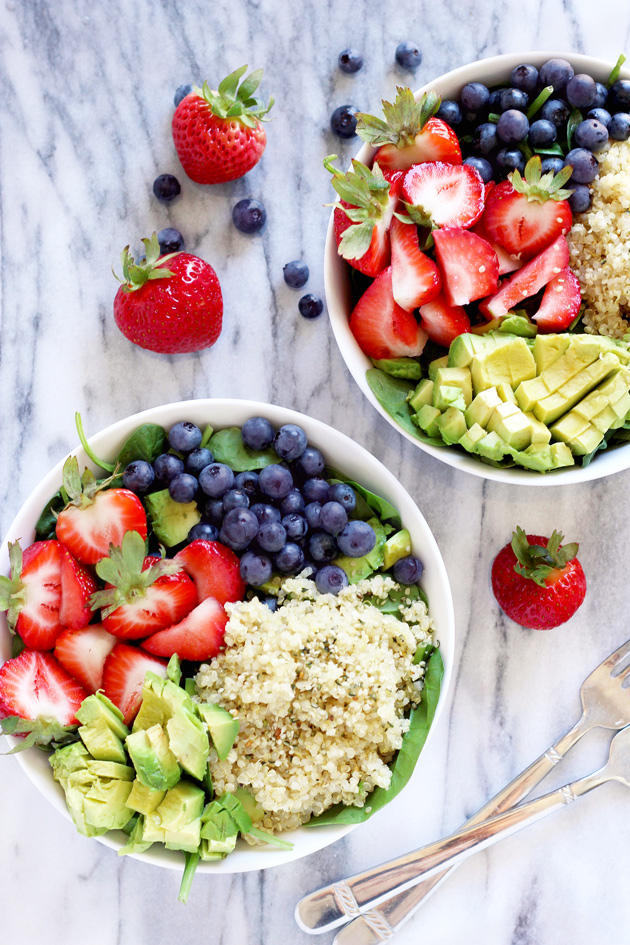 This Strawberry Blueberry Quinoa Summer Salad is so easy to toss together it will take you less than 10 minutes. Quinoa is amazing to cook in bulk so you have it on had for other meals like quinoa porridge for breakfast, more salads, wraps, and any other thing your heart desires. The strawberries and blueberries will give this salad the sweetness we all crave. You can use a squeeze of fresh lemon juice to top it off or some balsamic vinaigrette. Enjoy! 😊
Check back tomorrow for part 2 of my 3-part #beattheheat summer series.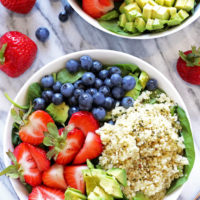 Strawberry Blueberry Quinoa Summer Salad
A healthy salad mixed perfectly with sweetness, and packed with plant based protein ready to beat the heat.
Ingredients:
6 cups spinach or lettuce of choice
2 cups strawberries, sliced
2 cups blueberries
1 cup quinoa, cooked, split per bowl
2 avocados, diced
1 tbsp hemp seeds, per bowl
fresh lemon to top
balsamic vinaigrette
Directions:
To make the quinoa rinse 1 cup thoroughly under water. Place quinoa in a saucepan with 2 cups of low sodium vegetable broth or water. Bring to a boil then simmer down, cover and let cook 10 minutes or until all the liquid is absorbed. No longer than 15 minutes.
To assemble the salad place spinach in each bowl. Top with strawberries, blueberries, 1/2 avocados, 1/2 cup quinoa, and 1 tbsp of hemp seeds.
Sprinkle lemon juice on top or some balsamic vinaigrette for added flavor.
Serve right away and Enjoy!
You can add more or less of the fruit as you wish. There is no set or correct measurement for that.