Healthy Vegan Back to School Lunchbox Ideas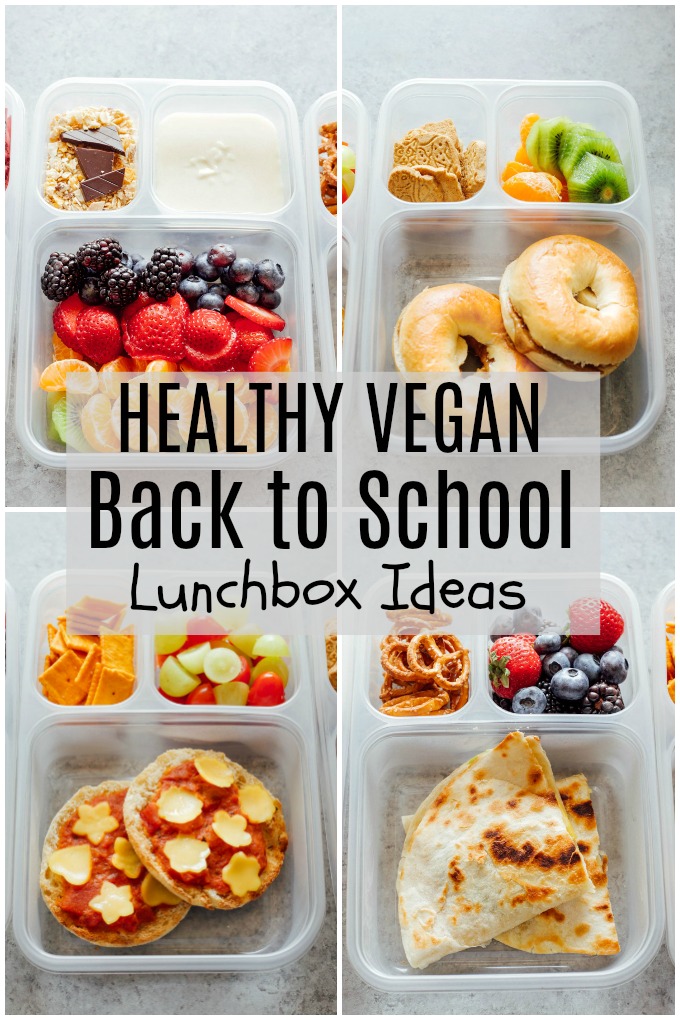 *Recipe Video Tutorial Below*
I'm so excited to show you guys these Healthy Vegan Back to School Lunchbox Ideas! They are incredibly easy vegan lunches, perfect for both kids and adults alike! Making these will save you time, nourish you and your children all while being fun, delicious, and importantly…school safe!
What I mean by school safe is all of the ingredients are free of nuts. My son's school is a peanut/tree nut free school so something like almond milk is not allowed. The reason for this is because of kids with severe nut allergies that can basically kill them. Most schools rather be on the safer side, which I totally get. My only gripe with that is that those same kids come packed with foods that are ladened with gmos and are generally super unhealthy. Think Doritos, Oreos, gummies and things of that nature. Aaanyway…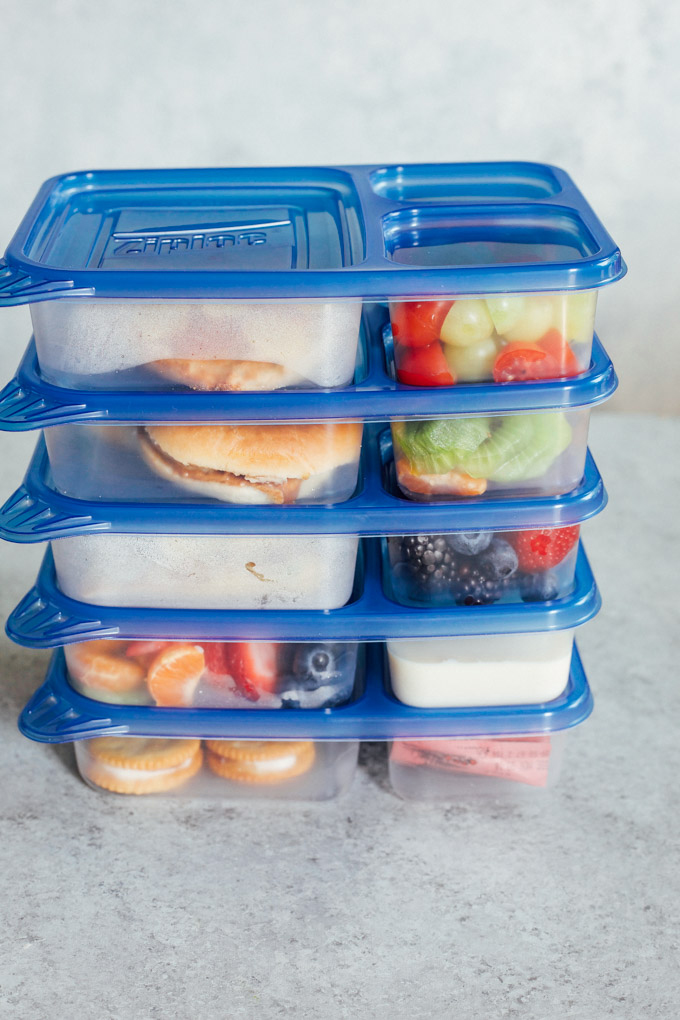 With these back to school lunchbox ideas you can use them as a base line. Use them as a guide to get creative in the kitchen. Especially when it comes to vegan/plant-based ideas. I know sometimes that can be tricky in itself but you can do it. I like to keep them fun, super yummy and healthy. I throw in snacks like marshmallows, school safe cookies, or squares of dark chocolate.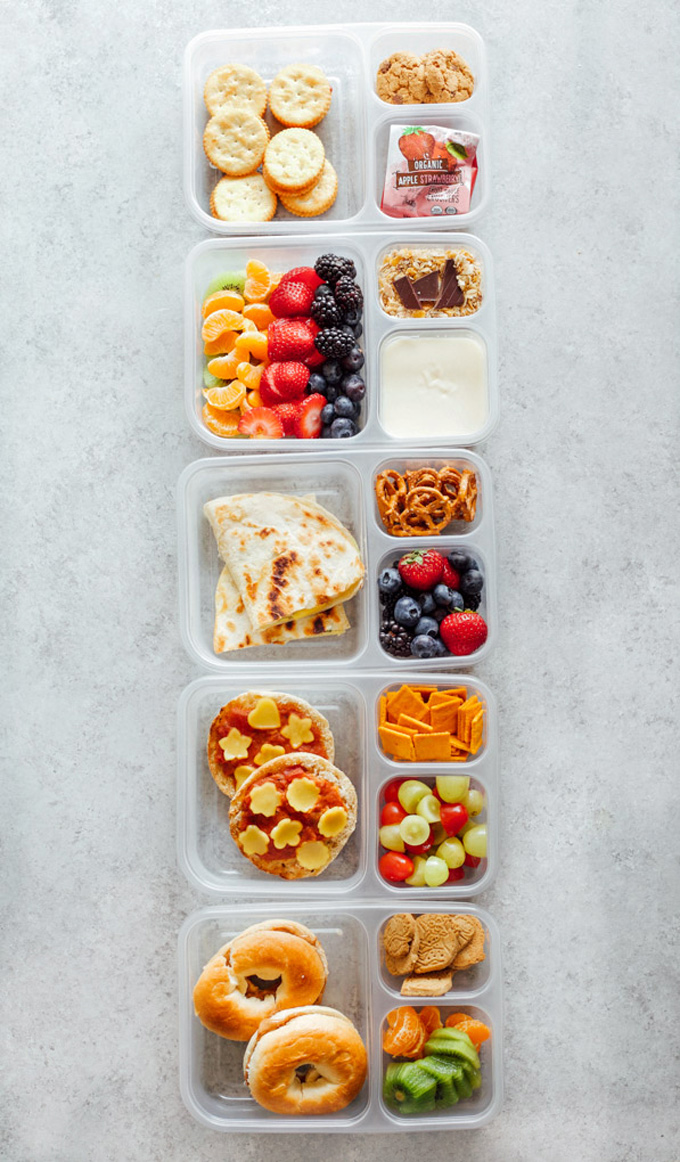 EXTRA LUNCH SUGGESTIONS AND IDEAS
My favorite sides to accompany lunch are what you see above plus sometimes I use cucumbers, sweet potatoes and or regular potatoes, not fries, more like roasted wedges. I also like to do cold pasta salads like my Spinach Orzo or I like to do a traditional potato salad. And on the days you're really not feeling to cook lunch or put something together, keep cucumber & avocado sushi rolls in the fridge, they come in handy.
Mom Tips
When I send my son to school with things like grapes or cherry tomatoes (even large blueberries) I always cut them in half. I really get worried about choking hazards while my son is in school so I always make sure to cut them up for him. I send him with these cute little fruit forks you can get on amazon so the fruit is not slipping and sliding out of his hands. I just find it puts my mind at ease and he doesn't even mind it.
I don't send my son to school with raw carrots sticks, celery or peppers because I think about choking. When home, I boil or roast the carrots and peppers just until tender, let them get cool and then he can dip away. He eats celery sticks home with me where I can keep a close watch on him. Even for me celery and carrots can get real dry in my mouth. My son will not fancy pepper sticks and hummus for lunch anyway and I don't blame him, neither do I! I need something with much more substance during the day.
Easy Back to School Lunchbox Tutorial!
Now let's walk through these lunches, one made for each day of the school/work week. I'm so excited and I hope you are too!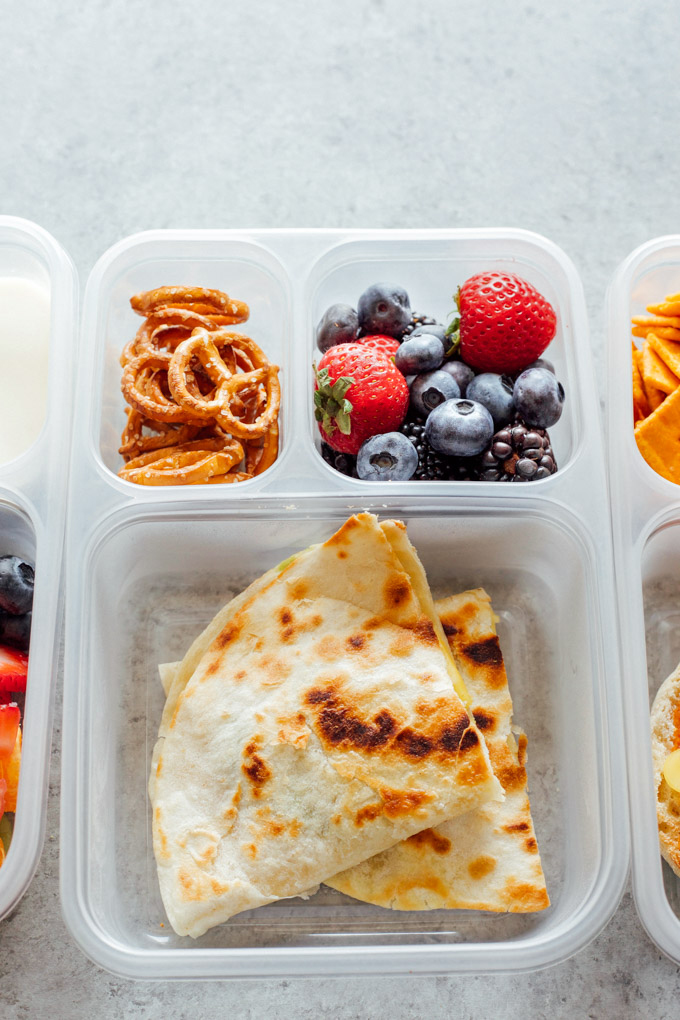 First up one of my faves and sometimes made twice in a week are the Avocado and Hummus Quesadillas! Paired with mixed berries and pretzels this is incredibly delicious and so much fun. I use Chao cheese now and it's my absolute fave. Reminds me of yellow American.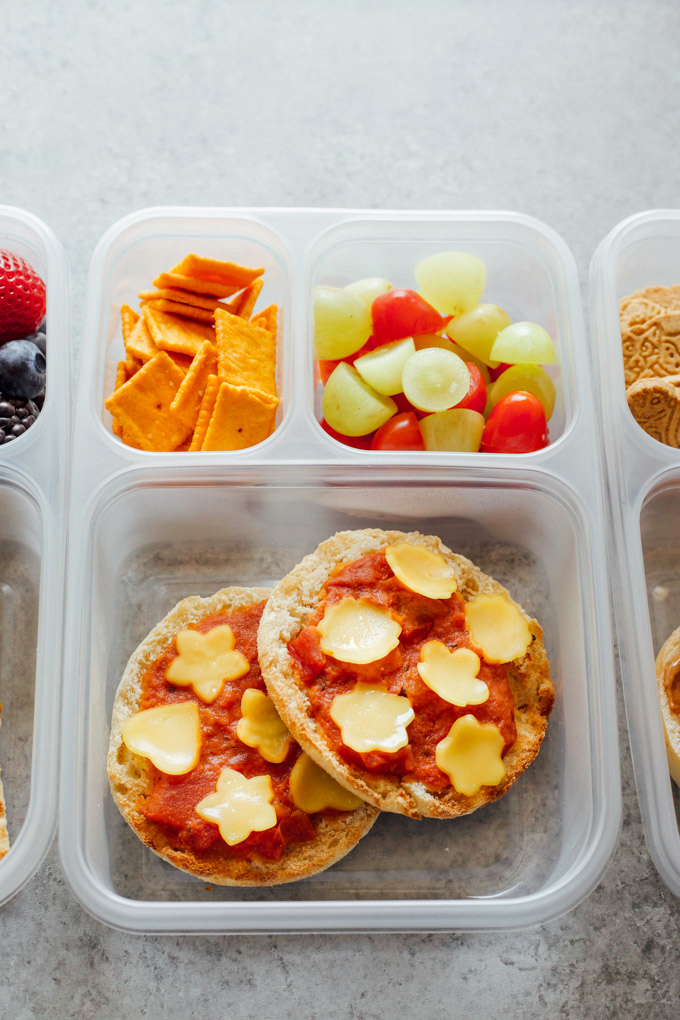 Second up we have the classic English Muffin Pizzas! I use my mini cut outs to make the cheese into cute little fun shapes for my son. You can just put a slice on each muffin if you're taking it to work and don't want your co-workers to think you're some kinda creep with cute little heart and star cutouts on your pizza! haha
I pair this with green grapes, cherry tomatoes, and vegan cheddar squares but feel free to side it with whatever you like. Remember these are ideas you can work off of.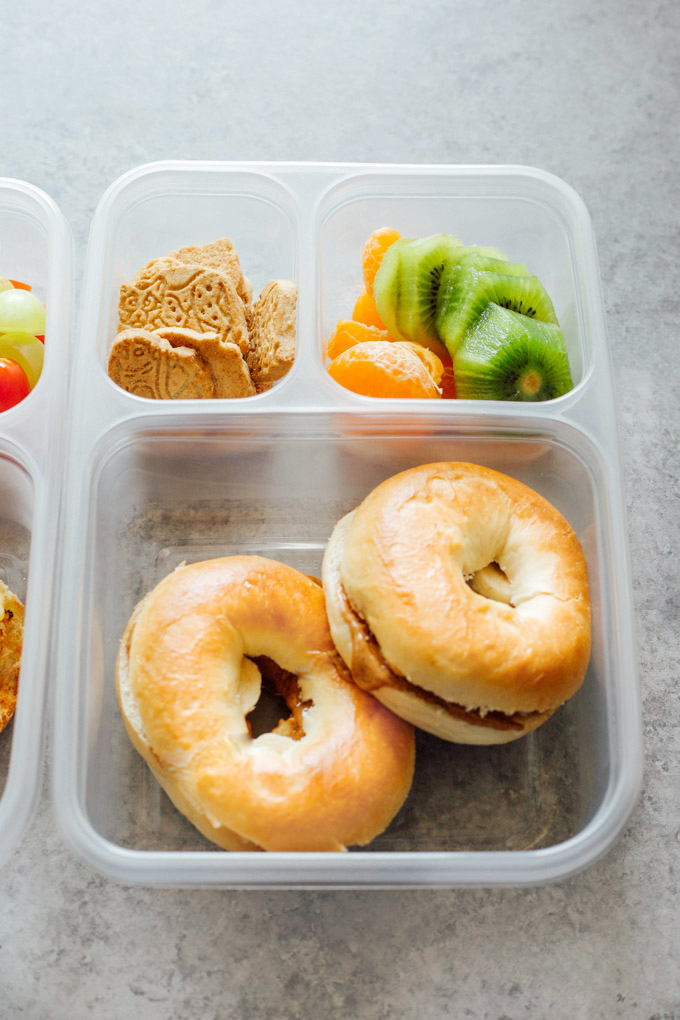 Third up we have mini bagels with almond butter and sliced banana however you can make this with sun butter if your school is peanut/tree nut free. I find that sun butter has a great creamy texture. Another good sub is jelly or any sort of fruit preserve.
I pair this with whatever fruit I have on hand and some animal crackers. I'll throw in some mini marshmallows too with dark chocolate. I think it keeps it balanced and fun for the kiddos.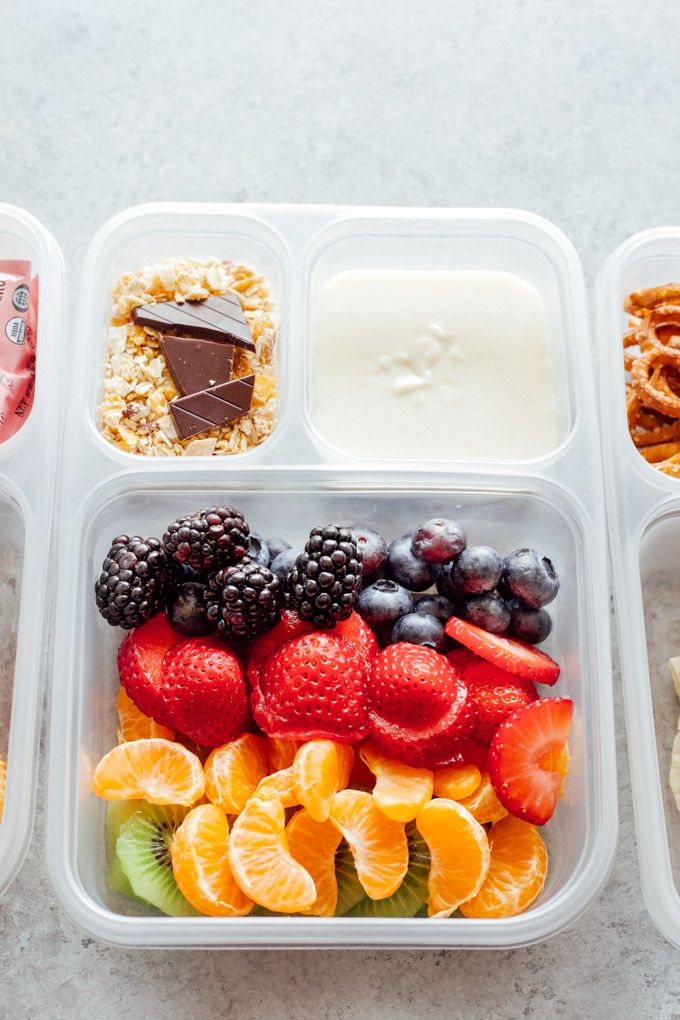 Fourth up we have this super simple, super easy ensemble…dairy free yogurt with fruit and a side of granola. This is one you can also get creative with. Use whatever fruit you have, and if you don't have granola or one that's safe to use in school, you can use a granola bar! Trader Joe's has these chocolate chip granola bars that are deeeelicious and I cut them up and put them in my or my son's yogurts. It has chocolate chips I mean it's amaze!
Sprinkle on top some chia seeds and drizzle a little maple syrup on this and you're good to go.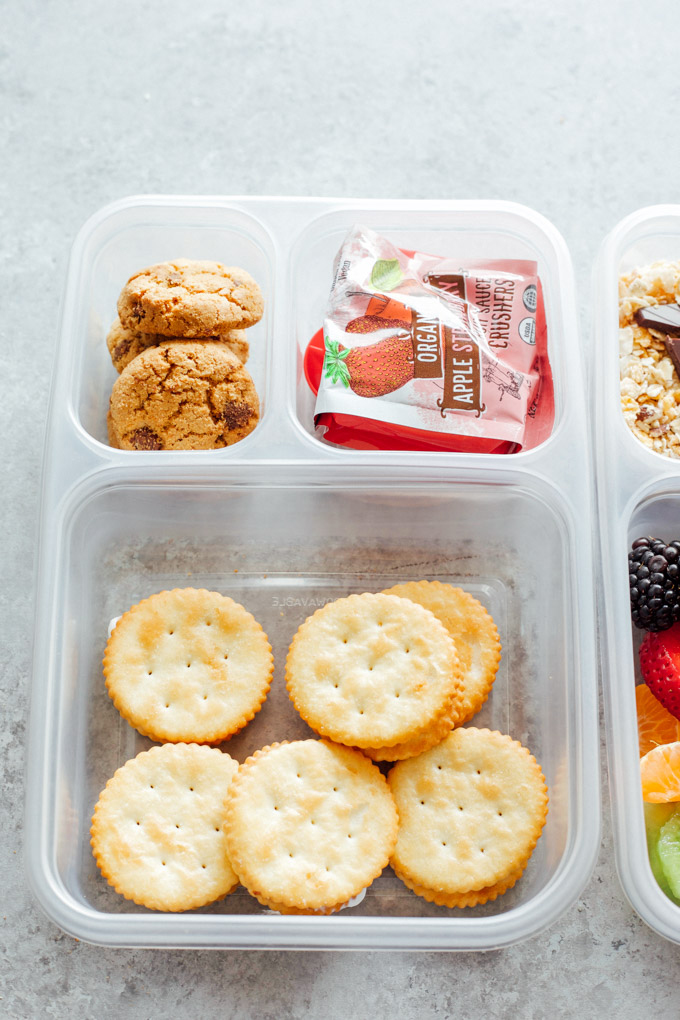 And lastly we have crackers with vegan cream cheese and jelly. I eat this all the time and it's one of the easiest lunch ideas ever. I pair it with a fruit squeeze or non dairy yogurt, maybe some applesauce and school safe cookies. This is just fun and adds variety to the lunches during the week.
With each lunch I send my son to school with one organic juice box and he always has packed two bottles of water. I have two different sizes of water: the water bottle that comes with his lunch box is always filled and I send him with an extra larger bottle of water incase he runs out. I'm not into drinking out of water fountains here where I live due to the simple fact the plumbing is horrendous and I don't really want my son drinking lead or fluoride throughout the day. And if you're reading and subscribed to my blog I'm pretty sure you don't want your kids drinking that either.
Ok so there you have it! These Healthy Vegan Back to School Lunchbox Ideas are a for sure win. Remember to sub out whatever ingredients you want to personalize each meal with. I wish everyone a great, happy, healthy, and safe new school year! Eat well, Be well!
FULL RECIPES ARE DOWN BELOW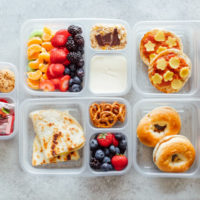 Healthy Vegan Back to School Lunchbox Ideas
*Recipe comes with video tutorial (see above)* These incredibly easy vegan lunches are perfect for both kids and adults alike! Making these will save you time, nourish you and your children all while being fun and delicious!
Ingredients:
Avocado and Hummus Quesadillas
1 large tortilla
2 tbsp hummus
1 avocado, sliced
1 slice vegan cheese
English Muffin Pizzas
1 vegan safe english muffin
1/2 cup marinara sauce
1 slice vegan cheese
Mini Bagels with Almond or Sun Butter
2 mini bagels
2 tbsp of preferred nut butter
1 banana sliced
Yogurt & Fruit
1 container of dairy free yogurt of choice
mixed fruit
1/2 cup granola or cut up granola bar
1 square of dark chocolate
1 tbsp chia seeds (optional)
1 tsp maple syrup over fruit (optional)
Crackers with Vegan Cream Cheese and Jelly
12 crackers
2 tbsp vegan cream cheese
2 tbsp jelly of choice
Directions:
Avocado and Hummus Quesadillas
Spread hummus across flour tortilla.
Place once slice of cheese and avocado in the middle. Fold over and cook on a  pan or skillet for 5 minutes on each side or until golden.
Cut in half and serve with mixed berries and pretzels.
English Muffin Pizzas
Toast english muffin and heat up 1/2 cup of marinara sauce.
Pour sauce over english muffin and top with vegan cheese cutouts.
Bake on 350F for 5 minutes or until cheese is melted to preference.
Side with cherry tomatoes, green grapes and vegan cheddar squares.
Mini Bagels with Almond or Sun Butter
Toast mini bagels (or not) and spread nut or seed butter across.
Top with sliced bananas and pair with mandarins, kiwi, and animal crackers.
Yogurt and Fruit
Cut fruit up of choice. I used kiwi, mandarins, strawberries, blueberries and blackberries.
Pour in your favorite yogurt and granola.
When ready to eat mix yogurt fruit and granola together. Sprinkle on top some chia seeds and maple syrup if desired.
Crackers with Vegan Cream Cheese and Jelly
Take out 12 crackers and spread vegan cream cheese and jelly to one side.
Sandwich the crackers together and pair them with a fruit squeeze, applesauce, and school safe chocolate chip cookies.
This post contains affiliate links.