Spinach Orzo Pasta Salad
Guess who started their first week of college?!?! If you guessed me then Ding Ding Ding, tell em' what they won Bob! Who's Bob? lol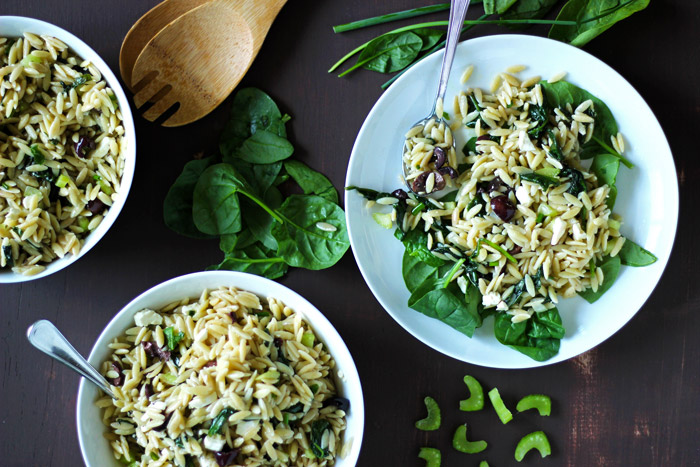 So it's official, I'm a legit college student, Whoop Whoop! I went through all my courses this week, checked out all my assignments and I was a little overwhelmed at first. But I know this is all probably normal and I'll get use to it in no time (hopefully). I think now that I'm older and a bit more wiser I appreciate education more. I'm not being forced to do it, I'm choosing to do this on my own for myself. And you know what, it feels right and really good. I know there's going to be tons of work and maybe some more sleepless nights but it's not anything I'm not already use to. But sleep is key for a healthy mind, body and soul so I'll have to make sure I do get an adequate amount. ZZZZZ's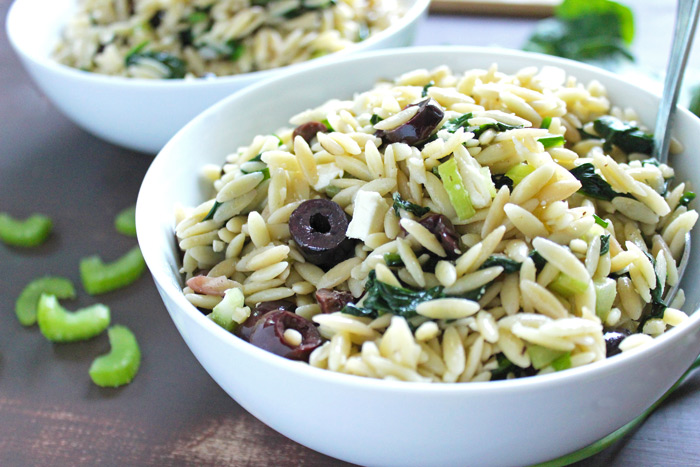 To start the week I made a big batch of this Spinach Orzo Pasta Salad. I LOVE this pasta salad because not only is it easy and quick to make, you can eat it hot or cold. I also love cold pasta salads. It's kind of my thing. Or at least one of many.
So in these bowls of deliciousness you have, orzo, spinach, celery, onions, chives, kalamata olives, some seasonings, extra virgin olive oil and any kind of cheese you prefer whether it be vegan or not. My recommendations would be either vegan parmesan or feta. I don't use any dressings in this because I use the juice from the olives and oil. Both of those ingredients keep the pasta moistened so it won't stick together. It adds such a powerful flavor you won't need or want any other dressing. Trust your girl.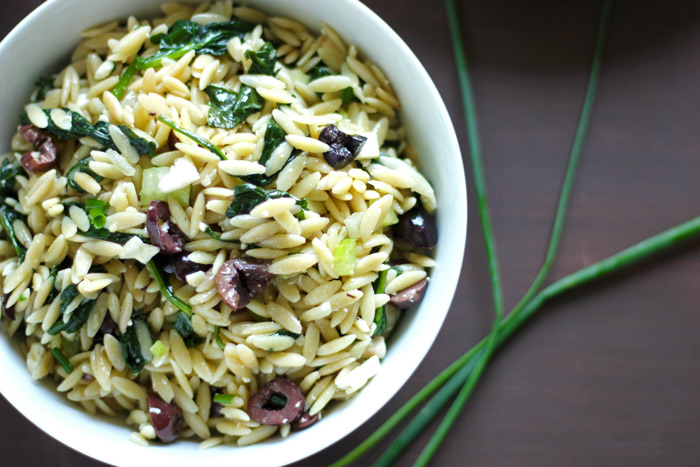 As a Mom life can get pretty busy when you're juggling a ton of different things and trying to multitask like it's your job (because it pretty much is). So when you have to cook, sometimes the thought makes you do a huge eye roll, yawn and ordering out sounds so good at those moments. I do it too guys and gals, I do it too.  Anyway, my point is you can make things like this in batches so that it's out of the way and lunch is made for the next day. Maybe your family won't be into the leftovers but hey, they are there just in case. Plus like I said, cold pasta salads are the iiish.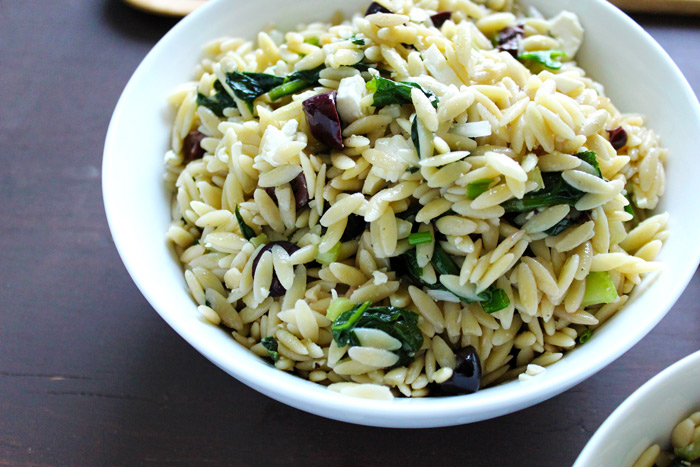 The real cool thing about this salad is the only thing you have to cook is the pasta. As soon as the pasta is done cooking, I drain it and immediately add the oil and spinach. The pasta is so hot it wilts the spinach down perfectly without having it lose its nutritional value. When you over cook veggies (another thing I am victim to) you can strip them of all their health benefits so be really mindful when cooking veggies. I suggest steaming for 10 minutes usually, adding some sea salt, a little bit of (coconut) butter and you're good to go all whilst reaping the benefits. Cyber high fives!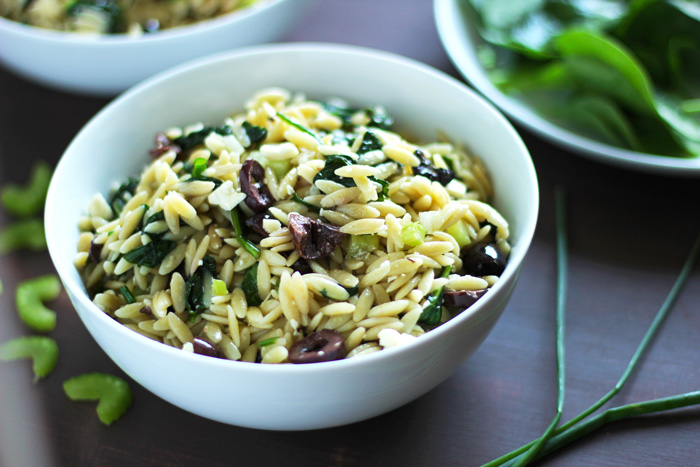 Before I starting cooking healthier I remember buying canned french cut green beans. Then I would cook them in a pan, douse them in oil, salt and a whole bunch of seasonings like adobo and sazon, which are completely high in sodium, and think how awesome I made my veggies taste. But back then I didn't realize I was destroying their nutritional properties. I just thought ok I'm eating my veggies, I'm doing right by me. haha We all learn right?!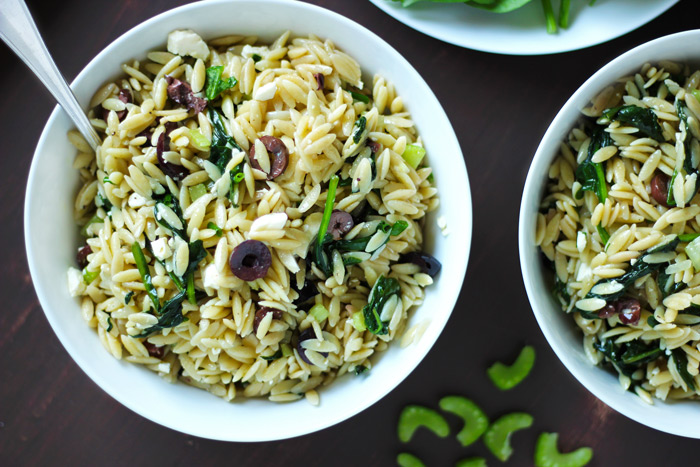 Alright well we know I started school and I'm excited about that. We also know that cold pasta salads rule and are easy peasy to make and we also know that leftovers are banging. So need I hold out on you guys any longer? Naaah…so off to pasta wonderland we go!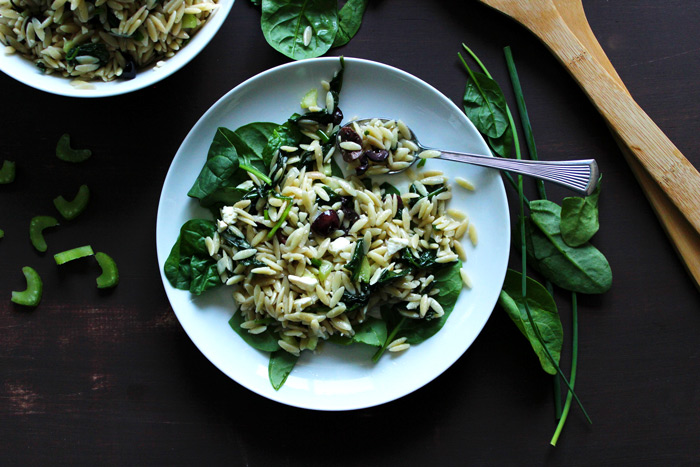 Stay connected with NeuroticMommy:
Instagram | Facebook | Pinterest | Twitter
Don't forget to hashtag #neuroticmommy and #chocolatecorner on Instagram for features!
Spinach Orzo Pasta Salad
Recipe Type: Salad
Cuisine: Vegan/Vegetarian
Author:
Prep time:
Cook time:
Total time:
Serves: 6-8
Pasta Salads are all star, easy to make, easily portable and taste great whether it be hot or cold. It's always a hit and never a miss!
Ingredients
10 ounces orzo pasta
2 1/2 cups fresh spinach
1/3 cup extra virgin olive oil and a little extra if needed
1/3 cup celery, chopped
1/3 cup chives, chopped
1/4 cup yellow onion, chopped
1 1/2 tbsp balsamic vinegar
2 tsp garlic powder
1/2 cup pitted and sliced kalamata olives plus juice (about 1/4 cup)
1/3 cup vegan parmesan or crumbled feta cheese
salt/pepper to taste
Instructions
Cook pasta according to package instructions. Normally orzo pasta cooks 8-10 minutes.
Once pasta is cooked drain and place into large bowl.
Immediately add spinach and extra virgin olive oil. Move the spinach around so it wilts from the hot pasta and also to get the oil equally distributed throughout the bowl.
Once spinach has wilted add all other ingredients and mix well. When adding seasonings taste as you go so you can see whether or not you want to add more of one thing or another.
Serve right away or store in the fridge to chill. Can be eaten hot or cold.
Enjoy!
Notes
The orzo tub that I have is 26.5 ounces. I put about half that in to cook. You can put more or less depending on how much you want to make. When cooking orzo remember it doubles in serving size when cooked. [br][br]Ingredients can be adjusted as well. Very simple. Just add more or less to the amount of pasta you make.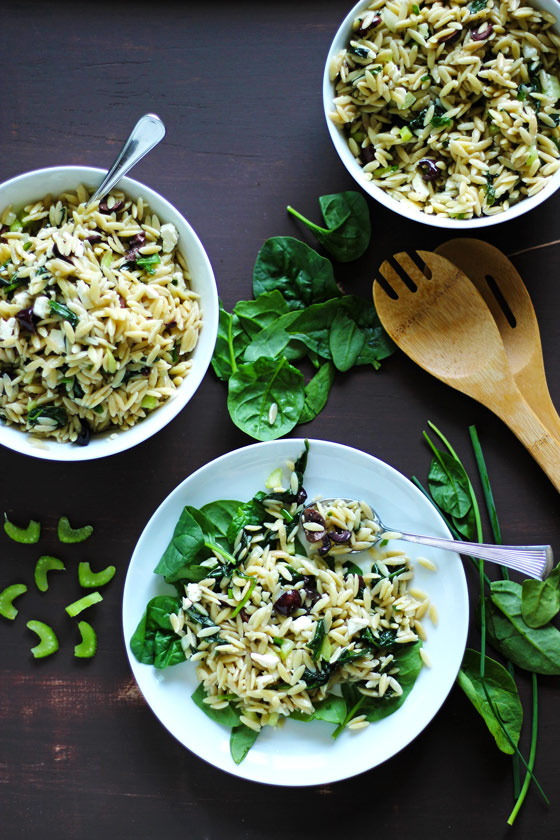 XoXo JenniferRose