"Pizza Skins"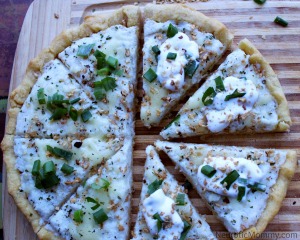 Hey Hey Hey! Ok so growing up I use to eat at this restaurant called Pizzeria Uno. They had delicious food back in the day but it was definitely clog your artery central. They had these pizza skins on the menu but it wasn't pizza. It was mashed potatoes doused in butter, milk, salt etc. The potatoes were in a deep dish crust loaded with the works. Sour cream, cheese, bacon, you name it.
Well what-do-ya-know, I took my bad azzz cookin' self and recreated a healthy vegan version using cauliflower mash and an organic cornmeal crust. Whoop Whoop! It's about to go down up in this piece. (lol)
Here's Whatcha do
Ingredients
1 head of cauliflower
2 tbsp coconut butter
1/2 c almond milk
salt/pepper to taste
onion/garlic powder to taste
1 garlic clove
For the crust I used an organic cornmeal crust can be found at WholeFoods Market. Usually found in the freezer section.
Vegan sour cream, (optional, but recommended)
Vegan bacon bits (optional but recommended)
Vegan shredded mozzarella
Handful of chopped scallions
Method
Boil or steam cauliflower then put it in a blender.
Add in almond milk, coconut butter and seasonings  then run until desired mashed consistency. The cauliflower mash is now done.
Prepare the cornmeal crust as directed on package. It typically bakes for only 10 minutes.
Once done take cauliflower mash and spread it out evenly across the crust.
Put mozzarella shreds on top and stick it back in the oven for about 5 minutes so the cheese melts a bit.
Add the rest of the toppings and Enjoy!
Makes 8 Slices