Mini Spinach Polenta Cheese Pizzas Vegan
jump to recipe
Did someone say Pizza? I could of sworn I heard the word pizza. Ok, you had me at pizza.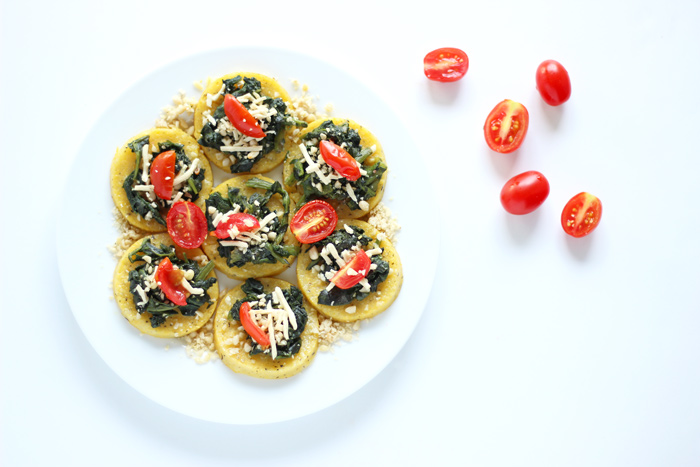 So what I did was I took my love of all things healthy and all things pizza and married the two together and came up with this mouth full of goodness. Usually when I have polenta in the fridge I like to make Polenta Fries! (YUM) But I thought to myself hmmm…let's do something a little different. So behold Mini Spinach Polenta Cheese Pizzas, Vegan so we can have the best of both worlds.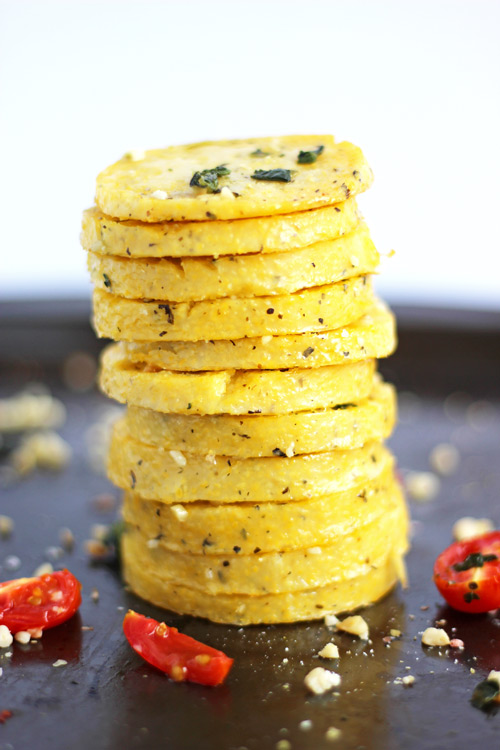 For those of you that don't know, polenta is a paste or dough made from cornmeal. It can be boiled, fried or baked. I get an organic, ready made polenta so that all I have to do is heat it up. This can be found at any local health food store, Trader Joe's or WholeFoods. Now as I mention in a few of my posts, always be sure to buy anything corn organic. Even check your cereal boxes because chances are there is some sort of corn ingredient in there. 95% of corn in the U.S. is genetically modified and we want to stay away from that.
Polenta usually requires a fair amount of cooking and frequent stirring. The consistency is similar to porridge or grits when not instant or prepared. The Polenta I get is fully cooked and comes in a tube like packaging. In the photo above I took the fully cooked polenta and cut slices a little more than an inch thick and drizzled them with extra virgin olive oil before the initial baking.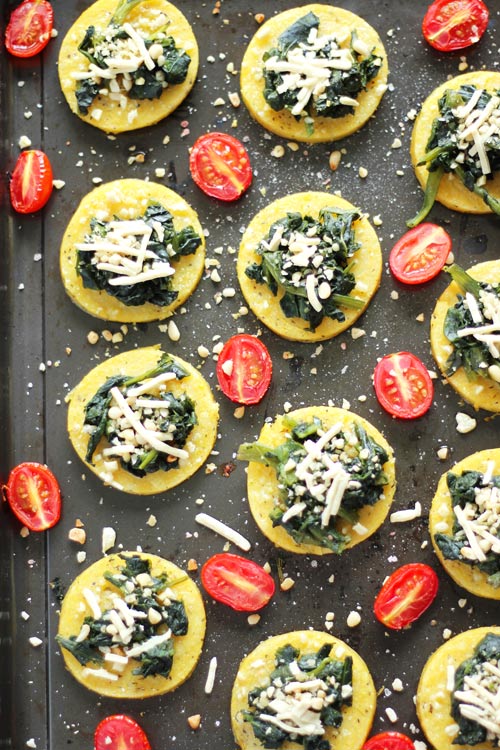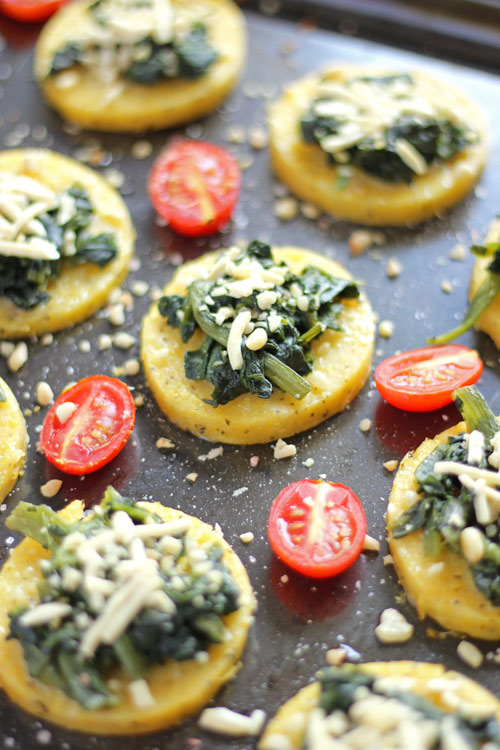 With this form of polenta the cook time is reduced in half and is rather quick. I steamed spinach, crushed some pine nuts and added vegan mozzarella cheese shreds on top along with sliced cherry tomatoes. While I was baking the pizzas I wanted the tomatoes to get slightly roasted. I love warm tomatoes. Plus they are full of antioxidants, potassium and may aid in controlling blood pressure. They are a great heart food. Anything red such as tomatoes, red peppers, cherries are all good for the cardiovascular system. Each color veggie does something different for the body. How ironic the red ones are for our blood. And what color is blood? Red.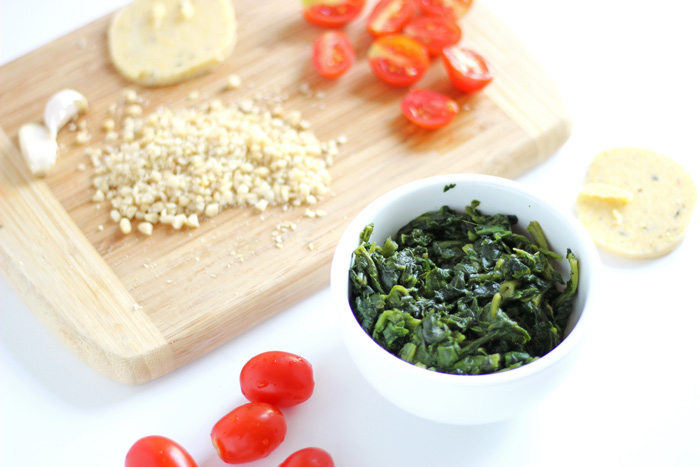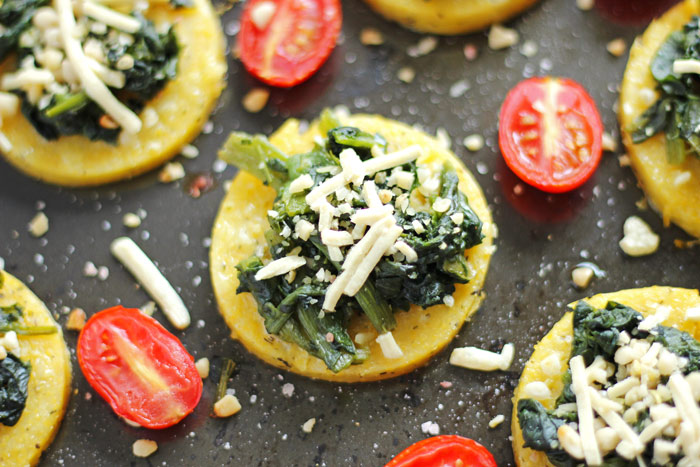 Do I even need to get into the benefits of spinach?! I think it's safe to say spinach is Amaze for us. The greener you are on the inside the cleaner you are on the inside. Gosh I love that phrase because it really is true! Spinach, this dazzling green, is loaded with nutrients and low in caloric intake. I believe 2 cups of spinach is only 14 calories. Would ya look at that. Dark, leafy greens in general are good for bone health, iron and protein. Yes protein. For instance collard greens pack more protein than an 8 ounce piece of chicken. It's surprising to people that greens like spinach, mustard greens, swiss chards are highly packed with protein. Most people assume protein is only found in animal products and that's not the case. There is animal protein and plant protein.
The difference between the two is that animal protein also comes with the consumption of unwanted added hormones, antibiotics, bacteria, parasites and carcinogens. Now if you are a meat eater I have nothing against that as I believe that not one specific diet or lifestyle is for everyone (it's like saying the same haircut looks good on everyone, in my opinion) so just know where your meat is coming from. Pasture raised is always the best choice. Plant based protein on the other hand (some plants) have all 9 essential amino acids as others have some but not all. If you're eating a balanced diet of beans, quinoa, whole grains, fruits and veggies regularly then you're getting everything you need. If you're new to plant based or vegetarian diets (for lack of a better word) I would definitely test out balancing what works specifically for your body. You don't want to become a junk food vegan or be a fries and veggie burger vegetarian. Haha, we've all been there.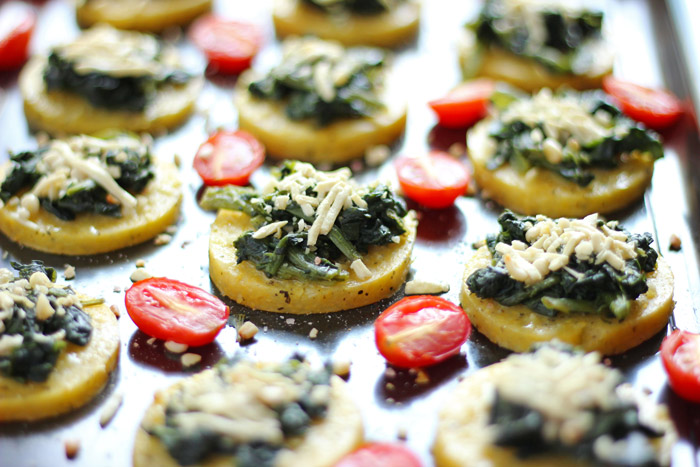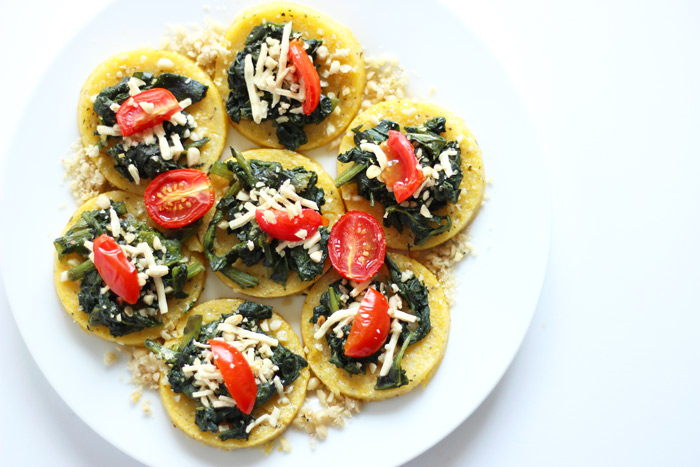 That was information overload now wasn't it. But since we got that out of the way we can move forward and take this healthy pizza relationship to the next level. #droolfest! The ingredients are so so simple. When I was younger we would make english muffin pizzas. They were so much fun. These are the healthified version and super tasty. Wait till you try it you may do a little moan and groan after your first bite. Hopefully you like polenta!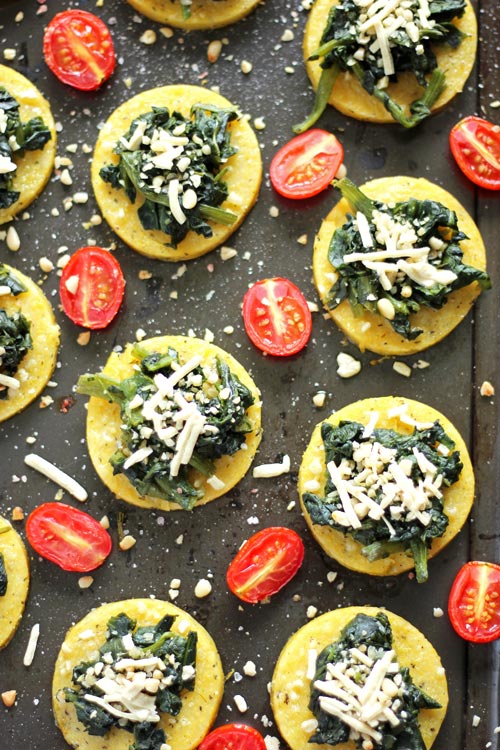 Super healthy Mini Spinach Polenta Cheese Pizzas are a go to when you're in the mood for something different and tired of making the same things over and over again. This will ad diversity to your meals all while keeping you nourished. They are fun to make with the kid(s) and are ready to go in 25 minutes. Talk about the fastest kinda food, organic and low in cost. Whoop Whoop!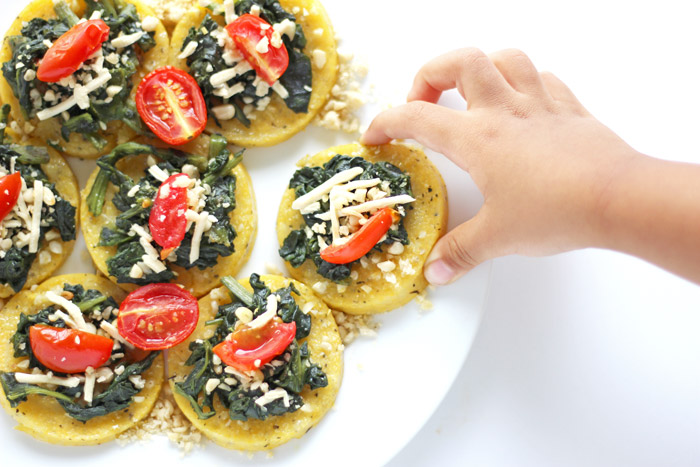 Hey, who's little nugget hand is that stealing his pizza while Mommy's doing a shoot!? Adorbs!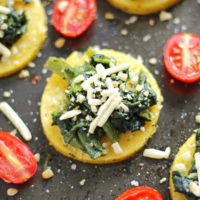 Mini Spinach Polenta Cheese Pizzas Vegan
Healthy Mini Polenta Pizzas that are fun and are prepared in 25 minutes or less. Packed with nutrients and loaded with amazing flavor. These will be your go to weekly, promise =)
Ingredients:
1 - 18ounce prepared polenta, approx sliced 1 and half inches.
(original or any flavor)
1 16 ounce bag of frozen spinach
1 tsp garlic powder
himalayan pink salt to taste
pepper to taste
1/2 cup cherry tomatoes, cut in half lengthwise
1/2 cup pine nuts, crushed
1/2 cup to 1 cup of vegan shredded mozzarella cheese (optional)
1 1/2 tablespoon extra virgin olive oil
(this is to lightly coat the tops of the polenta slices before assemble)
Directions:
Preheat oven to 350F. Start by steaming or boiling spinach until tender and no longer frozen. I like to steam my veggies as it preserves the nutrients. If over cooked there is little to no nutritional value.
Once spinach is ready, drain and pat dry with a paper towel.
Place polenta slices on a baking sheet and evenly brush tops of polenta slices with extra virgin olive oil with a light hand. Sprinkle with salt, pepper and garlic powder.
Assemble by placing spinach first, crushed pine nuts then vegan cheese.
Put sliced tomatoes around the baking dish so they can become slightly roasted when in the oven.
Once assembled place in oven and bake for 20 minutes.
Remove from oven and let cool for a couple of minutes. Top with roasted cherry tomatoes.
Enjoy!