Simple Steps Towards a Healthy, Active and Beautiful Lifestyle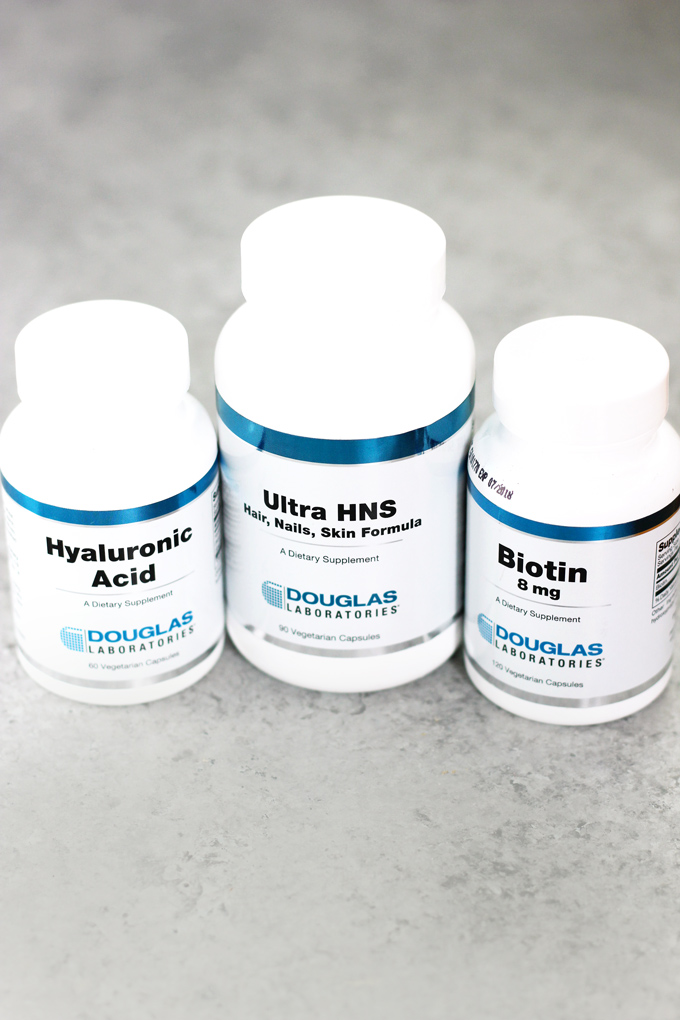 I love talking about supplements. Being plant-based I get asked a lot of questions. People want to especially know what I take for strong hair and nails. I have a regime that I take daily, am very loyal to my brands and religiously take them each day. I found another brand that I tried and love called Douglas Laboratories!
I tend to be very picky and need I say it, neurotic when taking or trying new supplements. I'm all about organic, non gmo, no synthetic fillers, and nonsense like that. I like real supplements that will do good for my body not harm it. The reason why we need supplements (everyone does, not just plant based, vegan, or vegetarians) is because although you may eat an amazing diet you still need to fill in the gaps. Vitamin C, B-12's, Vitamin E, D, and so on. A person with a poor diet taking supplements to make up for the poor diet will do much of nothing. It's always best to maintain a healthy and active lifestyle, and nourish your body with what it needs both mentally and physically.
Douglas Laboratories is a globally recognized leader in the development and manufacturing of innovative, science-based nutritional supplements, designed to help healthcare practitioners who are focused on the healthy aging and active lifestyles of their clients.  Their culture is deeply rooted in it's commitment to global sustainability. Their goal is to positively influence and impact the quality of health of those in need, in both the developing world as well as within the communities that we live and work.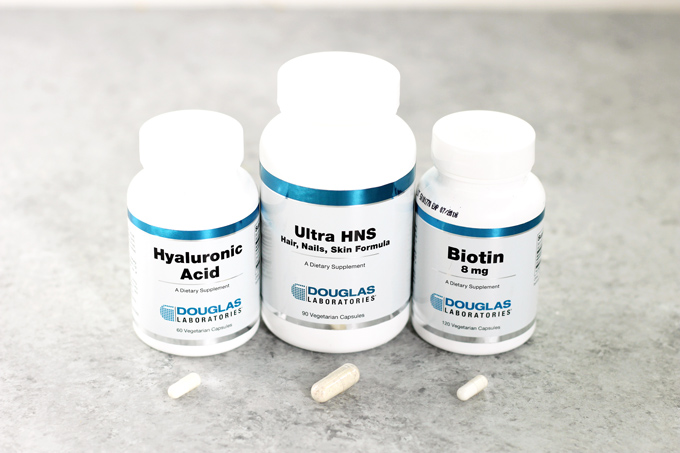 Let's get into these supplements further. These are the simple steps towards a healthy active and beautiful lifestyle. I'm going to explain to you in detail what each one is good for and what it does. Each of these products contains no yeast, wheat, gluten, soy, milk/dairy, corn, sodium, sugar, starch, artificial coloring, artificial preservatives, artificial flavoring, or genetically modified organisms (GMOs). Can you say #Winning!
Ultra HNS (Hair, Nails, Skin) — is a nutritional supplement that supplies high dose biotin, methylfolate, vitamin C, zinc and Cynatine® HNS for healthy hair, nails and skin. Additional nutritional supplement details include:
Cynatine® HNS, a patented, solubilized keratin for the health of hair, nails and skin, has demonstrated that it can improve the strength, brightness and appearance of hair, nails and skin, as well as reduce hair loss associated with washing.
Cynatine HNS has also been shown to be capable of supporting healthy skin aging and improving the strength and luster of nails.
Vitamin C is essential for the synthesis of collagen, which is the building material of all connective tissues, such as skin, blood vessels, tendons, joint cartilage and bone. Zinc is important for growth, immune system function, protein synthesis, antioxidant mechanisms and wound healing. Biotin (a B vitamin) supplementation after six months has been shown to support nail firmness and thickness, and to reduce splitting.
Biotin 8 mg — A nutritional supplement that supports a healthy glucose metabolism, nerve function, and nail strength. Additional nutritional supplement details include: Biotin, also known as vitamin B7, is a critical water-soluble vitamin that is an essential co-factor for a number of metabolic carboxylation reactions, including carbohydrate, fat and protein metabolism.
Hyaluronic Acid® — A nutritional supplement that supplies low molecular weight hyaluronic acid for joint and skin health. Additional nutritional supplement details include: Synovial fluid of the joints provides shock absorption and lubrication for movement; as we age, this fluid decreases. Supplementation with oral hyaluronic acid has been shown to help retain more synovial fluid and protect the joints. It has also been shown to protect the skin by promoting healthy turnover and renewal of keratinocytes, moderating the appearance of fine lines and age spots.
They also have QÜELL Fish Oil ® – EPA/DHA Plus D — A nutritional supplement that supports cardiovascular health, neurological health, vision health and joint health. It's extracted oils in triglyceride form, manufactured in Germany exclusively for Douglas Laboratories. It's unique among other fish oils for it's supercritical extraction, purity, bioavailability and concentrations.
Vitamin D is an essential vitamin that plays an important role in proper body function, including support for cardiovascular health.
I personally do not take the Fish Oil because I'm plant-based, however I know a lot of people who do and for those of you that do take it and are looking for a reputable brand, high quality, then this is your go to for that.
---
To incorporate the supplements into your daily life for a healthy and active lifestyle, I recommend the following:
The Ultra HNS you take 3 times a day so you can take it with each staple meal: breakfast, lunch, and dinner.
The Biotin 8mg suggested use is 1 to 2 times daily, and again take with your meals.
The Hyaluronic Acid is also suggested to be taken 1 to 2 times daily, taken with meals is best.
The reason I say take with your meals is so you won't forget. If you just had to take them sporadically throughout the day, not on a schedule then usually people tend to forget. You can also put notifications in your phone or have alarms set to remind you when to take your supplements. Once you get into a routine you won't likely forget. These are the steps I utilize and it helps me stay on track.
*These statements have not been evaluated by the Food and Drug Administration. These products are not intended to diagnose, treat, cure, or prevent any disease.
*Please consult your healthcare practitioner before introducing any new nutritional supplements into your daily routine — especially if you are pregnant or have a pre-existing medical condition.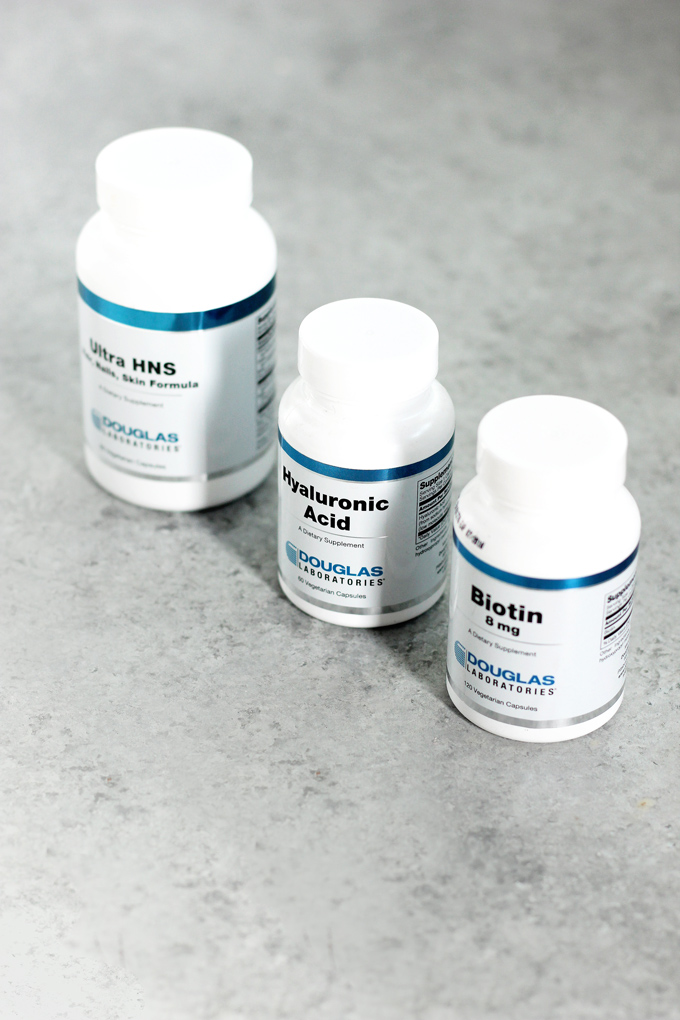 When it comes to beauty and aging people are always looking for a short cut, an easy way out. Exactly what everyone tries to accomplish with weight-loss too. There is no magic pill for beauty. There is no magic pill for weight-loss. There is no magic pill for anything to be quite honest. Traditionally people have looked for sporadic, short-term solutions — like expensive skin care products or chemical treatments — focused on covering up or attempting to reverse the signs and effects of aging. Now people across all generations are starting to make long-term lifestyle changes that are centered around feeling good from the inside out.
The best natural approaches to healthy aging/beauty encompass a diet that incorporates organic foods with low processed foods. This means finding the right combination of low sugar foods, healthy fats, and fruits and vegetables with dietary supplements that provide adequate amounts of nutrients.
Right now, more adults in the U.S. are taking dietary supplements than ever before to support their general health. The healthy aging/beauty market isn't just exclusively for baby boomers or older generations. Younger generations are also taking an increasing interest in their health and incorporating nutritional supplements into their daily routine to ensure they live long, healthy lives.
This is something we all need to be doing. Taking a serious interest in our health. By doing we are actively taking an interest in our lives. Aging is inevitable but we can do it in the most healthy, natural way possible without harming ourselves.
I was selected for this opportunity as a member of CLEVER and the content and opinions expressed here are all my own.