Spooky Spider Cookies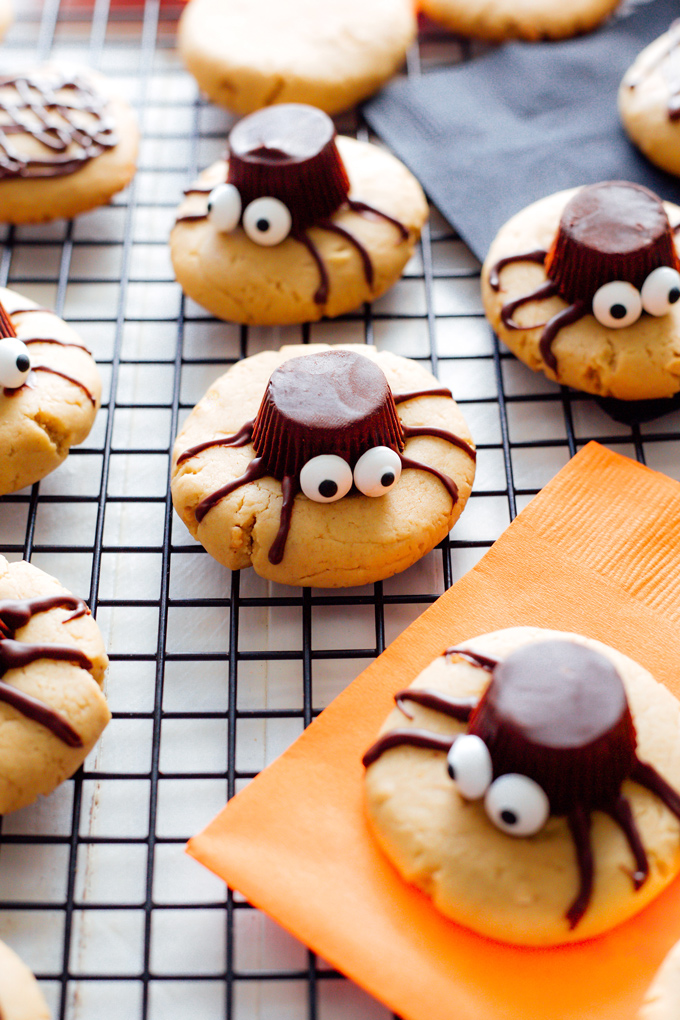 These Spooky Spider Cookies are absolutely perfect for Halloween! I know what you're thinking…too soon for ze Halloween posts?? In the blogging world that's a no! We need to be ahead of the game, ready for holidays, special occasions and everything else. The sooner bloggers like myself get content up, this gives you the readers more time to gather ideas and prepare. Organization skills people! Something I haven't mastered yet but I'm getting better at.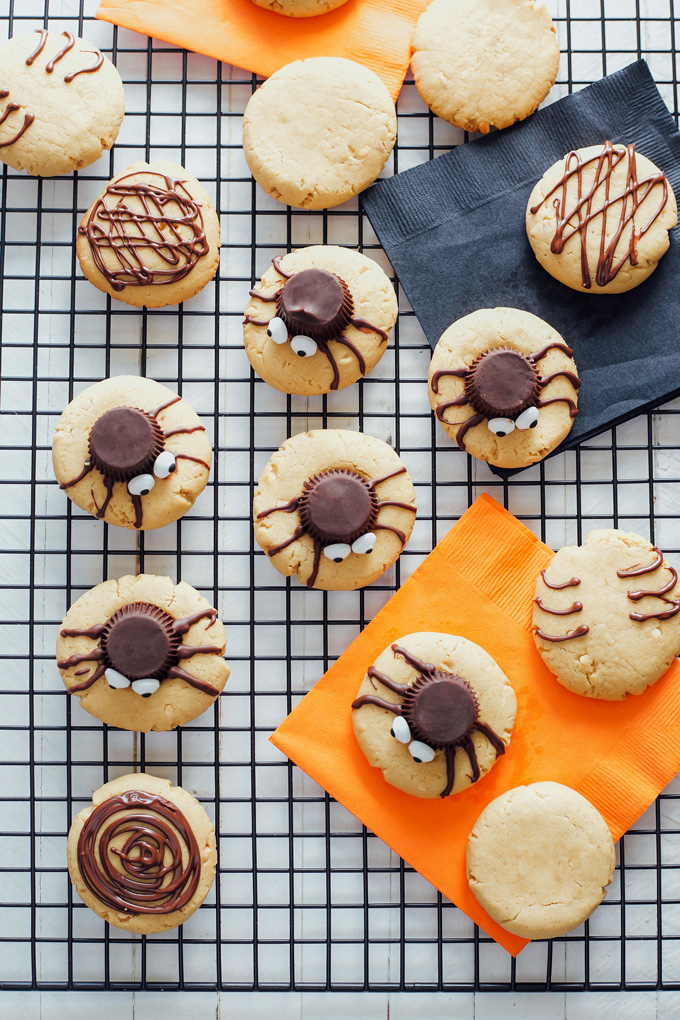 The cookie itself is all the yums because it's my favorite "Can't have just one" Peanut Butter Cookie! Totally vegan with just 7 super easy ingredients that are completely healthy and most likely you already have on hand. I make them all the time and each time they blow my mind. When I make them for friends and family, it blows their minds too because they're just so damn good. Chewy, soft, and delicious. Add chocolate and it's like what in the flip just happened. You're in a glorious whirlwind of amazingness that equals the chocolate and peanut butter combo.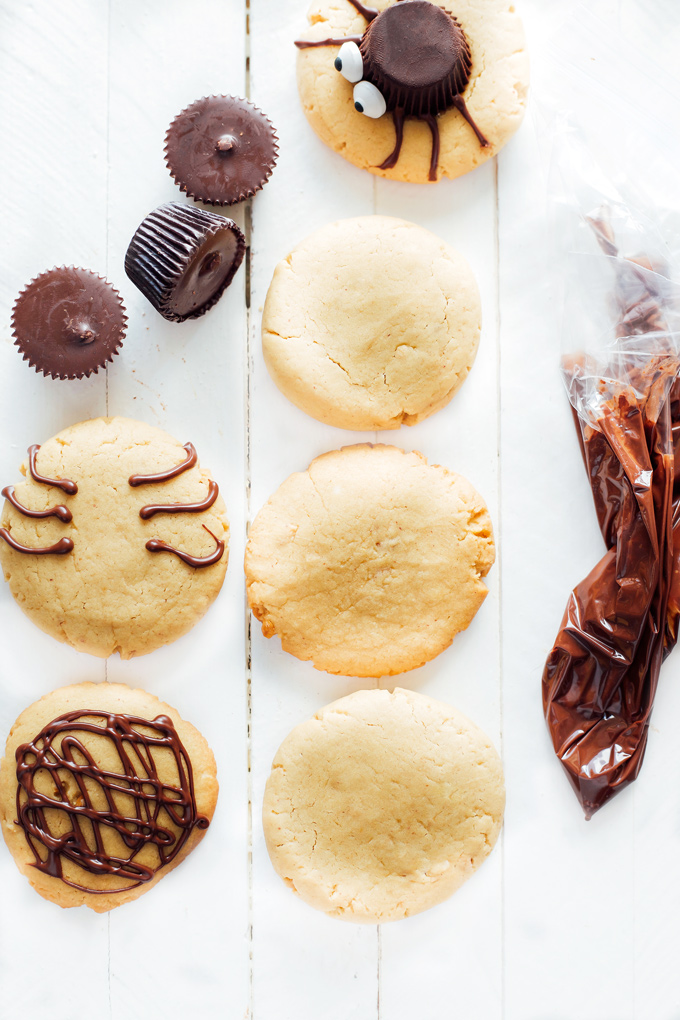 Allergive to peanuts? No probs you can sub any nut butter in place of the 1 cup of peanut butter. The texture and taste will vary depending on what you use but overall still a great, durable cookie. I haven't tried this with anything other than almond butter however, so if you make this with say a sun butter, keep ya girl posted on the outcome so me and other readers can see.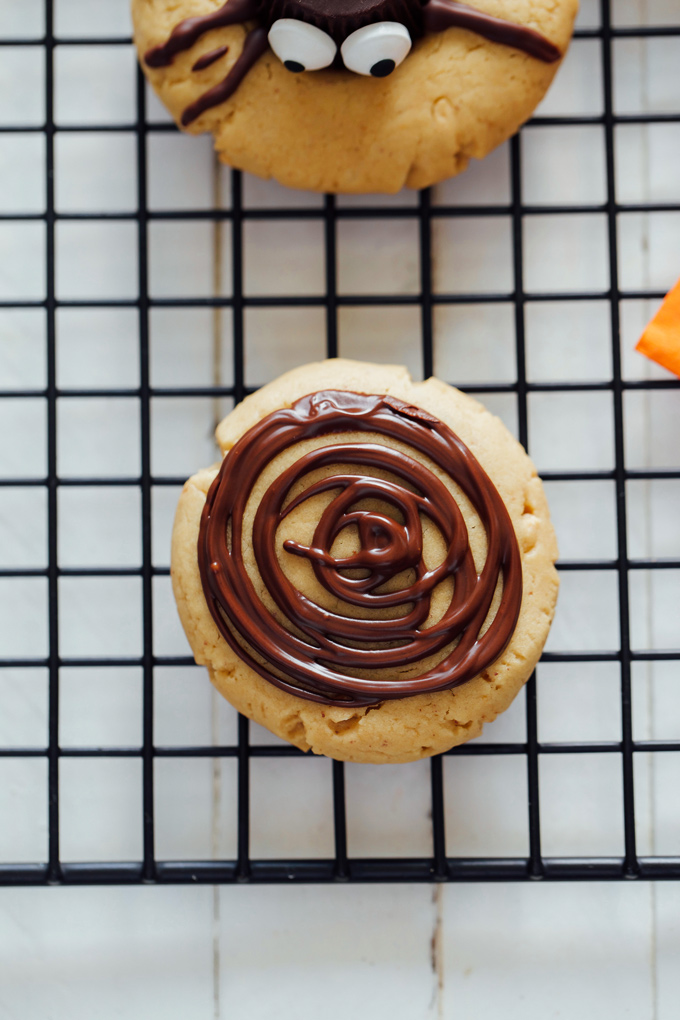 To be extra festive (and I like to be extra) I used some of the cookies to compliment the spooky spider cookies. I made what appear to be spider webs?! LOL, they look totally adorable and they obviously taste just as great minus the dark chocolate peanut butter cups. And soooo super easy to do! You can see I just use a small ziplock bag, nipped a little corner off and drizzled it on the cookies. No fancy baking gear needed. You can do any design you like too, zig-zag, spirals, go in whatever direction you choose. Be your own spider!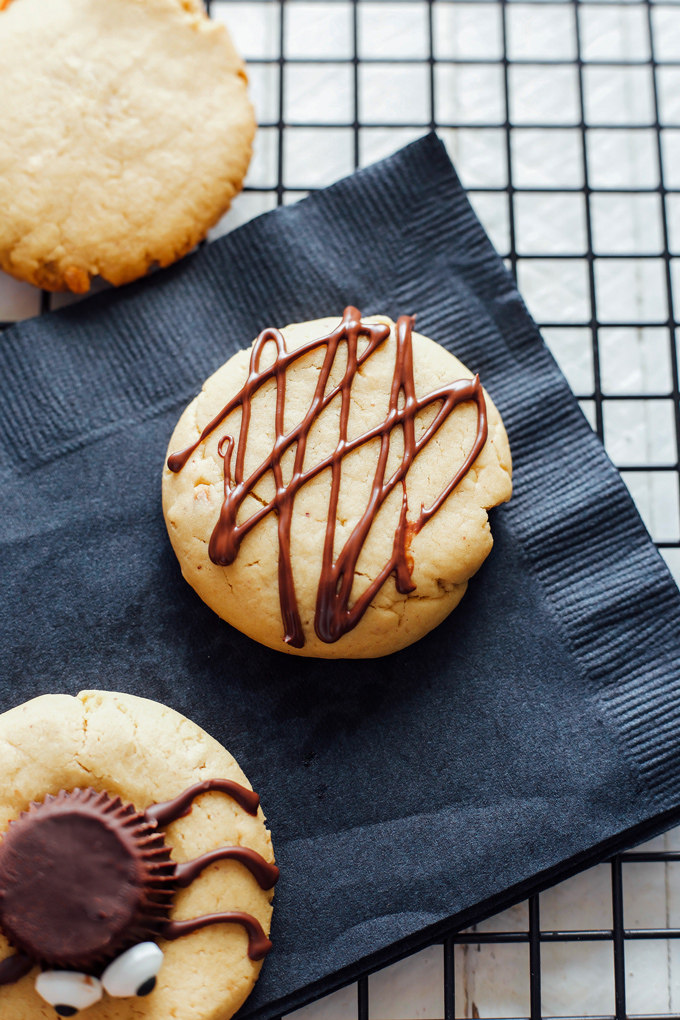 For the dark chocolate drizzle I used vegan chocolate chips with a tsp of coconut oil. To melt it down I used the double boiler method, takes literally 5 minutes to melt.
I let it cool and pour it into my zippy and have at it. I typically don't usually have any extra melted chocolate saved as I try to use it for whatever it is Im using it for because I find that if I make too much the rest will just go to waste and I hate wasting chocolate. Like I can't even think about that.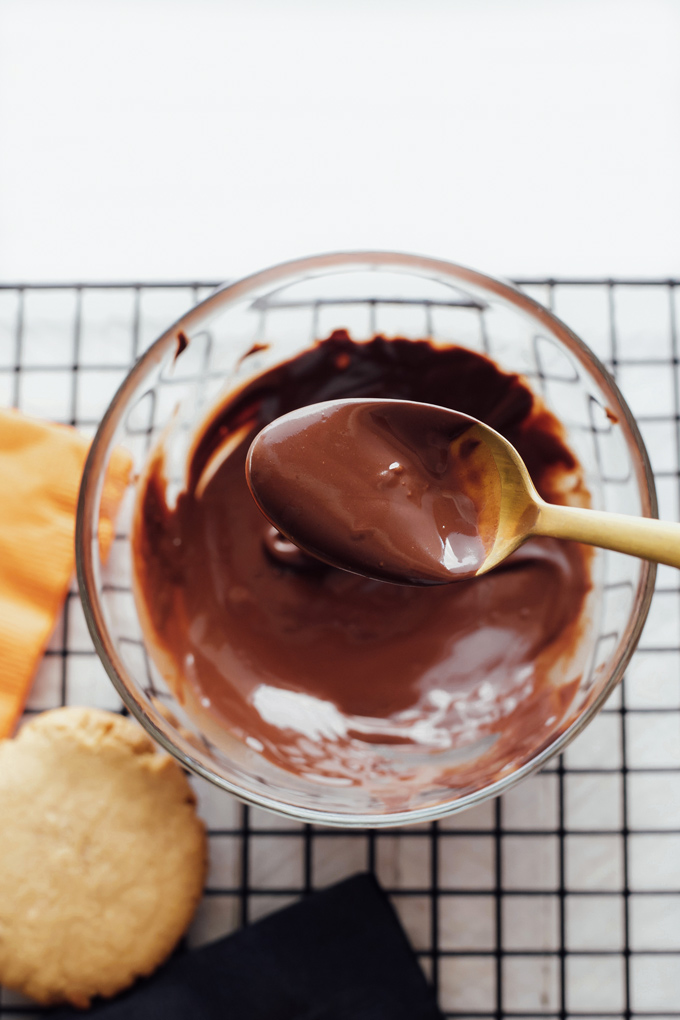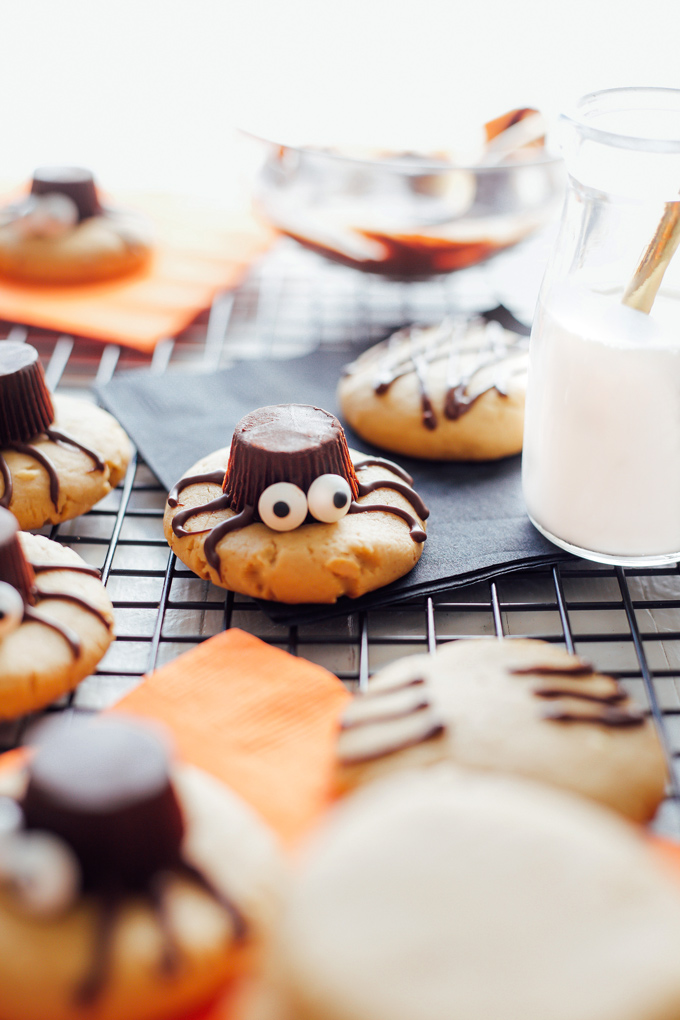 And lastly kids LOVE to make these and eat them. They're a super fun and easy cookie to make with the kids and it doesn't have to be perfect. I let my son just do what he wants. He made my cookies (specifically for me) with only one eye and like two legs. No one else is allowed to eat those cookies except me. The peanut butter cups were all melted and mushed from his hands and the eyes were covered in chocolate too but they are special because he made them special and was so proud. I absolutely love that and it really just pulls at my heart strings. You know us moms get all emo when our kids like to do special loving things for us. Gawd I'm tearing up with happiness right now, like come on! Also I'm pregnant that may something to do with it…hormones. haha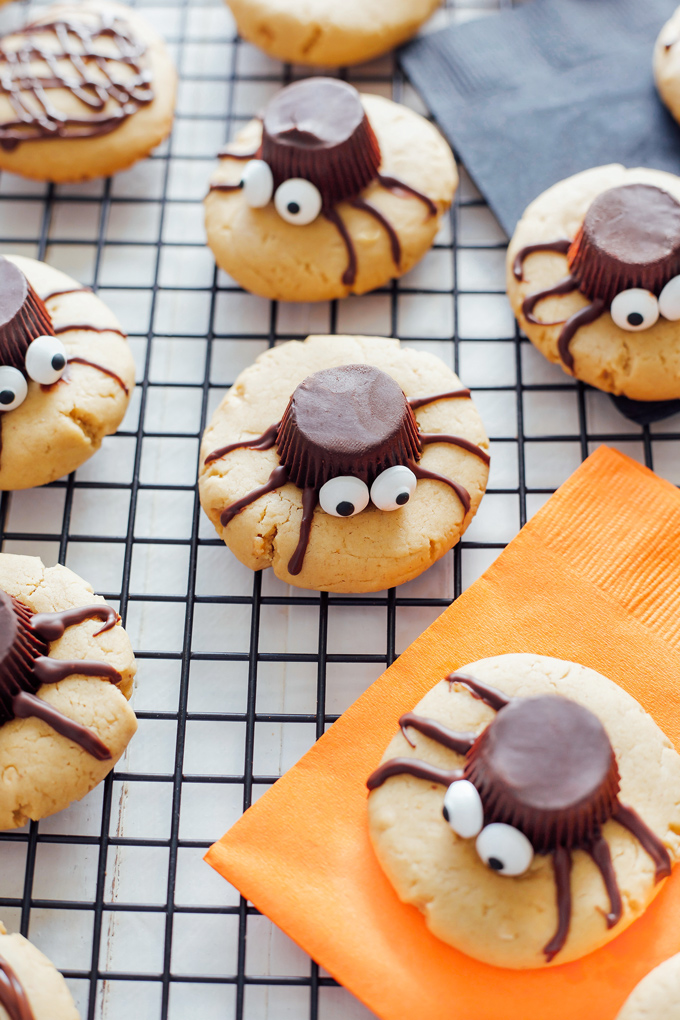 Have fun making these cookies and don't forget to follow me on Instagram so I can see your Vegan Spooky Spider Cookie creations. They are so freakin' cute and perhaps the only spiders I'm not afraid of!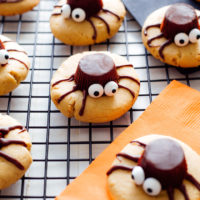 Spooky Spider Cookies
These vegan peanut butter gems drizzled in sweet dark chocolate are chewy and full of deliciousness in every bite! The perfect tasty little snack for Halloween and super spooky!
Ingredients:
2 cups whole wheat pastry flour or all purpose flour
1 tsp baking soda
1 tsp himalayan pink salt
1 cup unsalted crunchy or creamy peanut butter (I love crunchy)
1 1/2 tsp vanilla extract
1/4 cup extra virgin olive oil
1 cup pure maple syrup or other liquid sweetener
1/2 cup vegan chocolate chips or any vegan dark chocolate
1 tsp coconut oil (for the melted dark chocolate)
24 mini vegan dark chocolate peanut butter cups
candy eyes
Directions:
Preheat oven to 350F and line baking sheet with parchment paper.
Whisk together dry ingredients, flour, baking soda, and salt.
Whisk together wet ingredients, peanut butter, vanilla extract, olive oil, and maple syrup.
Combine the wet with dry, folding in nice and steady. Once all the wet ingredients are well incorporated let sit for 5 minutes.
Take tablespoon size portions and roll into balls. Place on cookie sheet and gently flatten with the palm of your hand.
Bake for 8-10 minutes. Remove from oven and let cookies cool completely on wire rack before topping with chocolate and peanut butter cups.
While the cookies are baking melt down the dark chocolate and add in the tsp of coconut oil.
Once melted remove from heat and place into a zip lock bag with a small corner cut off, or piping bag, or whatever you like to use typically to drizzle.
Once the cookies are cool you can press a mini peanut butter cup into the center. Drizzle lines of chocolate coming out of the sides of each cookie make the "spider legs". You can do this for each cookie or you can make webs too. There are about 24 cookies so feel free to get creative and also leave some plain if you'd like. To add the eyes simply press them on the outside of the peanut butter cups. If you find they are having a hard time sticking dot a small thing of melted chocolate on the back of the eye and press in, this will hold it in place.
Once cookies are decorated place in the fridge for 10 minutes to set. This will help the eyes stay on too.
Serve right away or store in an airtight container. Cookies will last up to 4-5 days. Enjoy!
You can sub peanut butter for almond butter or another nut or seed butter. However I have not tested these cookies with anything other than almond butter so I can't say exactly how they will turn out. If you use something other than peanut butter or almond butter keep us posted on results!
Swooning for more Peanut Butter and Chocolate Combos?
Have a look at all this deliciousness!
Chocolate Peanut Butter Sandwich Cookies
Chocolate Peanut Butter Banana Bread
~Pin this Recipe~