Chocolate Peanut Butter Banana Bread
jump to recipe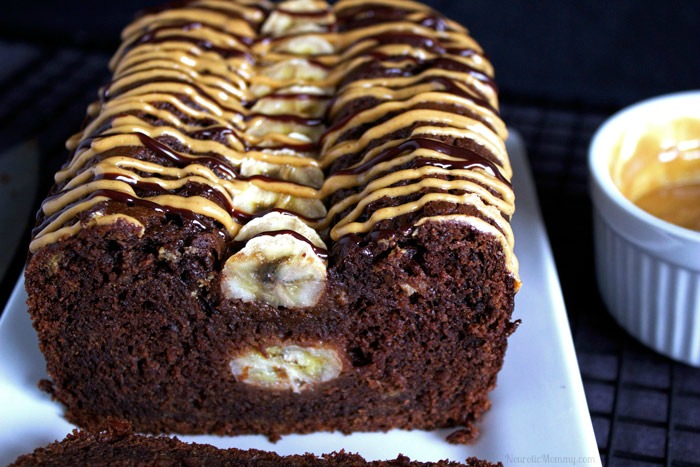 Holy mother of all things effin' amazing…Did you hear me say Chocolate Peanut Butter Banana Bread? You're not going crazy I most certainly did say those magical words. This is by far the best banana bread I ever had. That's a very strong statement I know but 3 things, chocolate, peanut butter and bananas!!! Come on people, that trio will have you weak in the knees for days.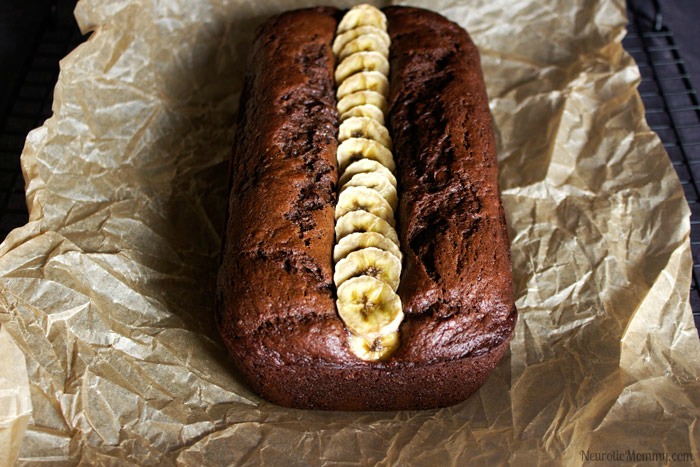 This recipe is Uuugh-Maze! I made two loaves because I knew this would just disappear out of my kitchen on the fly. I dabbled my hand in a piece (or two) not gonna lie here. But…can ya blame your girl? Nooot really.
In the original recipe it calls for eggs and cocoa powder. I just swapped those two out and used flax eggs and cacao powder. (You know I love me some super-foods.) Oh and I may have drizzled dark chocolate on top too (*she gasps).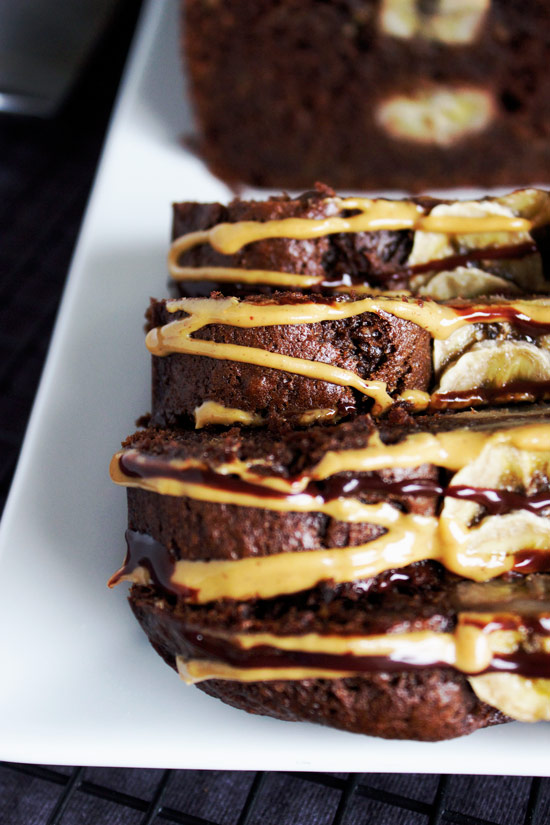 To get that mouth watering peanut butter drizzle I used an unsalted, organic peanut butter I purchase from Trader Joe's. I put some in a little ramekin and heated it up in the oven for about 5 to 6 minutes. I then placed the melted peanut butter in a small plastic baggy and nipped a corner off to started my flow of drizzle goodness. I did get carried away but I knew it was all being done in good faith…duuuh! The more peanut butter the better…what whaaaat =).
Watch this easy tutorial on how to make this deliciousness.
Imagine you, eating this, what a happy camper you'll be. Now this is more on the indulgent side and the ingredients I use are still organic, non gmo. See, you can make the best of the best with the best of the best. You don't have to settle for synthetic, chemical shit(take mushrooms) storms to make amazing, healthier desserts, treats, snacks whatever you call it.
We know Bananas, high in potassium. Best eaten when they have brown spots on the skin. Most people think bananas bind your stomach when it fact it's the complete opposite. Bananas only bind your stomach aka constipate you when you eat them not ripe. When they are ripe they are sweeter and in their prime to load up on their wonderful nutrients. And they keep iiish regular if ya know what I mean. Peanut Butter– high in protein and healthy fats, Cacao Powder– a superfood known for its high antioxidant properties. And what information like this doesn't put people in a good mood? IKR? Right.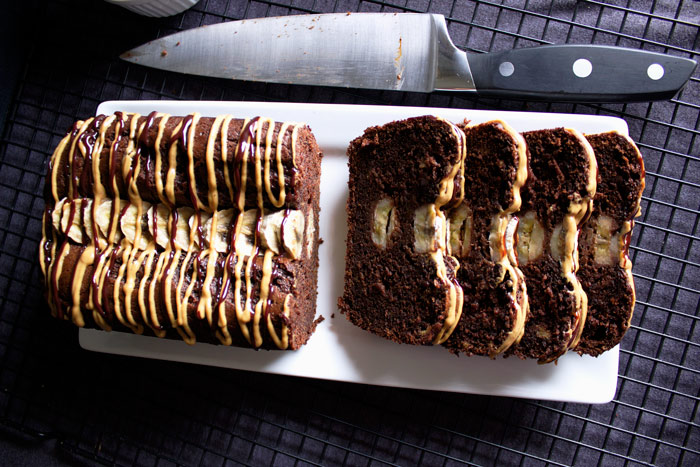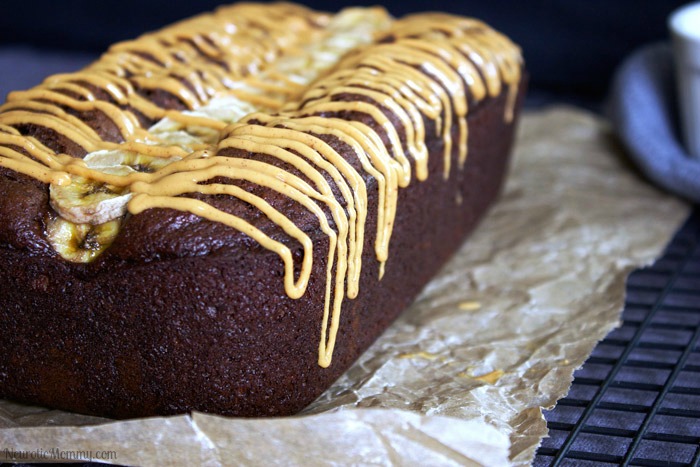 This is a one bowl thing. There is no add this to that then let sit for 5. This is put it all in a bowl, mix well and get it baking because you are going to want to shovel this right down your pie hole like ASAP. I wish you could hear me speaking right now because my mouth is full and I have crumbs all over my desk. Is that proper blogging behavior? I think it is my friends, I think it is.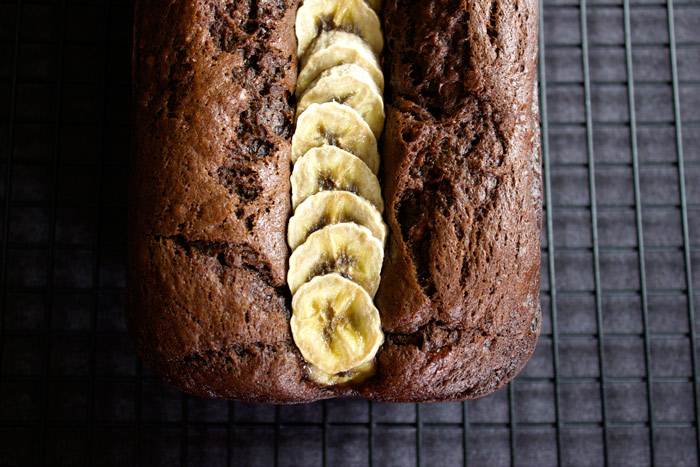 This puts a whole new twist on Banana Bread. Classic yet chocolatey, sure to put a smile on your face and bring a nice pat to the belly.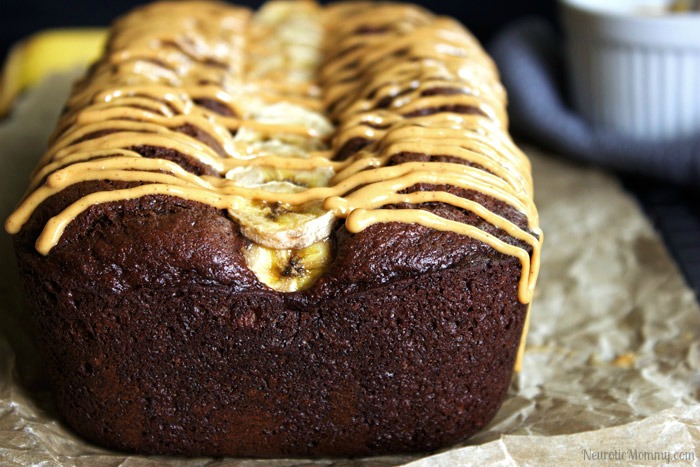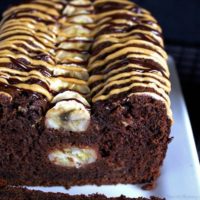 Chocolate Peanut Butter Banana Bread
This Chocolate Peanut Butter Banana Bread puts a whole new twist on traditional Banana Bread. It's easy, it's simple and full of awesome sauce!
Ingredients:
Ingredients
1/3 c organic unsalted peanut butter, melted to warm
3/4 c organic cane sugar
3 medium bananas, mashed
1 tsp vanilla extract
1/2 c safflower oil
2 vegan egg replacer such as flax or EnerG
1/2 c cacao powder
1 tsp baking soda
1 tsp baking powder
pinch of salt
1 c whole wheat pastry flour
1 1/2 bananas, sliced to top
extra melted peanut butter to drizzle (about 3 tablespoons)
dark chocolate, melted (to drizzle, optional)
Directions:
Instructions
Preheat oven to 350F and spray standard loaf pan with coconut oil spray or non stick cooking spray.
In a large bowl beat together, peanut butter, sugar, mashed bananas, vanilla extract, oil and "egg" until well combined.
Mix in cacao powder, baking soda, baking powder and salt. Fold in flour until well incorporated.
Pour batter into prepared loaf pan.
Place banana slices in the middle of the batter pressing down gently.
Bake for 1 hour checking at the 50 minute mark to see if a tooth pick inserted comes out clean.
When finished baking remove from oven and let cool in pan for 10 minutes. Remove from pan and drizzle with warm peanut butter and dark chocolate.
Can be served warm or room temperature. Enjoy!
For two rows of banana slices like I did, when it reaches 30 minutes of baking pull out of the oven and re apply more banana slices mimicking what you did initially. Place back in the oven and let bake for another 30 minutes.
And IKR means "I know right!"