Skinny Peanut Butter Cups
jump to recipe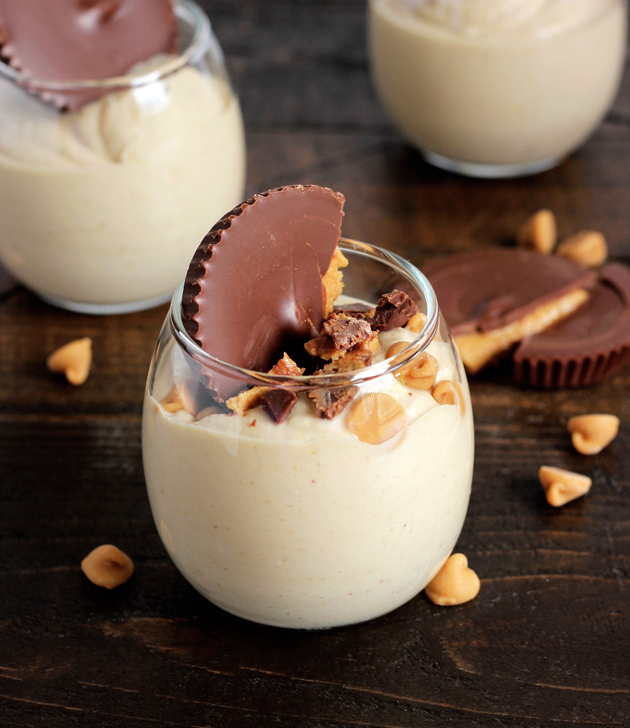 It's one thing to make desserts…it's another thing to make desserts or snacks that you can dig into without feeling like a bloated beast after. At least if we're going to snack we have to snack smart right…right. So I made these Skinny Peanut Butter Cups, literally. It's peanut butter in a cup, get it? 😂 (I crack myself up sometimes)
Well before we go into this any further let me just tell my friends who are allergic to peanuts not to fret or feel disappointed. This recipe can be substituted with ANY nut butter! Yaaay for options! Almond butter is my second fave to this but even sun butter works. I mean it's really nut-butter-cupee's choice.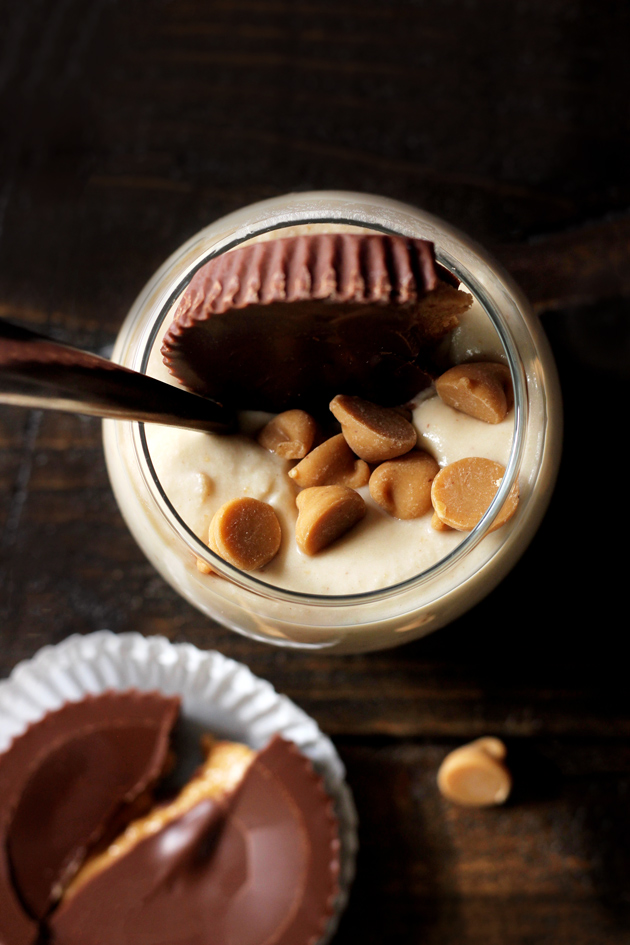 Aside from the peanut butter chips (which are vegan by the way) this is an incredibly delicious treat packed with amazing nutrients. I'm guessing you're like how the eff is this even possible. Well it is my friends it is. The peanut butter mousse is made up of coconut cream, maple syrup, peanut butter, vanilla extract, and a dash of himalayan pink rock salt. Yes, it's that easy. Like amateur easy. Like so easy you don't even need a hand mixer easy but you can use one if you'd like. Sometimes I make this and don't want to whip out appliances, I just take a big ole spoon, put some elbow grease into it, and whip it up. It becomes an I need it and I need it now type of situation, especially if it's during a time say where a woman is craving idk, salt, chocolate, and peanut butter. You know the time I'm talking about, usually comes once a month, lasts for a few days? LOL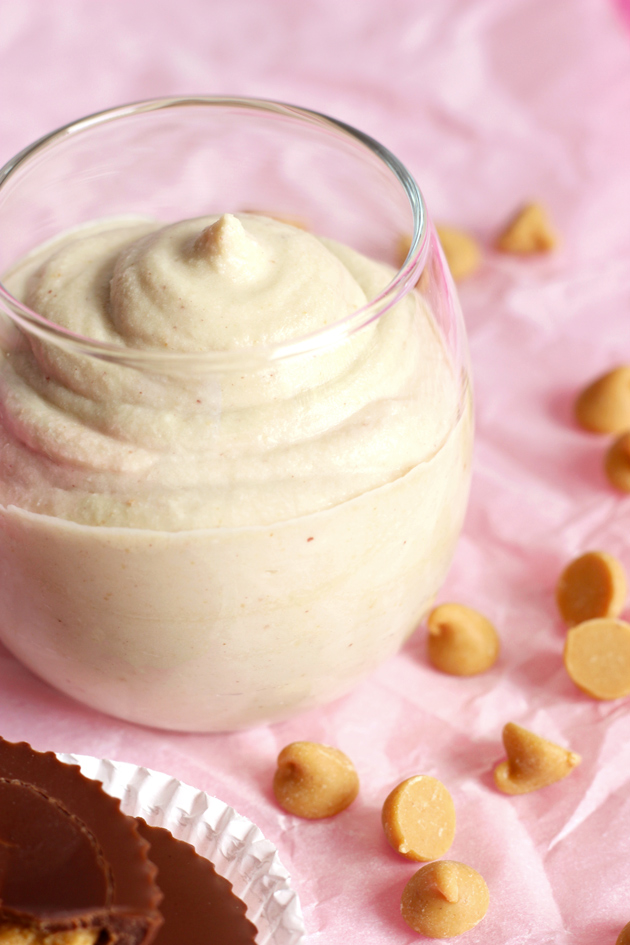 I spruced this up a little bit with some organic vegan peanut butter cups because I was totally feeling them, but they are optional. You will get all the peanut buttery satisfaction you need right out of the cup itself. Straight outta deliciousness.
Peanut butter sometimes gets a bad rap. It's actually quite healthy and I'm not talking about the processed gmo kind. I'm talking about organic peanut butter, the real thing. Peanut butter allergies in today's world are serious and deadly, and should absolutely be taken seriously. But peanuts or peanut butter hasn't always been such a popular killer, and did you ever wondered why? Well since our food industry has changed or lack there of, our food is not made well or properly. We are ingesting things like molds and fungus's our bodies weren't designed to eat, wreaking havoc, and causing things to go on that shouldn't be going on within us. More and more people have food allergies and everyone is blaming the food but it's really not the food, it's the manufacturing, handling, where it's made from, how it's made, etc. If you're over the age of 30, look back and think how many people you knew with food allergies or a peanut allergy to get specific, growing up. I use to rock a peanut butter and jelly sandwich in school on the regular, now peanut butter has a restraining order against it. Shit has changed people, not all is the same. And I get it, there are people with allergies, but there are more now than ever before and we have to wake up and smell the coffee and not from a distance.
Nutritional Info
So as a plant-based eater, peanut butter or any nut butter are essential in my diet. It has a high (healthy) fat and protein content. Yes, protein! Which is what our bodies need to grow strong like Popeye, although spinach will do that too.
There are a few things that peanut butter aids in, and they are all really important.
It aids in weight loss. Yes believe it people, peanut butter suppresses your appetite and helps you keep your sweet tooth in check.
Peanut butter is one of the foods extremely high in Niacin. It was the third B vitamin to be discovered. A study found that eating foods high in niacin proved to help lower the risk of Alzheimer's disease.
It can help you sleep better due to it's high amounts of niacin.
Helps reduce the risk of cardiovascular disease.
Builds healthy bones.
High in potassium which lowers the risk of many common chronic illnesses we see on the rise today.
It's overall packed with nutrients. One serving of peanut butter has 3 mg of the powerful antioxidant vitamin E, 49 mg of bone-building magnesium, and 0.17 mg of immunity-boosting vitamin B6. One study published in the Journal of the American Medical Association found that consuming 1 ounce of nuts or peanut butter (about 2 tablespoons) at least 5 days a week can lower the risk of developing diabetes by almost 30%. Wooowzers!
So in a nutshell (pun totally intended) nuts are good for you! Don't be fooled by the nuts that I got, I'm still I'm still Jenny from the block (I had to reference JLo) haha.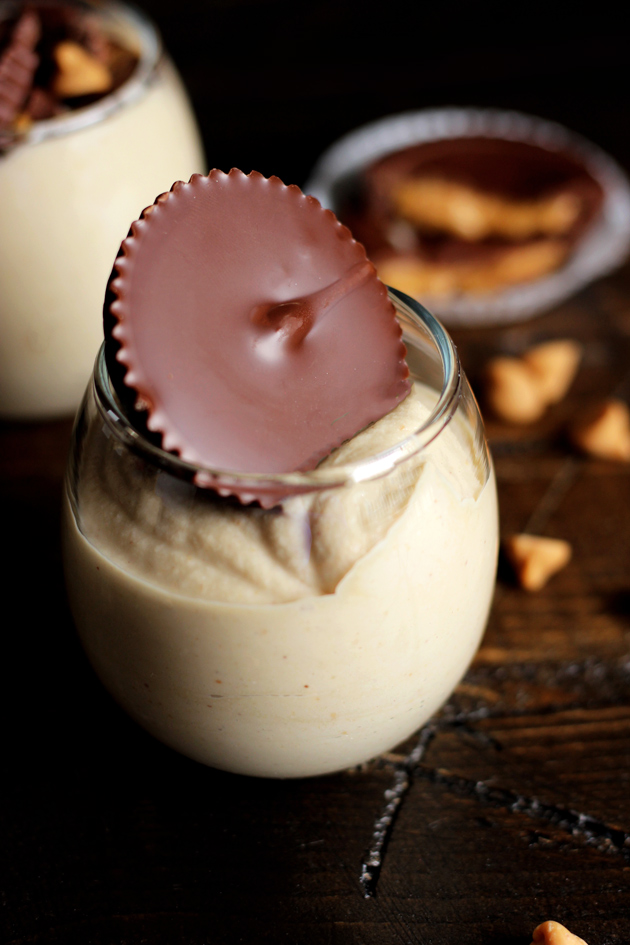 Let's talk assembling real quick before we go on our snack mission. I put this in small dessert cups and it filled up 6 with more leftover. You can half the recipe, double or triple it. Adjust the sweetness to your liking. I used maple syrup but you can use agave nectar, coconut nectar, rice malt syrup, or honey if not vegan. Also the more peanut butter (or any nut butter) the better.
How do you like to get your plant-based protein in?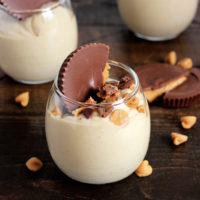 Skinny Peanut Butter Cups
A healthy and delicious creamy dessert you can dig your spoon right into and feel good about.
Ingredients:
Two, 15oz cans of organic full fat coconut cream, left in the fridge overnight
4-6 tbsp maple syrup (or any liquid sweetener of choice)
2 tsp vanilla extract
6 tbsp organic creamy or crunchy peanut butter
dash of himalayan pink rock salt (if peanut butter is unsalted)
Directions:
Scoop out coconut cream and discard water (or save for later in smoothies). In a large bowl put all ingredients together and whip until evenly incorporated.
You can use a hand mixer to speed things up or just a good ole spoon to whip things up.
Place into dessert glasses, bowls, or however way you want to enjoy this creamy deliciousness.
Top with organic vegan peanut butter cups and peanut butter chips if desired. Totally optional but totally recommended. Enjoy!