Vegan Lemon Cream Layer Cake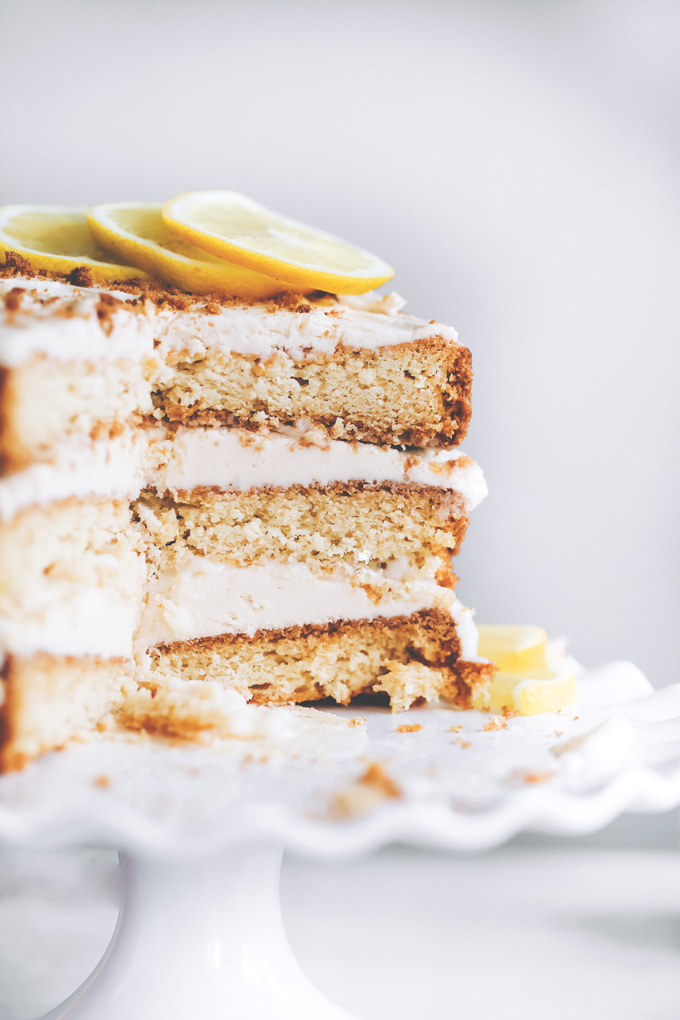 This post contains affiliate links in which I may make a small commission. Opinions are in no way influenced by compensation. You can read our full disclosure policy for more information.
Last week I was talking with a friend of mine about this Vegan Lemon Cream Layer Cake and how, as adults, we have this new found love for all things lemon. Growing up I was never a lemon cake, bar, dessert type person. I always went for chocolate and chocolate alone. But as I got older, I don't know, I have this new appreciation for the lemon flavor in baked goods. Like I would house some Vegan Lemon Bars no joke.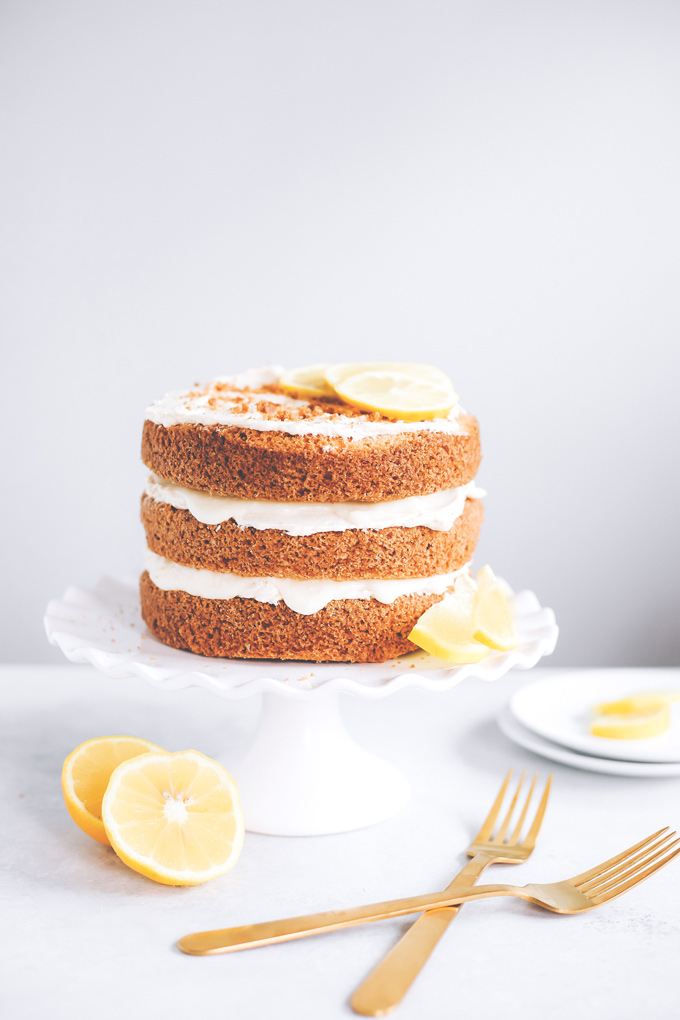 I thought this cake was perfect too for the blooming (snowing) spring season. And with Easter coming up and all we need good vegan desserts on the table, it's a must, no question. Just thinking about the dessert table I'm already hungry. Ok moving on. LOL
I actually made this cake for my birthday and it was a huge hit among my family. No one could believe this Vegan Lemon Cream Layer Cake was not only vegan but sugar free too. The whole freakin' delicious thing. I know I know hold you're applause for a second. I used Monk fruit to sweeten it instead of regular sugar. The cake came out with the right amount of sweetness and still a very cake-ish like texture. It was a bit dense but I was ok with that. But what really steals the show is the lemon butter cream. Um…YUM and YES!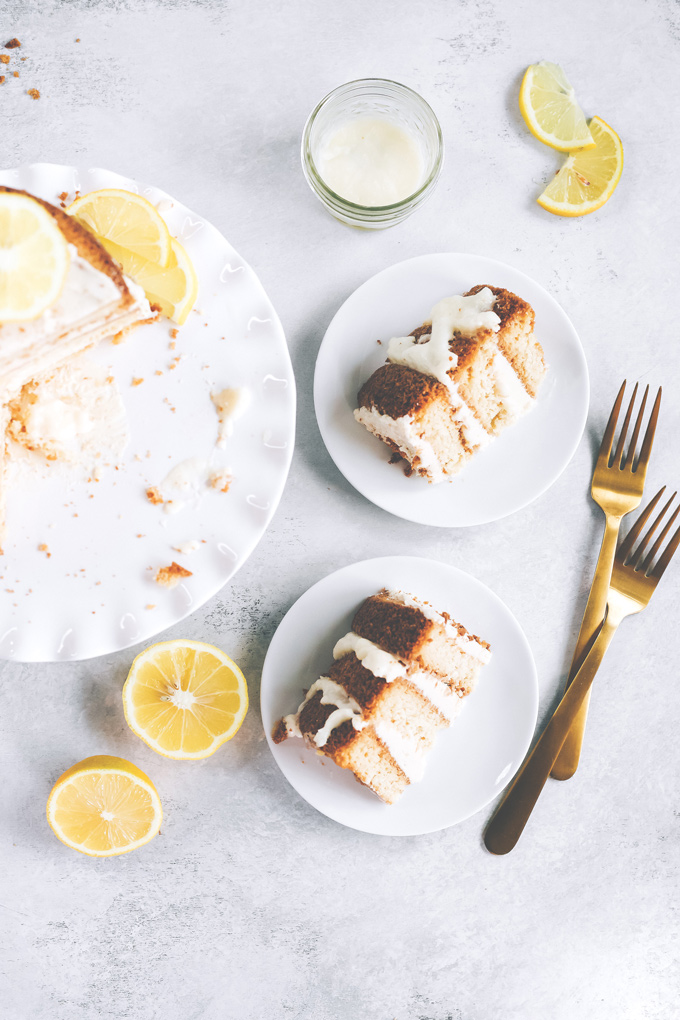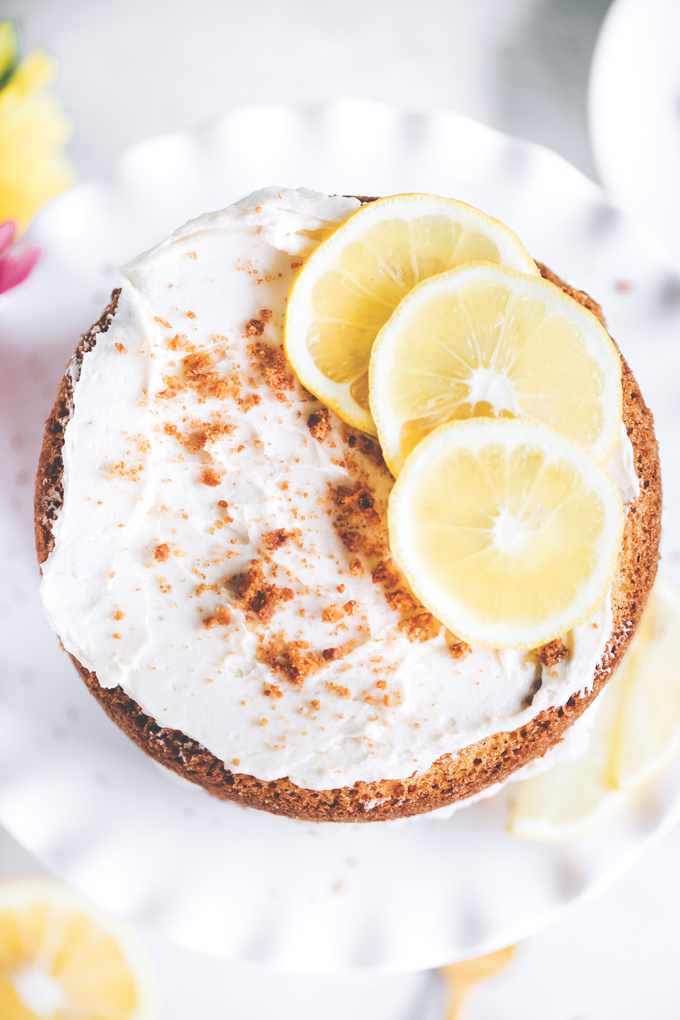 This was my first time making butter cream sweetened with powdered monk fruit so I was a bit hesitant. Surprisingly enough it came out delicious. Again, you could use regular organic powdered sugar no probs, but this is just an alternative for those that want to have their cake and eat it too. (oh the pun, lol)
I get so many messages on Instagram asking for more sugar free desserts. Things that can be eaten by people who either can't have sugar, don't want sugar, are staying way from sugar, who are diabetic, and so on and so forth. Sugar, as we all know, is terribly addicting. This I can attest to that first hand because once sugar gets a hold of me it's hard to quit. I find it nearly impossible to live life without ever having a cookie or a piece of cake and I don't feel anyone should have to miss out! I totally get it when you want that "bad" dessert instead of the clean version. We are human and when something tastes good damn does it taste good and everything else goes out the window.
The Sugar Subs I Use
These are my go to's for sweetener and liquid sweeteners. I just recently bought the liquid stevia from Trader Joe's and it doesn't seem to be giving me a headache so I think it's working for me. I use it in my unsweetened iced green tea and sometimes in my decaf coffee.
Monk fruit (low on the glycemic index) great as a 1:1 sugar replacement
Coconut sugar (low on this glycemic index)
Coconut nectar (low on the glycemic index)
Maple syrup – my first choice for liquid sweetener
Brown rice syrup – runner up
Ok back to the cake.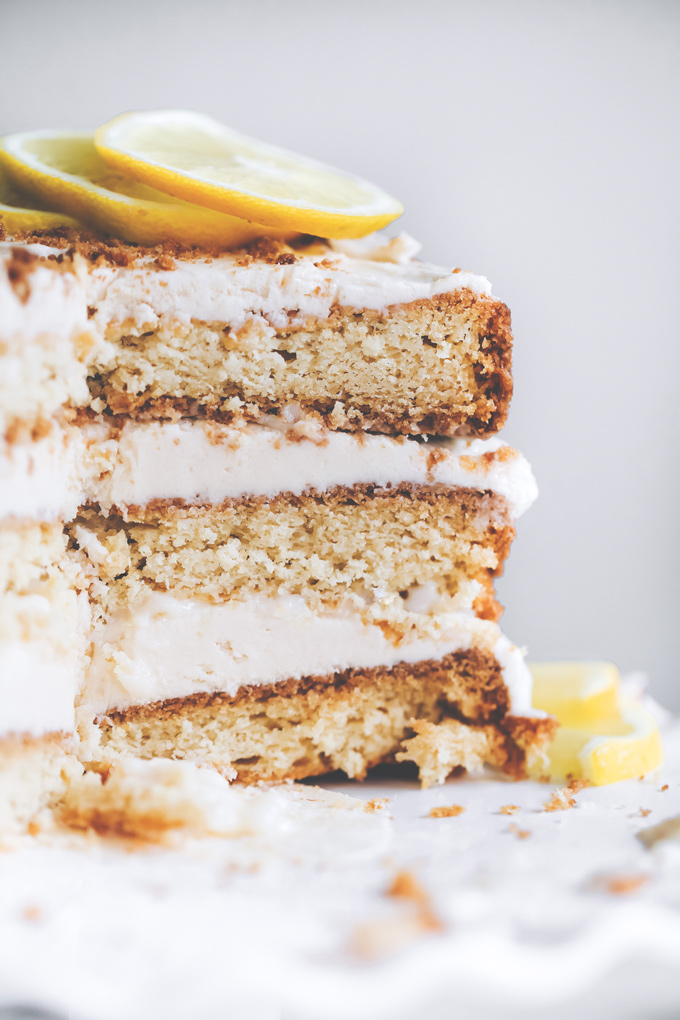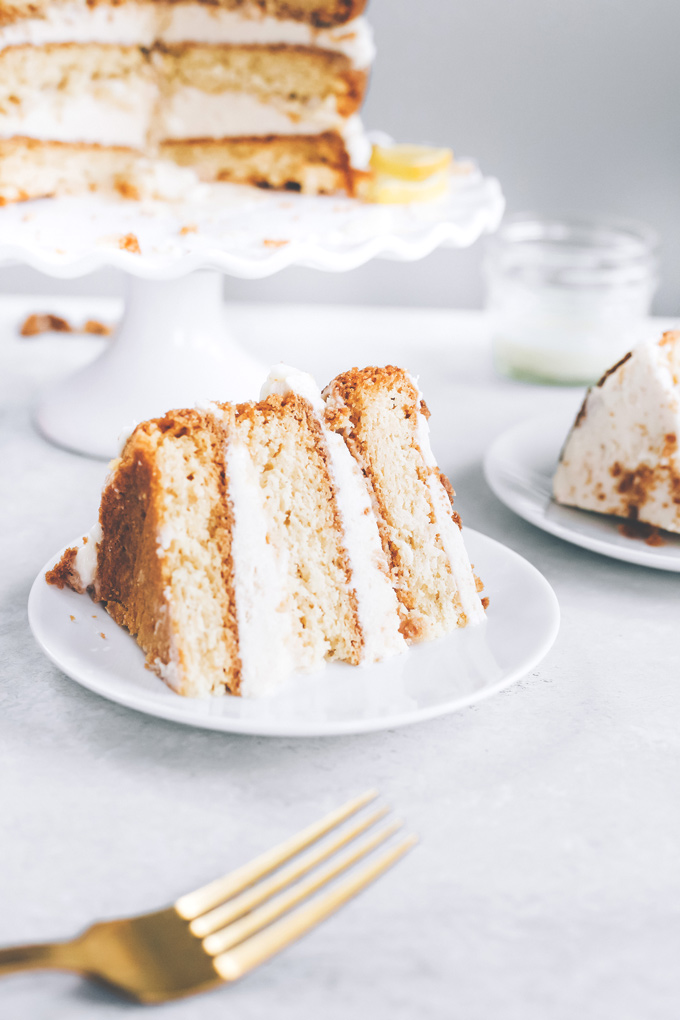 I made this using 3, 6″ cake pans.  I found this set at Bed Bath and Beyond and I use it all the time when I want to make little tiered cakes. Now I'm not professional baker but I like to bake, I enjoy it. I bake with intention. It's my belief that when you make food with love it tastes better. If you're in a bad mood while cooking or baking the food will taste bleh. You can test it out if you want.
TRY THIS TRICK TO SEE HOW YOUR ENERGY EFFECTS THE FOOD YOU EAT
Don't tell anyone you're doing this so you can see for yourself. Get two oranges. Hold one orange in your hand and tell it you love it and how grateful you are for it's healthy benefits. You don't have to say it out loud just in your head. Now hold the other orange, tell that orange you hate it and you think it's disgusting. Put the two oranges on the counter and cut them into wedges keeping them on separate dishes. Have someone try both oranges and ask them which one is sweeter. 9 times out of 10 the person you ask will always tell you the one you told you loved was sweeter. They won't know you told that orange you loved it but it will show you just how much impact your energy has on your food. You obviously can tell them after what you did. Brace yourself for the crazy stare, lol. I do this all the time. Our energies impact the things we eat so just be mindful of that.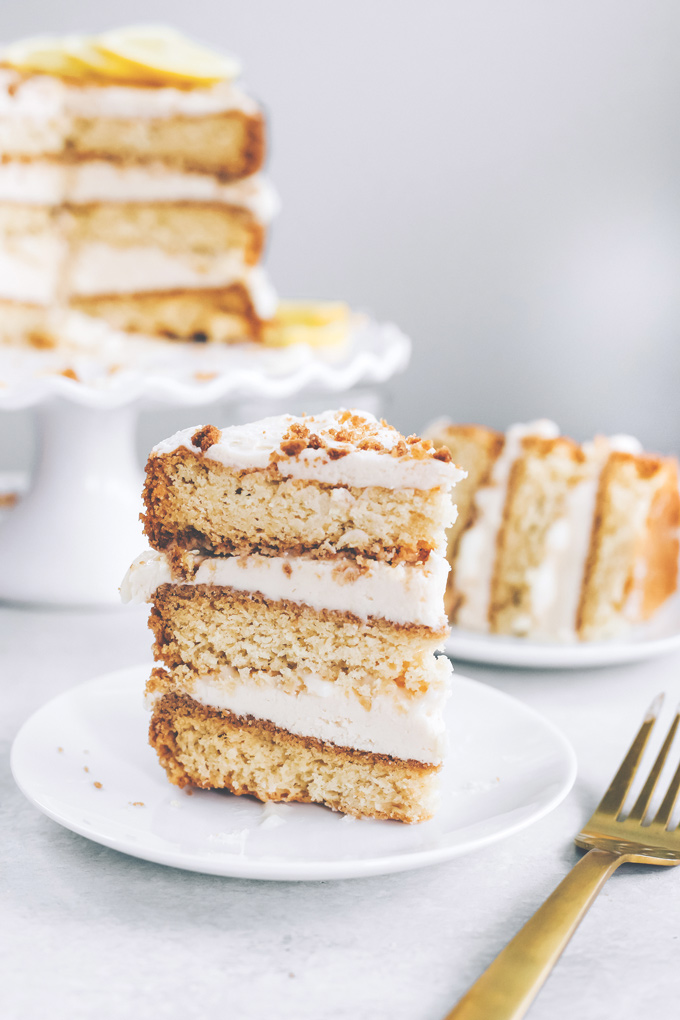 Ok so now that you know all that go enjoy yourself some of this delicious cake for Easter or if you're celebrating a birthday or any special occasion whip this lovely up. It's the perfect make for just about anything.
Happy Easter if you celebrate and enjoy Passover!
Want to bring more lemon into your life? Try my top fave lemon recipes:
The Best Mini Blueberry Lemon Loaves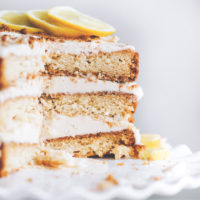 Vegan Lemon Cream Layer Cake
This spectacular Vegan Lemon Cream Layer Cake is a delectable cake for the most special of occasions. Enjoy the creamy lemon buttercream sandwiched between layers of homemade vanilla cake.VE
Ingredients:
For the Cake
1/4 cup almond milk,

 

unsweetened

1

 tbsp 

apple cider vinegar

5 oz vegan butter

3 tbsp maple syrup

1 1/4 cup all purpose flour

4 tbsp cornstarch

1

tsp

 baking soda
3/4 cup monk fruit sweetener or organic cane sugar

finely grated zest of 3 large lemons
For the Lemon Buttercream
1/4 cup vegan butter, room temperature
1/4 cup vegan shortening, room temperature
2 cups powdered monk fruit or organic powdered sugar
1 tsp vanilla extract
2 tbsp lemon juice (or 1 tbsp for less intense lemon flavor)
1/4 cup almond milk
finely grated zest of 1 lemon
Directions:
For the Cake
Preheat the oven to 350F and spray three 6" baking pans with non stick cooking spray, coconut oil spray, or grease it with vegan butter.
Mix together the apple cider vinegar into the almond milk and set aside so it can curdle (vegan version of buttermilk).
Put the vegan butter and maple syrup in a small pan and heat it up until the butter has melted then set it aside so it can cool a bit.
Sift together the flour, cornstarch and baking soda in a large bowl.  Mix in the monk fruit or sugar and lemon zest.
Whisk in the vegan buttermilk mixture and then the melted butter and maple syrup.
Evenly divide the cake batter between the three 6" cake pans.
Bake for 25-30 minutes or until golden. Use a tooth pick by inserting it into the middle of the cakes and seeing if it comes out clean.
Let cool completely in cake pans before assembling.
Making the Lemon Buttercream
While your cakes are baking you can make your lemon buttercream.
Place vegan butter and shortening in a stand mixer and cream together until nice and fluffy.
Add in powdered monk fruit or sugar one cup at a time.
Once all the sugar has been added turn on high speed and mix for 3 minutes.
Add in vanilla extract, lemon juice, and almond milk and continue to mix on high for 5 minutes until all the sugar has dissolved. You may need to scrape down the sides a few times.
For the Chocolate butter cream, after add in the cocoa powder after the powdered sugar.
The Assemble
Once cakes are cooled you can store them in the fridge for a bit before frosting or you can frost them right away.
Carefully trim the tops of two of the cakes. Those will be the bottom and second layer.
Spread half of the buttercream over the top of the bottom layer, top with the second layer then spread more buttercream on top of the second layer.
Top with the final cake that hasn't been trimmed. You can add more buttercream on the top, sprinkle it with cake crumbs and top with lemon slices for a pretty garnish. Slice, Serve and Enjoy!
~Pin this Recipe~