Easy Vegan Organic Lemon Bars
jump to recipe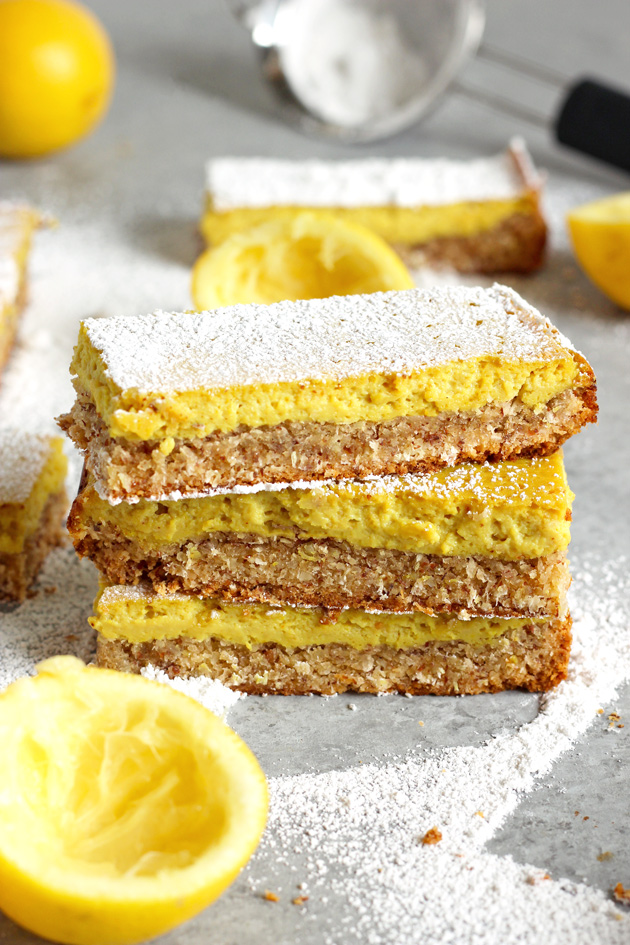 Let's start this post out by saying holy amazeballs batman, these Easy Vegan Organic Lemon Bars look off the heezy. Well, duh, they totally are. Easter is for sure on Sunday. The colors in this, the taste, the texture, it all just screams hello spring. It's like embracing this holiday and season with arms wide open. I love yellow and how it's such a tranquil and relaxing color. But that aside, the taste of these bars will leave you all like what just happened in my mouth? That was totally bomb and I need more asap. I'm not even kidding. You ever eat something and you think to yourself, was that really that delicious, like did I just really taste that all up in my pie hole? That description pretty much sums up these Lemon Bars.
Here's a little update on me for ya. I've been posting to the blog once a week the past couple of weeks because the genius I am picked two classes this semester that are balls to the wall, ridiculously hard, with a shit ton of work. I'm also going on vacation and need to get it all done before I go so I can enjoy myself and take awesome photos for you guys while I'm away. Anywhoozers, that's the big update. Also I've been really into SnapChat lately. You can add me: thejennspot. I love that it only allows you 10 seconds to record something, it's in real time, and there's really no bullshit. So for those of you that are completely into my life (lol) you can check me out there because I've been told I can be a real Amy Schumer, who I absolutely love and adore by the way. So Amy if you ever read this, hey girl, let's have drinks. I've been a train wreck in my day, we can trade stories. 😉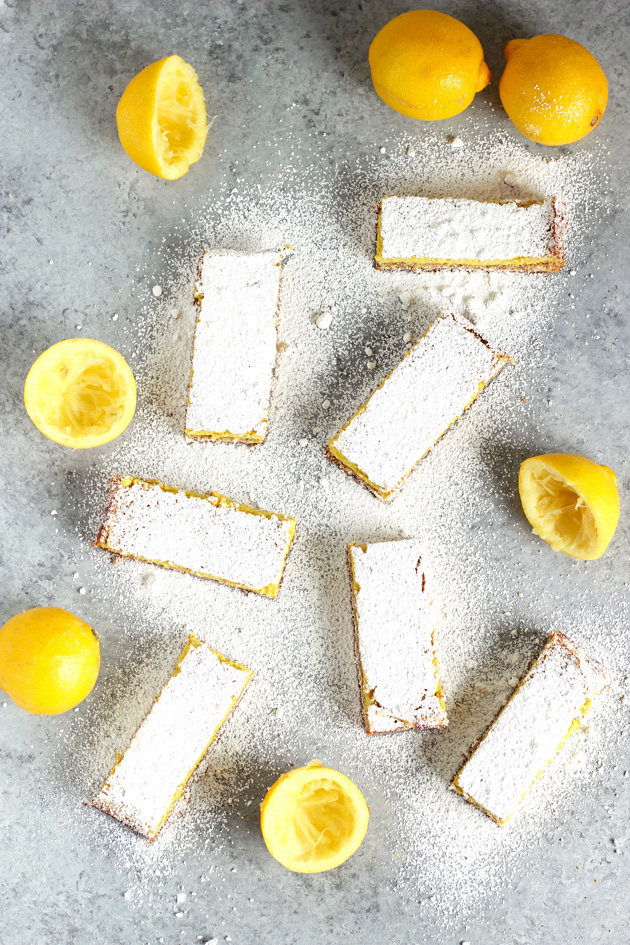 Back to the bars. Let me address the elephant in the room. Everyone always asks me, how is this healthy, gosh this must have so many calories. Let me debunk the caloric myth for ya ok. Nutritionally dense foods have higher calories. Just because something holds little to no calories does not make it healthy for you. That's total BS. You cannot live off of 100 calorie pack of this or that. You need real food, one that comes with calories, nutrients, essential vitamins and minerals for your body. Your body is a machine people! The tin man wouldn't want anything but oil to help get rid of the creeks and stiffness. Although coconut oil would work, anyway, my point is you need to eat foods that come with nutrients.
The base of the bars are made up of almond meal, shredded coconut, coconut oil, and maple syrup. These are good ingredients. Simple, easy to pronounce and have nutritional benefits. What other way would we roll up on Easter, ya feel me?!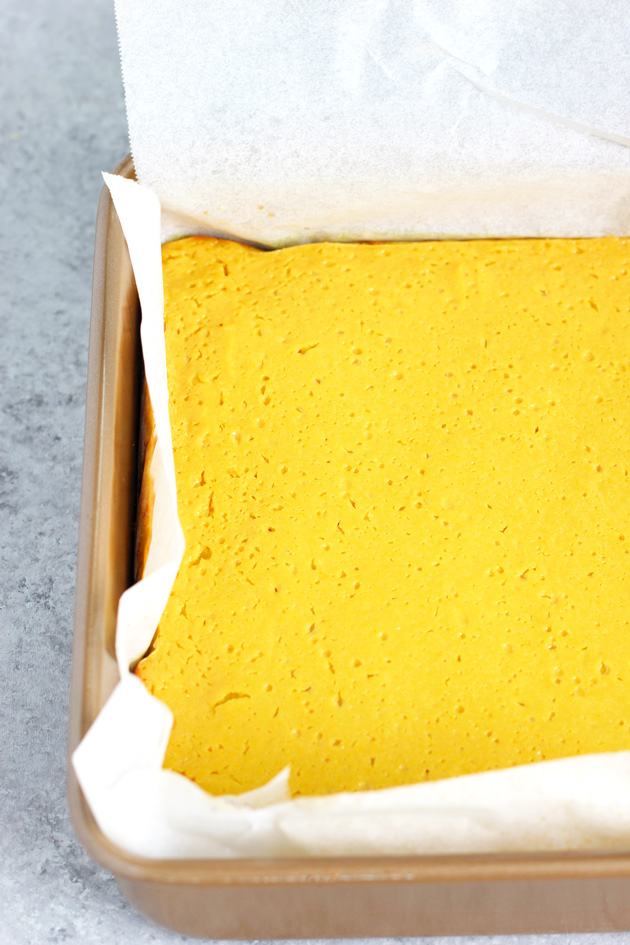 I've made Lemon Bars before that were no bake. But sometimes you want something right out of the oven. Nothing like a baked good that you can dabble at when it's warm. This color by the by is all due to the magical spice turmeric. And nooo you don't taste it, promise.
For the filling I used organic extra firm silken tofu. Don't be alarmed, it's organic and it doesn't taste like it has tofu in it at all. As long as you use an organic tofu, you don't have to worry about it being genetically modified because most of the soy in our country is genetically derived. So be sure to look for that organic seal of approval and even a third party verification like The Non Gmo Project. That ensures that anything in that product, in this case tofu, has nothing that's been genetically manipulated. And you'll be good to go. I know some peeps stay away from soy but, in my opinion, not all soy is bad. Processed soy, yes, terrible, but organic soy or tempeh, good to have once in a while for that protein. I don't ever suggest it being the staple of your meals but a little here and there isn't harmful. But again, the processed soy is bad, stay away.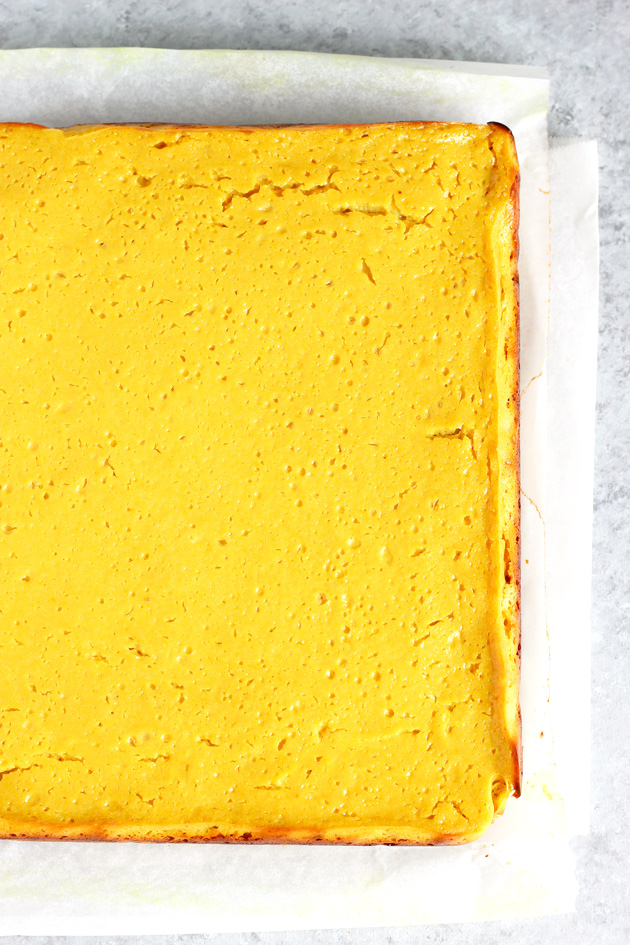 So bright and beautiful 🌻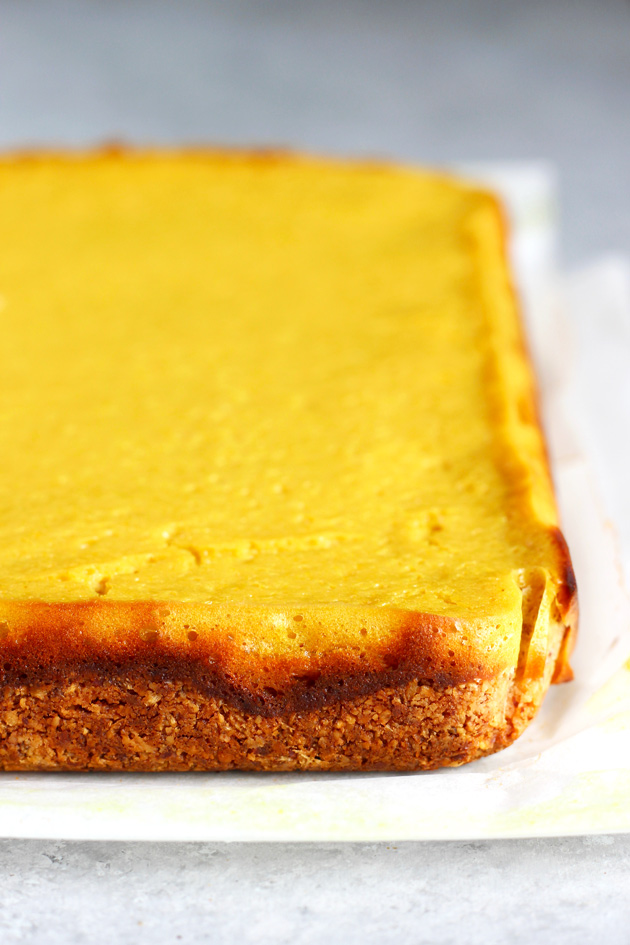 I used regular organic lemons for this but feel free to use Meyer lemons if you want the bars a tad sweeter. I like the tangy kick traditional lemon bars have so I stuck with regular lemons as they are on the more sour side. Also I haven't come across organic meyer lemons in my hood.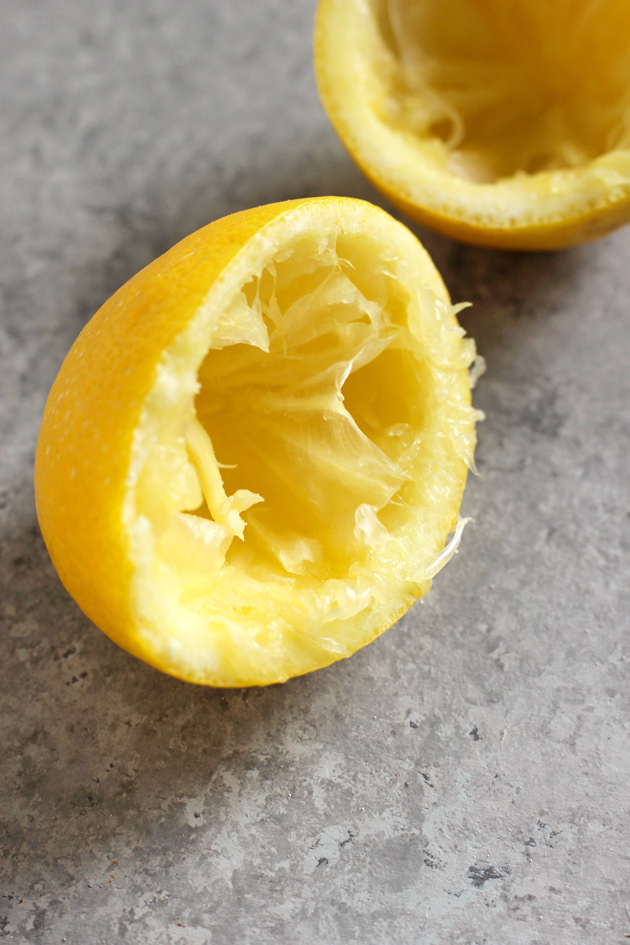 As for the color. We owe all that to turmeric. That spice is one of the most potent, powerful, and amazing spices in the world. It's used medicinally worldwide. It's an anti-inflammatory agent that treats a wide variety of conditions. Science is starting to back up this miracle spice. It contains compounds called curcuminoids which is known at curcumin. Curcumin is the main active ingredient in turmeric. It's also a fat soluble best taken with a "fatty" meal, that's why you see it a lot in Indian dishes using dairy, ghee, and kefir. For vegans or plant based peeps, using it with meals that contain chickpeas, tofu, avocado, are solid recommendations.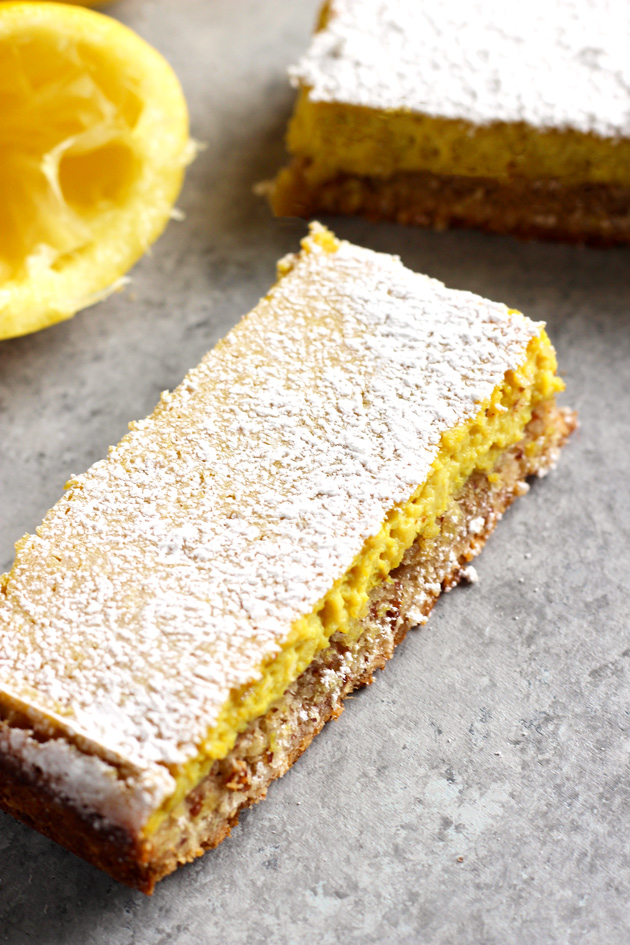 Creamy and lemony 🍋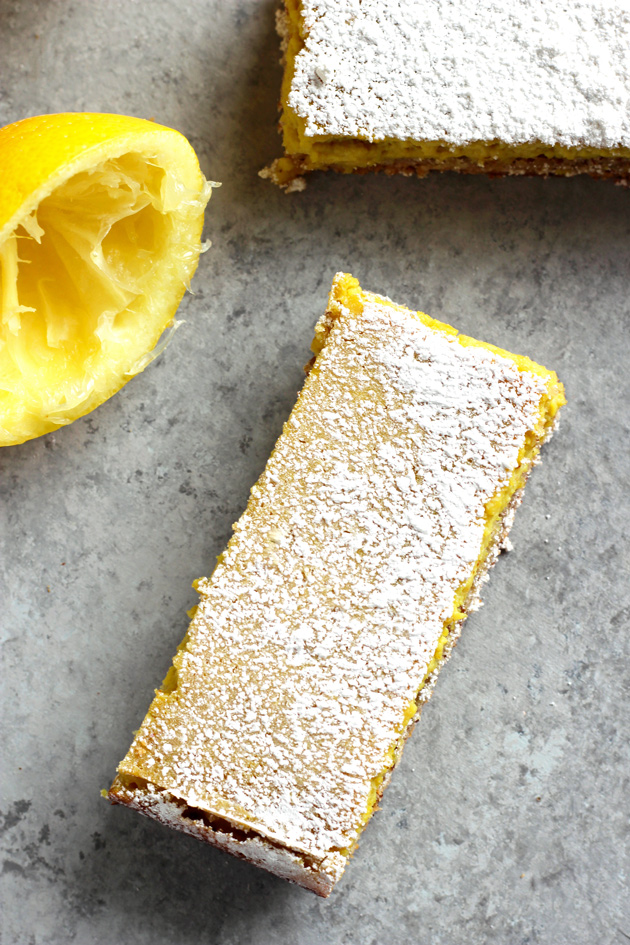 These flavorful wonder bars are a breeze to whip together. You have to bake the crust first for 12 minutes and while that's baking you mix together the filling ingredients. Once the 10 minutes are up, you take the crust out of the oven, pour the filling on top, making sure to spread it out evenly, put it back in the oven and let it bake for 35 minutes. The labor is minimal, it's the wait time that takes the longest, and it's really not even that long.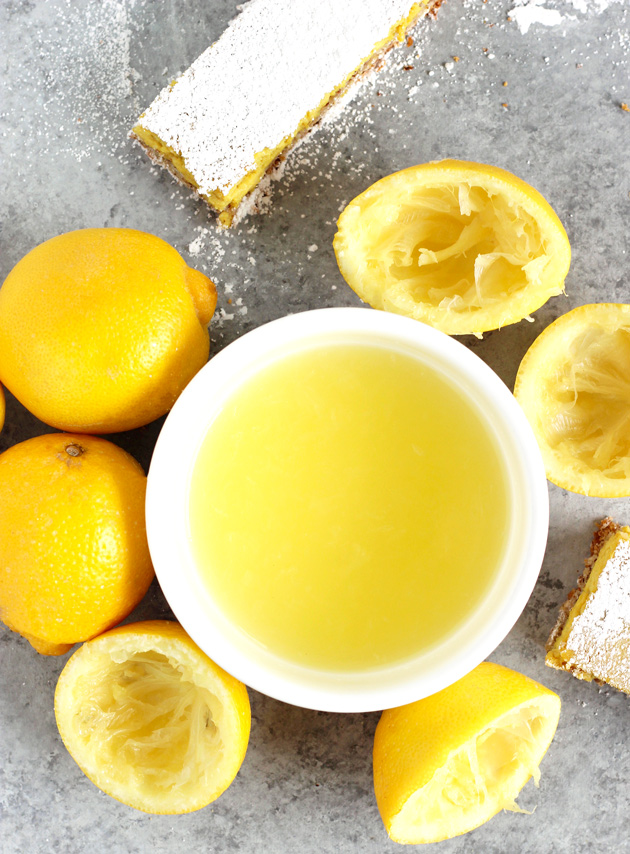 When your Easy Vegan Organic Lemon Bars are done, let them sit in the pan for 20 minutes, remove them and place them on a wire rack to cool completely. From there refrigerate for 1 hour. Dust the tops with organic powdered sugar, or powdered coconut, and cut into slices. This can make 6-8 slices depending on how big you want them. If you're a lemon person, which I've totally become as an adult, than you will love these even more than I do and serving them on Easter will be a must.
Want more Easter desserts, check out these posts:
Lemon Almond Ricotta Cake
Vegan Strawberry Cream Tart
Vegan Spinach and Artichoke Souffle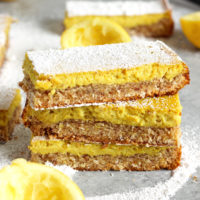 Easy Vegan Organic Lemon Bars
A super easy lemony snack just in time for Easter! Healthy and totally vegan.
Ingredients:
For the Crust
For the Filling
1 1/3 cup organic extra firm silken tofu, drained
1/2 cup maple syrup
2 tbsp lemon zest
1/3 cup fresh lemon juice
1 1/2 tbsp organic cornstarch or arrowroot powder
1 tsp turmeric (the more turmeric the more yellow it will become)
pinch of salt
organic powdered sugar or powdered coconut for dusting
Directions:
For the Crust
Preheat oven to 350F and line 8x8" baking dish with parchment paper, letting it hang over the sides.
Add all the ingredients for the crust into a bowl and mix until well combined. Transfer this mixture to the baking dish and use your hands to press down and even it out to mold the pan.
Bake the crust for 12 minutes then remove it from the oven. While the crust is baking, prepare the filling.
For the Filling
Add all ingredients (except powdered sugar) to a high speed blender and run until completely smooth and creamy.
Pour the mixture over the baked crust. Place it back into the oven and let it bake for another 35 minutes, until the edges are golden brown and the center is firm and set.
Once done let it cool in the pan for 20 minutes then transfer it to a wire rack. There let it cool completely then refrigerate for one hour.
Slice into bars, dust with powdered sugar or coconut and Enjoy!
Make sure the powdered sugar (if using) is organic.
Stores well in the fridge for up to 5 days in an air tight container.