Vegan "Eggs" Benedict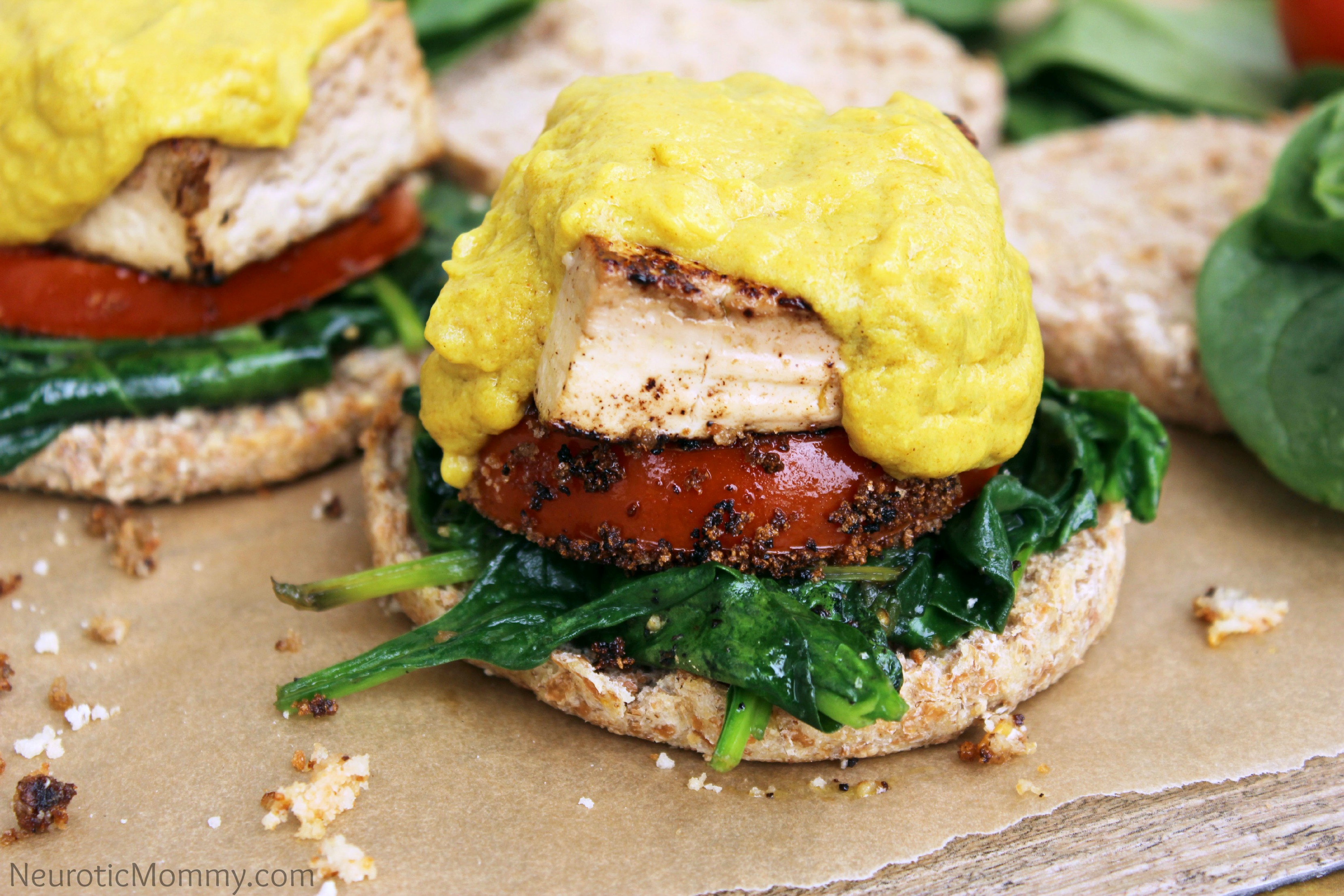 So how do I put this? Hmph (enter tapping chin here). Ok I'm just going to be honest and tell you guys that I went ahead and made a healthier eggs Benedict.  hahaha…Is it ok to laugh at your own jokes because I just did.
When I go out to eat for brunch or breakfast this is always on the menu. I use to fancy this dish back in the day before I switched over to plant-based. I do love a hearty breakfast as do most of us. But I don't want to clog my arteries either, ya know what I'm sayin'? It's usually the muffin doused in butter, the veggies slathered in oil and not to mention the hollandaise sauce it's topped with. I mean yea, tasted good but not that good for you. I've learned how to really enjoy food and have a good relationship with it. I sometimes wonder why restaurants don't use better ingredients to prepare the food they are serving anyway.  I don't know about you but it's pretty expensive around my way to go out to eat. So if you're paying for top quality, that's what we should get no? Can I say the struggle is real? lol
Enough of my rambles let's get on with the goodness.
Ingredients
14oz firm tofu, organic, cut lengthwise into 4 pieces
1/4 c Bragg liquid amino
3 tbsp water
1 tsp vegan Worcestershire sauce
3 tbsp extra virgin olive oil
Hollandaise
1/4 c coconut oil
1/4 c whole wheat pastry flour or brown rice flour
1 tsp turmeric
juice from half a lemon
1 1/2 c almond milk
1 tbsp nutritional yeast
1 tsp Dijon mustard
salt/pepper to taste
Extras
1 tomato, sliced
bread crumbs
2 c spinach
1-2 tbsp extra virgin olive oil
pepper to taste
1 clove garlic, sliced or chopped
vegan muffins
Method
For the tofu marinate all ingredients for 10-15 minutes.
To sear the tofu, add a little olive oil to the pan and cook each piece for 3 minutes on both sides on medium heat.
For the hollandaise, in a saucepan on medium heat, combine coconut oil through almond milk.
Stir continuously for approx. 10 minutes. Then let simmer for another 8 minutes.
Once that thickens remove from heat and add in nutritional yeast, Dijon mustard, salt and pepper. Set aside
Take sliced tomatoes and coat them in bread crumbs.
Lightly fry the tomatoes on each side for about 1 minute. (you can skip steps 6-7 and leave the tomatoes plain)
In a fry pan wilt spinach using olive oil, garlic and pepper. This takes approx. 5 mins and is optional. You can leave the spinach uncooked.
Toast muffins of choice then stack first with spinach, tomato, tofu. Topping it of with a nice dollop of the homemade hollandaise sauce.
Enjoy!