Buckwheat Waffles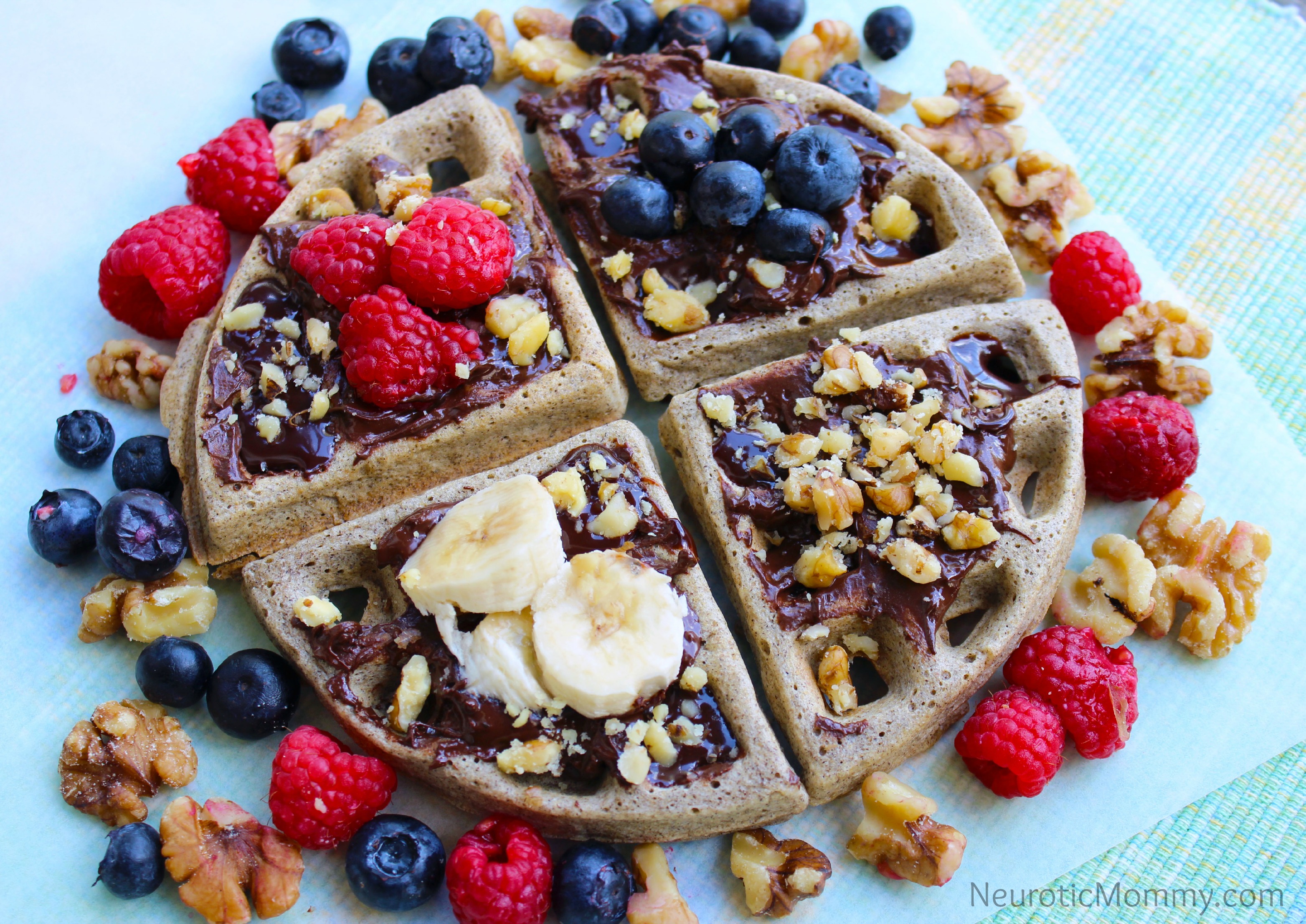 Every weekend I like to indulge and make breakfast with some chocolate. I know today is Monday but can we Preteeend it's the weekend? I mean, chocolate is my one true boyfriend (sorry hubs). Well I can't deny the fact that I perhaps get it on with chocolate like all day errr day. Ok not that much but it happens from time to time (to time).
Lets talk about good ole Buckwheat, shall we? The health benefits of Buckwheat are uncanny. Contrary to its name it is in no way wheat related. Odd right. I know, I thought the same thing when I learned about this healthy food. It's actually a fruit seed treated as a cereal or a grain. This is a great substitute for people with gluten sensitivities. And if you didn't know, now ya do. So for my gluten-free peeps this is so right up your ally.
Not only is Buckwheat a powerhouse full of nutrients but it can help aid in leading a healthier lifestyle. It has high levels of minerals such as copper, magnesium, phosphorus, iron, zinc and other trace minerals. Surprisingly, the potassium and protein in Buckwheat are also extremely high. Anyone looking to maintain their blood sugar or if you have Diabetes Buckwheat would be good because it helps slow down the glucose absorption which makes it high in soluble and insoluble fibers. There are so many other additional health benefits to this functional food such as aiding in constipation, hypertension and even obesity. It's known to have anti-inflammatory properties as well as anti-cancer properties.
To learn more about the health benefits of this wonderful food read this: 17 Amazing Benefits of Buckwheat.
So here is one of many many delicious ways you can incorporate Buckwheat into your diet or lets say eating habits. Diets aren't welcome here. We are Healthees!
Ingredients
2/3 c Arrowhead Mills Organic Buckwheat Pancake & Waffle mix
2 tsp coconut oil
3/4 c almond milk
1 flax egg (1 tbsp flax seeds to 3 tbsp of water. Equivalent to 1 egg)
dark chocolate of choice
handful of blueberries and raspberries
1 banana, sliced
handful of crushed walnuts
Method
Combine all ingredients in large bowl and mix well.
If you have a waffle maker, spray with non stick cooking spray then pour batter accordingly.
If you do not have a waffle maker you can make these as pancakes instead! There are always options.
Melt down your favorite dark chocolate or make your own.
Slather dark chocolate (however much you want just try to not go overboard as I did, lol) on each piece and top with fruits and nuts such as blueberries, raspberries , bananas and walnuts.
Enjoy with your fave cup of joe or tea!
Jenn's Note*** This recipe has the proportions for one. Make more as needed. And of course you can nix the fruits and chocolate and add other toppings of choice or nothing at all. Plain works too!!!