Vegan Beet and Cheese Shortbread Tart
"I never knew beets like this before, now I love them even more, since they came into my life…"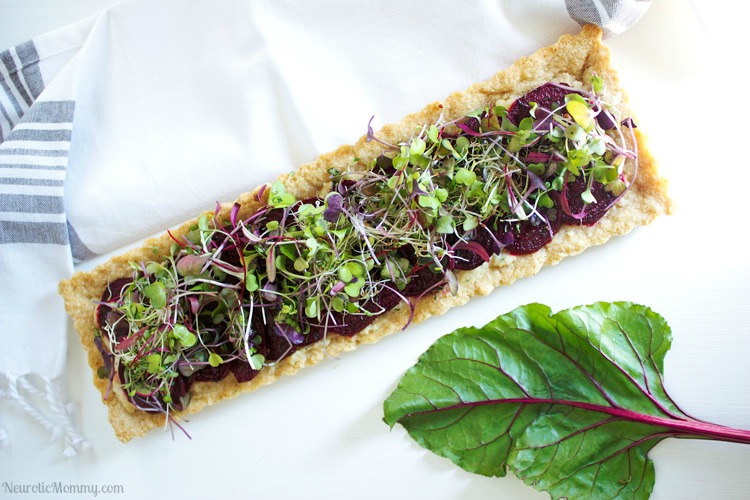 I was listening to some Stephanie Mills while preparing this. Gotta make your food with love, knooow what I mean!? Ok so check it out, Check. It. Out my friends. Isn't she gooorgeous? Vegan Beet and "Cheese" Shortbread Tart, MmmHmm.
I've been MIA these past few days because it was my last week of school and I was studying for my final exam. Which I passed, which means I graduated and I'm now officially a Certified Holistic Health Coach. Whoop Whoop! (raise the roof) I was so excited to share this news like I can't even contain myself! So this post is extra special (healthy and delicious of course).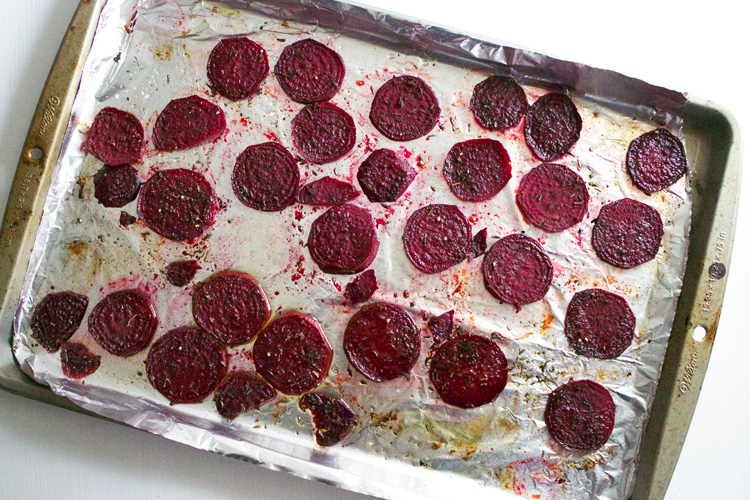 Beets! Yes! Come on! I was never a fan of beets growing up but now I cannot get enough! They are so sweet and scrumptious, who freakin' knew! Oh wait, did I happen to mention how they are totally and completely and utterly good for your liver? Want to know why? Ok ok fine twist my arm I'll tell ya. They really clean out the liver. I mean really clean it out. Detoxing the liver is so important because it flushes out the toxins. Everything gets pumped through the liver so we have to take care of it and make sure not to overload it with junk and gunk so it functions properly.
Health Tip: The red veins you see in the leafy part of the beets are nutrients. You know how our veins transport blood back to the heart ? Well same thing. They supply the plant with water and food! This goes for any greens. Next time have a look!
Roasting beets is so simple as are all veggies. So all you gotta do is slice em' (be careful), lay em' on a tray lined with foil, sprinkle some oil and seasonings over em', bake for 20 minutes and Bam! Ya beets are roasted. Toot Toot! There are so many different things you can do with beets and this just happens to be one of them. But you are going to love it! Promise. Pinky swear and not even kidding.
Let's talk shortbread.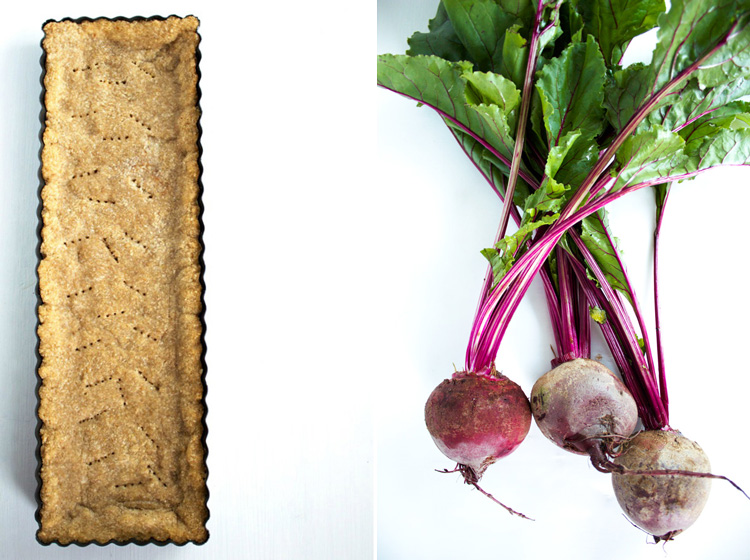 Nope, eh eh not made with sugar or any other processed packaged item. This shortbread is made with 5 real ingredients. Booyah!
It's ok if you don't have a rectangular tart pan as shown in the picture. You can use a 9×13″ tray or a 9″ round tart pan. Choice is yours. I started the beets first. So I got them in the oven roasting while I prepared the shortbread. Since the shortbread takes literally 5 minutes to make and 10 to bake I put it in the oven for the last 10 minutes with the beets so they both come out at the same time. Nice and warm.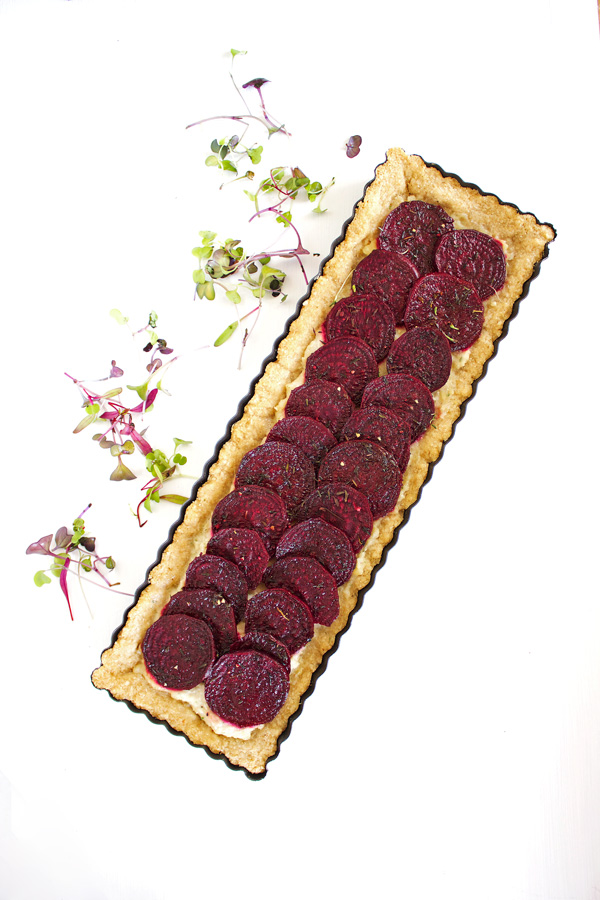 I know this looks like the amount of time I must of spent but really it's no hassle at all. It was more work taking the pictures and deciding which ones to post because they all look super Yumballs (that's my word by the way lol). You can use any greens to top like alfalfa sprouts, spinach, baby kale, whatever your heart desires. I used sprouted broccoli and microgreens! Greens go with everything.
If you're green on the inside you're clean on the inside…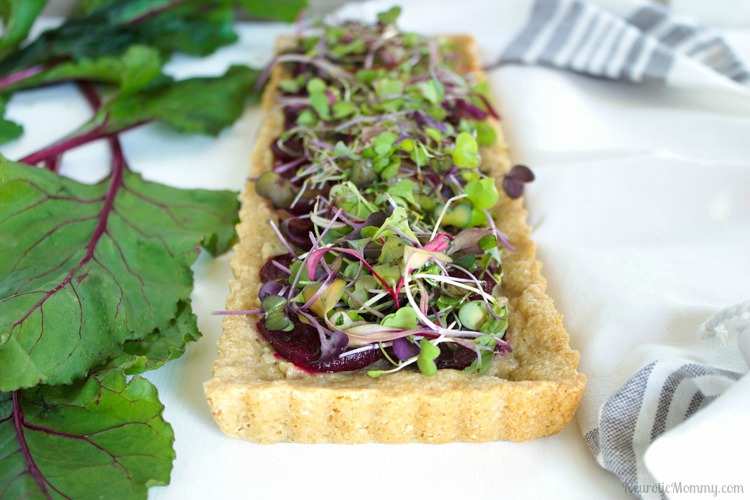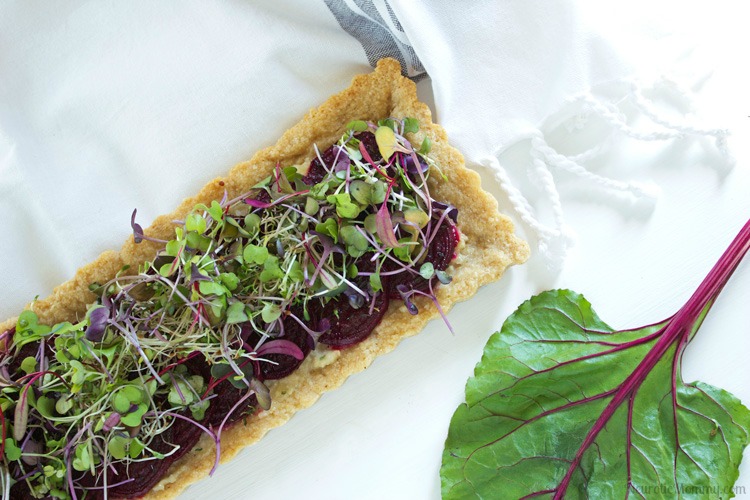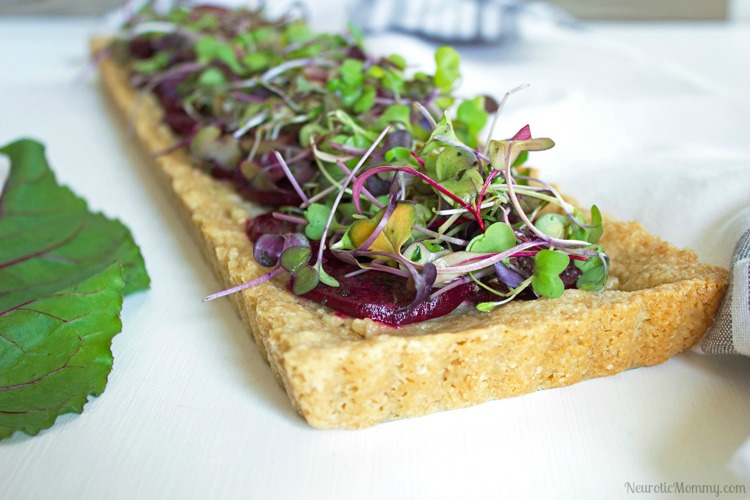 For the cheese I made my Cashew Ricotta and spread it across the baked tart. However if you don't have time to make the cheese or if you don't have it on hand you can use hummus! Yes yes and yes again to hummus. If you don't have either, not to worry you don't need it. You can eat the tart with beets and greens and it will still be wonderballsful. (hehehe)
The distinct taste of the roasted beets paired with a sweet shortbread like this will have you skipping down the yellow brick road. You won't be able to have just one piece! Trust me I know, it's happened to me! (more than once ahem) I did try this first with a phyllo dough and it was good but I wanted something a little more earthly so I opted for this instead. The best part is you can have this warm or cold. So when you have it in the fridge and just want to grab and go you can.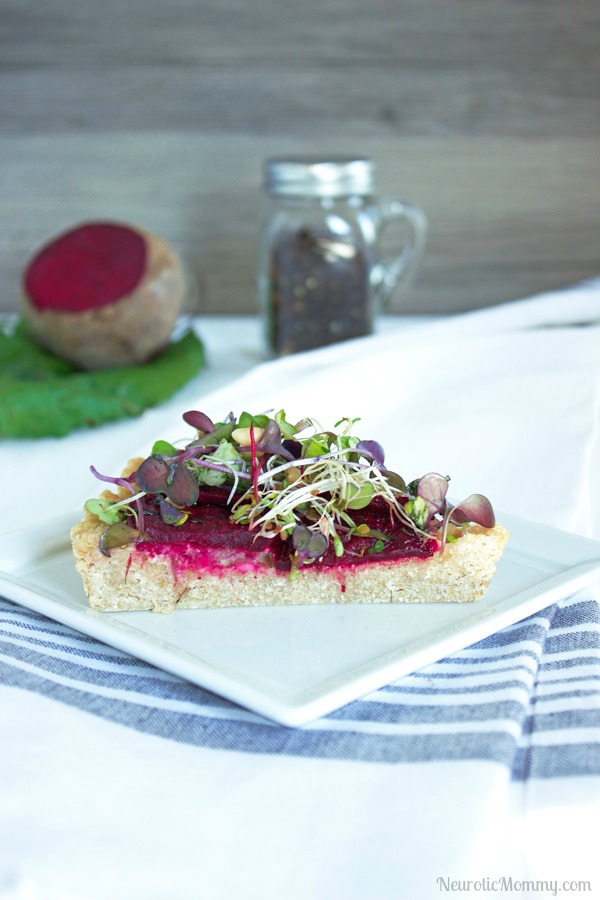 Lovely ain't she? I know I know almost too pretty to eat. But do it. Dooo it (Starsky and Hutch voice)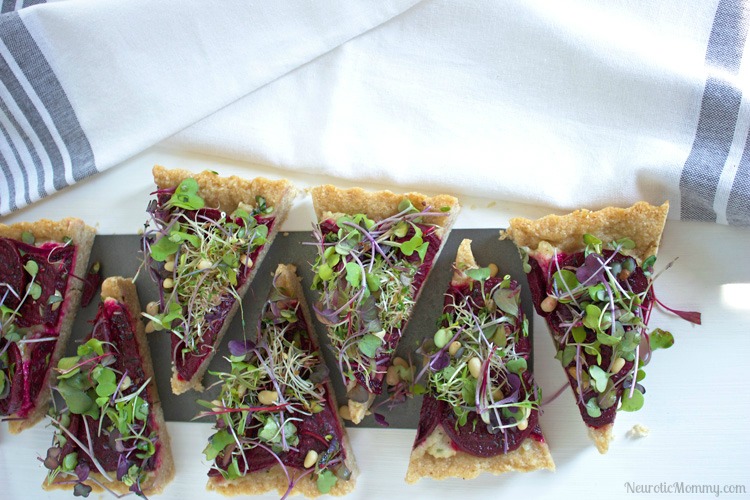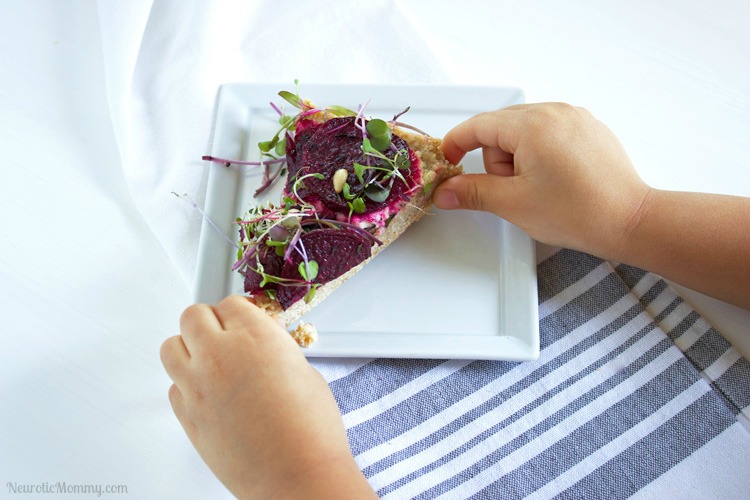 Hey look whose cute little man hands came in to grab the slice I was shooting. Totally kid friendly. He thinks it's pink pizza and I know it's good for his tummy. My sweet little man. He's my number one taste tester and my very best friend. Especially with all things chocolate. Takes after his Momma. Well and his Dad too because my hubs is a chocolate lover but that's another post.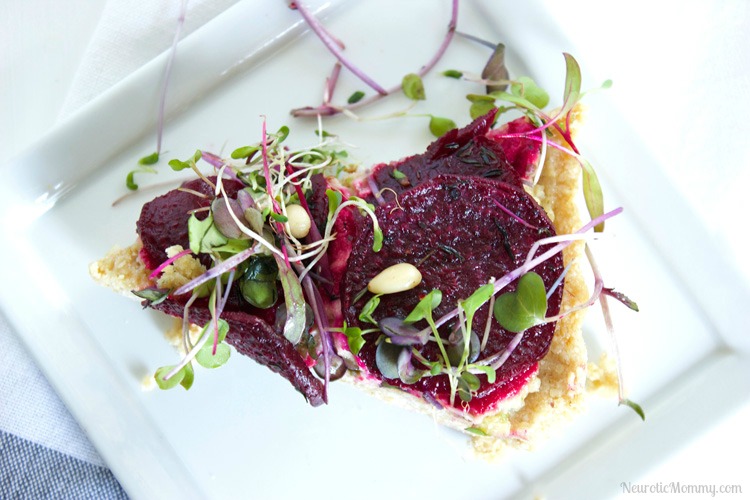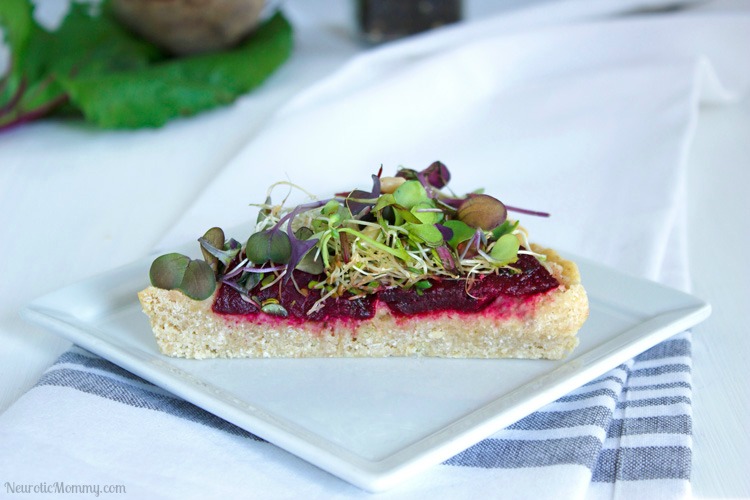 This is an all day tart. Meaning you can eat it anytime, anywhere guilt free. Have it for breakfast, no wait lunch, oh you want a snack, no better yet have it for dinner, you cannot go wrong with this! When you make it let me know if you use hummus or the cashew ricotta. And of course if you're vegetarian or non vegan you can sub the cashew ricotta for regular ricotta. Keep ya girl posted.
So now that we know this is totes kid friendly we can get to the recipe! Yaaay! Hold on to your healthy pants because this tart cannot be "beet". (I'm totally corny)
The Shortbread recipe is from BlissfulBasil
Vegan Beet and Cheese Shortbread Tart
Author:
Prep time:
Cook time:
Total time:
Serves: 8
This Tart can be eaten any time of day. It's sweet yet healthy and something your kids and you won't be able to keep your hands off of! Yum.
Ingredients
[b]Shortbread[/b]
2 c organic gluten free rolled oats
1/2 c plus 2 tbsp coconut flour
1/2 c coconut oil, melted
1/2 c rice malt syrup
2 tsp vanilla extract
[b]Roasted Beets[/b]
3-4 medium sized beets sliced fairy thin
1 tbsp extra virgin olive oil
1-2 tsp thyme
salt/pepper to taste
1 c of mixed greens such as microgreens or sprouted broccoli
handful of pine nuts to top (optional)
4 tbsp [url href="https://neuroticmommy.com/2015/02/03/pasta-salad-cashew-ricotta-cheese/"]Cashew Ricotta[/url] or hummus
Instructions
Preheat oven to 400F. Line baking sheet with foil. Slice beets and lay them on the tray. Drizzle with extra virgin olive oil making sure to evenly coat the beets, sprinkle with seasonings and bake for 20 minutes.
While that's baking prepare the shortbread. Place rolled oats in a food processor and run until a flour consistency forms about 1 minute.
Transfer oat flour to a large mixing bowl and add in all other shortbread ingredients. Mix until well combined.
Lightly spray a 9×13″, 9″ round circle pan or rectangle tart pan with coconut oil spray or non stick cooking spray. Wiping down after so it's not too much.
Spread the dough across your desired tart pan evenly. Press down with your fingers so it really forms to the pan and bake for 10 minutes.
Once beets and shortbread are finished baking remove from oven.
Let sit for 5 minutes so they cool a bit.
Decide what filling you'd like to use such as ricotta or hummus and spread that across the tart.
Using a fork place beets neatly around your tart. If using a round pan have them going circular and if using a pan like mine a rectangle just do parallel next to each other.
Top with your favorite greens, nuts or seeds.
Slice into wedges and Enjoy!
Keeps well in the fridge in an air tight container for up to 5 days.
Notes
You can sub cashew ricotta for hummus or regular cheese.[br]Use greens such as sprouted broccoli, alfalfa sprouts, baby kale, spinach leaves or microgreeens.[br][br]You do not have to bake the shortbread. You can freeze it for an hour so it firms up.