No-Bake Mini Cherry and Chocolate Chip Cheesecakes
Holy mother of all things delicious…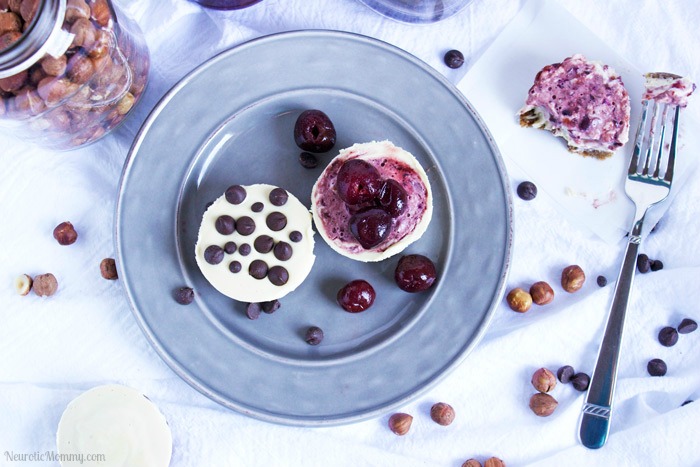 Well hello hello foodie blog lovers. TGI to the F right! I've been MIA for a week but not catching some zzz's that's for sure. For those of you that don't know I've been remodeling my kitchen. My hubs and I are doing all he work and it's finally in the home stretch so I've been cray busy with that. However I did find the time to make these dazzlers. I LOVE cheesecake. Like love it. It's creamy, it's rich, sinful and uber sexy. I definitely, vaguely hear Barry White's "My Everything" playing in my head when I'm housing down a piece (or two) of this.
Now these aren't your ordinary cheesecakes my sweets. These are Vegan, No-Bake, Mini Cherry and Chocolate Chip Cheesecakes that are gluten-free, grain free and refined sugar free. Probably one of the healthiest cheesecakes I've made.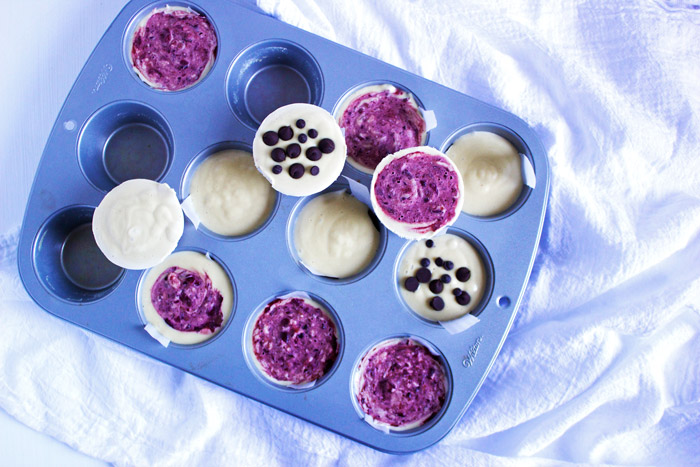 While hanging out on Pinterest I came across Minimalist Baker 7 Ingredient Vegan Cheesecakes. I saw she used parchment paper to make little tabs that popped these babies out. I didn't want to use a standard springform pan and I don't have 12 mini spring form pans lying around so I thought this was brilliant. And it worked great! Yaaay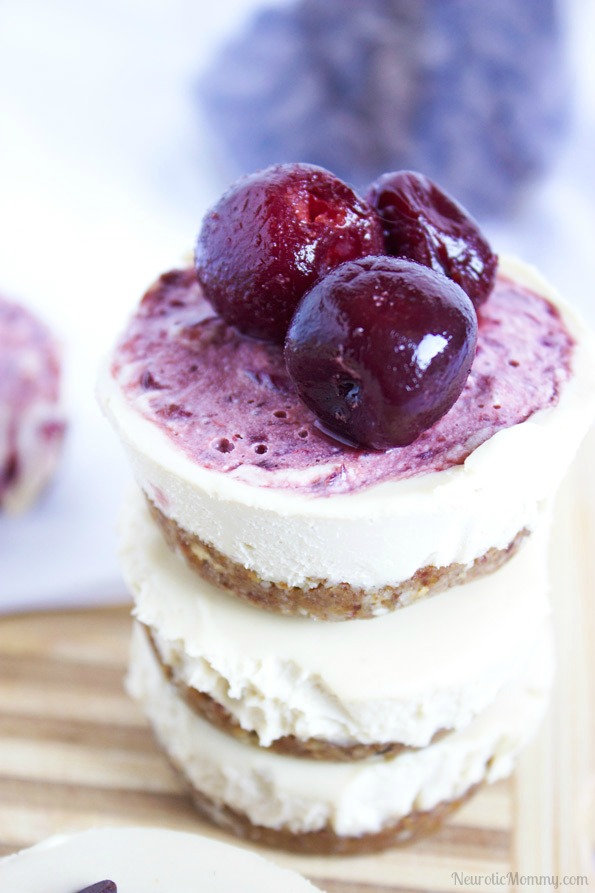 It's the perfect little bite!
The crust is made up of hazelnuts, almond meal and medjool dates. Hazelnuts have a unique flavor that pairs Yum-Mazing with chocolate and cherries.
You can do melted dark chocolate and swirl it on top too! It will take just an extra couple of minutes to melt down but either way it's a win win! =)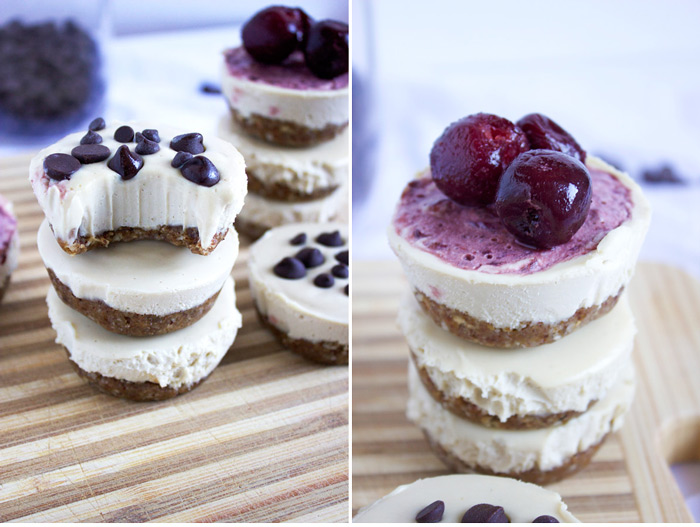 I used frozen cherries but any fruit topping whether fresh or frozen would be awesome. If using frozen just let them thaw out a bit before pulsing them in a food processor. You don't want to fully purée whatever fruit you use but you want it to be on the finer side I guess you could say. Then top it off with the regular size fruit for decor and a little wow factor.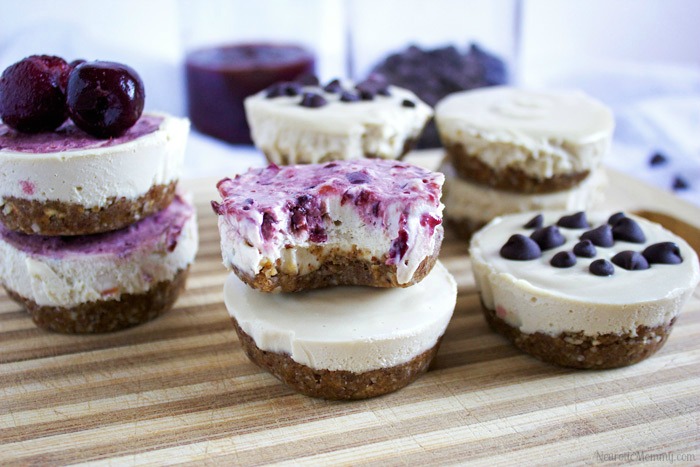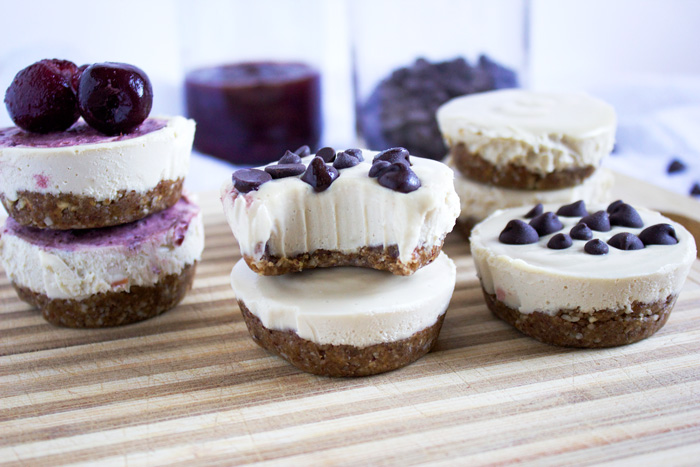 I have to tell you I could not wait to post these! I just know you're going to love them! Especially because of their texture and how amazingly healthiful they are. They are so filling too! After just one you will be completely satisfied. I love that real, whole foods actually fill you up like they should. I used rice malt syrup as my sweetener but you can use maple syrup, agave nectar, coconut nectar or honey. That's a Cheesecake eaters' preference.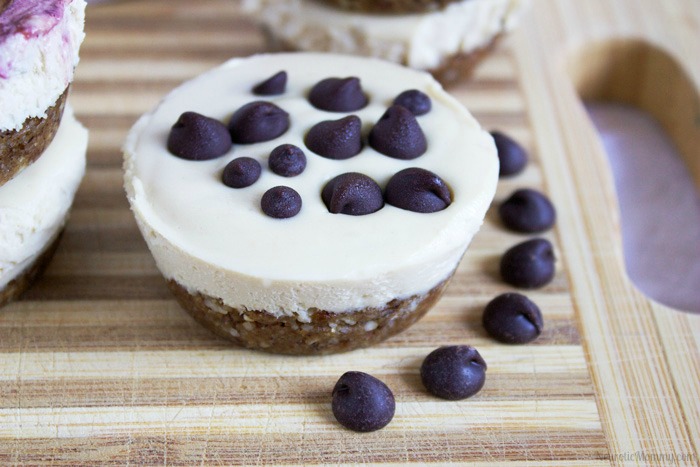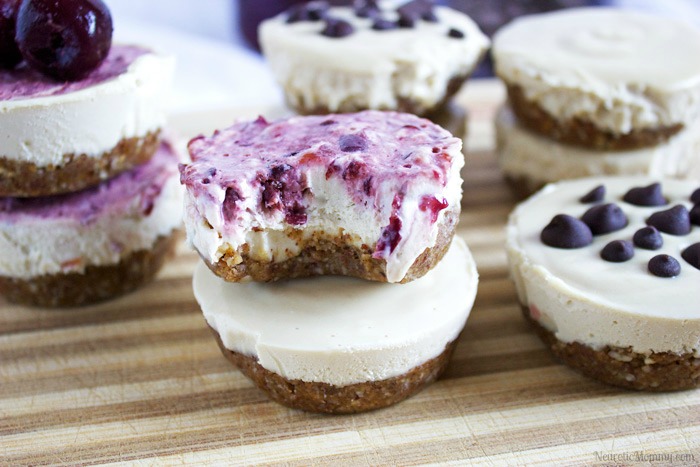 When it was time to take them out of the freezer, I let them sit for a few minutes. I like when they begin to soften and on the verge of melting out. It's like they are even smoother. This should be considered the real thing! I can't wait till you guys have a go at these.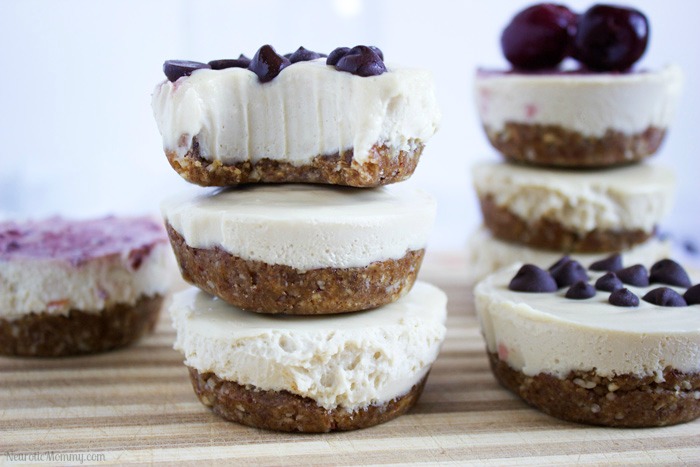 I think I chatted your ear off enough and it's about that time we get down to why we're really here…ahem, the recipe, yes yes of course.
Recipe adapted from Minimalist Baker 7 Ingredient Vegan Cheesecakes
No-Bake Mini Cherry and Chocolate Chip Cheesecakes
Recipe Type: Dessert
Author:
Prep time:
Cook time:
Total time:
Serves: 12
These Mini Cheesecakes are a powerhouse of nutrition and the bonus is that they taste better than the real thing. Rich, creamy, smooth and naturally sweet. Can be eaten plan or topped off with your favorite fruit or dark chocolate. Bring these to your next party and they are a guaranteed nutrient dense hit!
Ingredients
[b]The Crust[/b]
1/2 c hazelnuts
1/2 c almond meal
1 c pitted medjool dates, chopped
[b]The "Cheese" Filling[/b]
1 1/2 c cashews soaked for 2-4 hours
1/2 c coconut cream
1/3 c coconut oil
1/3 c rice malt syrup
1 tsp vanilla extract
juice from half a lemon
pinch of himalayan pink rock salt
1/2 c frozen cherries (optional but recommended)
handful of dairy free chocolate chips (optional but recommended)
Instructions
Cut strips of parchment paper, set aside.
For the crust place all ingredients in a food processor and run until crumbly and holds together well.
Using a standard muffin tin, take generous tablespoons of the crust and mold it to the bottom of each slot. Make sure the strips of parchment paper are set in place to where the tabs are even on both sides. This makes it easy to pop the cheesecakes out once they have set.
Press down with your fingers letting it come up the sides slightly. When all slots are filled with crust place in the freezer to set while you prepare the filling.
To make the filling add all ingredients to a blender or food processor. Run until complete smooth and creamy.
Pour filling evenly into muffin tins. Set aside.
Lightly purée the frozen cherries. You still want to have pieces.
Place tsp amounts on top of cheesecake filling and swirl around with the back of a spoon.
Place Chocolate Chips as desired.
Place in the freezer to set for at least 2 hours or more. Once set and ready to serve, have them thaw for a few minutes then pull up the tabs and out they will come.
Top off with whole cherries and Enjoy!
Notes
Sub rice malt syrup with maple syrup, agave nectar, coconut nectar or honey.[br]Can use fresh or frozen fruit of choice.[br]Sub chocolate chips for swirled melted dark chocolate.[br]Coconut Cream is from a can of full fat coconut milk that has been left in the fridge overnight or longer.[br][br]The 2 hours cook time in the recipe is the amount of time it needs to set in the freezer.