Vegan Pumpkin Pecan Cobbler
jump to recipe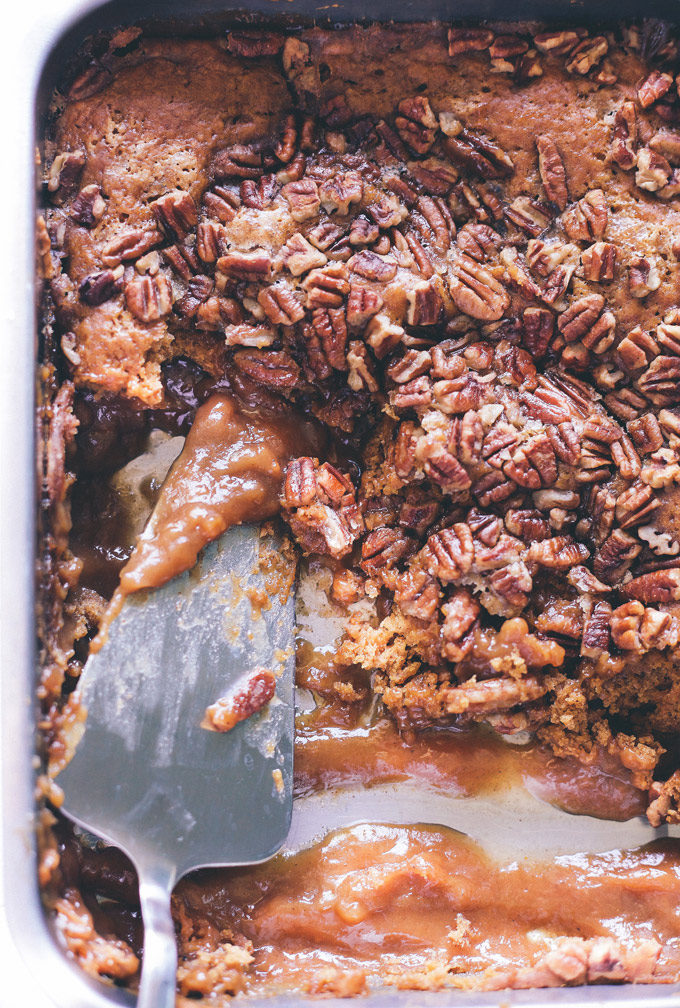 *Recipe Video Tutorial Below*
I've fallen into pumpkin heaven and I can't get up. Not that I even want to.
I love all things pumpkin as you know, but this, this takes pumpkin desserts to a whole new level of deliciousness. This Vegan Pumpkin Pecan Cobbler is a fall must have! Enjoy this soft chewy cake that's just oozing with pumpkin caramel in every bite!
Can't. Even. Deal.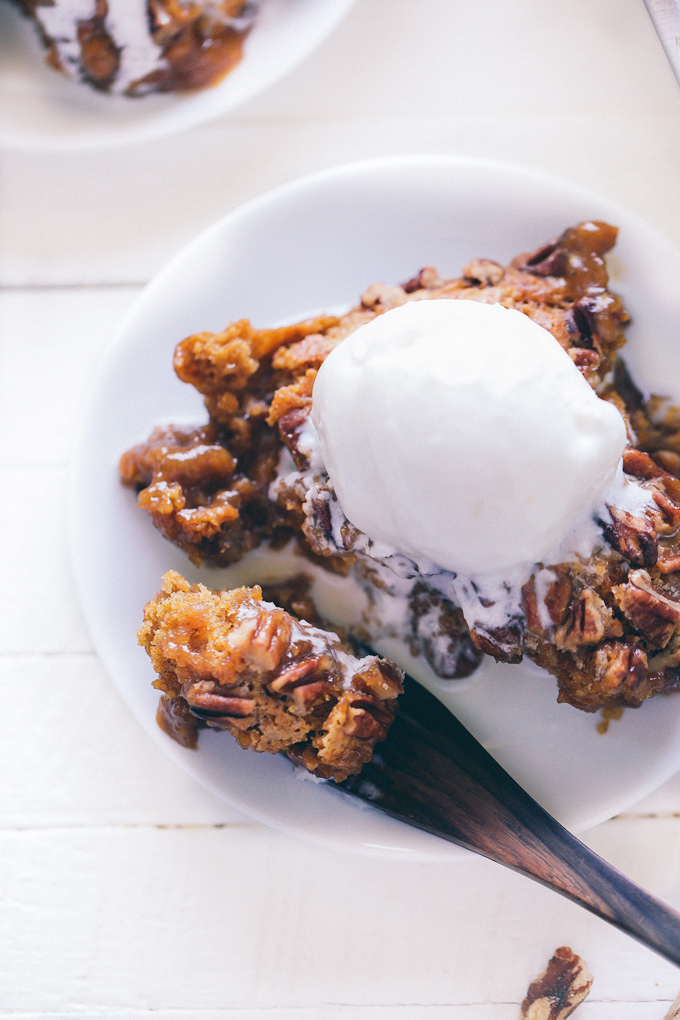 This has all the right flavors. The spicy to sweet ratio in this is so spot on you'll keep taking spoonful after spoonful because you won't be able to get enough shoved into your mouth at once. (Or maybe that just happens to me??) Anyway, this is more on the splurge side as it does require sugar. Just make sure you use organic because regular sugar does have I believe animal bone in it. I know, so gross and like why?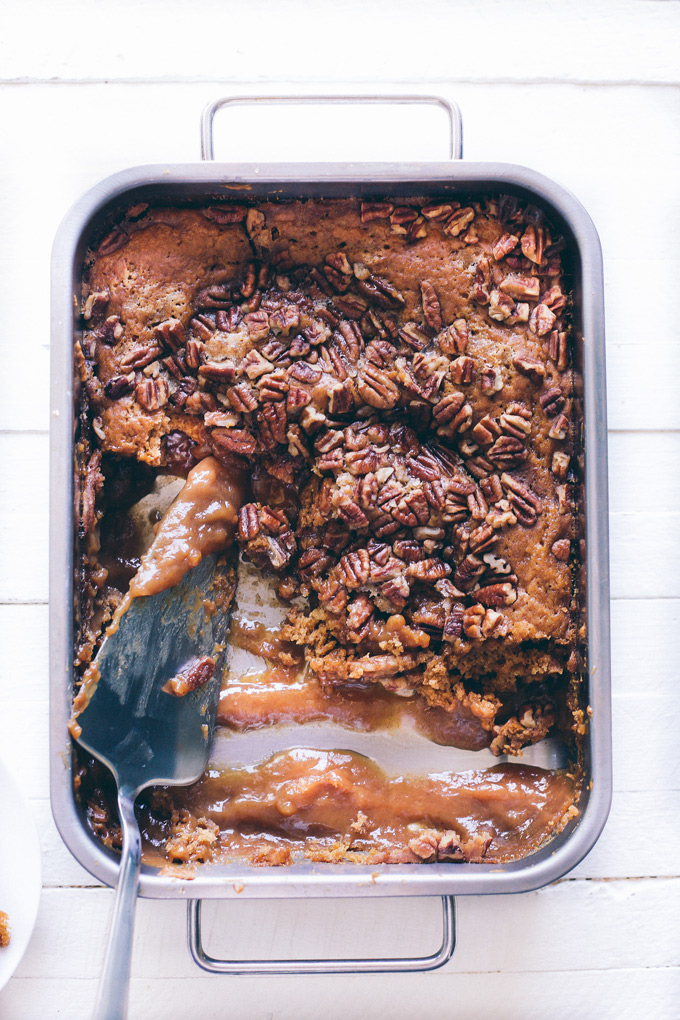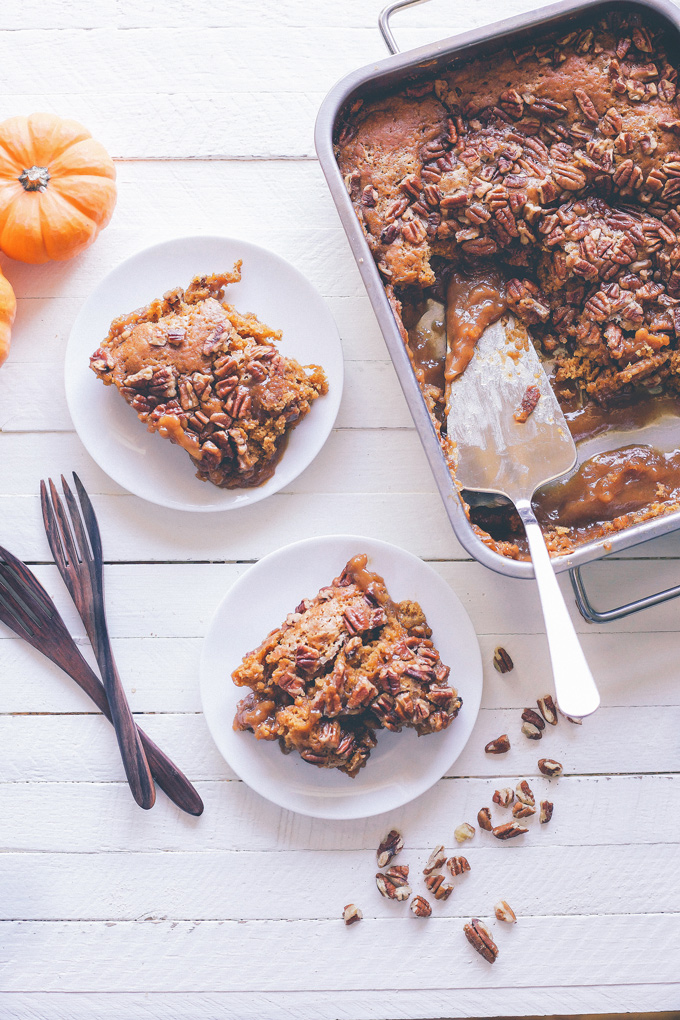 This is probably going to be one of the easiest things you'll ever make. You don't need any fancy ingredients, all of this is made with what you most likely, already have in your cabinets. I'm pretty sure this would be off the hook using apple too but we'll get to apple recipes soon enough.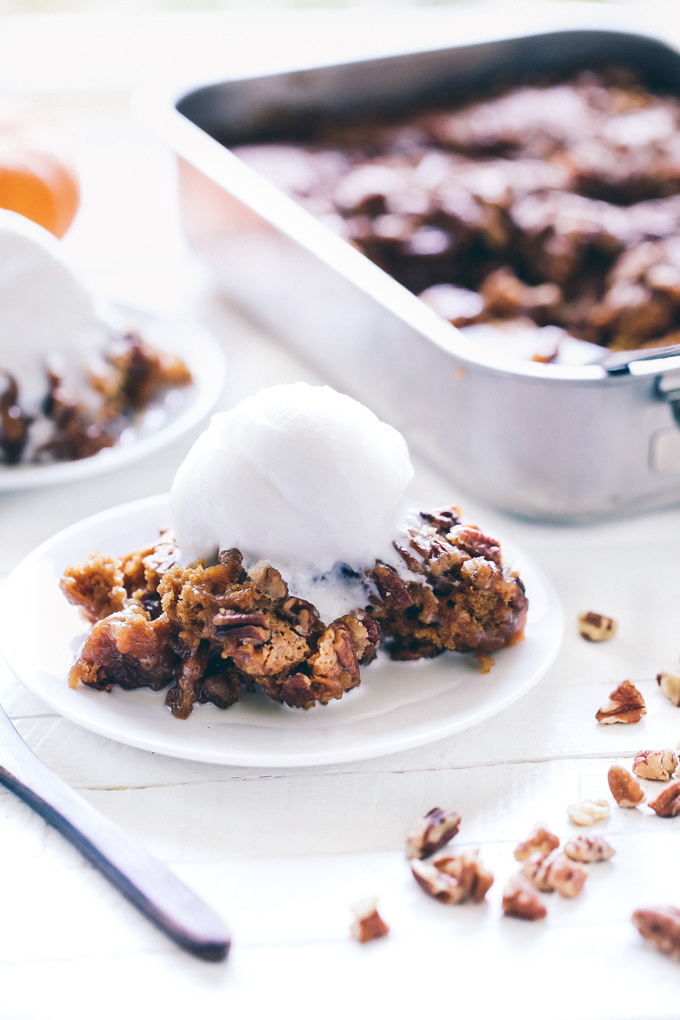 The whole trick and secret to this is the hot water you pour on top at the very end before baking. While in the oven the water seeps down into the cake creating this rich, creamy, and thick pumpkin caramel sauce that is To.Die.For. You get all the deliciousness that's made in the cake right into your very own vegan caramel. It's mind blowin' not gonna lie.
Here's a recipe video so you can see each step and how easy it is. Also don't forget to subscribe to my YouTube Channel!
Another important thing to keep in mind while making this that I read in the original recipe was to make absolute sure your baking powder is up to date as this recipe won't work without it. For instance if you use an old, out of date baking powder your cake will turn up more on the mushy side instead of having a more cake like texture. Oven times also vary so as the original recipe called for a 40 minute bake time, mine was done at exactly 1 hour. I started to check it at the 45 minute mark. You know it's done when the middle is set and not jiggly.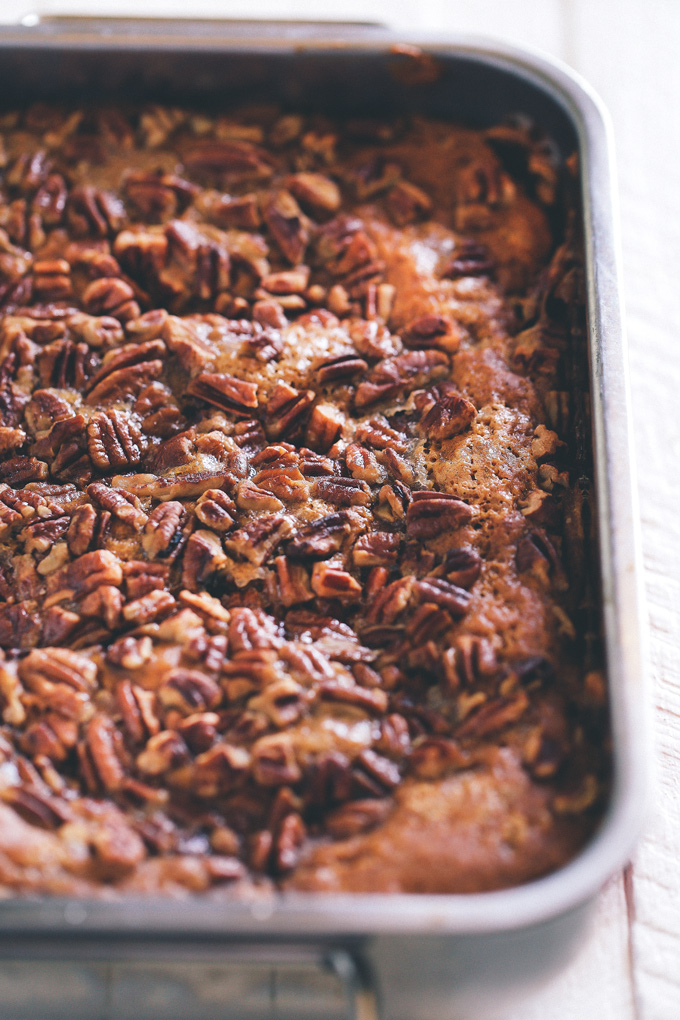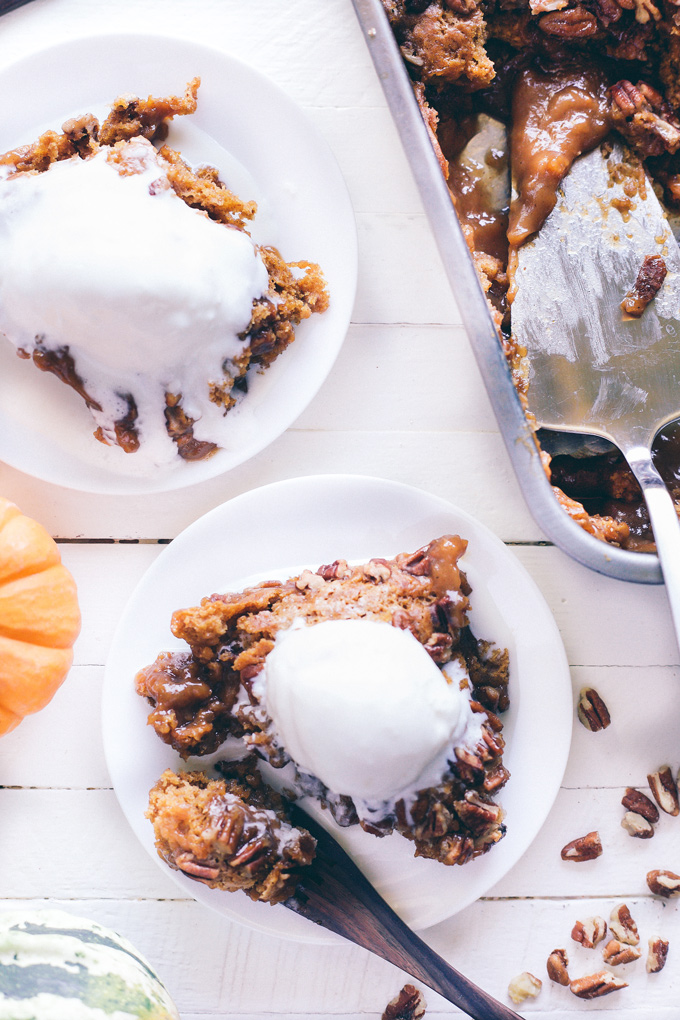 I topped this with a dairy-free, vegan vanilla bean ice cream and I also tried it with a vegan coconut ice cream. You can use any ice cream you like but I found this to be most delicious with the coconut flavored ice cream, maybe that's just the pregnancy because I've never intentionally paired pumpkin and coconut together. Oddly enough and as strange as it may sound, it's rather quite delicious.
This will for sure be on your holiday dessert menu from here on out. It's so good I just can't get enough. Welcome to my pumpkin craze. Enjoy!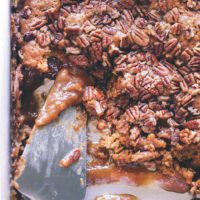 Vegan Pumpkin Pecan Cobbler
*Recipe comes with a video tutorial see above* A fall must have! Enjoy this soft chewy cake oozing with pumpkin caramel deliciousness in every bite!
Ingredients:
1 1/4 cup all purpose flour
2 tsp baking powder
pinch of salt
3/4 cup organic sugar
dash of cinnamon
2 tbsp pumpkin pie spice
dash of nutmeg
1/2 cup pumpkin puree
1/4 cup almond milk
1/4 cup melted vegan butter
2 tsp vanilla extract
Pecan Topping
1/2 cup organic sugar
1/2 cup organic brown sugar or coconut sugar
1/2 cup chopped pecans (more as desired)
1 1/2 cup hot water
Directions:
Preheat oven to 350F.
In a medium bowl whisk all dry ingredients: flour, baking powder, salt, sugar, cinnamon, pumpkin pie spice, and nutmeg.
In another bowl mix all wet ingredients: pumpkin puree, almond milk, vegan butter, and vanilla extract.
Pour the wet into dry and mix until well combined.
Pour into 8" rectangular baking dish and spread out evenly. The batter is thick.
For the topping mix together all ingredients except hot water and evenly distribute on top.
Pour the 1 1/2 cup of hot water on top and Do Not Mix.
Place it right in the oven and let it bake for 1 hour. Start checking it at the 45 minute mark. If the top is still jiggly in the middle keep it in longer. Once the middle is set it's ready to come out.
When finished baking remove from oven and let sit for 5 minutes.
Top with your favorite dairy free ice cream, some pumpkin caramel from the bottom of the baking dish and Enjoy!
~Pin this Recipe~