Classic Organic White Bread
Ok I already know what you're thinking. White Bread, really? Yes, really. So here's the deal.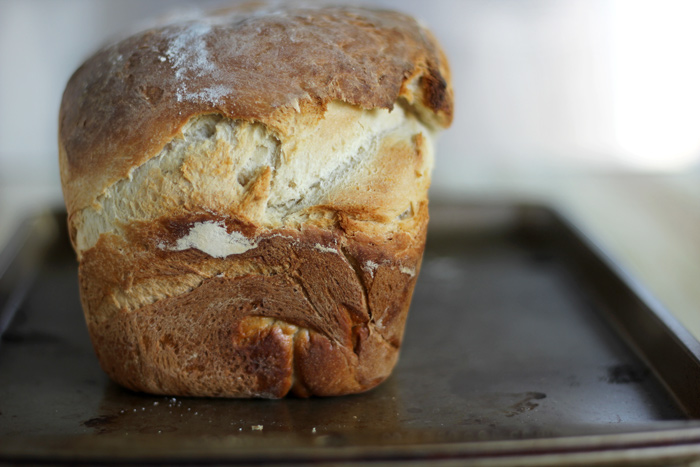 Is white bread good for you? I'm going to go with a negative on that. But do a lot of people like the taste of white bread? Yes. As white bread is not particularly the healthiest for you, let's be realistic, most americans eat processed white bread on a regular basis. It's cheap, it's quick and easy. It's also very high on the glycemic index. The glycemic index measures your blood sugar levels so eating foods that raise your blood sugar are not ideal for anyone but especially for those trying to lose weight or who are diabetic.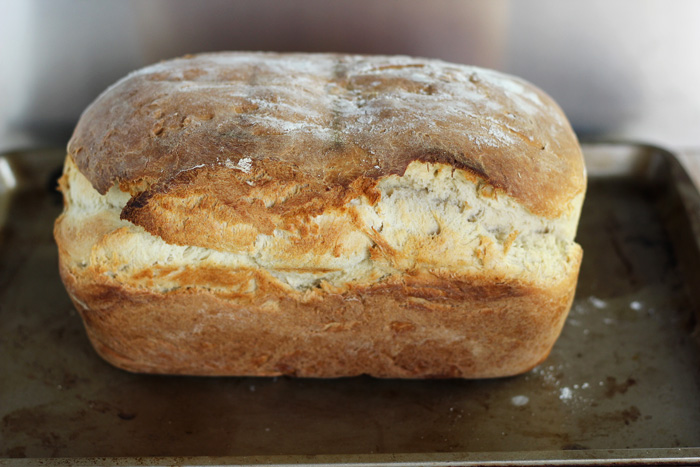 White bread that is sitting on the shelves at your local supermarket are chemically bleached. Yes bleached like what you would use to clean your bathrooms or wash your whites in (although I don't suggest that either). But can you even imagine eating bleach! That's just one of the many chemical ingredients. Do I really need to get into why we probably shouldn't eat bleach? I mean…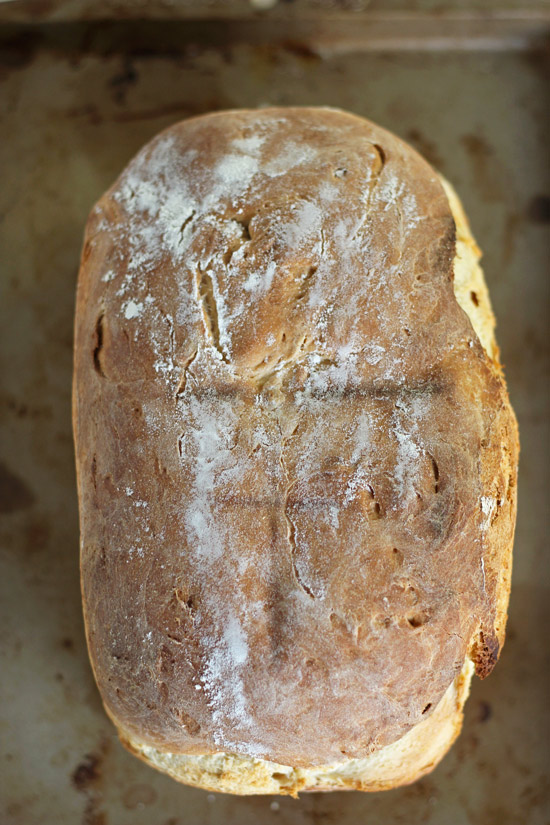 Every time I'm at the supermarket white bread is always having a huge sale. Buy 2 for $2.50. For most people that's a steal, I know. But in actuality the only one being robbed are the people buying that type of bread because all they are doing is compromising their health in the long run. So here's what I did. I made a healthier option for white bread lovers that you can make at home yourself minus the chemical shitstorm that comes with processed breads loaded with additives and refined sugars. In this loaf there is no bleach, no chemicals, nada.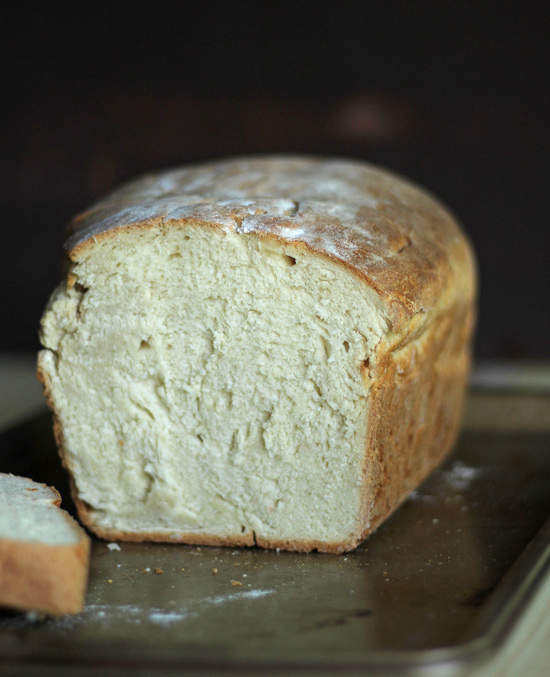 The flour I use for this recipe is a white whole wheat flour that is organic and certified non, gmo. (Be sure to look for that third party verification when shopping).  White whole wheat flour is up there nutritionally with whole wheat flour because of the hard white spring wheat used to make it. It's my personal fave in substituting for AP flour because you still get the nutrition and fiber without having to compromise the taste or texture of your baked goods. If you haven't baked with it yet, try it and let me know what you think.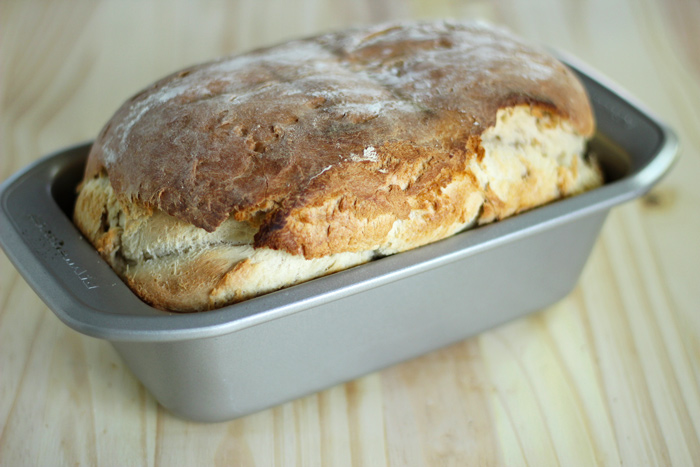 I don't normally bake bread, I let my husband get down and dirty with the kneading and all that jazz. He loves to make all sorts of dough so I let him have at it. It's not hard to make, just a few ingredients and some wait time then you'll have yourself a nice golden brown crusted loaf of white bread to have for the week. Making homemade foods just taste so much better. Food in general tastes so much better when you make it yourself. The time, love and effort put into making each meal matters and makes all the difference.
Stay connected with NeuroticMommy:
Instagram | Facebook | Pinterest | Twitter
Don't forget to hashtag #neuroticmommy and #chocolatecorner on Instagram for features!
Recipe adapted from CafeFernando
Classic Organic White Bread
Recipe Type: Breads
Author:
Prep time:
Cook time:
Total time:
Serves: 2
Ingredients
1 tbsp plus 1+1/2 tsp active dry yeast
2+1/4 cups warm water
3 tbsp+ 2 tsp honey
4 tbsp unsalted vegan butter, melted, plus more for pans
7 cups white whole wheat flour, plus more for dusting
2 tbsp pink rock salt
Instructions
Sprinkle yeast over half a cup of warm water, add 2 tsp of honey and whisk to dissolve the yeast. Let stand until foamy, about 5 minutes, then transfer to the bowl of a stand mixer fitted with the dough hook attachment.
Add butter, remaining water and honey.
In a separate bowl, whisk flour with salt.
Add 3 cups of the flour mixture to yeast and mix on low speed until smooth.
Add remaining flour, one cup at a time, mixing until dough comes away from sides of bowl and forms a slightly sticky ball. Scrape down the sides as needed with a spatula.
Butter a large mixing bowl and set aside.
Knead the dough on a floured surface until smooth and elastic, shape into a bowl and transfer to the buttered bowl. Cover with plastic wrap and let stand in a warm place until it doubles in volume, about an hour. This makes two loaves so you can freeze half of it for a later time.
Butter two 4.5*8.5 inch loaf pans or standard loaf pan(s). Punch dough down, divide in half, shape into an 8.5 inch rectangle, fold long sides in to the middle, overlapping slightly. Press seam to seal and transfer dough, seam side down, to the loaf pan.
Dust each loaf with flour, cover loosely with plastic and let stand until dough rises about an inch above tops of pans, about 45 minutes. I didn't measure exactly when I split the dough in half hence the size of the loaf you see in the dough. The other loaf I made was much smaller.
While that's rising, preheat oven to 450F.
Bring oven temperature down to 400F and bake, rotating pans after 20 minutes, then bake for an additional 25 minutes or until tops are golden brown
Let cool completely before slicing. If not the bread can still appear to be "doughy" in the middle.
Loaves can be stored at room temperature for three days or frozen for up to three months.
Enjoy your homemade bread!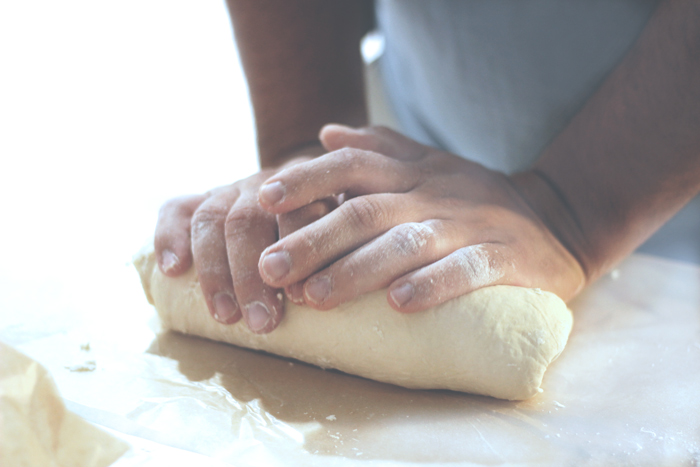 XoXo JenniferRose