Super Cheesy Vegan Grilled Cheese
jump to recipe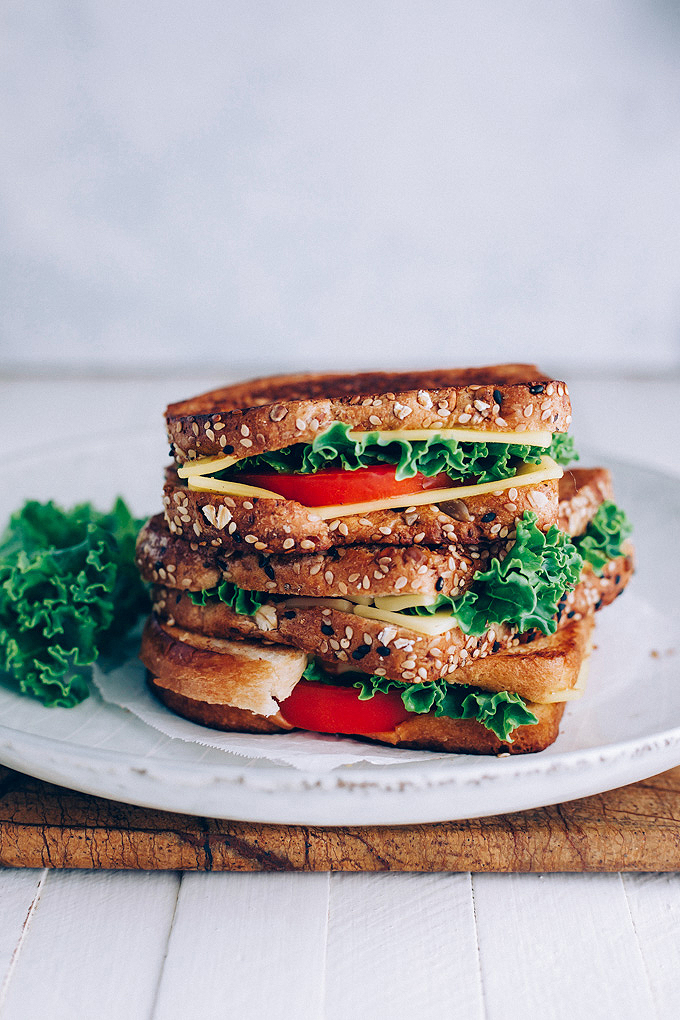 Thank you Alpine Valley Bakery for sponsoring this post. Check out Alpine Valley Bakery's high quality, organic, and delicious products for taste you can trust!
Super Cheesy Vegan Grilled Cheese – easy, affordable, organic eating.
When it comes to making tasty vegan sandwiches that are easy and totally kid friendly, I always go back to my childhood fave…Grilled Cheese. Typically made with dairy cheese and just two plain slices of bread, but being that it's now 2017 and a lot has come on the market, I spruce my sandwiches up for myself and the kiddos using organic bread such as Alpine Valley, vegan cheese (that tastes just like American), sliced tomatoes, and any green of choice. Usually spinach or in this instance kale.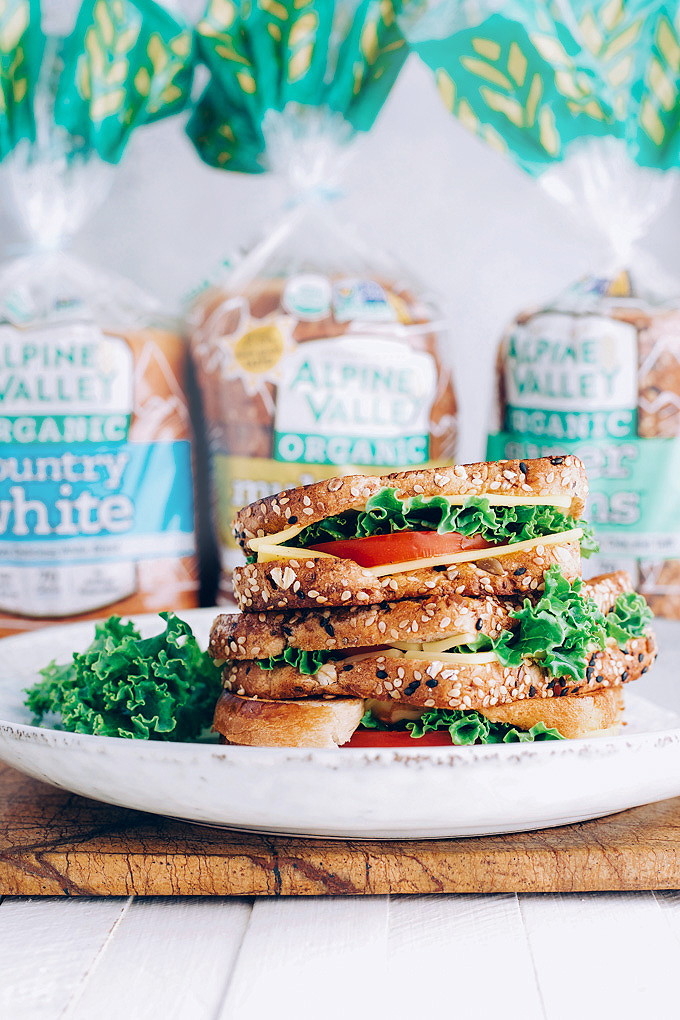 This Super Cheesy Vegan Grilled Cheese is a huge hit in my home. I make them for school lunches, after school snacks, and even dinner when it's a soup and sandwich kind of night. You legit cannot go wrong with this. What makes it even more fun and enticing to parents is that it is so so so easy. Like no skills required easy.
Swapping out the old ingredients for the much better, much healthier ingredients is the game changer. You don't sacrifice taste, texture or even tradition by doing so. All's you're doing is making this classic an even better, more memorable classic.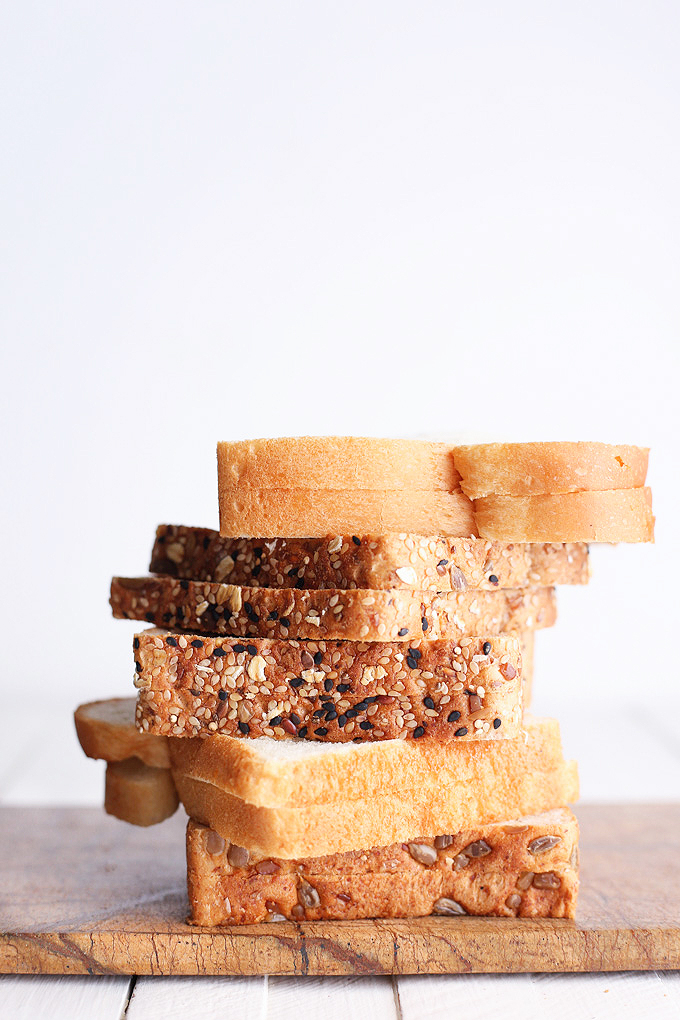 To make a true hella good forget me not super cheesy vegan grilled cheese, it's all about the bread. That dough though, look at it. I have 3 different types of bread from Alpine Valley and all of which I tried this grilled cheese on : The Organic Country White, Organic Super Grains, and Organic Multi-Grain. Bomb-dot-com…all three. They are so fresh, so soft, so tasty, and so healthy.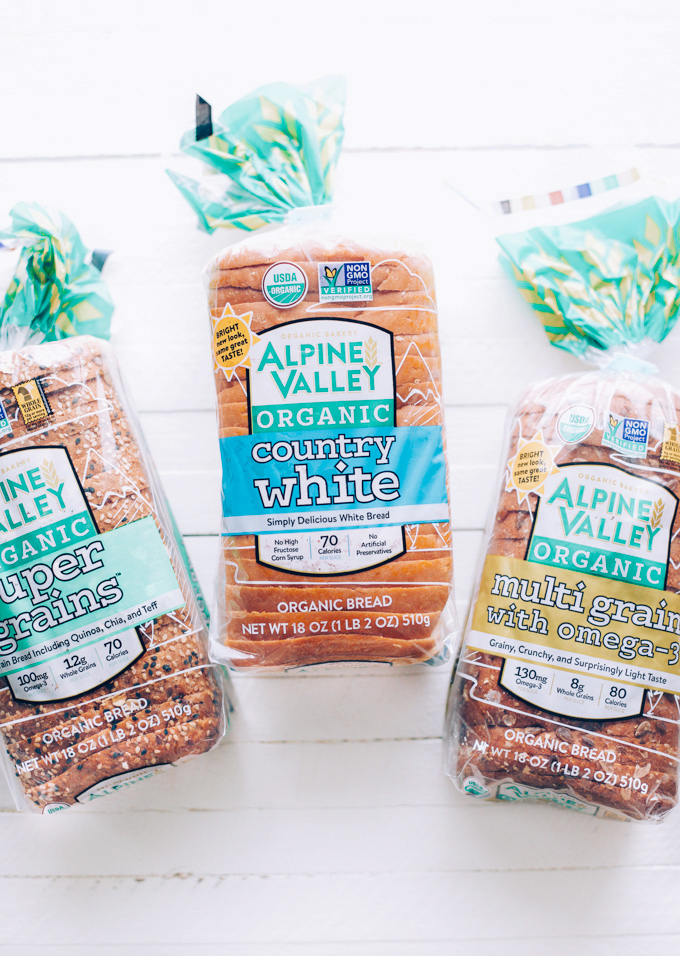 At Alpine Valley Bakery, their secret to quality is to keep it simple: they only use the best organic ingredients to make healthy and delicious products. They stand by their promise to never use artificial flavors, sweeteners, colors, or preservatives. Their products deliver not only nutrition, but the delicious taste and soft texture your whole family will love. — #truth
And did I mention that they're organic, whole grain council approved, and verified non-gmo?! I really admire companies that take the initiative to get the proper labeling so they can be as transparent with consumers as possible. Trust is important when purchasing products from a company and I think honest is always the best policy. To be able to read ingredients, understand them and not have any tricky marketing verbiage on the packaging is high quality in my opinion, and Alpine Valley is one I totally stand behind. Plus their breads are yumtastic.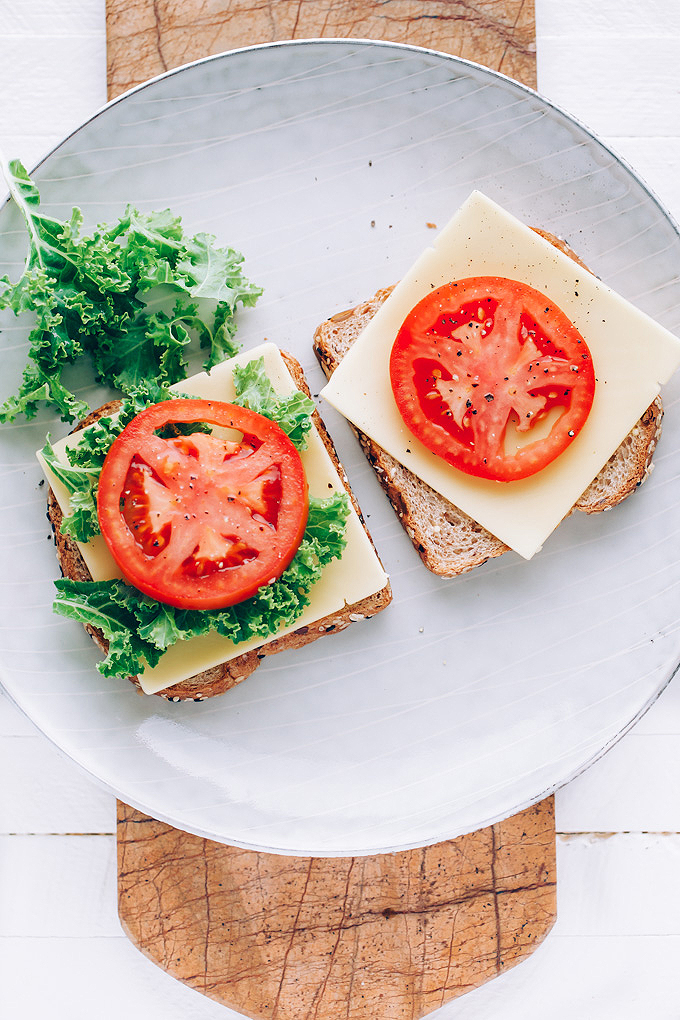 This is how I've always made my grilled cheeses. I love them super cheesy with a tomato and a sprinkle of salt and pepper. The simpler the better.
And I know sometimes kale can have a tough texture but when cooked in the sandwich it wilts a bit and softens from the moister of the tomato and cheese. And the bread holds up so well, it didn't turn soggy on me and when I sent a sandwich with my son to school he told me it stayed fresh and delicious. #momwin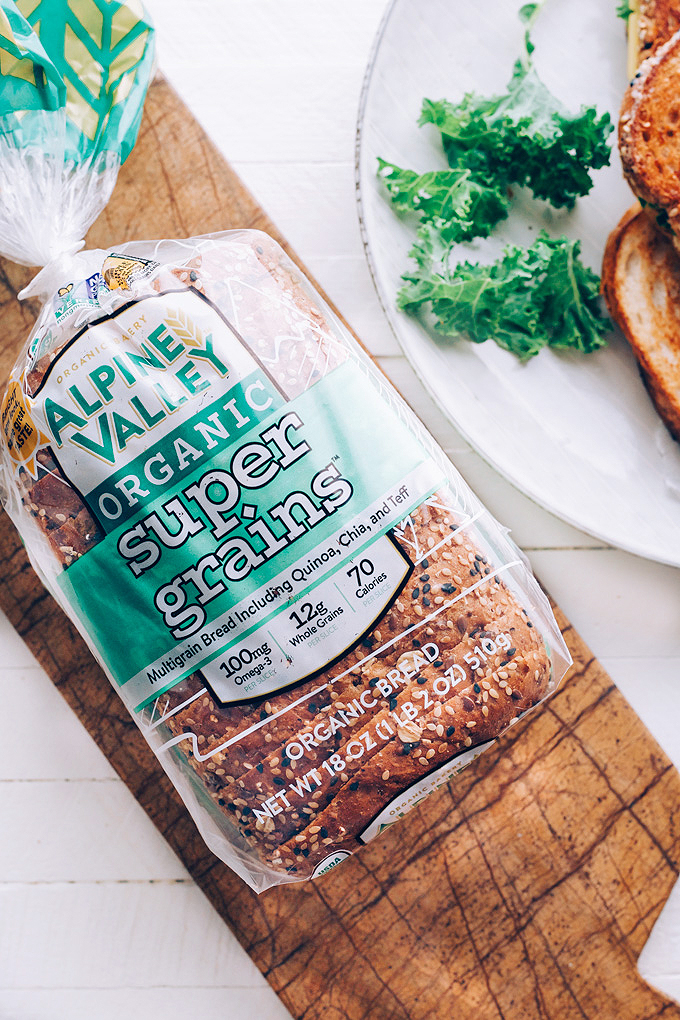 Here's what I do. I take a 1/2 tbsp of vegan butter and I put it in a skillet or fry pan and let it get all melty. I place one slice of bread on top of that followed by a slice of cheese, the greens, then tomato, salt/pepper, another slice of cheese, butter one side of the other slice of bread so when you flip it, it's toasty and buttery. I cook it on both sides for about 2 to 3 minutes. I like mine on the toaster side so you can just eye it to your liking. I press the sandwich down with my spatula so the sides stick together and the cheese melts. Vegan cheese always tastes better melted and keep in mind that vegan cheese will not melt down as much as dairy cheese will but still you will not be giving up flavor I promise. And it's that simple and that delicious.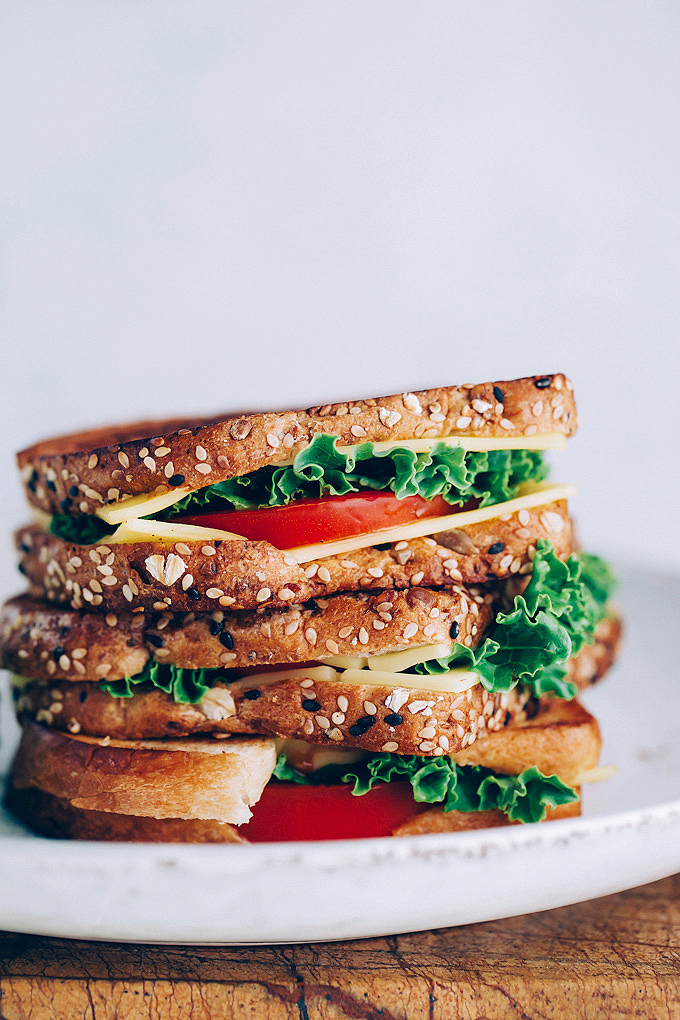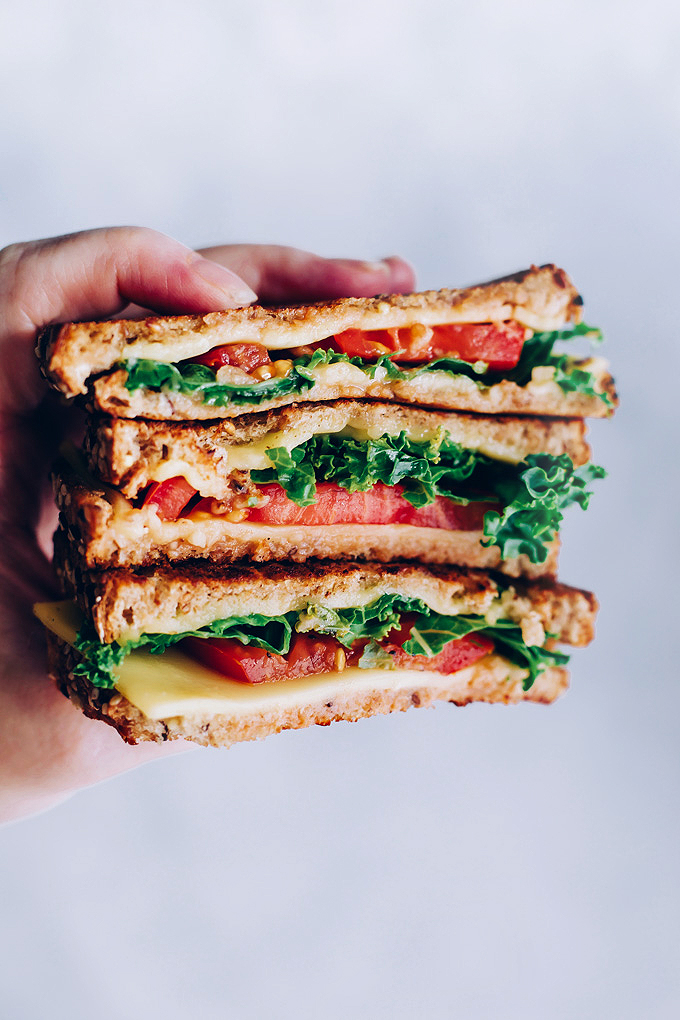 It's my favorite way to eat a grilled cheese and it's only good when it's super cheesy and made right! Trust me, I've have some grilled cheeses that were all sorts of messed up, bread not toasted or sort of toasted, cheese not melted, tomato all yuck, but this one, this one is where it's at and your family will thank you for it. You now have officially upped your vegan grilled cheese game. Go Mom (or Dad)!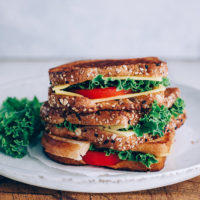 Super Cheesy Vegan Grilled Cheese
A gloriously gooey grilled cheese making this the ultimate sandwich at home the whole family will be sure to devour!
Ingredients:
2 slices of Alpine Valley Bread
2 tbsp of vegan butter
2 slices of vegan cheese
2 slices of a beefy tomato
handful of fresh kale or spinach
salt/pepper to taste
Directions:
Place 1/2 tbsp to a full tbsp of vegan butter in a skillet or fry pan.
Take one slice of bread and coat one side of it in the melted butter.
Take one slice of cheese, 2 tomato slices, sprinkle with salt/pepper, top with handful of greens, another slice of cheese and the other slice of bread.
Butter the outside of the bread that's facing up, so when you flip it, it will become toasty and buttery.
Press the sandwich down with your spatula or if you have a sandwich press that would be great too, and hold it together until the cheese starts to melt. I usually cook mine for 2-3 minutes on each side because I like it nice and toasty. You'll also notice the greens will wilt down too. The greens are optional but highly recommended. Same with the tomato. There's nothing like a warm tomato to compliment a banging grilled cheese.
Remove from pan, cut in half, serve immediately and Enjoy!
This post contains affiliate links.
~Pin this Recipe~

I was selected for this opportunity as a member of CLEVER and the content and opinions expressed here are all my own.