Healthier Banana Cream Pie In a Jar
jump to recipe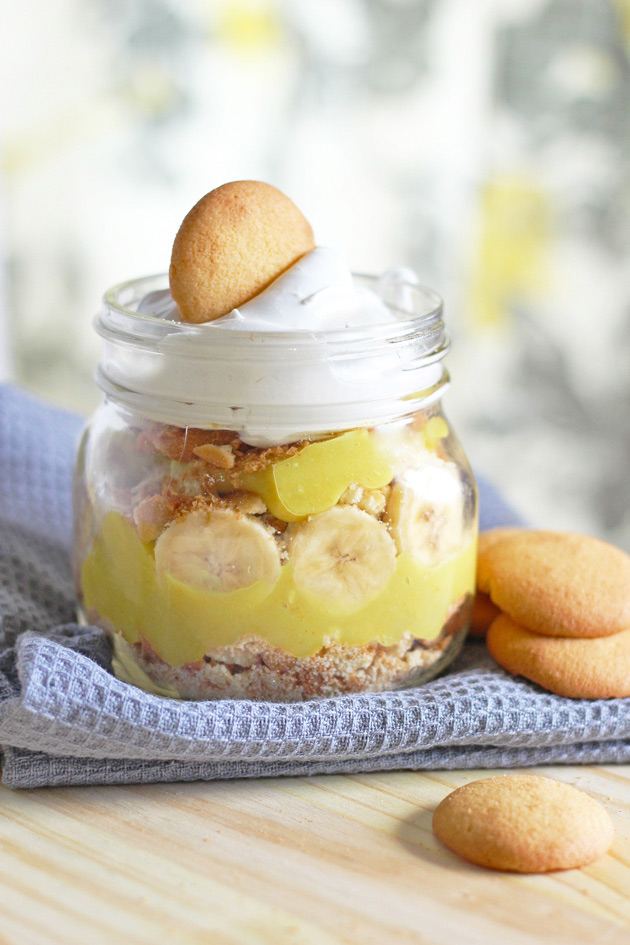 Healthier Banana Cream Pie In a Jar
Vanilla Pudding, Wafers, Coconut Whipped Cream, Bananas aaand Boom.
So much to talk about this week. Like tons! But let's start off by talking about my site redesign. I know, we need to take a moment to gather in all the beauty. What an amazing job Lindsay of PurrDesign and Loveandoliveoil did on this, am I right?! Since the redesign, I've been getting loads of emails complimenting my new branding. I couldn't be happier. Now I feel this is truly my little online home away from reality home. It is so, so me. Like so me. Say Word. (Word) If you're in the market for rebranding or if your site needs some love, I highly recommend her. She was tentative, and everything I had in mind she brought to life. She pays close attention to detail which I love because I can be well, neurotic. Her wait list is extensive so get on it ASAP. There is a reason why I waited for her, the proof is in the pudding. Thank you Lindsay! 🙂
Speaking of pudding…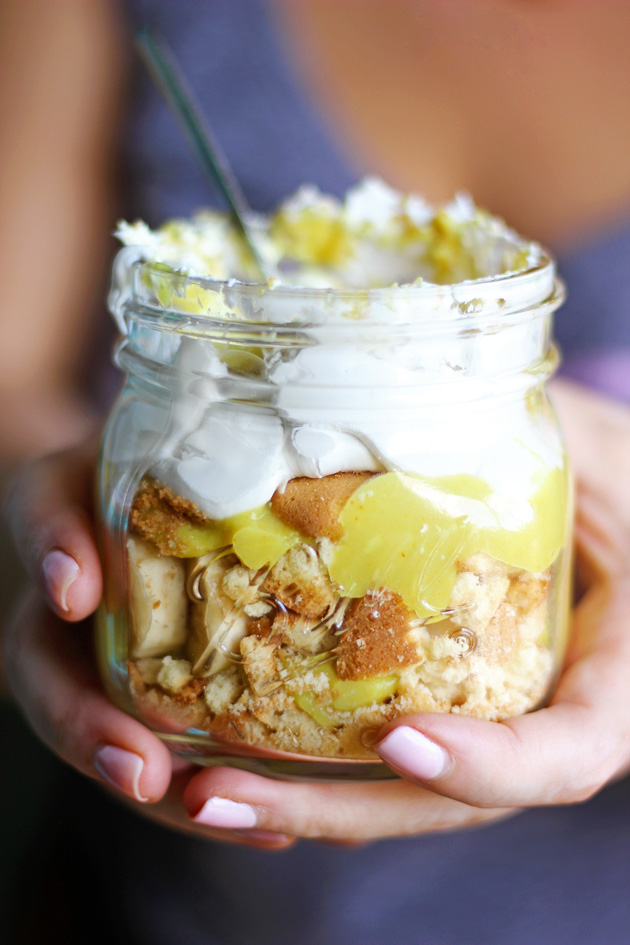 Did any of you know that you can take a pie and put it into a jar? Is this even real people! It's like the easiest pie in the whole wide world and I see a lot of pie jars in the near future…Ahem, like since the holidays are around the corner. But seriously, when did that happen? I can't even deal, 2016 is only a few months away. 🙁
Time goes by so fast, so why waste it cooking for hours in the kitchen making pie (although I do that too) when you can whip this banana bad boy up in seconds. Well, ok minutes, seconds was over exaggerating, just a little.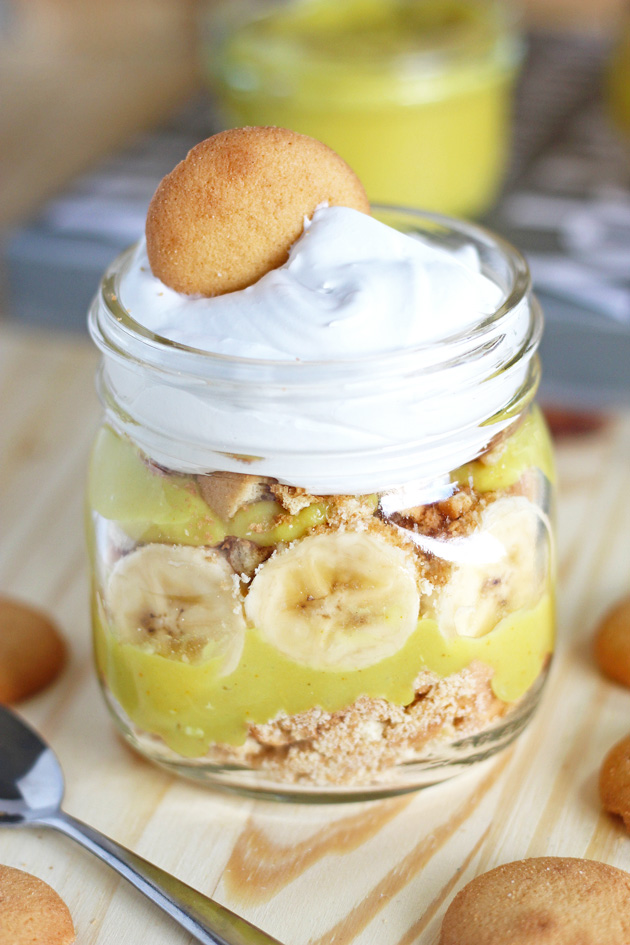 Now for the good stuff. First buy yourself a box of vegan nilla wafers. The box I purchased just happened to also be gluten-free (whoop whoop, holla for my gluten free peeps). Then take out some bananas and a can full fat coconut milk, refrigerated overnight (see how to make coconut whipped cream here). For the vanilla pudding you can cheat (like I did) and buy a ready made box of vanilla pudding (I buy an organic brand, not too high in sugar, I use almond milk and nix the egg). You can also make it from scratch, or you can use whatever vanilla go to recipe you have. For some, instant is preferred…whatever floats ya vanilla puddin' boat. Anyway, if you make it the way I did, to get the very yellowy hues, hitting it up with a pinch of turmeric goes a long way. See how I added that amazing spice to make everything nice? 😉
Not only are you treating yourself to banana cream pie in a jar, but you're also eating some healthy fats and a powerful plant powder derived from the ginger root to boot. It's seriously a win win for all. Should I just drop the mic and walk away now? (haha) Since being away from blogging for a week, due to the fab revamping, I'm bringing it hard today, I know.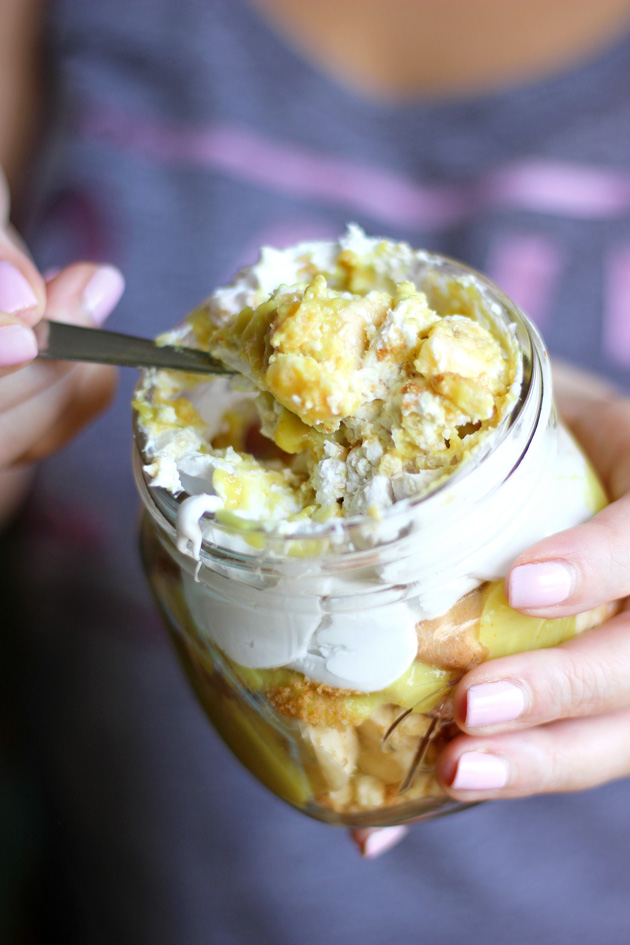 Ok Ok let me get back on track. Once your pudding is made, which should only take a few minutes, let it firm up in the fridge for an hour. That is, if you made it on the stovetop. If you use an instant pudding that doesn't require a stove top then you can start your assemble right away. Crush up the nilla wafers, whip up that coconut cream and get the party started. Crushed wafers first, then pudding, then banana slices, more wafers, more pudding and finally the whipped cream.
Go ahead, have a dance party once you're done, you deserve it. A little indulgence almost mid week, ain't nothing wrong with that my friends.
Recipe adapted from Delish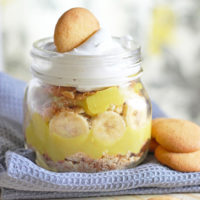 Healthier Banana Cream Pie In A Jar
The easiest pie ever, with ingredients that will knock your healthy socks off!
Ingredients:
3 bananas, sliced
14 nilla wafer cookies, 10 crushed and 4 to garnish
1 packet vanilla pudding mix
1/2 tsp turmeric (for coloring)
coconut whipped cream to top
Directions:
Gather together 2-4, ball jars.
Prepare the pudding as directed on package. Sub whole milk for almond milk and nix the egg.
Once pudding is done place in the fridge for an hour to set. If you're using instant pudding, whisk together the mix and milk, then let stand for 5 minutes.
In your mason jars, layer crushed wafers, vanilla pudding, banana slices, repeating the process until you reach the top of the jar.
Top with coconut whipped cream and extra wafers to garnish.
Serve & Enjoy!
If you're using stove top pudding mix, the time for this recipe will be approximately 1 hour and 10 minutes. The one hour being the wait time for the pudding to firm up. Most pudding mixes will say whole milk and egg but almond or coconut milk work just fine. I add turmeric to give it an extra oomph in yellow color. Who needs food dyes!