Vegan Keto Portobello Mushroom Pizzas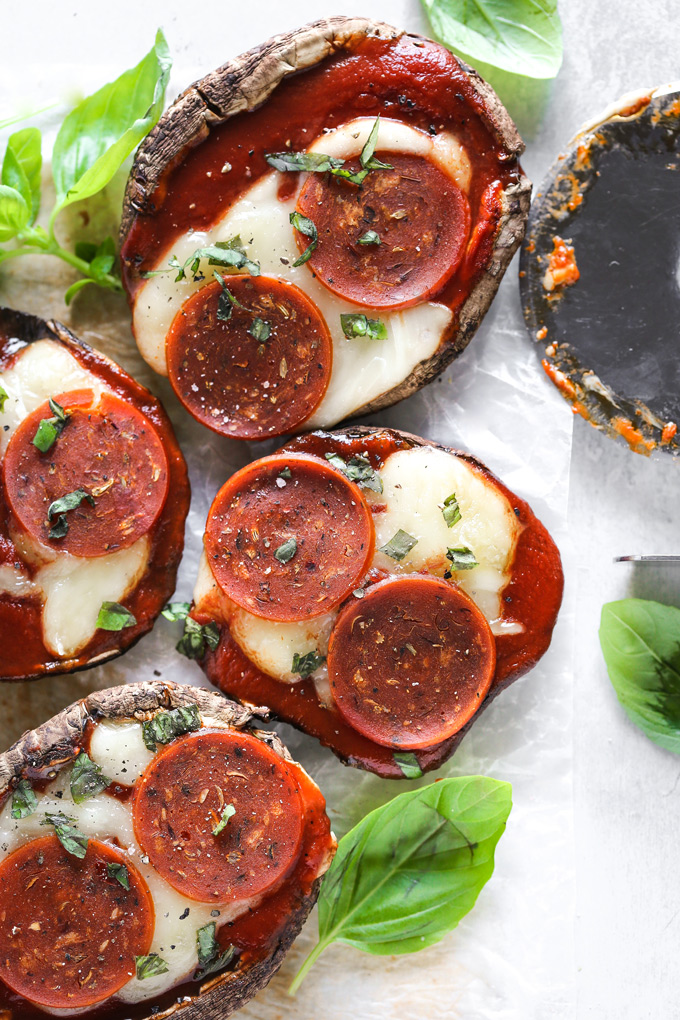 Oh my gosh you guys I'm back and I'm 12 pounds lighter!!! I know I took off a couple of months, I was kind of all in my own feelings and needed time to decompress. My son is off from school and I like to just spend all my time with my kids when they're on summer vaca. However, that's no excuse to not post and give you guys some goods so my apologies for that. I get stuck sometimes with running my own business and find it hard to keep up. That's my own thing though and I'm working through it, just to be transparent.
I don't at all want to take away from the deliciousness we have going on here though. Vegan Keto Portobello Mushroom Pizzas! Is vegan keto even a thing? Why yes, yes it is and it has been AMAZING! I started June 24th and I went on vaca in July so I took that week off. But I was on Vegan Keto for about 6 weeks without cheating before vaca. And to be honest, on vaca I couldn't eat as much as I could have before I started this. So even though I was out of ketosis, I didn't go super nutso with the junk food.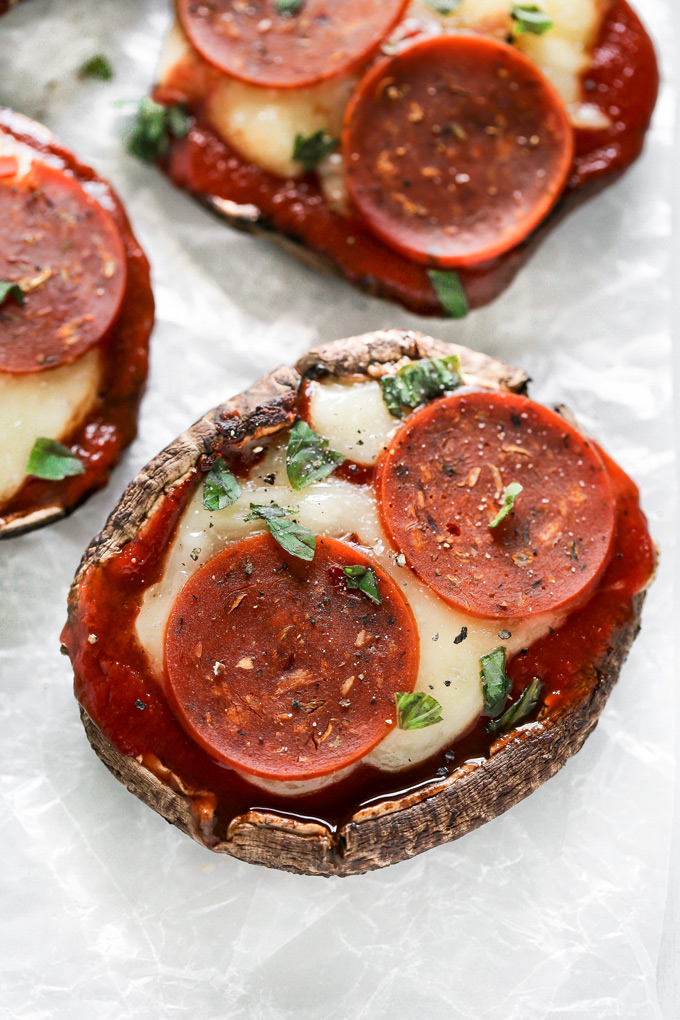 I've had a real up and down with dieting since February after my  hives cleared. I was eating super clean but the weight wasn't budging and I was getting super frustrated. I have a friend who was doing regular keto and she lost about 60+ pounds in 8 months. She looks great, feels great and it gave her the head way she needed. I researched Vegan Keto and found a TON of stuff on it that we will get into in another post where I'll explain keto how it works and how you can survive on it being vegan.
But anyway, I really researched it because I cannot be starving throughout the day or else I will fail and binge eat. So I knew I had to do something that will keep me satiated and help me with my new found sugar addiction because of self pitting during my hive phase. Well, this did the trick. I do not snack at night anymore, I don't even feel the need to snack while watching a movie, I don't get all bent out of shape or hangry. I really don't. I'd say around my period is when I mostly want chocolate but there are so many things I CAN have that it doesn't matter. It's all keto friendly. Lily's dark chocolate anyone? Have you seen my Vegan Macaroons or my Cookie Dough Cheesecake Fat Bombs? Like, O.M.G. Vegan Keto say whaaaaa!!!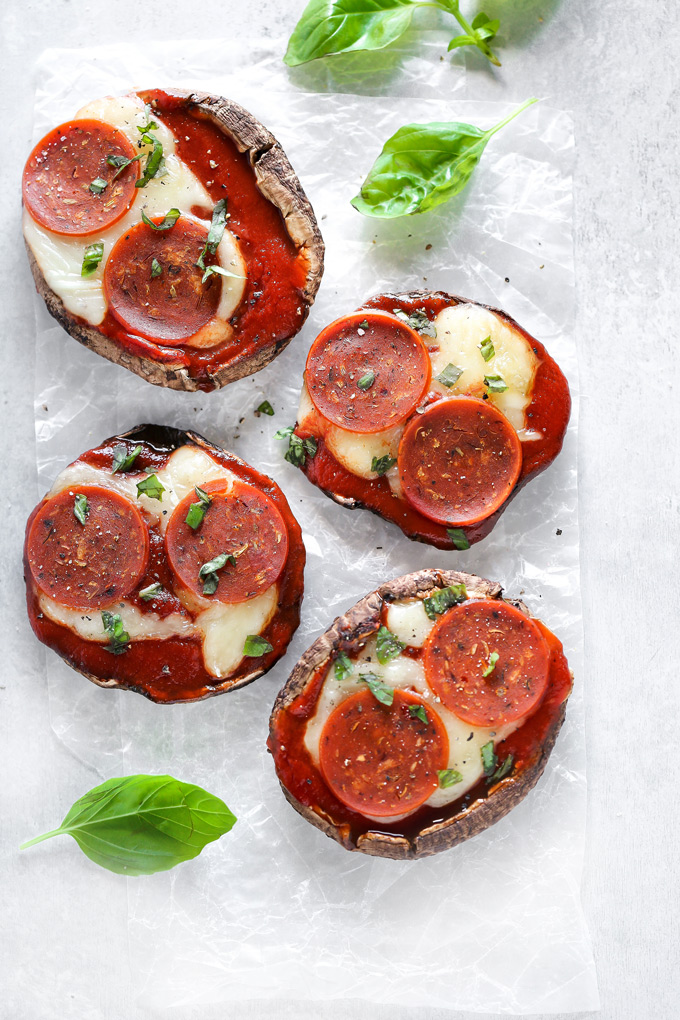 Point is, I'm not missing out. It can be restricting when you think about what you can't have, sure, of course. But when you focus on all that you CAN have then it becomes a whole new, happy, fun ballgame. Kind of like the Mets, lol.
Now with these Vegan Keto Portobello Mushroom Pizzas, if you guys know me (which I'm hoping you do by now) and for those that are new, I LOVE mushrooms. All kinds too. I will eat them with breakfast lunch and dinner. They have always been my fave since I was a wee little lad. First off, I think now you can make pizza out of anything right – So portobello mushrooms were a no brainer, I mean, them plus some cheese, like come on, hellz yeah.
Three things: The trick to melting vegan cheese and to get it all stretchy and gooey is to add some coconut oil or any non stick cooking spray to a small fry pan. Add in the amount of cheese you're using. This goes for any recipe you want super stretchy, super melty cheese. It will get nice and melty in the fry pan and you just slide it right off onto your dish. And in this case you'll be sliding it right off onto the mushrooms after you've dabbed on your marinara sauce. So. Freakin'. Easy.
The second thing is I have not found a vegan pepperoni that I actually like except the one that comes on the Daiya Pizza. I do not like Daiya cheese (sorry Daiya) but I bought their pepperoni pizza just to steal their pepperoni. So criminal I know. Anyway, that's what I did here. If you have a vegan pepperoni you like use that instead.
And lastly to get the mushrooms not dripping wet with liquid you have to clean and rinse them first, put them on parchment paper, have your oven preheated to 400F and let them sit in there for 20 minutes. You don't have to do this but this ensures a lot less liquid. The second time you put them in to bake with all the fixings, they become sturdier too, but choice is yours.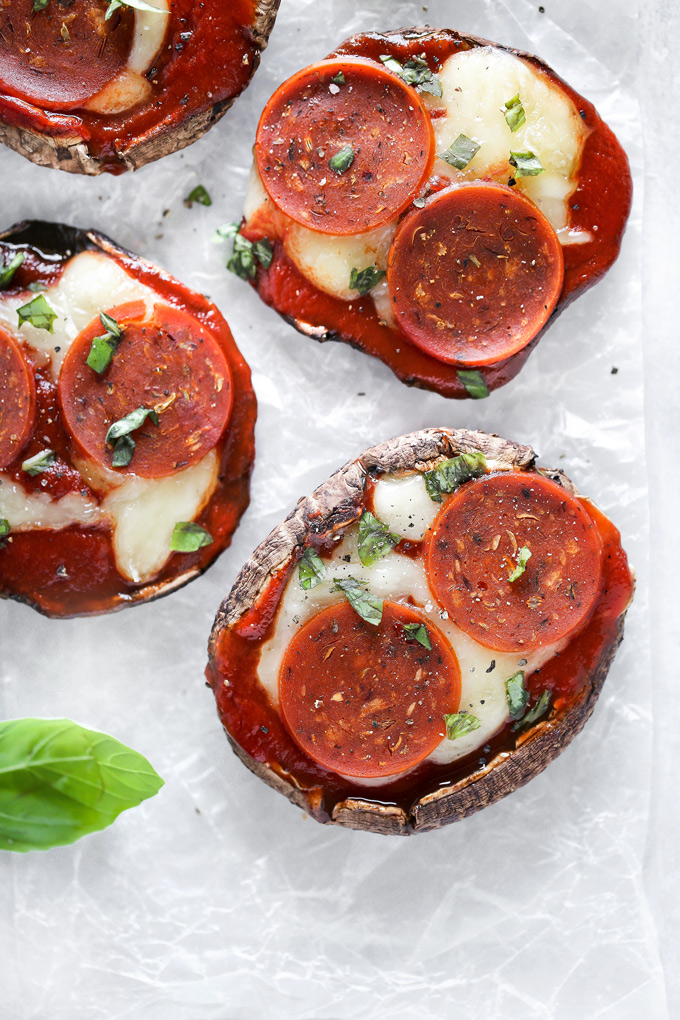 Remember to check labels on both the cheese you choose and the marinara sauce. Carbs can creep up as well as sugar so be mindful of those when choosing which brand you want to go with if you're following a Vegan Keto diet. But not to worry dear friends there are so many options. The only thing you'll have a hard time doing is picking which one. Alternatively, you can also make your own marinara sauce so you know exactly what's in it.
Here's my comeback from basically being on a bloggers hiatus for almost 2 months. And I started you off with Vegan Keto Portobello Mushrooms Pizzas, like, who am I! haha I love it and I know you will too. Oh and side note, my kids and hubs love this as well. Could definitely send this to school in the lunchbox for the kiddos or pack it up for yourself too! Enjoy!
Vegan Keto Portobello Mushroom Pizzas
Vegan Keto Portobello Mushroom Pizzas are stuffed with vegan mozzarella, a keto friendly marinara sauce thats sugar free and topped with vegan pepperoni and sprinkles of basil. Perfect for your keto meals and hits the spot with pizza cravings!
Ingredients
4 large portobello mushrooms
2 tbsp low carb marinara sauce , per mushroom
20g vegan mozzarella, per mushroom
6 slices vegan pepperoni , (2 per mushroom)
handful of freshly chopped basil, to top
salt/pepper to taste
Instructions
Preheat oven to 400F and line baking sheet with parchment paper. Place mushrooms on baking sheet, gills up, sprinkle with some salt and bake for 20 minutes. This will get rid of some of that liquid mushrooms like to spew out.

When mushrooms are done baking take them out of the oven and becareful becasue the tray will be hot. Set up another baking dish with fresh parchment paper and using tongs, place the mushrooms on the other baking dish. Distribute 2 tbsp of marinara per mushroom, followed by the 20g of mozzarella, 2 pepperoni slices per mushroom, sprinkle of basil, and a pinch of salt and pepper.

Bake for an additional 10 minutes if you baked them for the 20, however if you skipped step one and went right for the full set up then let them bake for the original 20 minutes.

Once finished remove from oven, let cool a few minutes, serve and enjoy!
Notes
To get the cheese melty and gooey, spray a fry pan with coconut oil spray and place the amount of cheese you're using. Let it get a tad bubbly and you'll see it start to melt. When it's done slide it off right onto your mushrooms. To make it easier you can do it by grams. So each mushroom here gets 20g of cheese, you can do this 4 times or all at once, whatever is easier for you.
Serving size is up to 2 mushrooms depending on your own personal macros for the day. 
You can figure out nutritional info using Chronometer. This is the app I use as it calculate Net Carbs. 
~Pin This Recipe~