Mini Sweet Potato Layer Cakes
jump to recipe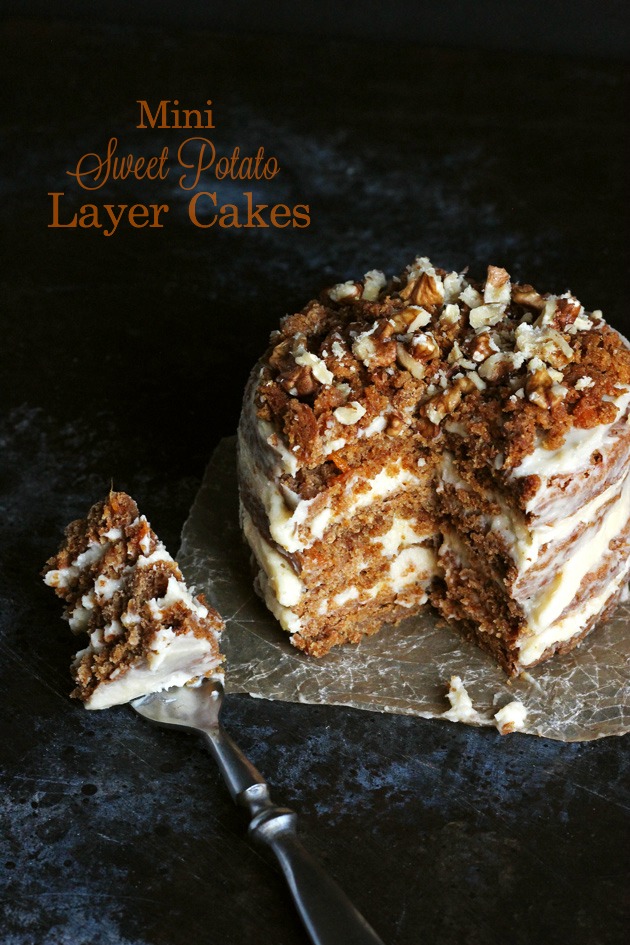 So…what do you do when you have sweet potatoes on hand like errr day but also want cake? Well, duuuh, you make Mini Sweet Potato Layer Cakes with it, that's what. 🙂
I can't even express to you through words how awesome these little baked goods are. First off, after I made them initially they were gone in less than 60 seconds. It got cray up in here. Secondly, I personally think they are the bomb dot com and deserve such praise. Like for reals, just look at it. (<~~~Taking a moment…)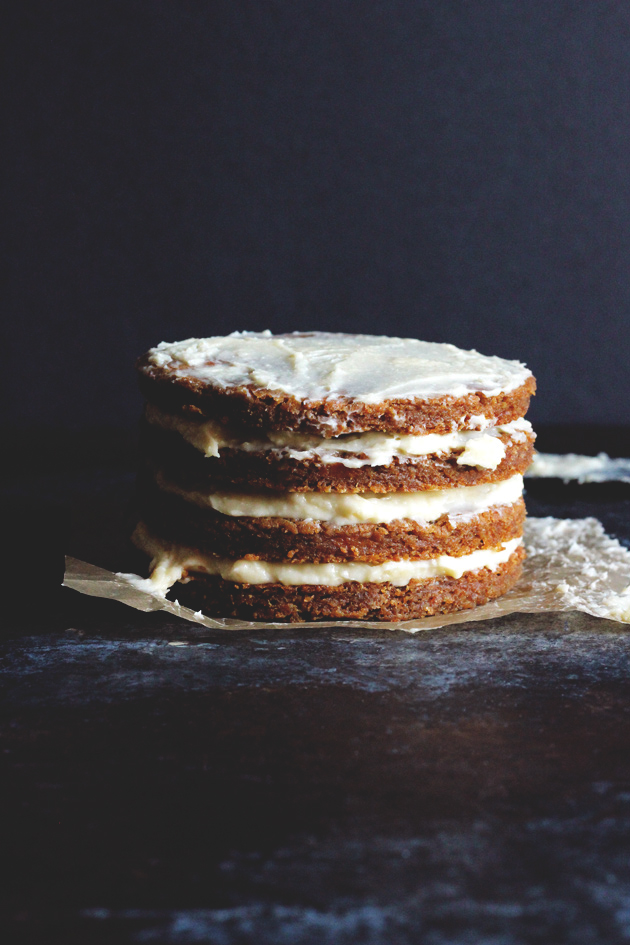 The one thing that is less on the healthier side would be the vegan "cream cheese" frosting. I mean it's the holidays, a little splurge ain't gonna hurt ya. But even still I used organic, non gmo ingredients because they are available and might as well make a frosting that is actually frosting. Ya feel me. 😉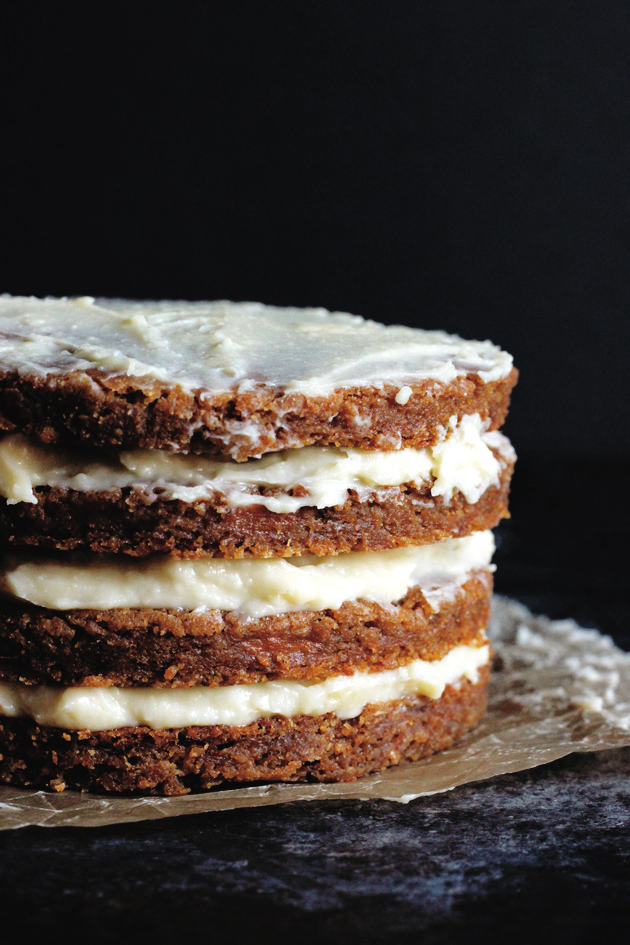 Sweet Potatoes have such a good rep and well deserved. These tubers carry anti-inflammatory properties and are super rich in beta carotene which is an all hail antioxidant. Antioxidants are immune boosters which help back up our system of defense to fight off unwanted invaders. Sweet potatoes are a great source of vitamin C, B complex vitamins, magnesium, iron and phosphorus. Wham, Bam, Thank you Ma'am. These lovelies bring it hard in the healthy department like whoa.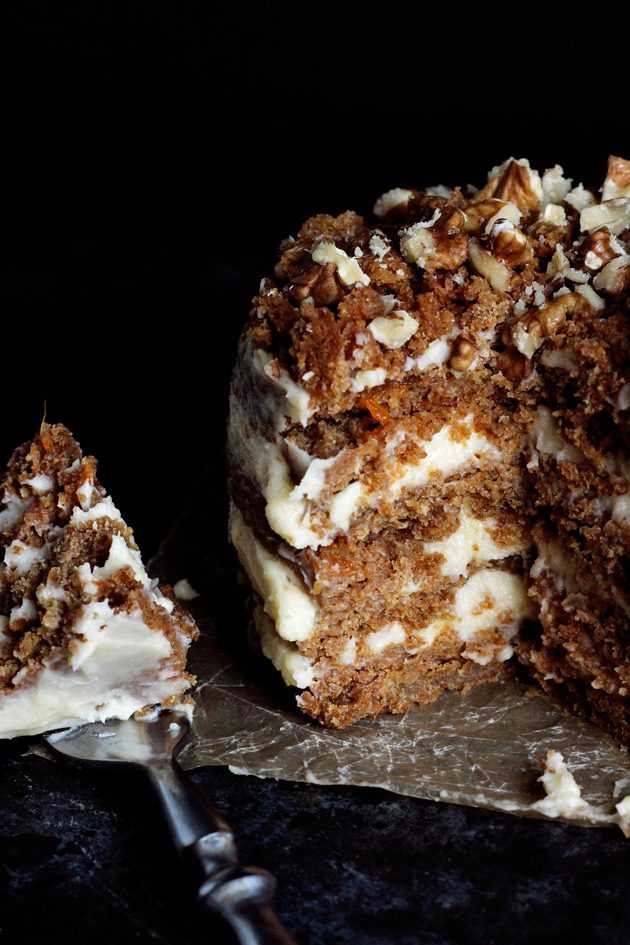 Since it is hard for our bodies to break down foods such as potatoes uncooked, cooking them make them easily digestible. One medium to large size sweet potato has approximately 200 calories. Calories nutritionally dense, so why not add it to a cake right. It's basically borderline genius if you ask me.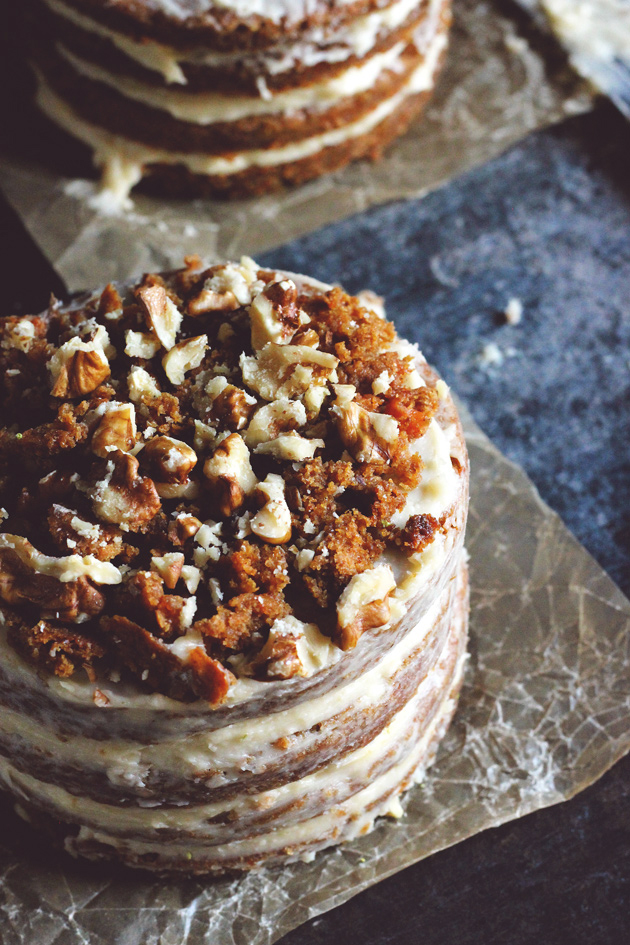 You don't have to make these cakes in 4 layers as I did, you can cut them down to three layers or even two. But who are we kidding, layered cakes rule and are totally the talk of the town when presented to family and friends. It gets all Cake Boss status-ish.
The whole science behind getting them the same exact size, and done in an efficient amount of time, is to make a sheet cake then use a 3″ or 4″ cookie cutter or circle ring to make cut outs. I know right, super easy! From there you don't want to frost them right away, you have to let them cool first to room temperature, then I like to throw mine in the freezer for 15 minutes. I don't want them to break apart while I'm frosting because that would get super annoying.
Been there done that.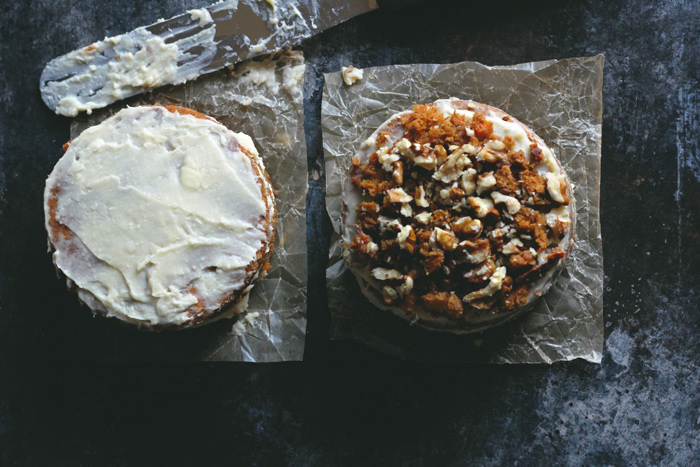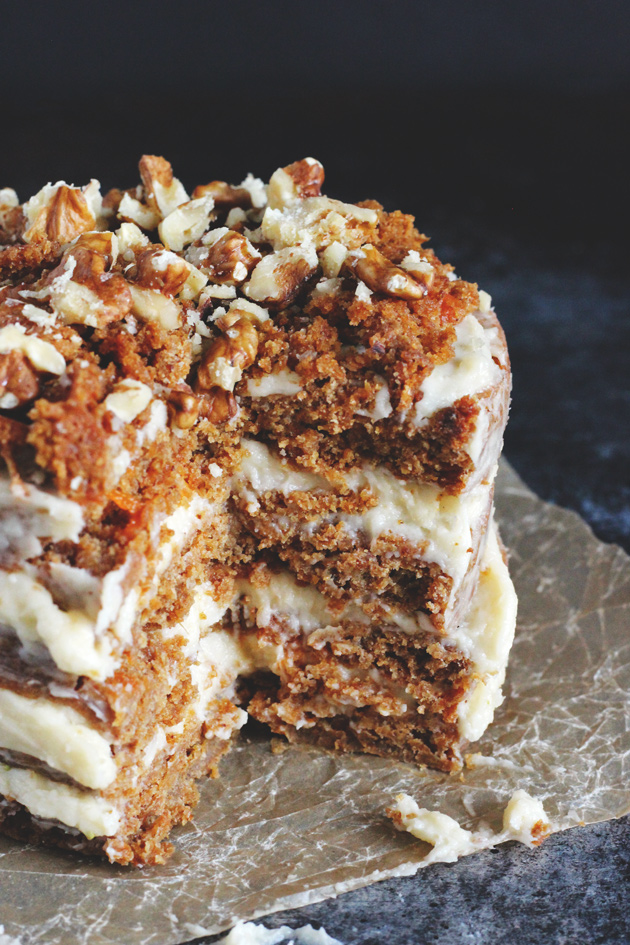 You also have two options. Option 1, you can frost the whole thing, or option 2, you can just fill in the layers with frosting and leave it naked. I like naked and I like frosting so I did both. The frosted one, as you can tell is not perfect, I like that messy sort of look. I threw on some leftover cake crumbs and toasted walnuts because it just felt right. Wait and get this, secret option number 3, you don't have to frost at all! You can go completely commando with this, the cake itself is that delicious. So if you want to stay away from the extra sweetness of the frosting, then by all means leave it out and you'll still be in sweet potato la la yum land.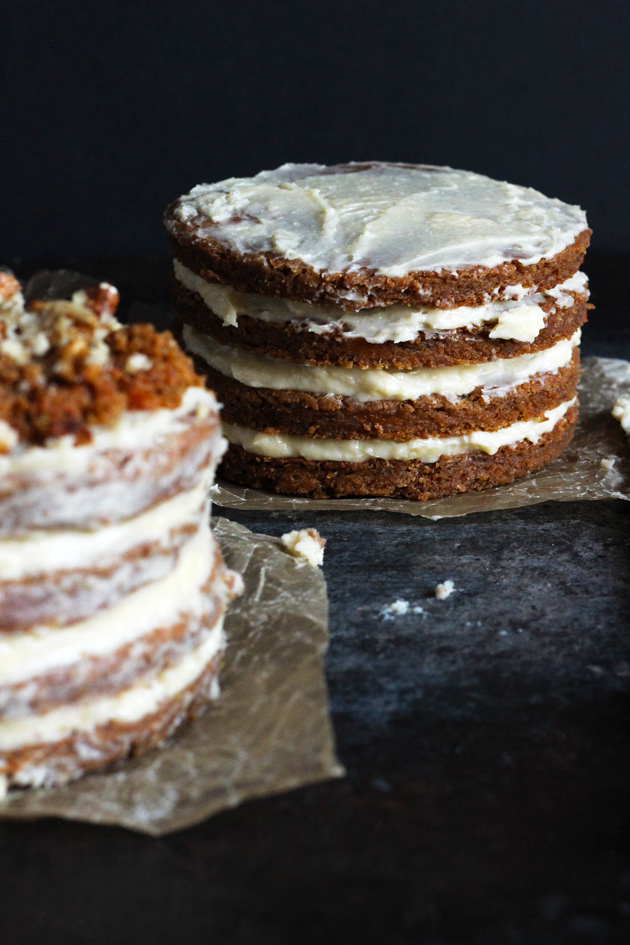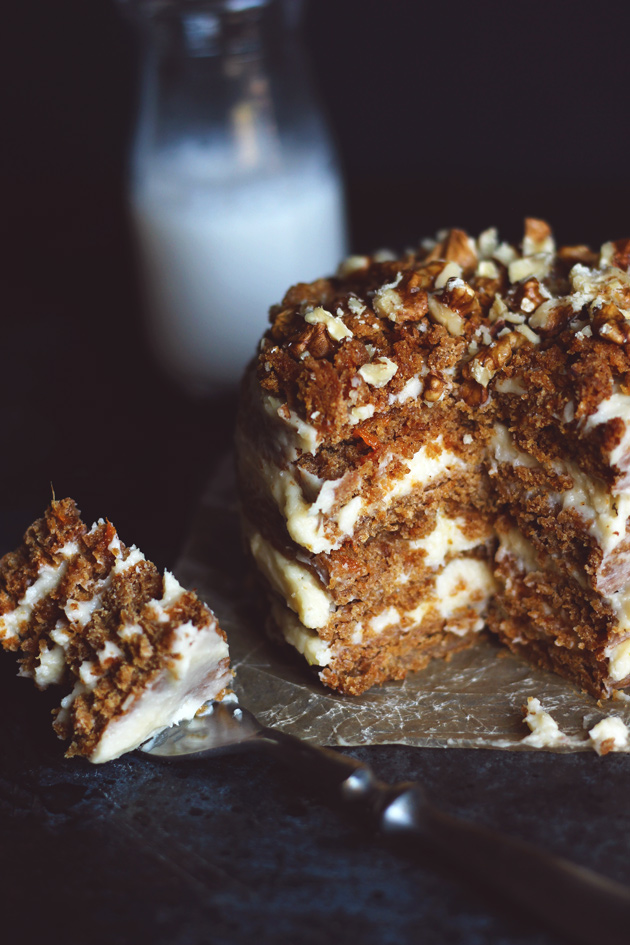 I'm not going to say the whole "You can have your cake and eat it too" quote because that would totally be corny and I kinda just did it anyway. But you sorta can. Just remember not to eat the whole cake (covers eyes). Enjoy yo self is what I'm saying. Snack smart, you got this.
Looking for more holiday treats? Try these:
Single Serve Pumpkin Pie – Pumpkin Streusel Muffins – Maple Pecan Pumpkin Cornbread
Oh by the by, I'm on SnapChat. I'm not really sure what I'm doing or how to work it yet cuz I'm a newbie, but add me~~~> thejennspot. 😀
Recipe adapted from TheBakerChic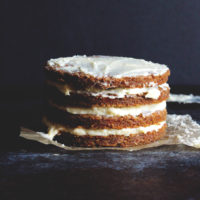 Mini Sweet Potato Layer Cakes
Moist, Sweet, Delicious - the sexy side of healthy.
Ingredients:
1 cup whole wheat pastry flour
1 tsp baking powder
1/2 tsp baking soda
1 tsp cinnamon
1/2 tsp pumpkin pie spice
1/2 cup coconut sugar
1/2 cup applesauce
3/4 cup coconut oil (melted), or olive oil
1 cup, cooked, mashed sweet potato
1/4 cup almond milk, unsweetened
extra cake crumbs to top (optional)
toasted walnuts to top (optional)
"Cream Cheese" Frosting
8oz vegan cream cheese
4 tbsp or 1/2 stick of vegan butter, melted (I use coconut spread from Earth's Balance)
1 tsp vanilla extract
1 tbsp maple syrup
1-2 cups powdered sugar
Directions:
For the Sweet Potatoes
Preheat oven to 375F and line baking sheet with parchment paper. Clean and dry sweet potatoes, wrap them in foil, and bake for 45 minutes or until completely tender.
This recipe needs 1 medium size sweet potato. Make more anyway because they're good for ya!
Once done let cool while you prepare the frosting.
For the Frosting
Whip the cream cheese and butter until light and fluffy. Add in vanilla extract, maple syrup and powdered sugar. Add more or less of the sugar depending on desired consistency. Set aside.
The Cake
Lower oven temperature down from 375F to 350F and line a half sheet baking pan with parchment paper. Spray the pan first with a little non stick cooking spray to keep the parchment paper in place.
Sift together all dry ingredients, flour, baking powder, baking soda, cinnamon, and pumpkin pie spice in one bowl set aside.
In a separate large bowl, beat together sugar and applesauce for 1 minute. You can use a hand mixer or stand mixer. Add oil and mashed sweet potato and keep mixing until well combined. At this point it will seem like there is way to much oil but not to worry, it will all come together.
Fold in dry ingredients 1 cup at a time alternating between the 1/4 cup almond milk. Do not over mix. Only mix until you see all dry ingredients absorbed. This will not be a super runny mixture.
Pour batter on prepared baking dish and using a spatula, evenly distribute it throughout the pan. Again it may seem oily, especially if you use coconut oil, but still not to worry. Make sure you spread it evenly, not leaving any open spaces. How you spread it on the sheet is how it will bake.
 Bake for 20 minutes. Check the cake at 15 minutes however because ovens vary. If at 20 minutes you feel it needs more time leave it in another 5 minutes then remove from the oven.
Let cool on baking dish, off the oven for 5 minutes.
Using a 3 to 4" cookie cutter or circle ring, stamp out rounds of the cake. I did this with the cake still in the pan. Be gentle.
Place cut outs on a cutting board lined with parchment paper by using a spatula so the cut outs don't break. Place in the freezer for 20 minutes.
Remove from freezer and frost right away or put in the fridge and leave to frost later.
The Assemble
Place one round cake on parchment paper. Spread frosting over center leaving room on the sides. Repeat process with the rest of the cake rounds, going as high up at 4 layers.
Frost the entire cake, fill in only the middle, or leave completely commando. If frosting, be sure to top off with leftover cake crumbs and toasted walnuts. Enjoy!
I did not add in the time for baking the sweet potatoes. You can always prepare them ahead of time and have them ready.
When choosing a vegan cream cheese, be sure it is verified non gmo.