Maple Pecan Pumpkin Cornbread
jump to recipe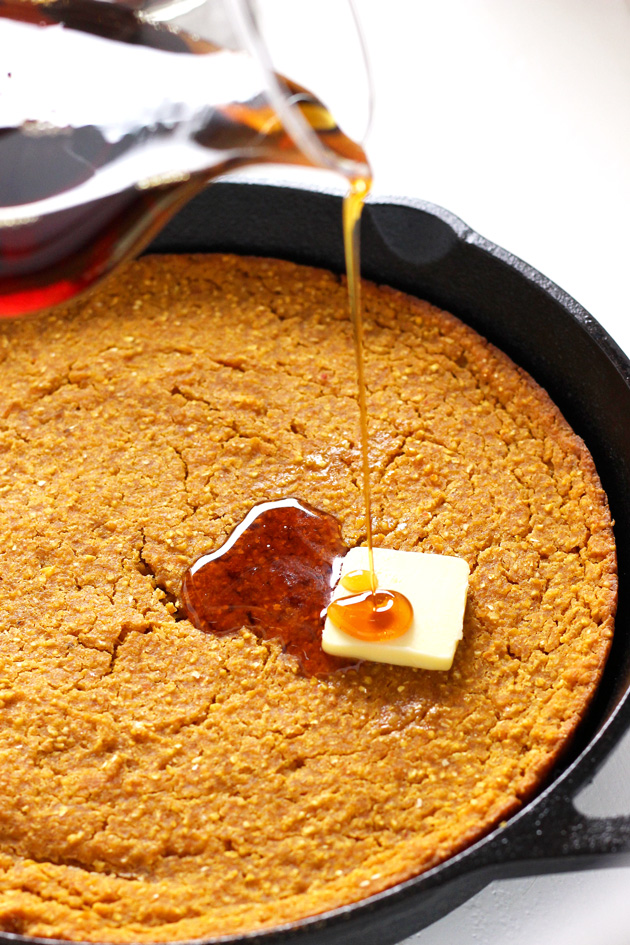 Maple Pecan Pumpkin Cornbread…say that three times fast. 😀
It's the day before Halloween (also known as mischief night), can you even believe it! Just a month ago I was writing about how fall was upon us, and now it's literally in full swing, almost over, and we're headed straight for winter. I'm not complaining, I'm a winter baby so I love it. The cold weather exudes coziness, giant fluffy blankets, movies, and comfort food like this warm, maple, (vegan) buttered smothered cornbread.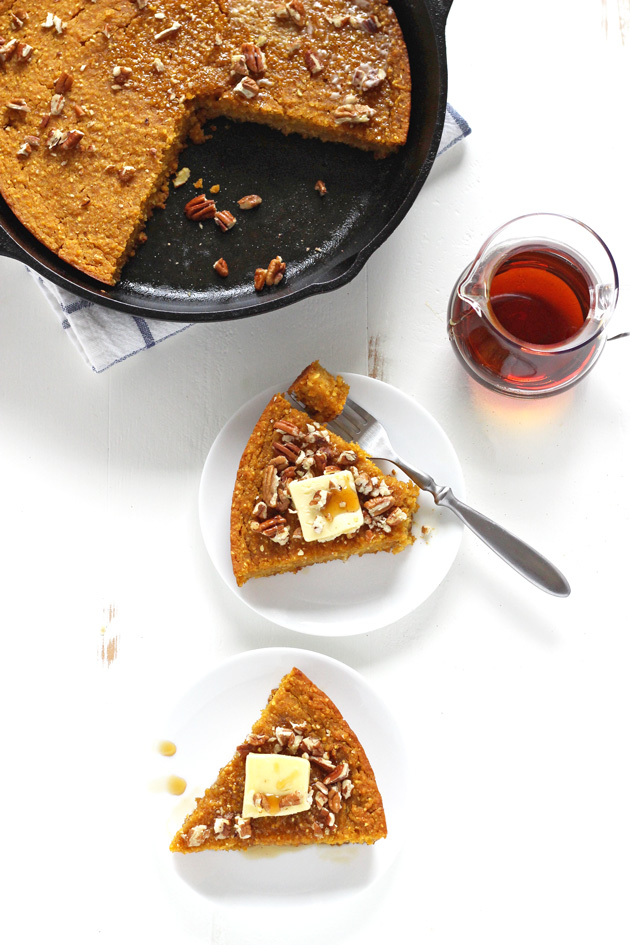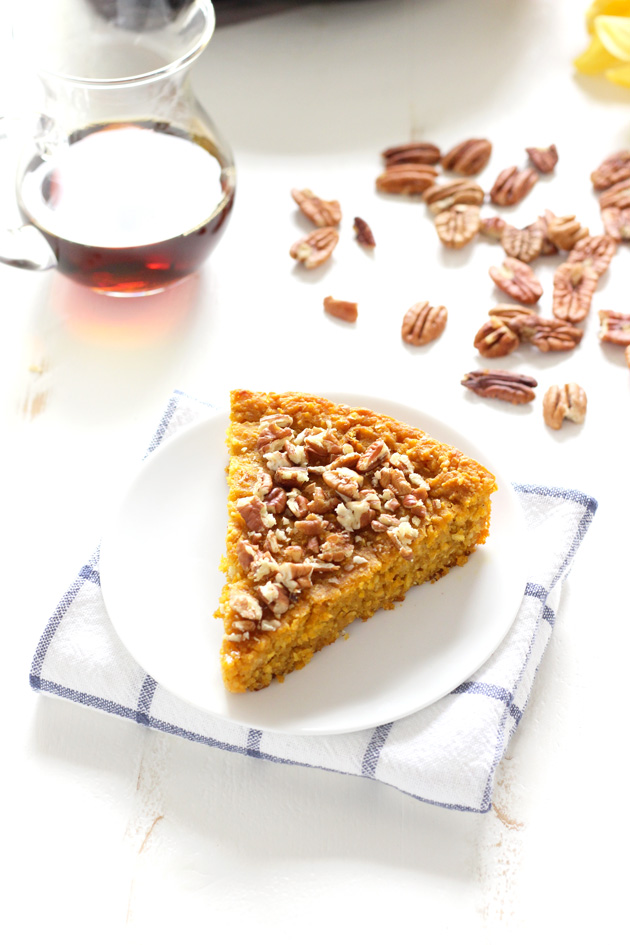 A good cornbread is essential. Put this one on the middle of your table and it will go faster than the speed of light, guaranteed. I have to stop myself from eating piece after piece. You know I'm a problematic snacker right? Anyway, this is healthy! (Raise the roof!). There is nothing in this you cannot eat uncooked. It's super quick and easy to make, and serves 8-10 peeps.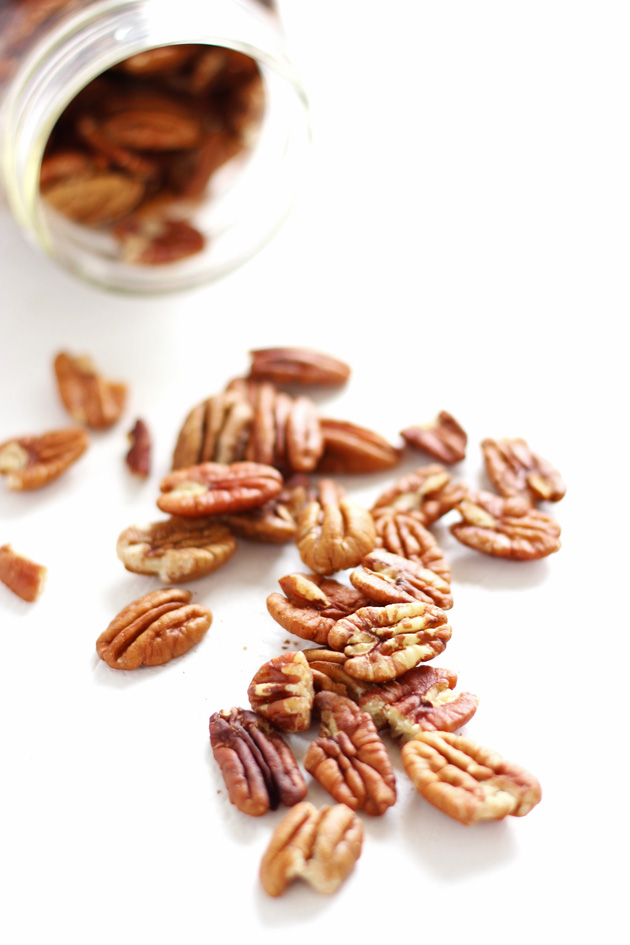 I brought it hard with all the Thanksgiving flavors. You got your maple, your pecans, your pumpkin, and this is all in one screamingly healthy cornbread. Maples and pecans are both naturally sweet, so combined together they form an even sweeter union. Incorporating pecans to your everyday diet is a good way to load up on essential vitamins, minerals, and proteins. A handful goes a long way. Who knew right, Go Pecans!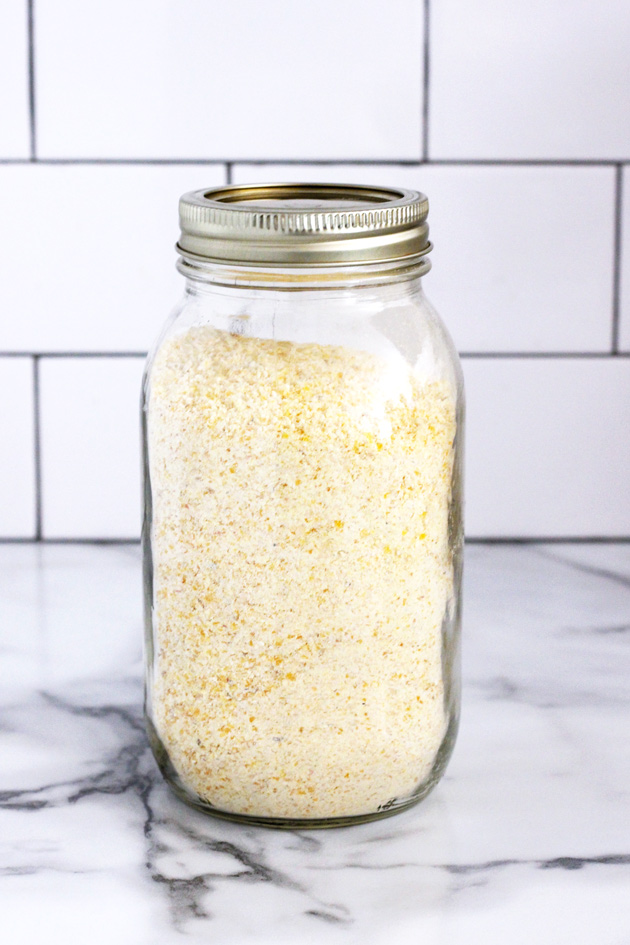 When you take a look at some traditional, non vegan cornbreads, the ingredients are pretty sketch. They are heavily loaded up with unhealthy fats and some recipes even call for animal fat drippings. This cannot be good for you. I get it, for some people it's just a once in a while type of thing but when you know there is a healthier version out there, that tastes just the same or even better, why not skip the clogging  your arteries part. Most corn is genetically modified so make sure to use an organic cornmeal too.
Can we talk about pumpkin for a sec. I did warn you that I look for any excuse to add pumpkin to anything. I take full advantage of pumpkin season. I don't play. Did you see my Pumpkin Streusel Muffins!? O.M.G. Amaze. Make them too while you're at it. I mean, the pumpkin needs a home! LOL #pumpkinproblems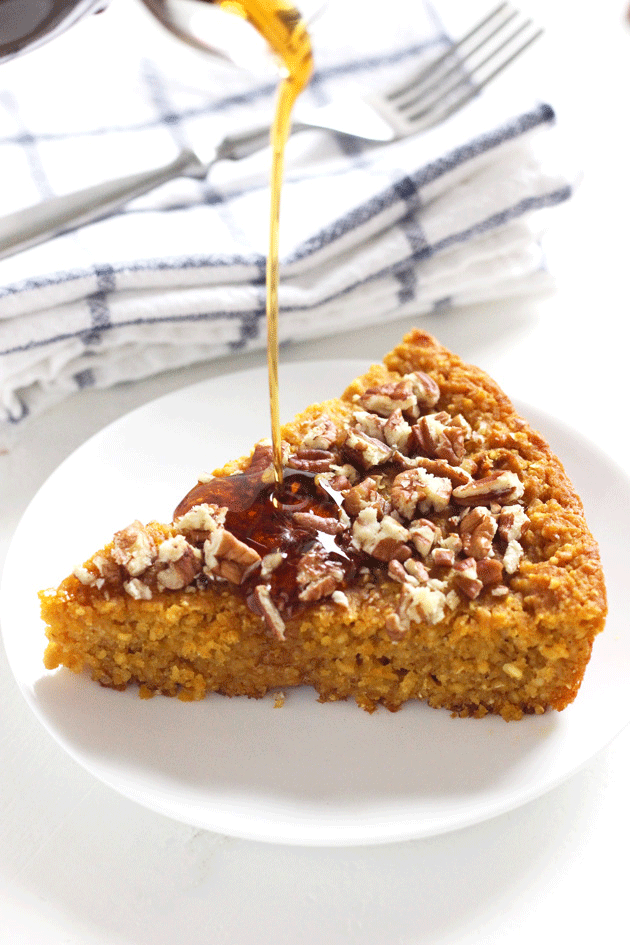 Oops!
As I was shooting a pour shot, I got a little heavy handed with the maple syrup. I thought this was hysterical and needed to share it. I took the spilled maple and spread it over the remaining cornbread, so it worked out. A little extra maple ain't never hurt no one.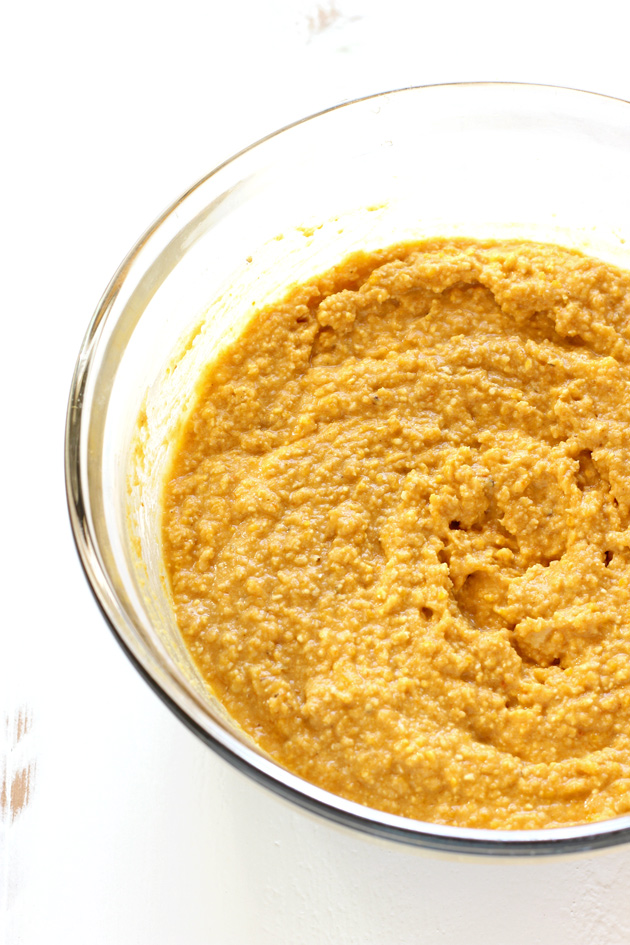 Pumpkin Err-thang! 🙂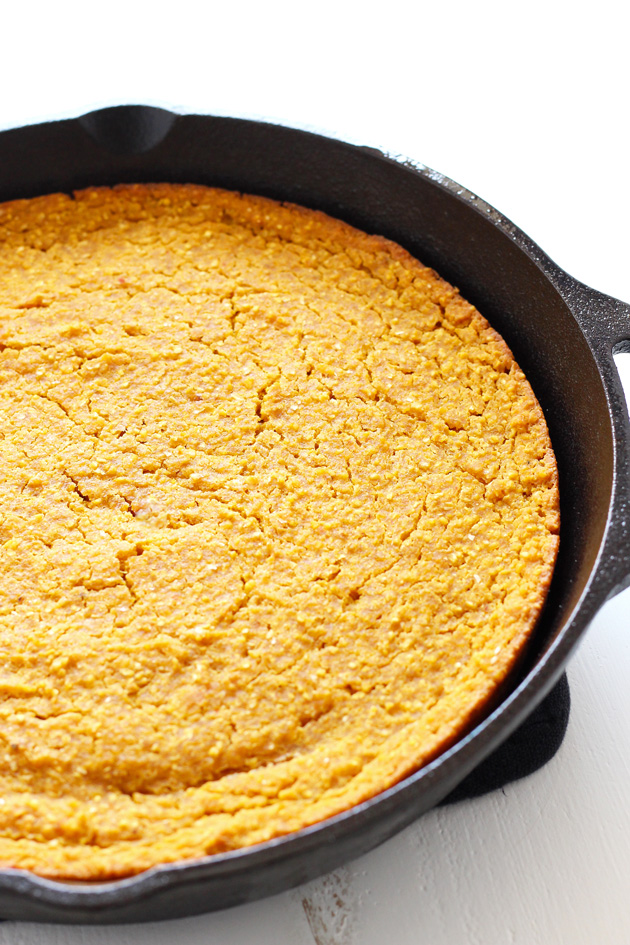 I'm going to go off cornbread topic for a minute and talk about my new, handmade wooden backgrounds by Erickson Wood Works. I ordered two, double sided backgrounds from them and they are handcrafted, beautifully. I have a very vintage, shabby-chic style and I am obsessed with reclaimed wooden backdrops for food photography. I am always out and about searching high and low for the next best piece of wood I can use but that search is over. I love this husband and wife team (Ginny & Doug), and all their backgrounds, so I am forever a customer. 🙂
Featured in this recipe is my favorite Distressed White background. But get this, on the other side of that is a "Cookie Sheet"style. That is used when I want a more sexier, moody vibe for my food. It's a win win here my friends; a spruced up delicious cornbread and some awesomely handcrafted wood works.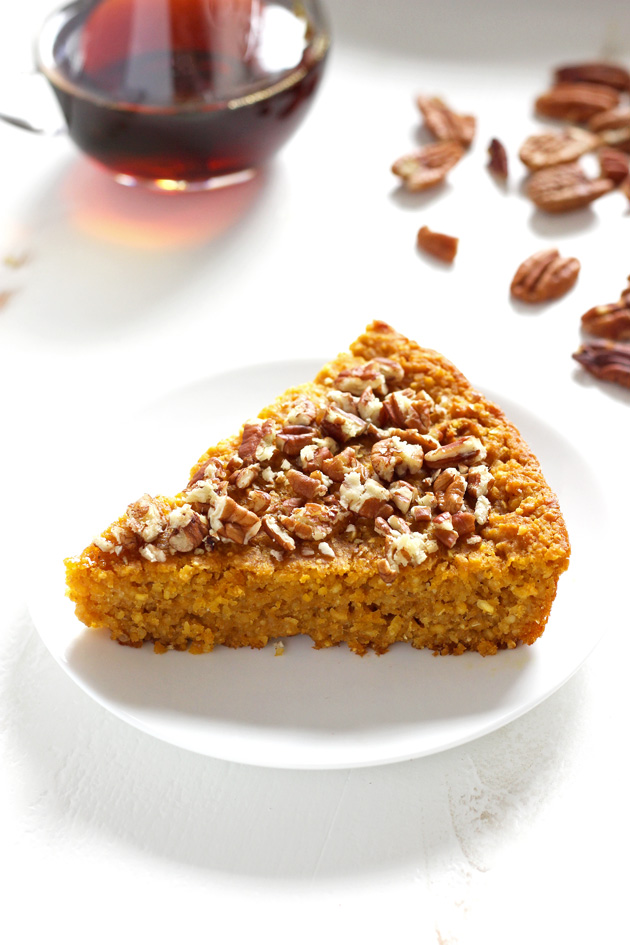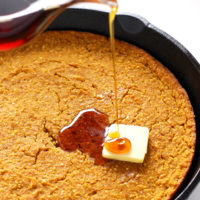 Maple Pecan Pumpkin Cornbread
Sweet maple, pecans, and pumpkin all in one screamingly healthy, sinfully delicious dish.
Ingredients:
1 cup whole wheat pastry flour
1 cup organic cornmeal
pinch of pink rock salt
pinch of cinnamon
1/2 tsp baking soda
1/3 cup ground up pecans
1 cup almond milk, unsweetened
1/4 cup apple cider vinegar
1/2 cup coconut oil, melted
12oz pumpkin puree
1/4 cup maple syrup
1/3 cup coconut sugar or brown sugar
Toppings
maple syrup, as desired
1 cup crushed pecans
vegan butter
dash of cinnamon
Directions:
Preheat oven to 375F and spray 9" cast iron skillet with non stick cooking spray or lightly grease it with coconut oil.
In a small bowl, combine almond milk and apple cider vinegar. Set aside.
Sift together all dry ingredients, cornmeal, whole wheat pastry flour, ground pecans, salt, cinnamon, and baking soda.
In a separate bowl, whisk together all wet ingredients, starting with coconut oil and sugar first, pumpkin puree, maple syrup, and lastly the almond milk apple cider vinegar mixture.
Fold dry ingredients into wet and do not over mix. I used a rubber spatula to sift and fold and a whisk for the wet.
Bake for 30 minutes or until tooth pick inserted comes out clean. When finished baking, let sit to cool, off of the oven, for 5 minutes.
Top with extra pecans, drizzle with maple syrup, and add vegan butter.
Cut, serve and enjoy!
-Stores well in the fridge for up to 4 days.