Spicy Quinoa and Broccoli Vegan Cheddar Bake
jump to recipe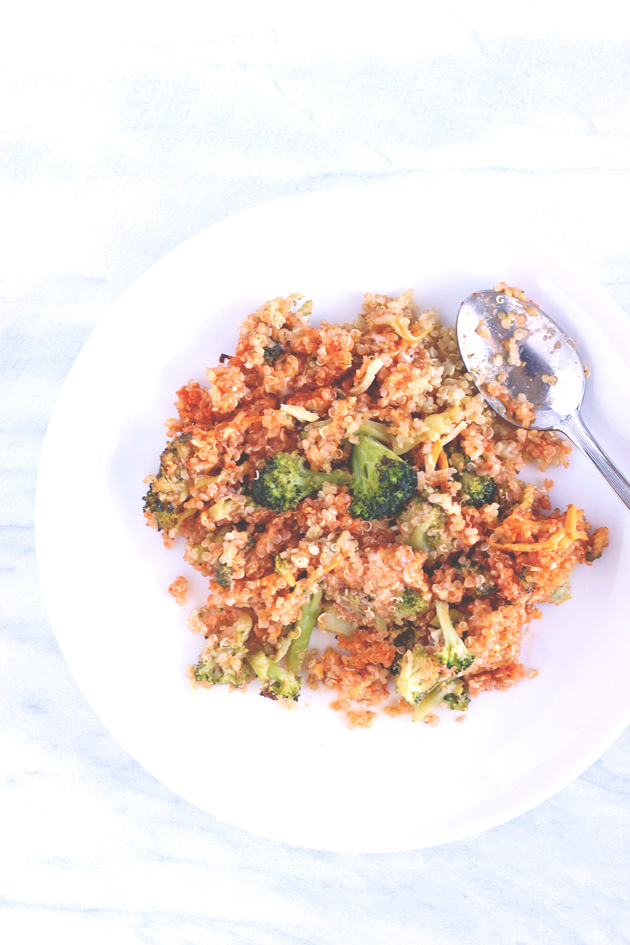 Howdy Healthee's, how was everyone's weekend? We have sooo much to talk about! Ok first before we get into the deliciousness of this recipe and what it's all about I wanted to talk to you guys about how I'm going to be branching out more. I'm not only a food blog. I'm a Mom and moms have a lot to say. Well women in general usually have tons to say but anyway, instead of talking to myself I figured I'd just talk to you…like duh!
So what's poppin' this week is I'm in school right, as you know, studying Health Sciences. I'm learning a ton, I mean like a ton of good quality stuff that I really think you all can benefit from. For instance, meditation. I'm working on a whole post regarding meditation, it's benefits, the whole mind, body, spirit, soul connection thing. I want to help teach you how you can incorporate meditating into your lives, how to do it "properly" and what goes on in your head during that time of finding some inner Zen. But I'm going to be doing more posts like that too. It's important to keep all aspects of our lives healthy, not just the physical being. It may sound like quackery to some, but I assure you, it's not. And you'll be highly pleased with all there is to learn! Like so much. And besides you get to know more about the face behind the plate and what else I'm up to besides eating (chocolate all day).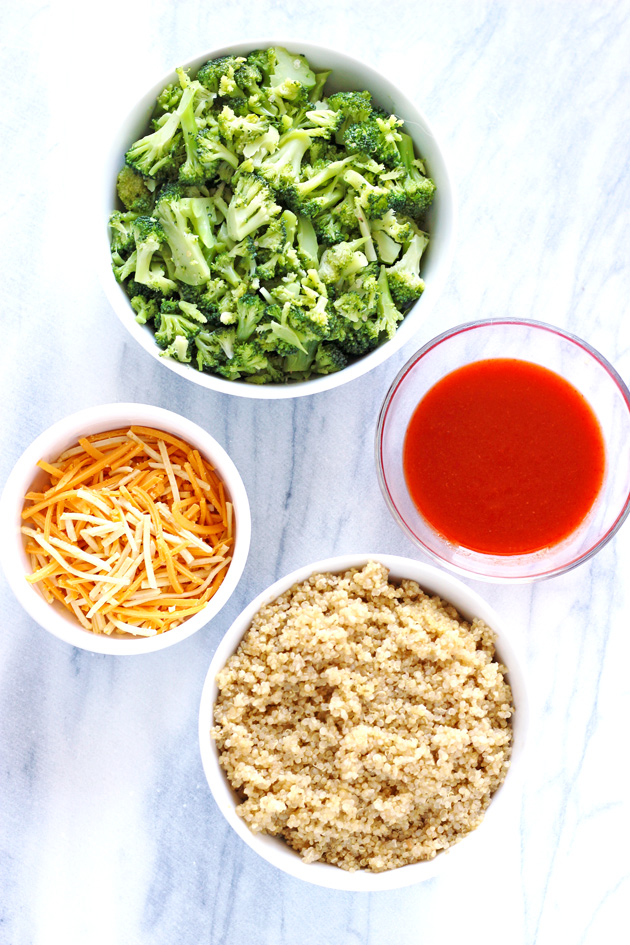 I knew 2016 was going to be different. I notice I'm open and less afraid to do things I normally wouldn't do. I feel because I've been paying attention to my subconscious, that has a lot to do with it. You ask for help from your higher being (whatever it is you believe in) and you will get the help you need. And everything I'm reading and learning, is right on point with things I've been asking. I guess you could call it synchronicity. When you trust and believe, the Universe lines up what's meant to be, it's totally true.
Ok, so now that you know all about the positive changes coming to NM I hope you're as excited as I am about it. Knowledge is key ladies and gents and I feel the more you know the more you can do. Now, let's chat about this Spicy Quinoa and Broccoli Vegan Cheddar Bake, because I don't know about you, but just looking at it has my mouth watering all over again! This is so simple, yet so super delicious. When I first made it, I could not put my spoon down. I literally was shoveling this into my mouth like a wild boar. I have no shame sometimes. I eat like I'm in with a pack of wolves. But hey, it happens when something tastes that good and just so happens to be good for you.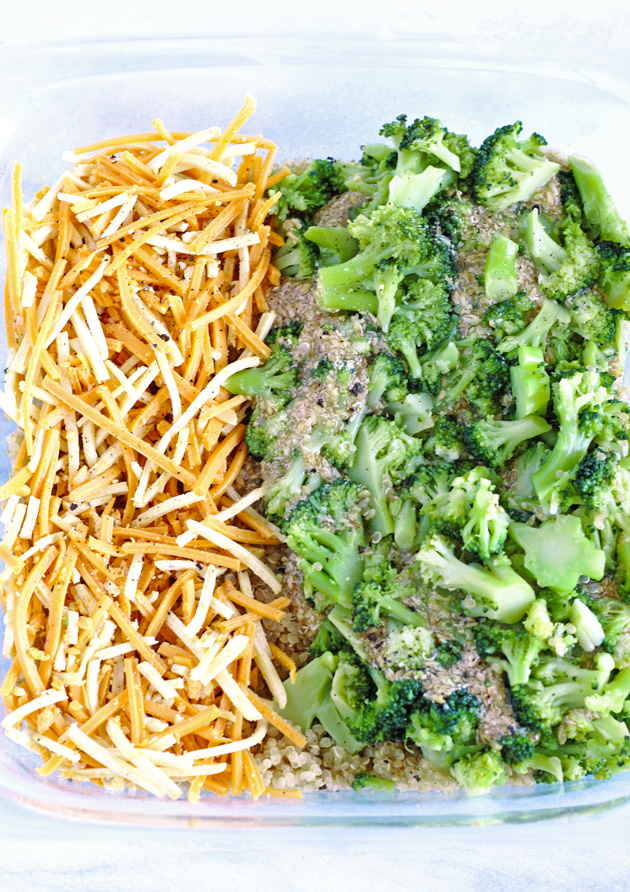 That cheese though 👌🏻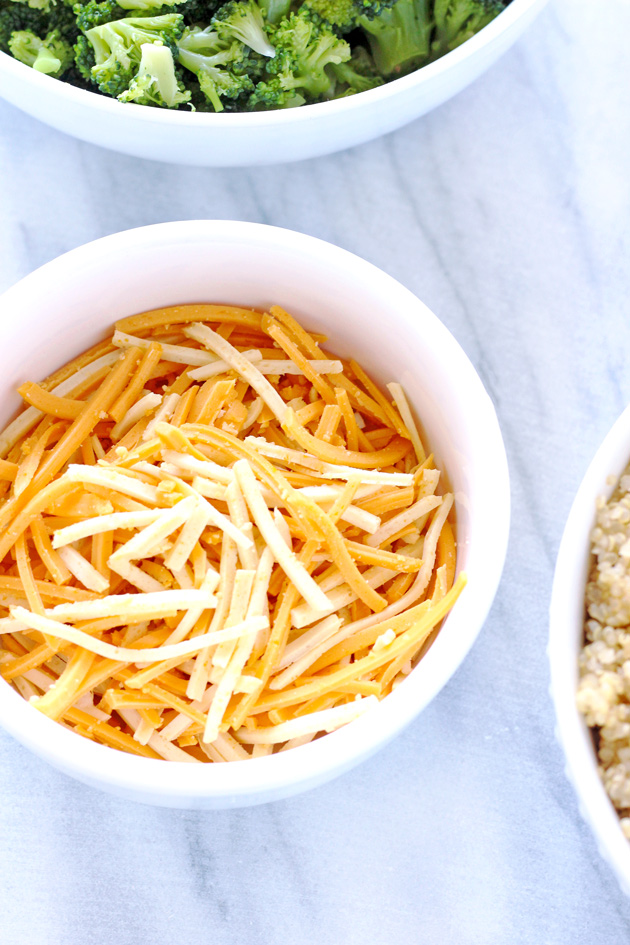 What you'll need to make this delightful dish is quinoa cooked in veggie broth, vegan cheddar cheese shreds, steamed broccoli, some sirracha or any hot sauce of choice, 2 flax eggs, with some seasonings. I'm not even kidding, that's all you need.
To make the quinoa be sure to rinse and drain it thoroughly. It's usually 1 cup of quinoa to 1 1/2 cups to vegetable broth (low sodium). Let it boil, then cover it and let it simmer for 15 minutes. When it's done you'll have fluffy quinoa all ready for your bake.
You can prepare the broccoli however way you like. I typically steam my veggies if I don't eat them raw but for this I feel steamed is best because it's going to be baked anyway.
To make the flax eggs it's 1 tbsp of flaxseeds or meal to 3 tbsp of water. That ratio equals 1 egg, double that to make 2 "eggs". I use this to bind the quinoa during baking time. Someone not plant based would use regular eggs for this.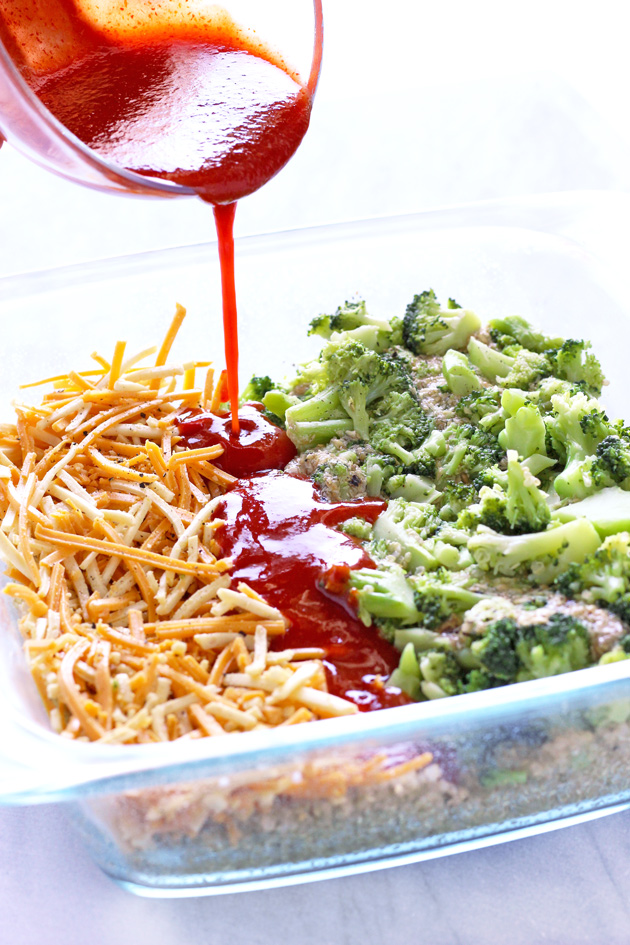 Spicy! 💃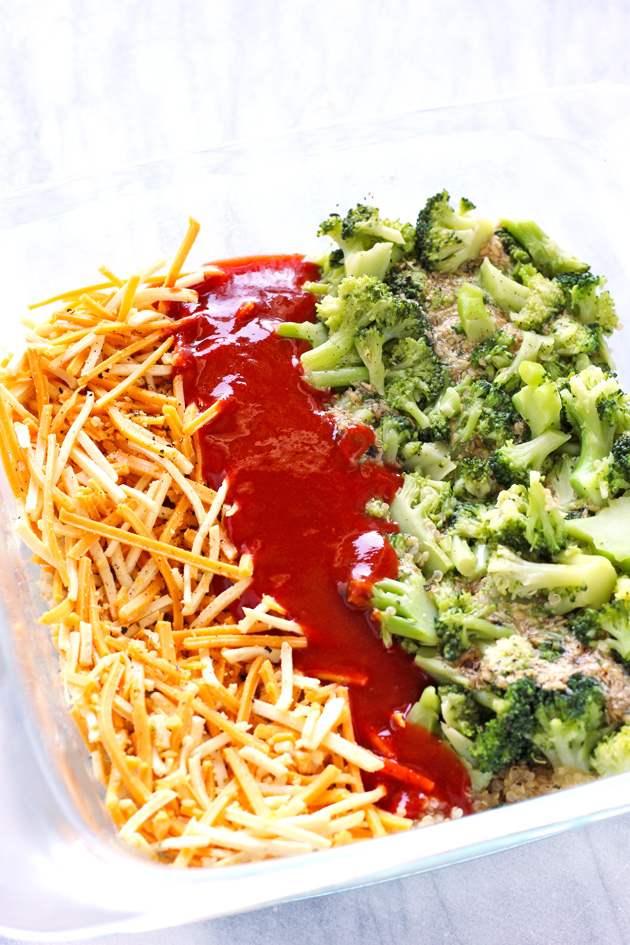 When you have everything together, quinoa, broccoli, vegan cheddar shreds, flax eggs, salt, and pepper, put it all in an 8×8″ baking dish sprayed with non stick cooking spray. Mix all the ingredients until well combined. Turn your oven to 350F and let it bake for 30 minutes. You can top with extra vegan cheese shreds and broccoli. If you really want to get fancy use a vegan blue cheese to top! Holla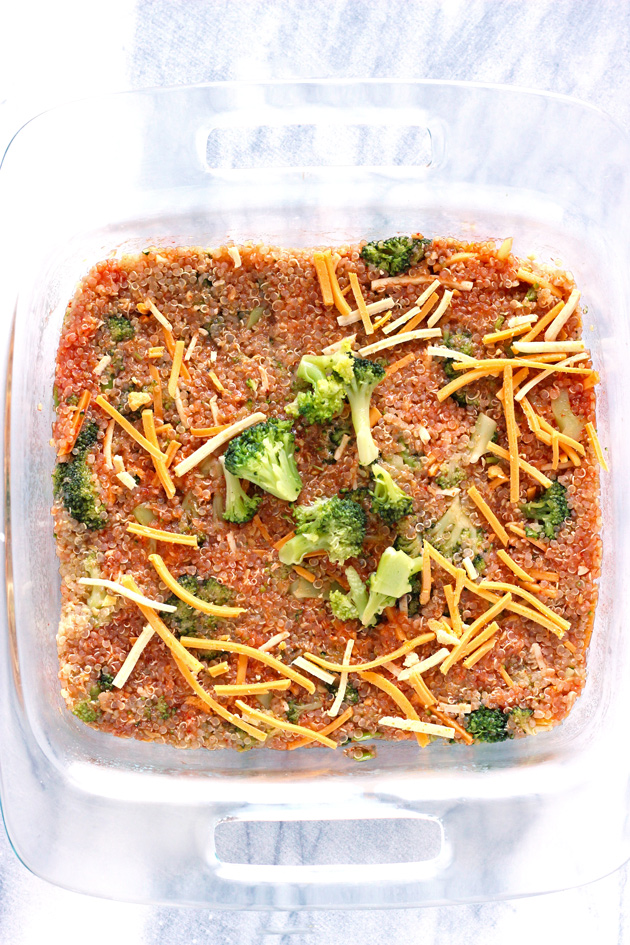 Totally delicious! 😍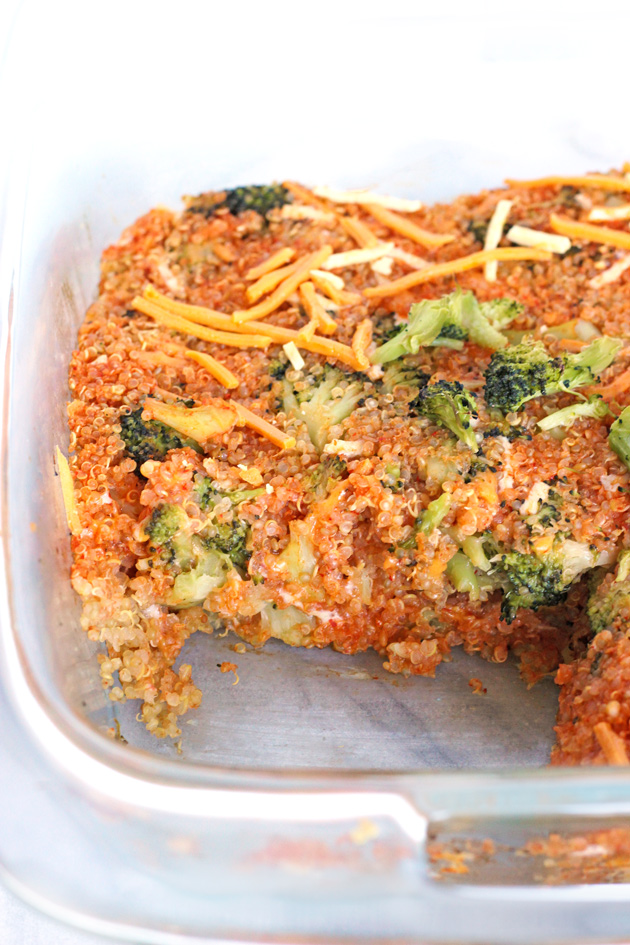 You can bake it longer than 30 for added crispiness. I absolutely adore these flavors. And usually I don't like things spicy spicy, so this is perfect because it's not forehead sweating hot, it's just that perfect kick you need at the end of every bite that's going to have you all like humming about your food (she whistles). 🐾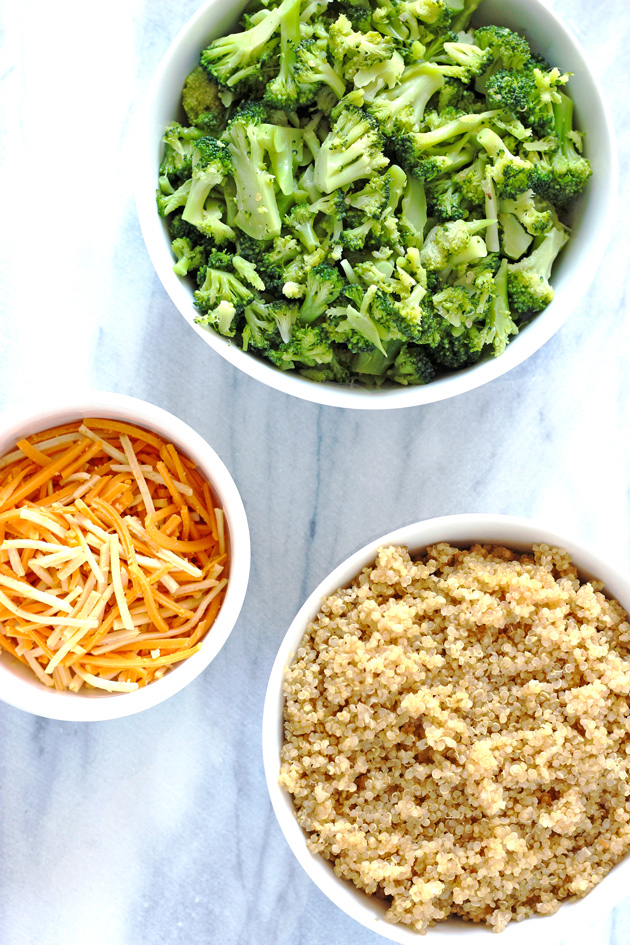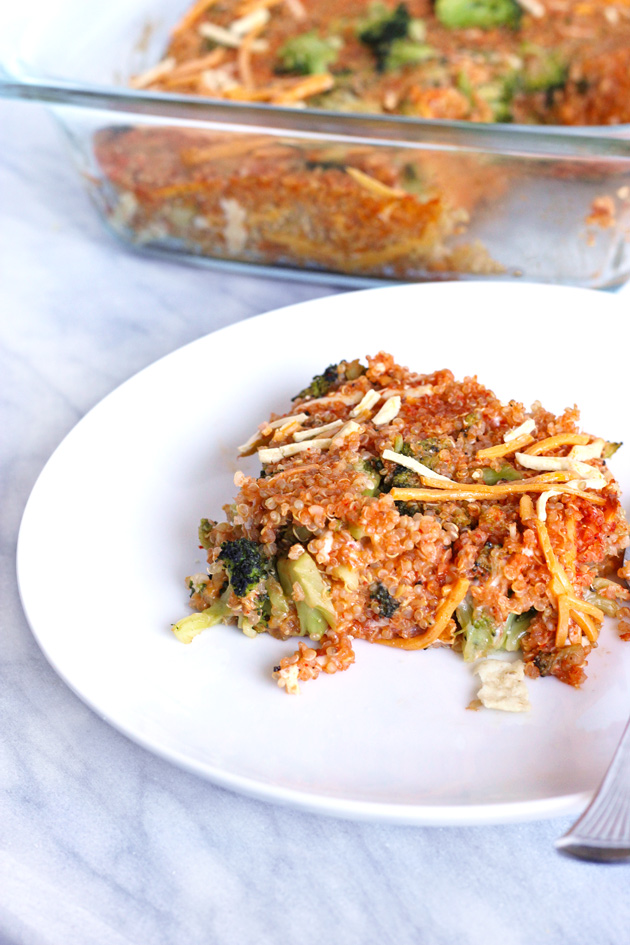 This can be eaten alone as a meal in itself or you could eat some organic tortilla chips with it…did I just say that? I believe I did. Let me tell you, it's da bomb dot com. Ok go getsta cookin' and hit me up with your feedback when you're in Spicy Quinoa and Broccoli Vegan Cheddar Bake heaven.
Like all things quinoa? Then you'll love this recipe too:
Broccoli and Quinoa Breakfast Patties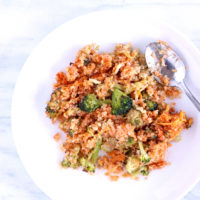 Spicy Quinoa and Broccoli Vegan Cheddar Bake
This spicy, cheesy dish is the perfect healthy comfort food. Enjoy for lunch or dinner!
Ingredients:
1 cup quinoa
1 1/2 cup low sodium vegetable broth
2 flax eggs
1/3 cup hot sauce of choice
1/2 cup vegan cheddar shreds
2 cups broccoli
salt/pepper to taste
Directions:
Preheat oven to 350F and spray 8x8" baking dish with non stick cooking spray.
Prepare flax eggs, 2 tbsp of flaxseeds or meal to 6 tbsp of water equals 2 eggs. Set aside.
Rinse and drain 1 cup of quinoa. Add that with 1 1/2 cups of vegetable broth in a medium saucepan.
Add a little salt, bring to a boil, then cover and let simmer for 15 minutes.
While that's cooking steam your broccoli.
Once everything is set and ready to go, put all ingredients, quinoa, broccoli, flax eggs, hot sauce, vegan cheddar shreds, salt, and pepper to a bowl and mix well.
Spread out evenly in prepared dish and bake for 30 minutes. For a crispier finish, bake an extra 5-10 minutes.
Top with extra vegan cheddar shreds, broccoli, or vegan blue cheese, and Enjoy!
Quinoa can be prepared with water
Lasts up to a week in the fridge.