Last Minute Gift Guide for Mother's Day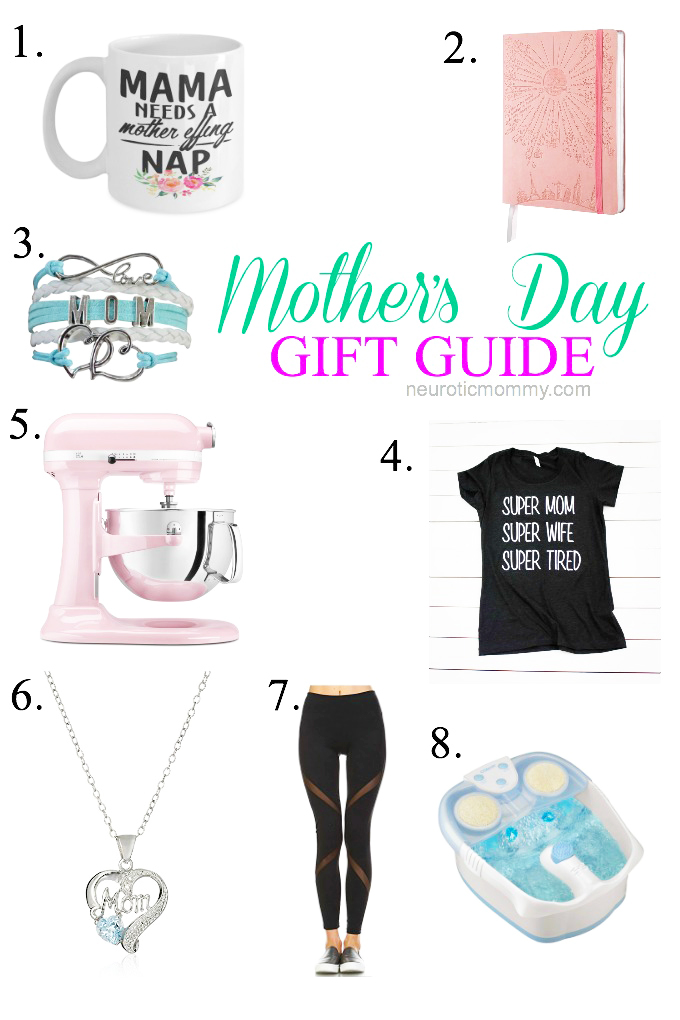 Mother's Day is only a few days away! It's obviously the best day of the year (wink wink mommies). It's so hard to pick out something for mom. Flowers and chocolates are my thing but I also love trinkets, mugs, bracelets and other little things I can use over and over again. The thing is too, it doesn't have to be over the top crazy expensive. There are the most adorable gifts that moms will absolutely love without getting insanely crazy breaking the bank. 
We have special women in our lives whether it's mom, sister, aunt or BFF. These charming gifts will be put to good use, highly appreciated and completely loved. These are gifts styles I particularly fancy. I hope that my selections help you choose something for mom that will make her smile each and every time she uses or wears it. With Love 💜
First I started with the Mama Needs a Mother Effing Nap Mug because what mama do you know doesn't need a nap?!
Second up I chose this Weekly Success and Life Planner – It's a 12 Month Journey Creating Your Dream Life – Personal Journal & Week Planner & Goal Planner & Organizer. Moms have lives too and need to stay on schedule. This is covered with positive affirmations to give Mom the good vibes she needs to begin her day. We all need those daily reminders that we're doing a good job.
Coming in 3rd is the Mom Infinity Bracelet – This is super stylish and you can wear it with just about anything. Perfect for Mother's Day or even just because. This is one of my faves.
This styling Mom T-shirt is absolutely a Mother's Day must have. This shirt is trendy, truthful and humorous among the mommy community. Wearing this shirt you'll gets tons of nods in agreement with you and lots of smiles. Pair this T up with some yoga pants or a pair of ripped jeans and you'll be set this summer. Comes in a variety of styles and colors to suit anyones personal preference.
Of course I had to hit you up with number 5 a Pink KitchenAid Professional 600 Series Bowl-Lift Stand Mixer, 6 Quart. This is what I have and I use it religiously. It's super cute, easy to clean and my cakes, cupcakes, and cookies come out fantastic without me having to put in much elbow grease. Trust me, Moms will appreciate.
The Engraved Crystal Heart Love Pendant Necklace is so heartfelt. My husband got me one from my son and I wear it all the time. It has so much meaning and love behind it. I get so many compliments when I wear it.
These are super comfy and so on trend Yoga Leggings with Sleek Contrast Mesh Panels – Versatile and keeps moms feeling sexy. A great match for the Mom T I posted above.
And lastly the Pedicure Spa with Waterfall, Lights and Bubbles – All moms love their feet to be kept looking pretty. Most of us are on our feet all the live long day either working, running errands, taking the kids to their games/activities, going to the gym, or cooking in the kitchen. This is a great way to unwind, have her put her feet up and relax. Throw a little epsom salt in that for added magnesium and Mom will be all set. Oh and make her a cup of her fave tea or serve her up her fave cocktail so she can really enjoy this spa experience.
And that my dear friends is a wrap!
Happy Mother's Day Moms! You're Appreciated 🙂🙏🏻
*This post contains affiliate links