How to Properly Clean Your Fruits and Veggies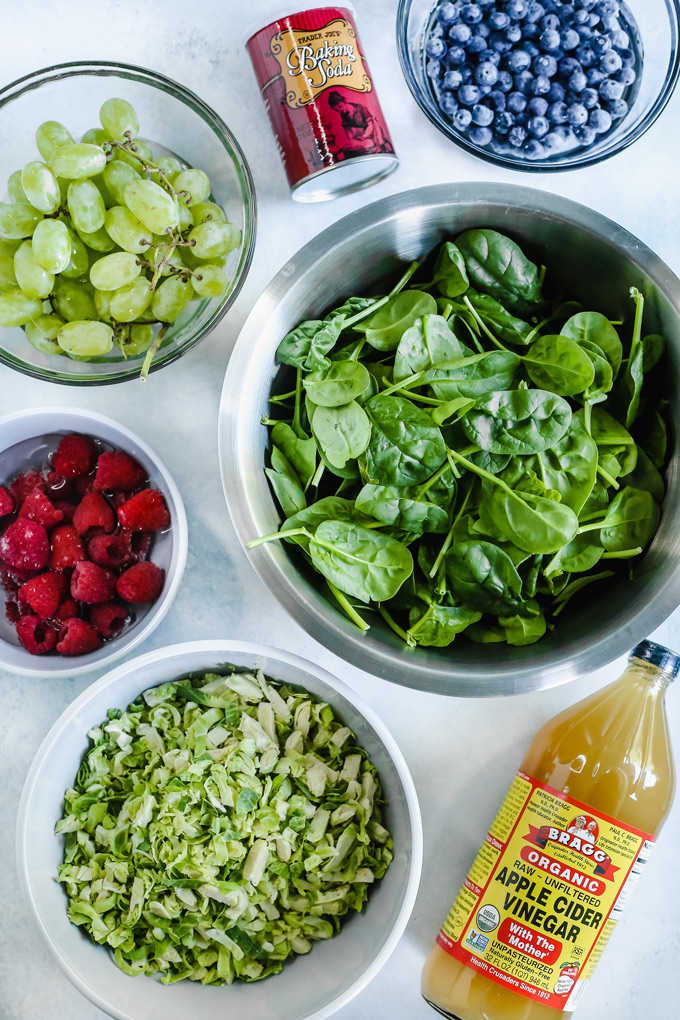 Learning How to Properly Clean Your Fruits and Veggies is super important. Not only does it ensure sparkly cleanliness, free of dirt and debris, but also bacteria! Toooons of bacteria.
On Instagram whenever I post about how I clean my produce I get so many questions so I figured I'd do a blog post just to have it up here whenever someone new comes along who wants the low down.
Here's the thing, cleaning your produce with just water is not cutting it no matter what you have, organic or not organic. Fruit is fruit and veggies are veggies. Some grow out of trees, bushes, and straight up from the dirt in the ground like potatoes.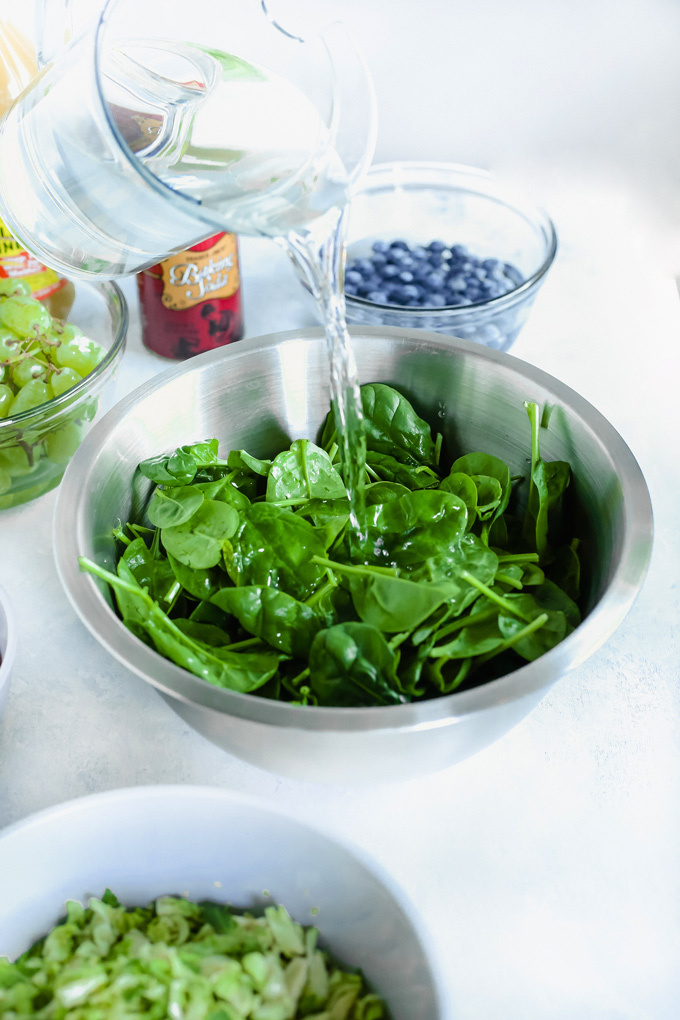 Let's not forget all the traveling these products do, from the hands that touch them, transport them, and pack them, to the barrels, trucks, planes, and everything in between they travel on. Crates, boxes, what have you. Don't think for one second each of these things are white glove clean. Have you seen a fruit truck or fruit stand before?! Those things are filthy!!!
And then there are the bugs…mice, and other rodents. I can't even deal with thinking about it. Being a germ phob my brain takes that extra extra step in thinking of almost every single scenario on how these things can be dirty and what on earth they come in contact with. So it's always best to thoroughly clean your goods for your protection and health.
Getting sick off of dirty produce like lettuce is extremely common. You don't have to be a meat eater to get a bacterial infection like E.coli. or any type of food poisoning. I have a very hard time eating salads out because I'm not sure if the establishment is cleaning their fruits and veggies properly and I don't really want to take that chance. A couple of years ago I ate a salad out and got super sick. Being sick like that is dreadful. But not to worry, by following these 4 easy steps you'll be an avid produce cleaner in no time. You can spread the word to friends and family too and be able to answer any questions that come your way! And hey, if you're one of those people who like to gamble and eats your veggies with a sprinkle of tap water, that's no prob! There's nothing wrong with steering on the safe side when it comes to these things especially if you have little ones who gobble this stuff up like I do.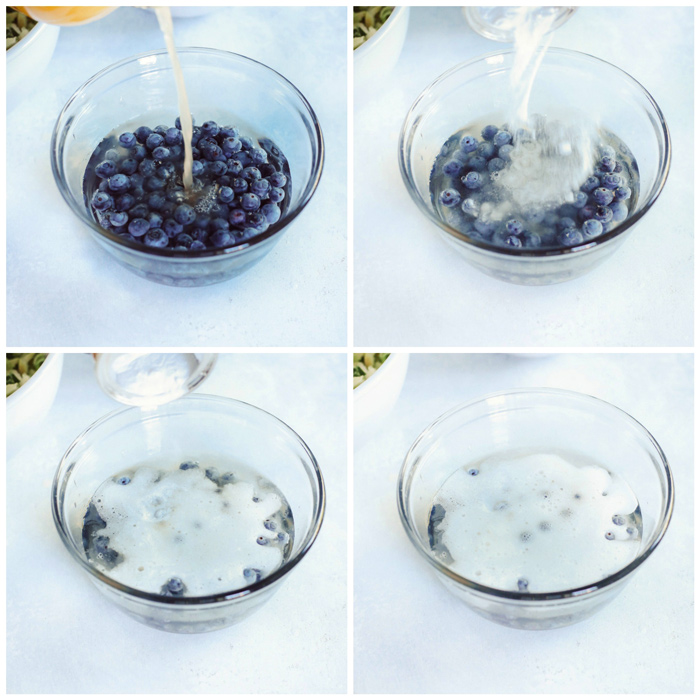 *THIS POST CONTAINS AFFILIATE LINKS, WHICH MEANS THAT I MAKE A SMALL COMMISSION OFF ALL ITEMS YOU PURCHASE AT NO ADDITIONAL COST TO YOU. I APPRECIATE YOUR SUPPORT IN THIS WAY AS IT HELPS KEEP NM UP AND RUNNING.*
4 Easy Steps
Cover fruit or veggies with water (filtered if you can).
Pour in 1/4 cup Apple Cider Vinegar.
Sprinkle in 1 tbsp baking soda.
Drain and rinse thoroughly.
And that's it! I typically don't measure it, I just pour the ACV and baking soda in by eye. Too much won't do any harm. I'm only giving measurements here so you have a guide. These measurements would be good for say 2 small containers of blueberries but use more if you have more in a bowl. Once I have it in the water I give it a good whirl with my finger or spoon and let it sit for 5 minutes. You can do this with any and all fruits and veggies. With potatoes I tend to let them sit for 5 then scrub them after because dirt of root veggies like that can be stubborn.
Pictured above you see how when adding the baking soda it fizzes up, it's pretty cool.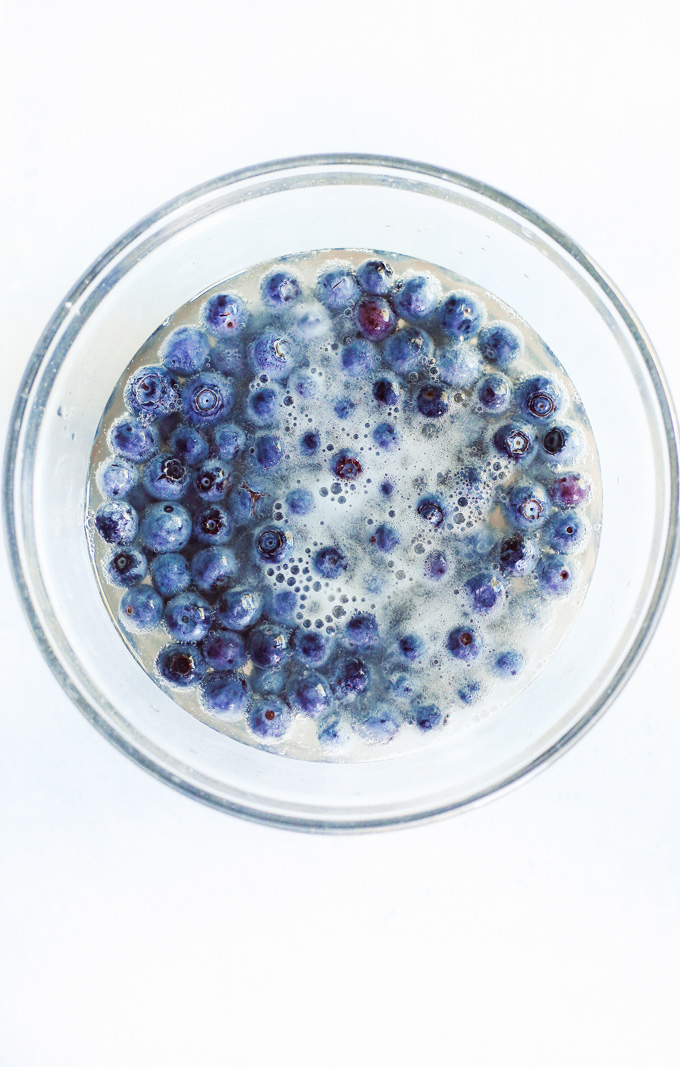 Most Common Questions Answered
Q: Will I taste the apple cider vinegar? A: No, not at all. Once you thoroughly drain and rinse you're good to go.
Q: How does ACV and baking soda actually clean this stuff? A: Apple cider vinegar removes bacteria, can kill viruses, and is non toxic. Baking soda acts as a cleaning agent because it is a mild alkali and can cause dirt and grease to dissolve easily in water for effective removal.
Q: How long do I let it sit in the mixture? A: You can let it sit 5 minutes or more.
Q: Do I have to clean my produce even though it's organic? A: YES! No matter what all fruits and veggies should be cleaned.
Q: Does this affect the texture of the fruits and/or veggies? A: No not at all. The only one that I watch are raspberries. They tend to get mushy so I take them out quicker.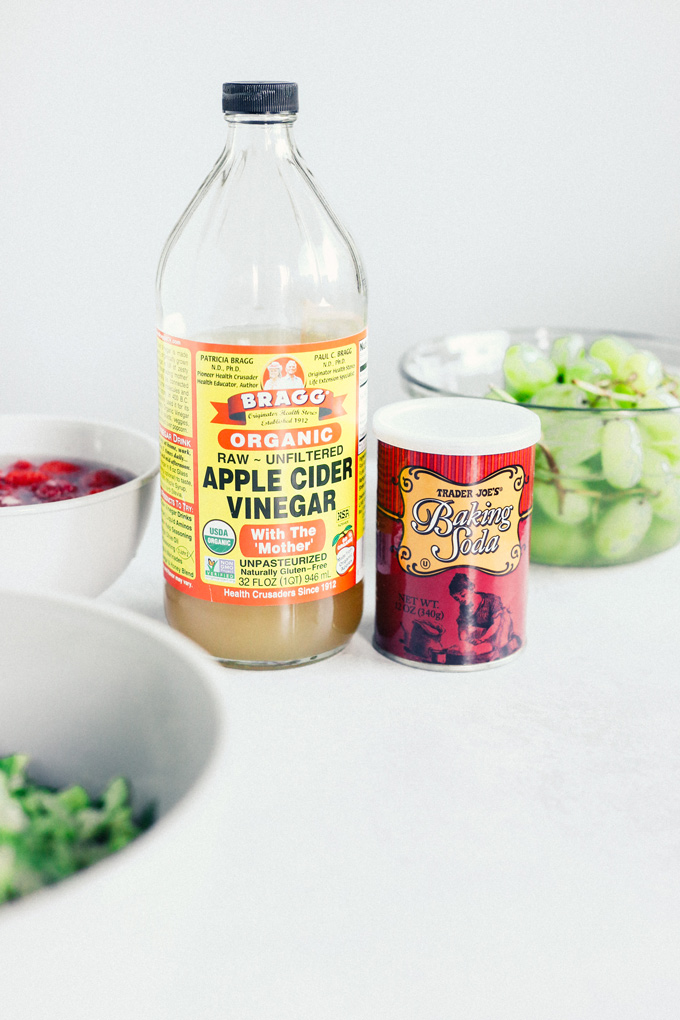 Produce like avocados and mangoes I rinse with water before I cut open. You're not eating the outside but it's good to just give a quick rinse incase there's anything chilling on their rinds and skins.
And there you have it! An easy guide on how to properly clean your fruits and veggies in just 4 simple steps.
Also side note: if you have a filter attached to your sink (lucky) you can fill up your sink with water and add in as many fruits or veggies as you'd like and pour in the ACV and baking soda that way and save yourself some time. I don't have that so I have to use a bowl for each one or wait till one thing is clean to do the other. No biggie though, I'm use to it.
Happy Cleaning!
If you found this article useful please share it! Thanks!
How To Properly Clean Your Fruits And Veggies
How To Properly Clean Your Fruits and Veggies - Ensure quality freshness and cleanliness by cleaning your fruits and veggies properly and thoroughly.
Ingredients
Filtered Water
1/4 cup apple cider vinegar , (or more depending on how much produce you're cleaning)
1 tbsp baking soda, (or more depending on how much produce you're cleaning)
More water for rinsing
Instructions
1. Cover any fruits or veggies in water.2. Pour in apple cider vinegar and baking soda. Give it a good whirl with your finger or a spoon. 3. Let sit for 5 minutes or more.4. Drain and rinse thoroughly.
~PIN FOR LATER~

WE ARE A PARTICIPANT IN THE AMAZON SERVICES LLC ASSOCIATES PROGRAM, AN AFFILIATE ADVERTISING PROGRAM DESIGNED TO PROVIDE A MEANS FOR US TO EARN FEES BY LINKING TO AMAZON.COM AND AFFILIATED SITES.