Vegan Bruschetta and Arugula Flatbread Pizza With a Balsamic Glaze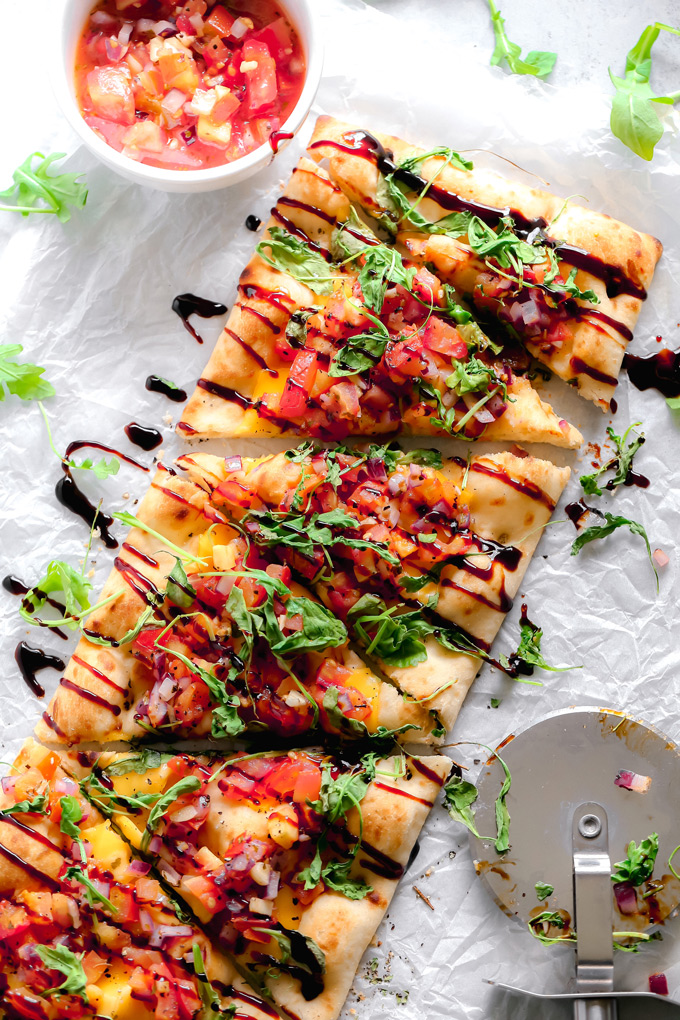 Ahhh, this fall season is giving me all the freakin' feels! Now that the 80 degree hot, humid weather seems to be letting up, I can whip out my boots and retire the flip flops till next year. Speaking of next year, it's literally only like 3 months away. Can't. Even. Deal.
And speaking of all the feels this Vegan Bruschetta and Arugula Flatbread Pizza with a Balsamic Glaze (say that three times fast) not only gives me all the feels but is one of our most beloved recipes here in mi casa. I honestly don't know why I haven't posted it sooner. It's very simple with basic ingredients leaving you with and epic nutritious dinner set and ready to go in under 20 minutes.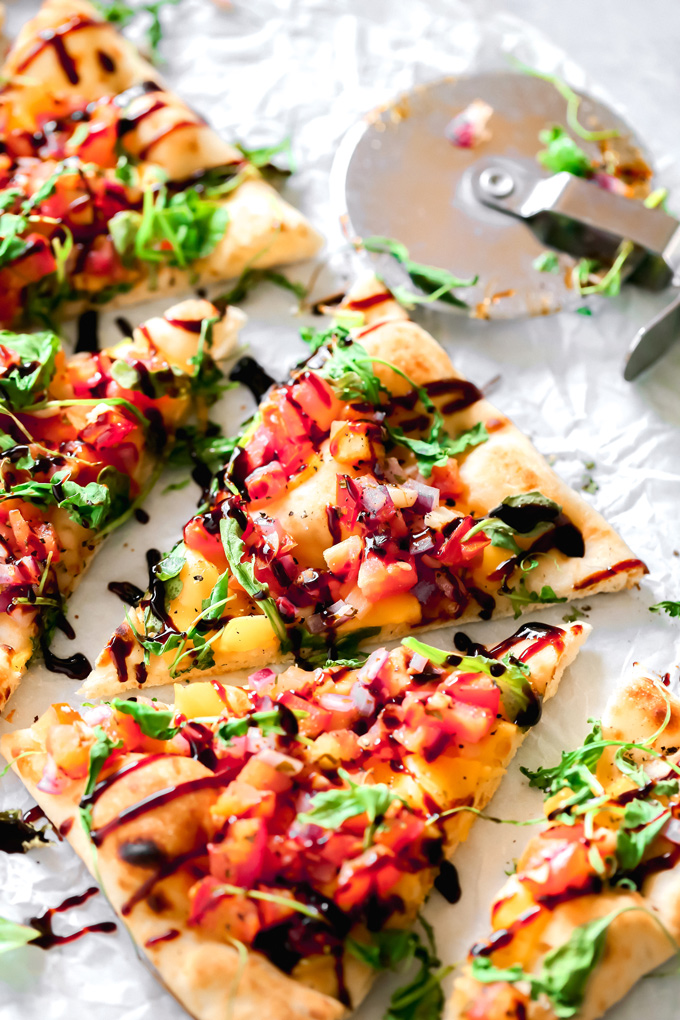 We always keep ready made flatbreads on hand. I pick up organic ones from either Trader Joe's or WholeFoods but I'm pretty sure you can find them anywhere. I also make the BEST homemade bruschetta. This is one of those things I make at the beginning of the week and use in various different recipes like hummus bites and pasta dishes. But our most favorite is to top it with this flatbread pizza. It's one of the stars of this show I'd say.
Bruschetta with arugula and melted vegan cheese all together equals total YUUUUMS. The flavors marry so well and it's legit like something you'd find at a restaurant. Or should find at a restaurant IMO (in my opinion). I top this with a balsamic glaze and that brings it all together. It's that sweet, savory type thing with just a sprinkle of salt and pepper….bellisimo.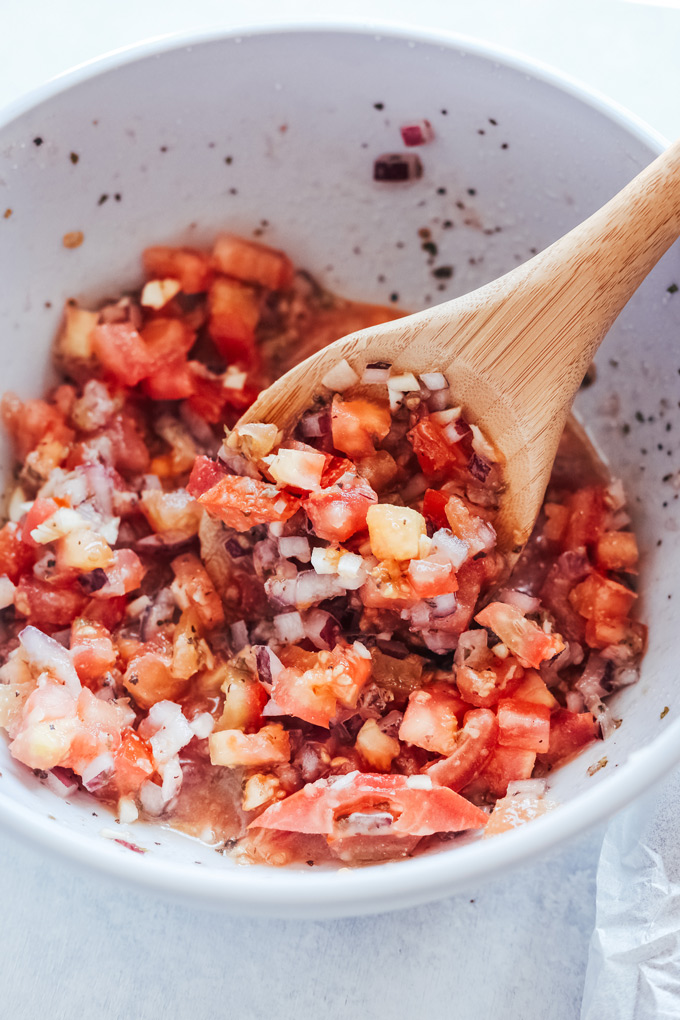 When you make the bruschetta ahead of time it gets to sit and marinate. I love it when it's first made too but it's even better when it's able to sit for a bit in the fridge that's why I make it at the beginning of the week usually. The rest is just as easy.
This is the set up:
Break up the cheese into squares and place it all over the flatbread. I always put it first because it will get super melty there as opposed to throwing it on top where it won't melt as much. Then I add the bruschetta and you can add however much you'd like. Then I top it with fresh arugula and pop it in the oven at 350F for 15 minutes. It comes out perfection. Theeeeen drizzle on some balsamic glaze and you'll be all set!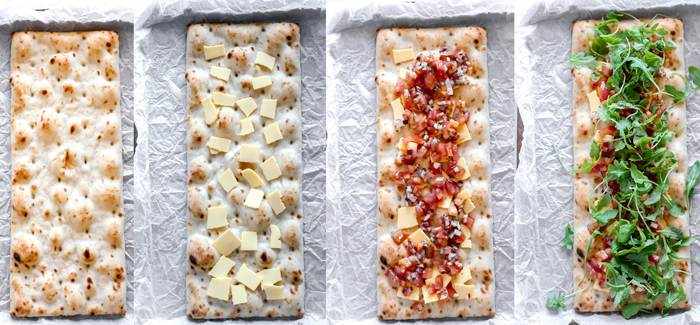 *THIS POST CONTAINS AFFILIATE LINKS, WHICH MEANS THAT I MAKE A SMALL COMMISSION OFF ALL ITEMS YOU PURCHASE AT NO ADDITIONAL COST TO YOU. I APPRECIATE YOUR SUPPORT IN THIS WAY AS IT HELPS KEEP NM UP AND RUNNING.*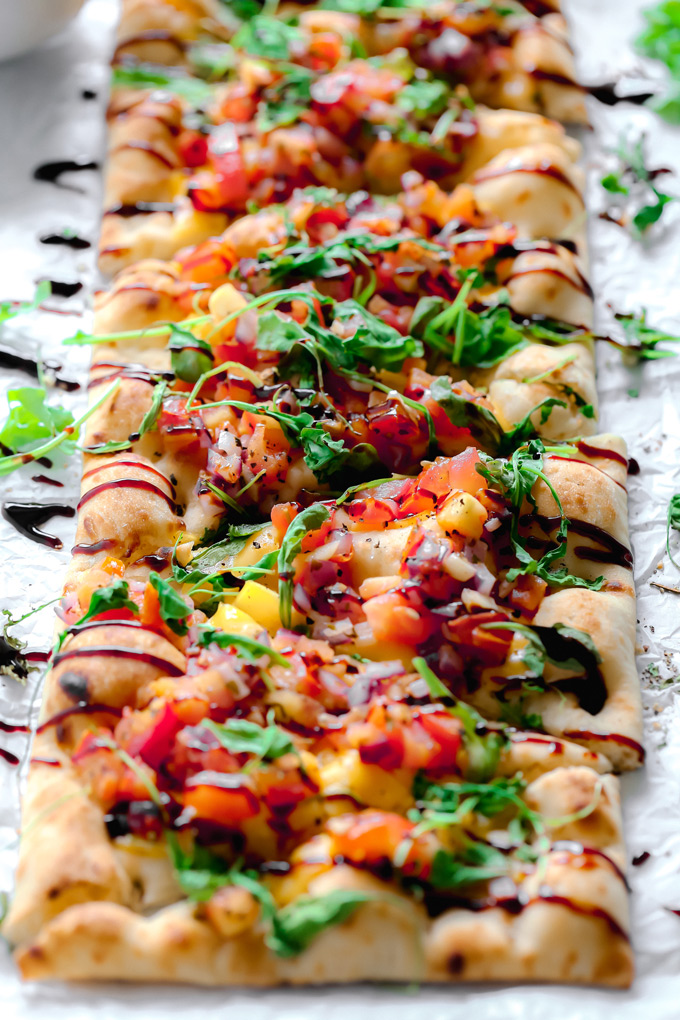 I make two flatbreads because we love leftovers here. I will send this with my son to school for lunch. He usually eats like two slices. I'll put in some cucumber slices, raspberries, strawberries or blueberries (or mixed berries) inside his lunchbox with a granola bar if he wants something sweet. Or sometimes I put in some Enjoy Life chocolate chips too!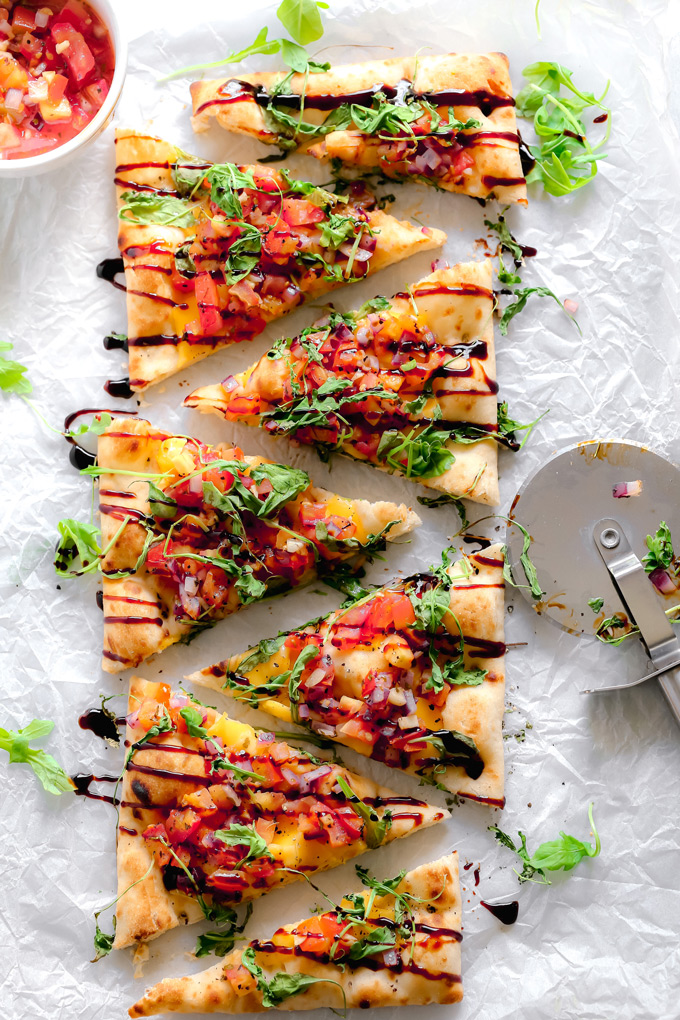 And don't stop at your kids lunches either, this could totally be your lunch as well! Use the remaining arugula as a side salad to give you even more greens…it's totes #lunchgoals.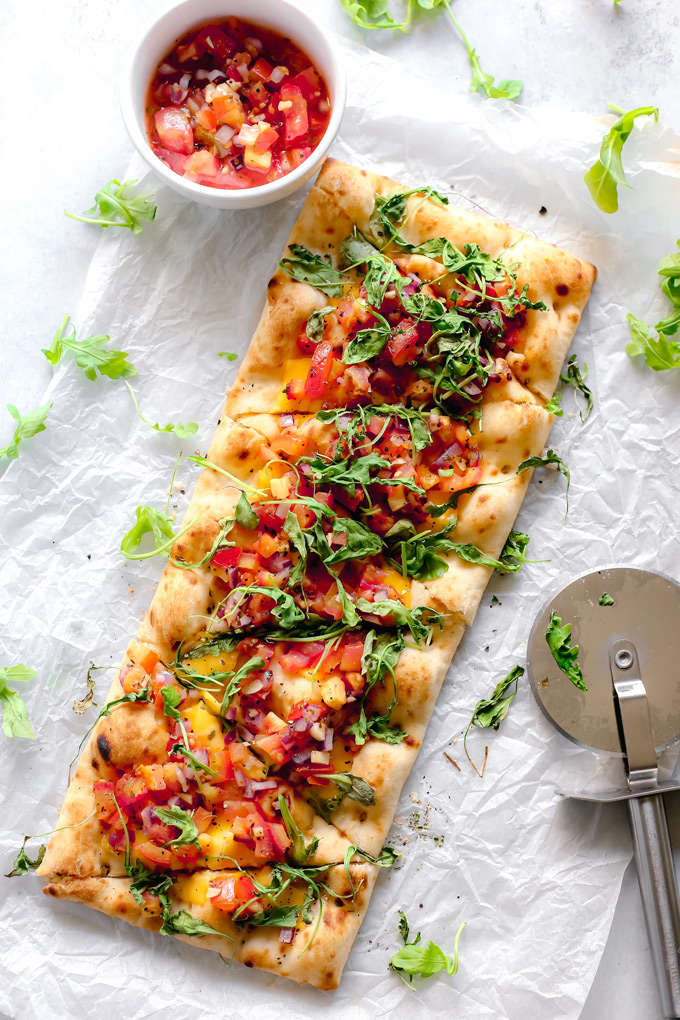 Truly though I could eat a whole flatbread to the face. I believe I did it when I was pregnant with Oliver (I have no shame, lol). I do need to practice more self control perhaps. Well maybe later I will. Until then you guys just need to go make this Asap so you can be on board with the bruschetta flatbread pizza train.
This is Jennifer reporting to you live this Thursday here from NeuroticMommy headquarters where we keep them bellies full and the mouths opened (or closed)? Hmmm, still deciding, lol. Anywhoozers, make this and keep me posted. I know you're going to Loves it!
Vegan Bruschetta and Arugula Flatbread Pizza with a Balsamic Glaze
Delicious easy recipe with immense flavor. Enjoy this homemade flatbread pizza using fresh bruschetta, arugula, vegan cheese, and a sweet balsamic glaze.
Ingredients
1 organic flatbread pizza, (pre made)
1-2 slices vegan cheese
1/2-1 cup fresh bruschetta, (made ahead of time, recipe below)
1 cup fresh arugula
1-2 tbsp balsamic glaze, (less or more to your liking)
salt/pepper to taste
Instructions
Preheat oven according to flatbread pizza instructions. Usually it's 350F.2. Take vegan cheese slices and spread over flatbread by breaking it up into squares. Evenly distribute it. 3. Place 1/2 cup or 1 cup bruschetta on top followed by the 1 cup (or more) of arugula.4. Pop into the oven to bake for 15 minutes. When done remove from oven and give it a minute to set then drizzle on the balsamic glaze and sprinkle with salt and pepper. 5. Cut into slices, serve and enjoy immediately. Keep the leftovers in an airtight container in the fridge and enjoy for lunch the next day!
Notes
You can add more or less of anything in this recipe. 
I like to add fresh arugula on top too after it comes out of the oven. 
Make the bruschetta ahead of time. You can find the recipe for that here.
~Pin This Recipe~

WE ARE A PARTICIPANT IN THE AMAZON SERVICES LLC ASSOCIATES PROGRAM, AN AFFILIATE ADVERTISING PROGRAM DESIGNED TO PROVIDE A MEANS FOR US TO EARN FEES BY LINKING TO AMAZON.COM AND AFFILIATED SITES.