Grilled Watermelon and Pineapple Skewers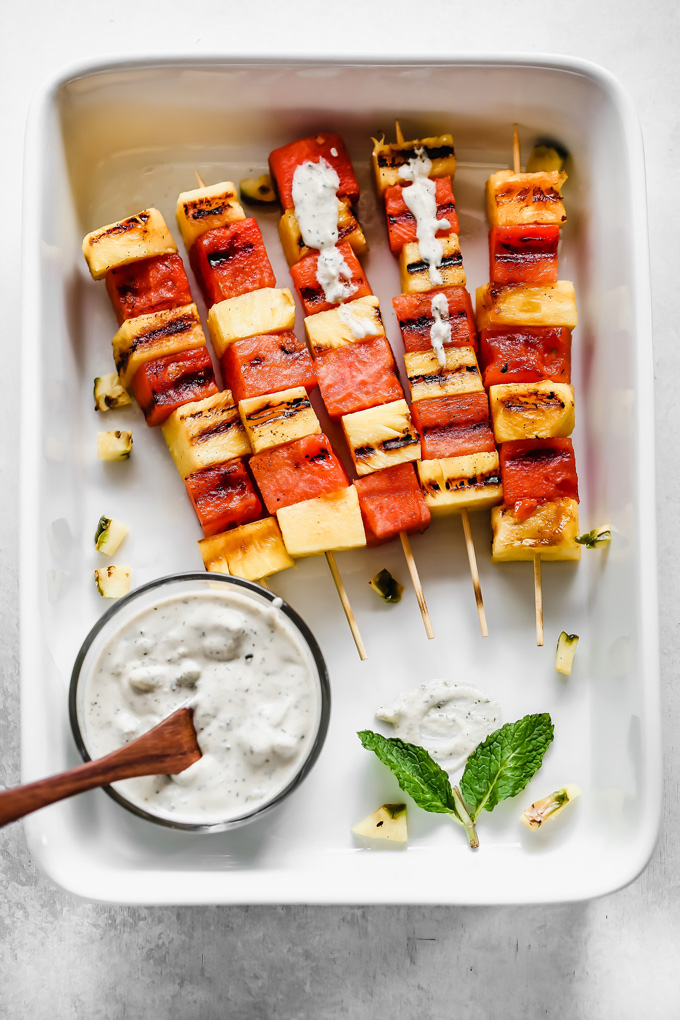 WooHoo, hold the flippin' phone because Grilled Watermelon and Pineapple Skewers just rolled into town and I hear that they're effin' fantastic on all levels.
Drizzled (or you can dip them) in my homemade vegan Tzatziki Sauce, these will give you all the summer realness guuuurl. The Tzatziki with it's hint of mint and creamy deliciousness is all the summer vibes you will need!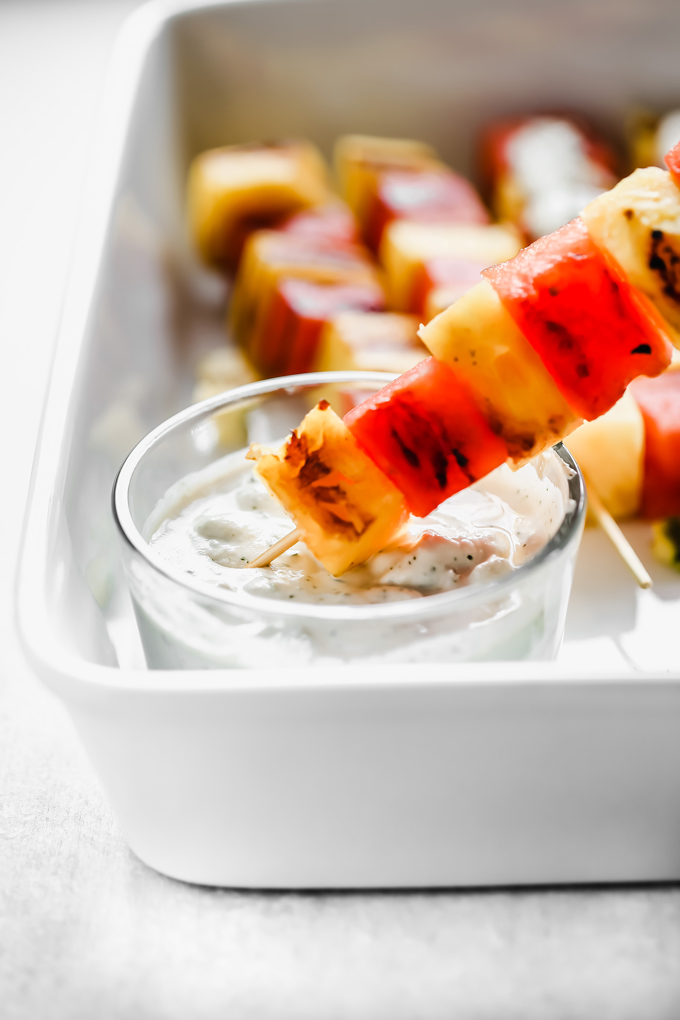 I enjoy making this throughout the summer and they're always a hit at BBQ's and summer parties. They're so simple yet everyone is in such shock when I roll them out. It's always like a light bulb goes off in everyones head "Like, oh yea I forgot you can grill fruit too!" I'm always like ooooook watermelon isn't only for vodka people! haha.
Summer Hit
These babies are super refreshing too. You know when you come back from the pool or beach, and you've been in the sun all day and you're super parched? You need water but you also need vitamins and electrolytes to keep your body hydrated. Watermelon and Pineapple will give you all that you need plus they are super, extra tasty and stay juicy right off the grill. They will help quench your thirst and keep you thoroughly and properly hydrated.
Good for hair, skin, nails and all things beauty. This will boost your natural collagen into action too giving you more of that summer glow. And who doesn't like a little of that right?! Sunkist with a side of radiance?! Yes please!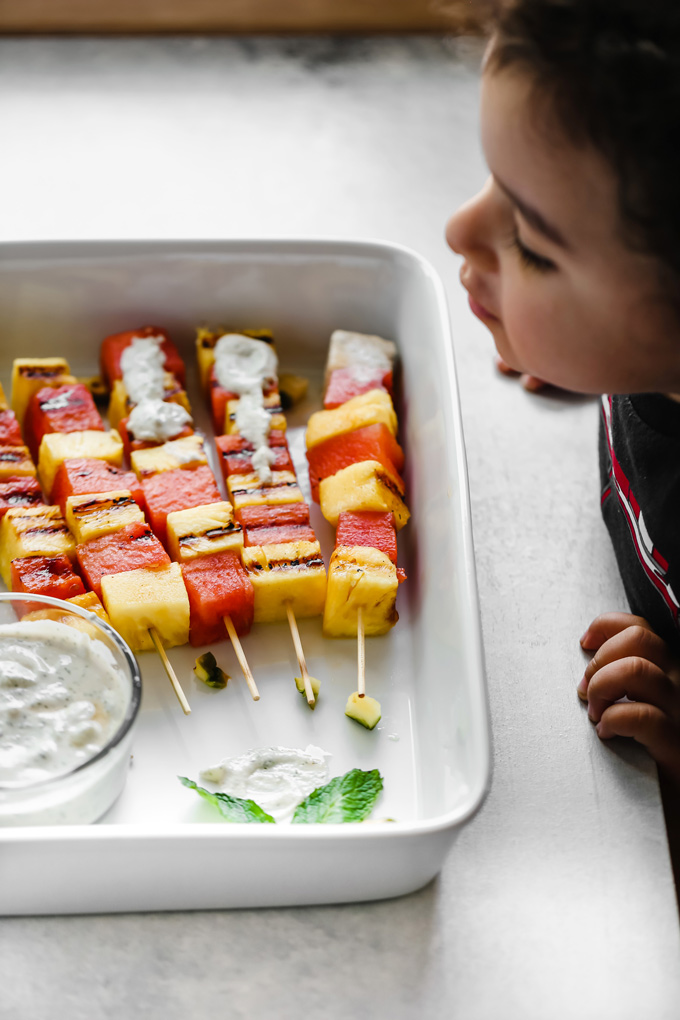 These skewers aren't only for the adults either. While shooting these I had my little one and his sticky little fingers all up in my grill (pun intended, lol). I kept having to remake skewers during this particular shoot because Oliver was all about them. Kids find them so fun and they love to dip and have some sort of drizzle on things so not only do they get in their fruits but veggies too! Do you see his little face though?! So excited, mouth clearly watering, lol.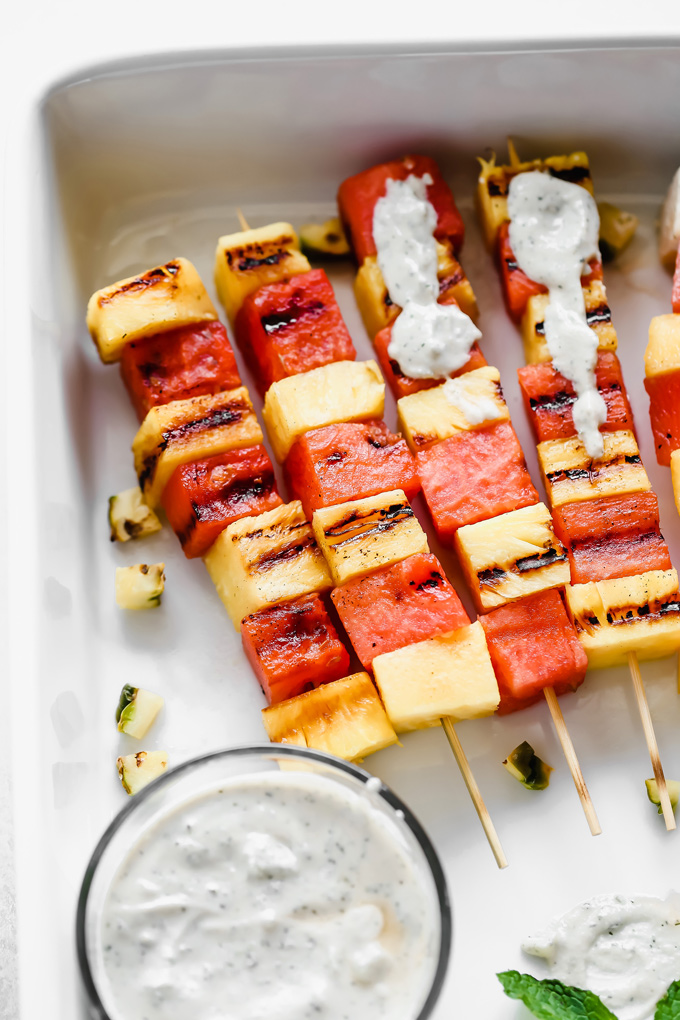 My Vegan Tzatziki is made up of cashews, lemons, mint, parsley, hemp seeds and cucumbers. It's loaded with so many healthy nutrients you cannot go wrong! So whichever way you go here you're giving your body all the goods. Whether it's with the skewers alone, the Tzatziki, or both of them together, you're headed right into summer's healthified direction.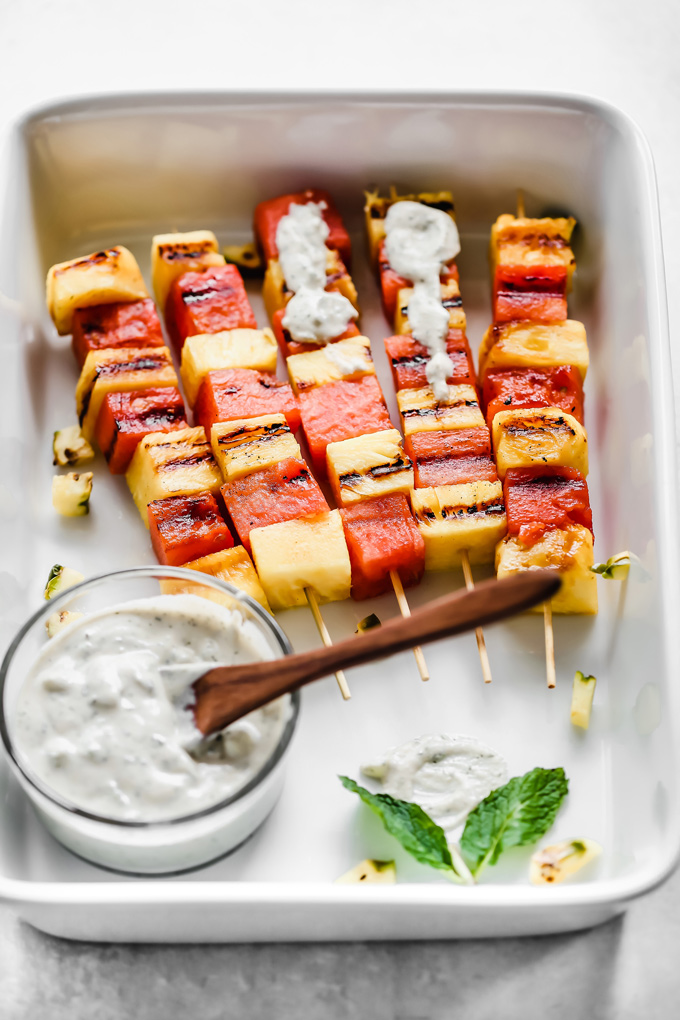 So to sum this entire post up and to bottom line it for ya, waste no time, make these like yesterday. So much yum, so easy, everyone's favorite, a crowd pleaser, all the things. Enjoy!
Vegan Tzatziki Sauce recipe here.
Grilled Watermelon and Pineapple Skewers
Juicy and sweet pineapple and watermelon grilled to perfection then drizzled in a refreshing Vegan Tzatziki sauce bringing you all the tropical, summer feels.
Ingredients
1 watermelon, (cut into squares)
1 pineapple, (cut into squares)
pinch of salt
Vegan Tzatziki Sauce
Skewers
Instructions
Cut watermelon an pineapple into squares or large cubes.

Set the skewers up by places the skewers in the center of the fruit alternating between watermelon and pineapple. I was able to fit 7 on each of my skewers.

Grill on each side for 5 minutes and sprinkle with a pinch of salt if desired.

Place on a large serving tray, dip fruit into sauce and Enjoy!
~Pin This Recipe~