Classic Italian Vegan Stuffed Mushrooms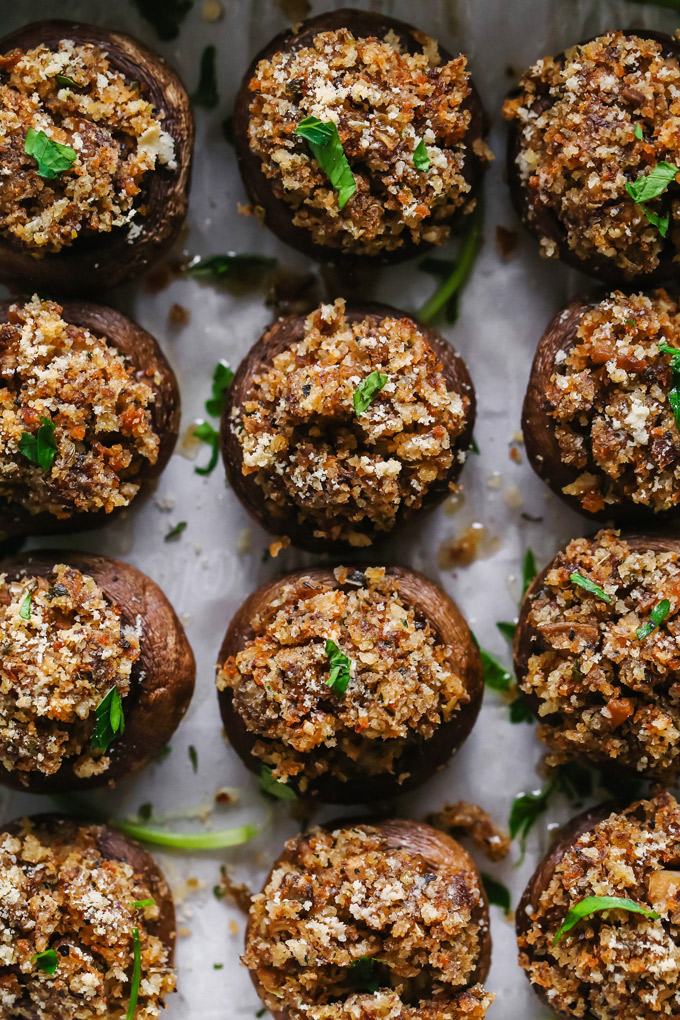 Can't even deal with the fact that 2018's Thanksgiving is this Thursday! Aaaah, why do the years go by as fast as weeks the older you get?! But let me not damper the mood with all that when we must talk about these Classic Italian Vegan Stuffed Mushrooms that need to be on not only your Thanksgiving Menu, but your weekly, forever meal plan.
Legits bomb to the dot to the com and so so super easy, made with the easiest ingredients. Also the filling can be or act as a quick, last minute, throw togetehr stuffing! It doesn't have corn bread or anything like that, it's just breadcrumbs, but with the right seasonings, it could be anything. And this instant accidental stuffing is probs one of my faaaves.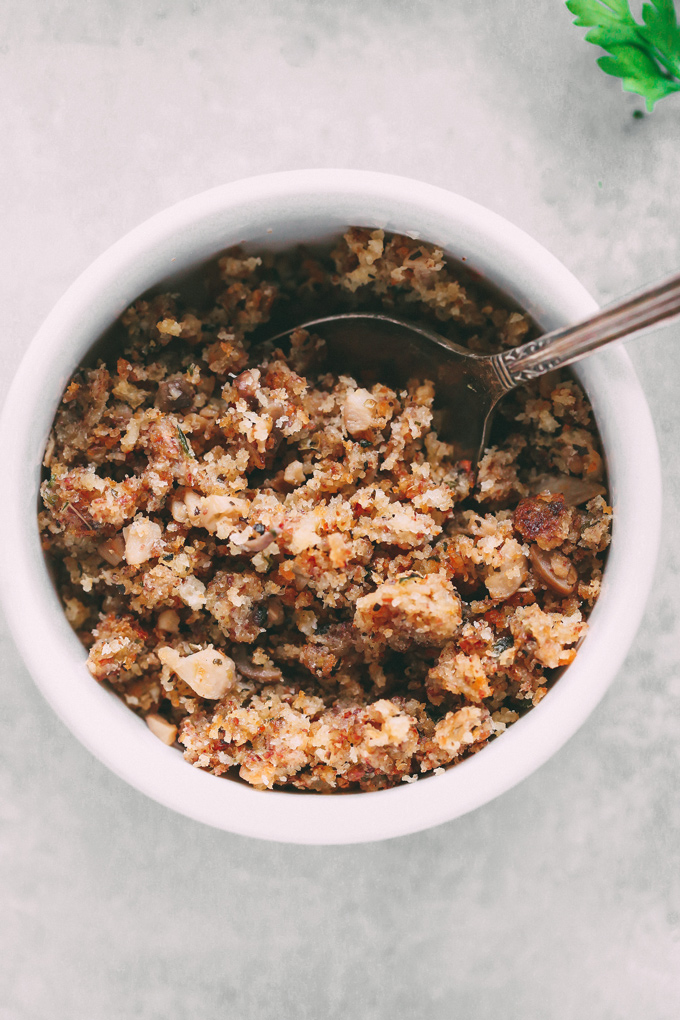 You can use regular bread crumbs or panko bread crumbs, either way it will work out great. Any mushroom will work too just make sure they're on the bigger side so you can overstuff them. Just how I like em'.
Let's talk mushroom health benefits for a second. All types of edible mushrooms contain varying degrees of protein and fiber. They also contain B vitamins as well as powerful antioxidants like selenium, potassium, copper, which helps to support the immune system and prevent damage to cells and tissues. Mushrooms are amazing for breast tissue too and they lower inflammation.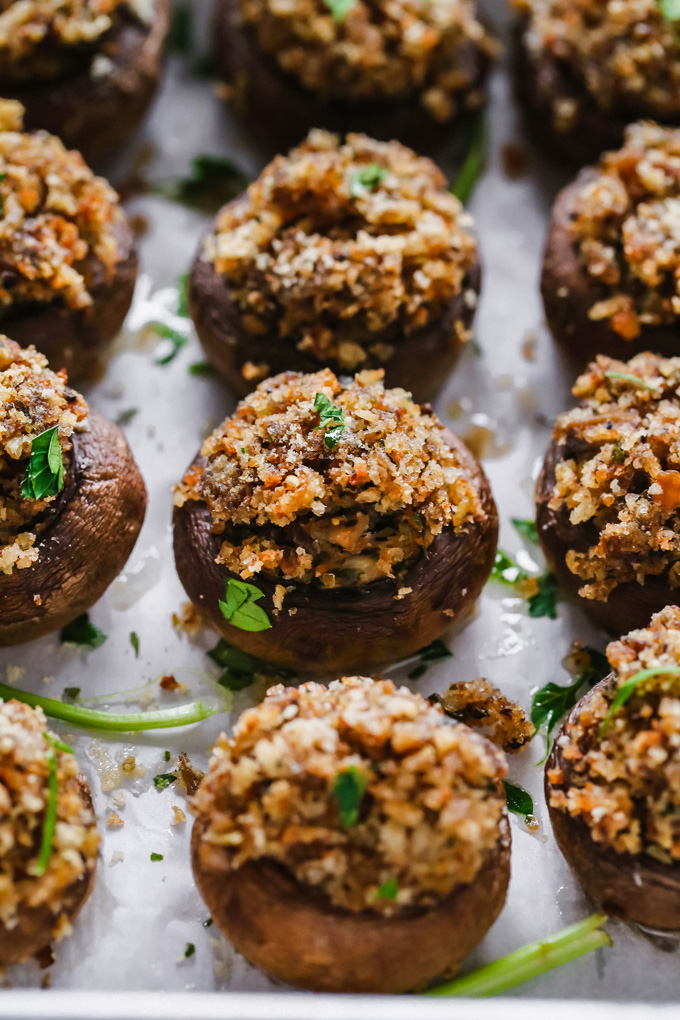 For plant eaters or vegans, mushrooms are an excellent meat replacement. Different mushrooms have different textures. For some you could make burgers, fish tacos, and "steaks". I mean, these are all the reasons to love mushrooms. They go with any meal and can be almost anything. I wonder why they're not up there yet with cauliflower. They are the chameleons of food.
This would only be a problem if you hate mushrooms, which some people do and that's alright, not everything is for everyone.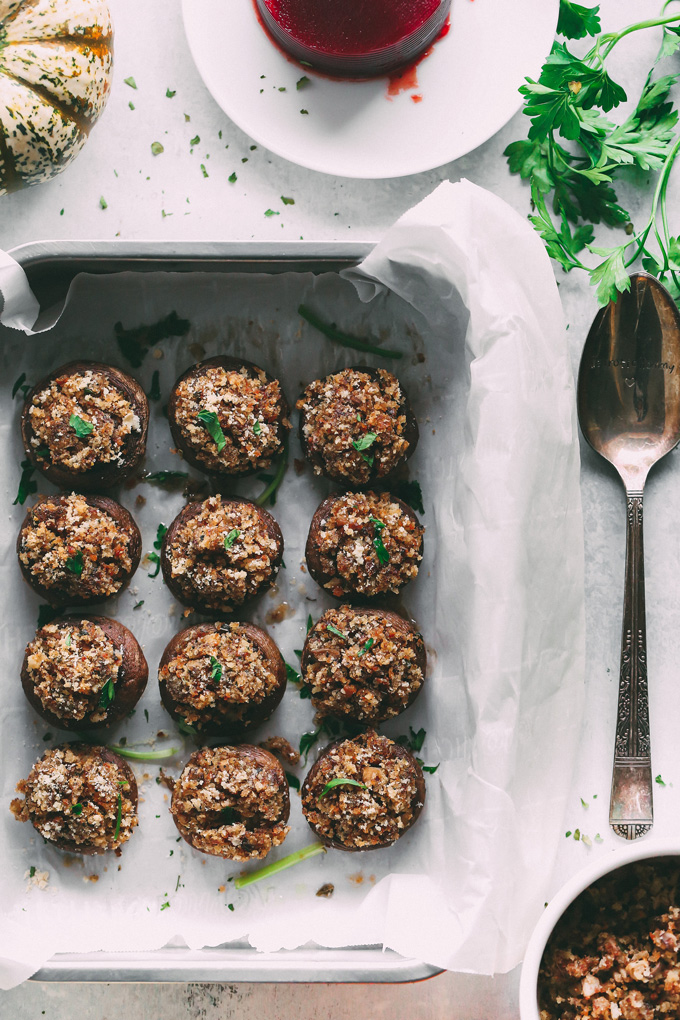 Now let's get down  to the ingredients. Ok so clearly mushrooms right, I like the organic, larger white button mushrooms for this. Some organic breadcrumbs, you can do like I said panko or regular and even GF works great too. I also like to get breadcrumbs that are already Italian seasoned. However if you're in a bind and the place you're shopping in doesn't have them and they only have plain, no worries. Grab a bag and we will season these babies up ourselves. I also suggest getting some fresh parsley and something like avocado oil for when you need to bake them.
The ingredients you need are: (obvi) breadcrumbs, fresh garlic, dried parsley, dried basil, dried oregano, onion powder, garlic powder, salt/pepper, and vegan parmesan cheese. Throw some vegan butter in the mix and BadaBing!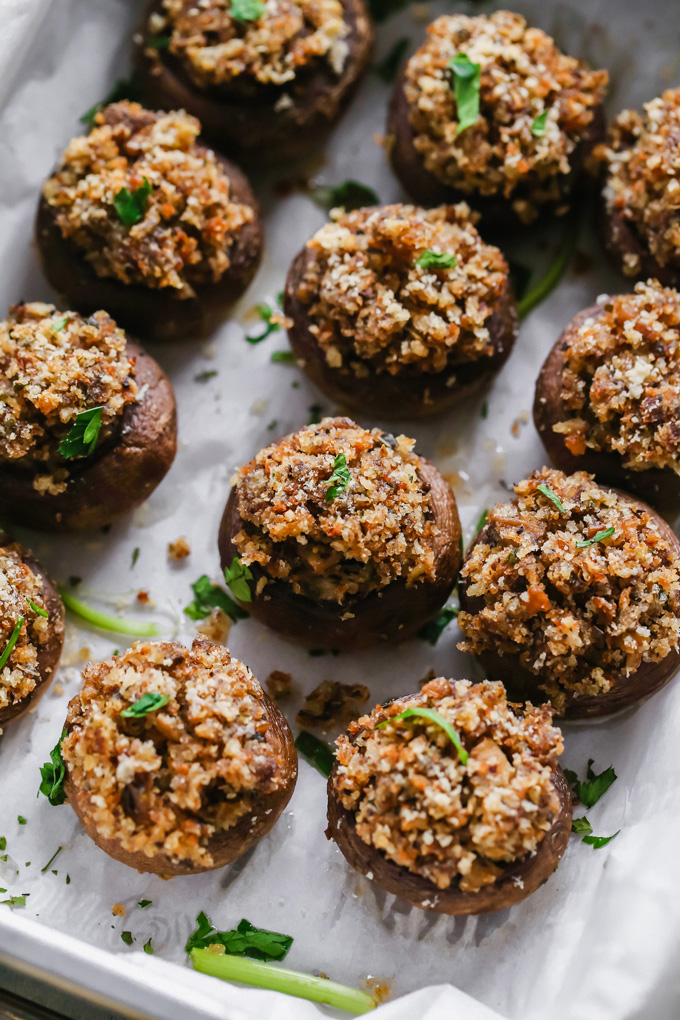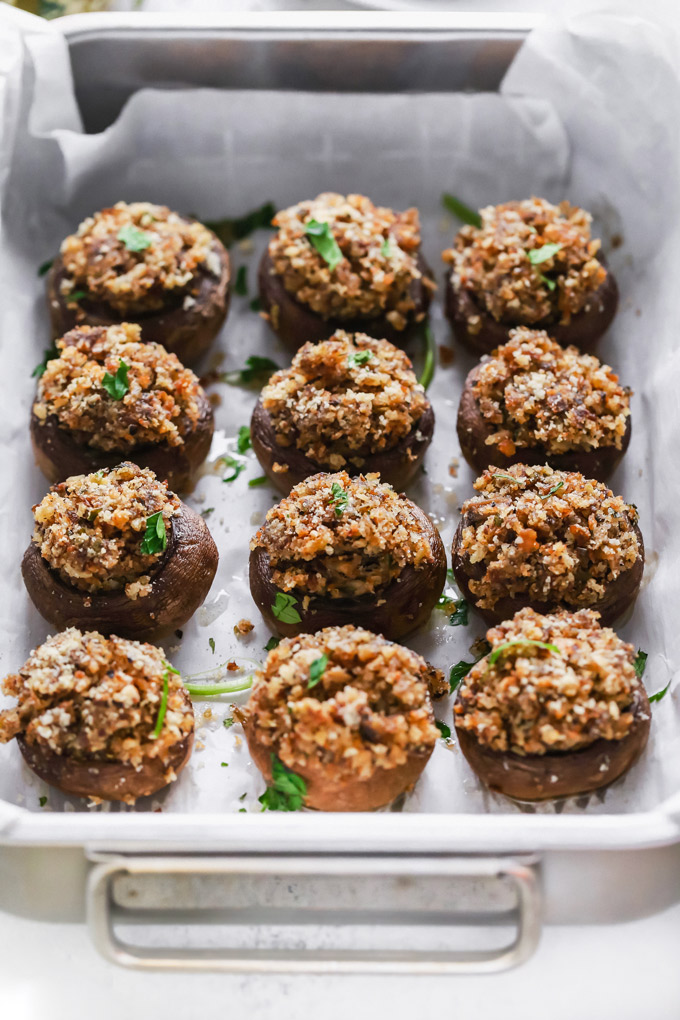 There's really nothing else to it. I'd say make a bunch, double, triple or quadruple this recipe if you have to because these are like one of the first finger/side foods to go. They're so full of delicious flavor, they have a "meaty", juicy texture, everyone will just love em! I've been eating them this way since I was a kid and my kids now love them. It's nice to see recipes you grew up with veganized and shared amongst family friends.
Sending you all a smooth week of menu planning and meal prepping for the big day! If you need some desserts to accompany your vegan feast check out my Vegan Thanksgiving Dessert Menu with over 10 delicious tried and true recipes.
What are some of your must have vegan sides for Thanksgiving? I'd love to know so we can swap ideas and perhaps try something new!
Classic Italian Vegan Stuffed Mushrooms
Filled with a stuffing full of flavor and spices and baked to perfection. These are a Thanksgiving must have.
Ingredients
12 medium/large organic white button mushrooms
1 cup organic Italian seasoned bread crumbs
1/3 cup vegan butter spread
2 garlic cloves, minced
1/2 tbsp parsley
1/2 tbsp basil
1/2 tbsp oregano
1/2 tbsp garlic powder
1/2 tbsp onion powder
1 tbsp vegan parmesan
salt/pepper to taste
3 tbsp avocado oil, divided
fresh parsley to garnish
Instructions
Clean mushrooms by using a damp rag and removing any dirt.

Remove stems from mushrooms and dice the stems. You will use them in the stuffing mixture.

Heat up the butter in a fry pan while you mix the breadcrumbs and seasonings together.

In a large bowl mix together breadcrumbs and all seasonings such as parsley, basil, oregano, onion powder, garlic powder, vegan parmesan, and salt and pepper.

Pour mixture into fry pan with melted butter. Add in 1 tbsp of avocado oil too. You want the entire breadcrumb mixture to be moist and covered in butter and oil. Cook this on medium heat ensuring even distribution of moistness throughout all of the breadcrumb mixture. Cook this until golden brown and it sticks together well. To test you can pick up some with your hands (be careful it will be hot) and mush it together to see if it stays, which is should.

Remove the breadcrumbs from the fry pan and add in the diced mushroom stems to the fry pan. Cook them in the remaining oil and let them get brown. Once done mix in with bread crumbs.

Preheat oven to 350F and line an 8x8 baking dish or cookie sheet with parchment paper.

Now it's time to stuff the mushrooms! Fill each mushroom up with however much breadcrumb stuffing you'd like. I really like to stuff mine leaving a mound on the top. When stuffing them press down with your spoon without breaking the mushrooms and fill to the top letting it come up and out a bit.

Drizzle tops of mushrooms with 2 tbsp of avocado oil, making sure to get some on the tops of each mushroom. Sprinkle tops with extra vegan parmesan cheese then bake for 20 minutes. Once cooked you can garnish wit fresh parsley.

Serve right away and enjoy!
Notes
This amount of stuffing is good for a little over 12 medium sized white button mushrooms. Double or triple this stuffing recipe for any amount you intend to make. 
 ~Pin This Recipe~