Vegan Keto Celery Snacks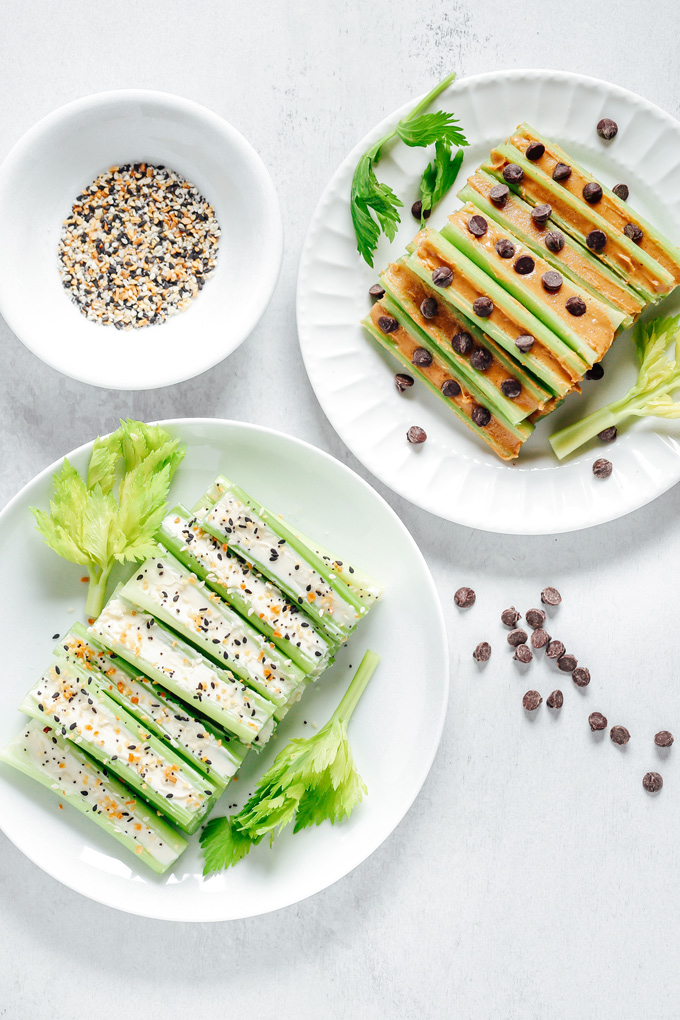 Happy New Year Friends!
This is the first official post of 2020 and I'm so excited and happy to have entered another year of amazingness. To start us off I'm coming at you with one of my most favorite snacks ever…Vegan Keto Celery Snacks!
Simple and all sorts of super delicious, one is filled with vegan cream cheese then topped with everything bagel seasoning and the second one is filled with peanut butter and topped with sugar free chocolate chips. Can you say YUM! Not only a great snack for keto lovers but generally all around. A hussy of the snack world if you will. (hehehe)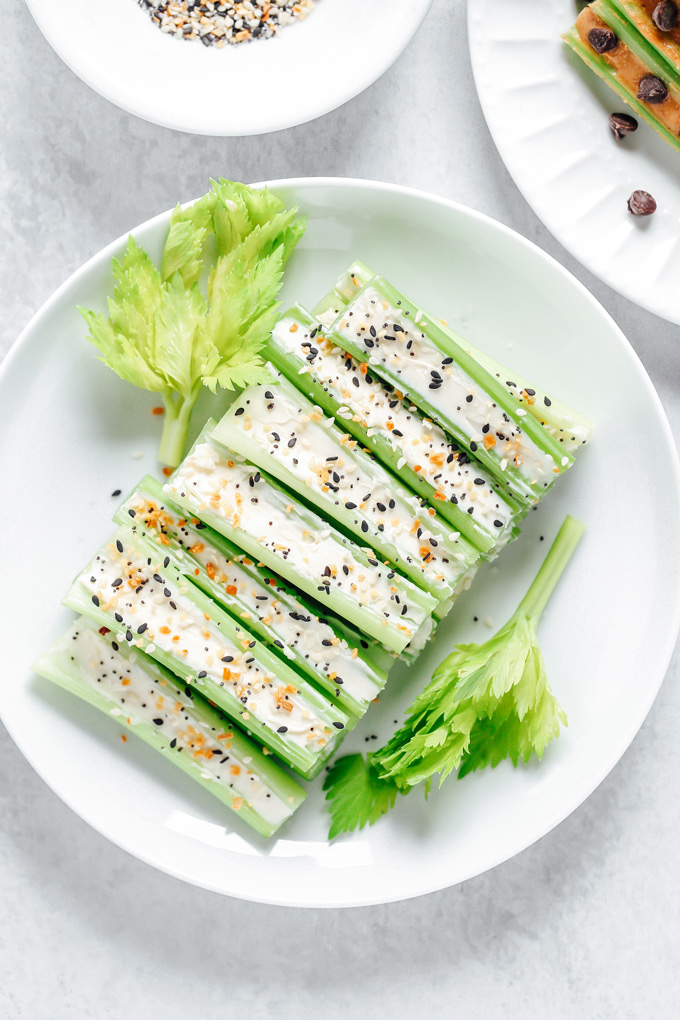 To be completely honest with you, snacking on celery wasn't always my top pick. I love it in meals like soups, broths, salads, dips and what not but I would literally cringe when I would hear someone say they snack on celery sticks. In my head I would always think "yes but do you actually enjoy it", lol. Celery can be so blah and bland and blah. However, with a little sprucing up, celery has become truly one of my faves. As long as I can stuff it with something or dip it into something I'm no longer bored and look forward to my healthier snack times.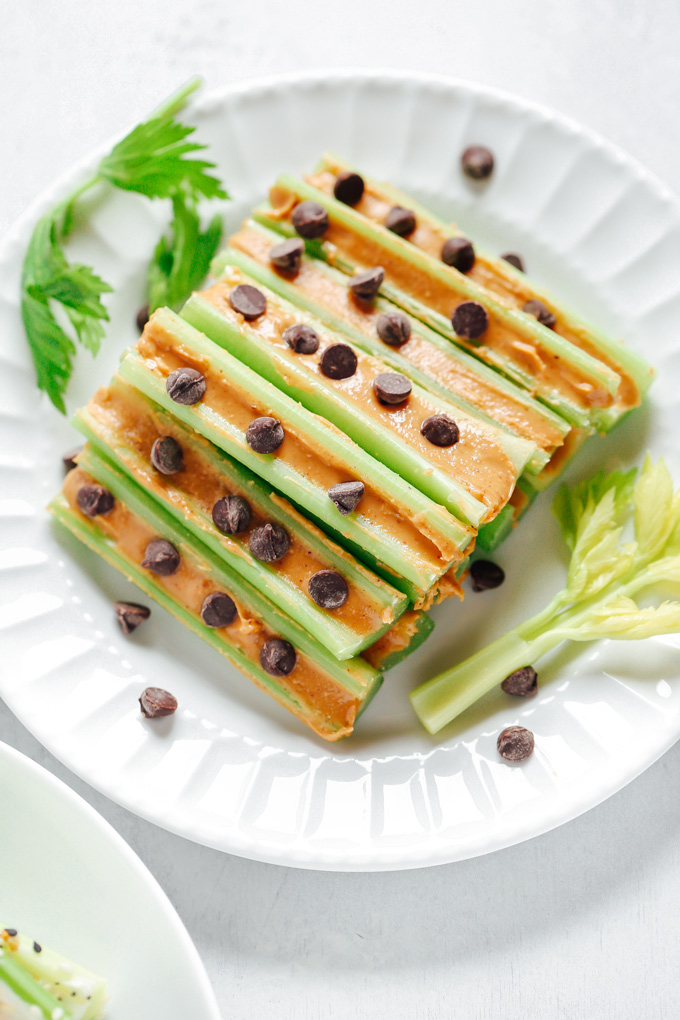 Celery is very low in calories, is very low in carbs, fat, but is also extremely beneficial for you. I'm sure you all heard about the benefits of celery juice and the whole celery juice craze but it's even more than that. This vegetable comes packed with so so so much that's good for you it's going to be kind of hard to ignore now.
After this hopefully you look at snacking on celery in a whole new light. That's if you were bored with it like I was.
Benefits of Eating Celery
Great source of antioxidants
Reduces inflammation
Extremely rich in vitamins and minerals
Low on the glycemic index
Supports gut health and proper digestion
Has an alkalizing effect
May help reduce your risk of heart disease
Supports male fertility
95% of celery is made up of water
Do not discard the celery leaves as they too are packed with all the benefits. 
Be Picky With the Celery You Buy
Snack on celery smart. Celery is on the Dirty Dozen list of being one of the most pesticide contaminated produce. Pesticides get absorbed through the roots of the stalks, so if you can, buy organic. Celery is typically inexpensive. I buy mine organic from Trader Joe's for a little over 2 bucks. Well worth it.
Digestive Sensitivity
If you have any digestive issues celery can make you feel not so great. Celery is an insoluble fiber which means that if you're sensitive, it won't be well digested by your digestive tract and can lead to bloating and/or diarrhea. Getting fiber is essential for all of us and is very much needed but too much for sensitive people can be uncomfortable.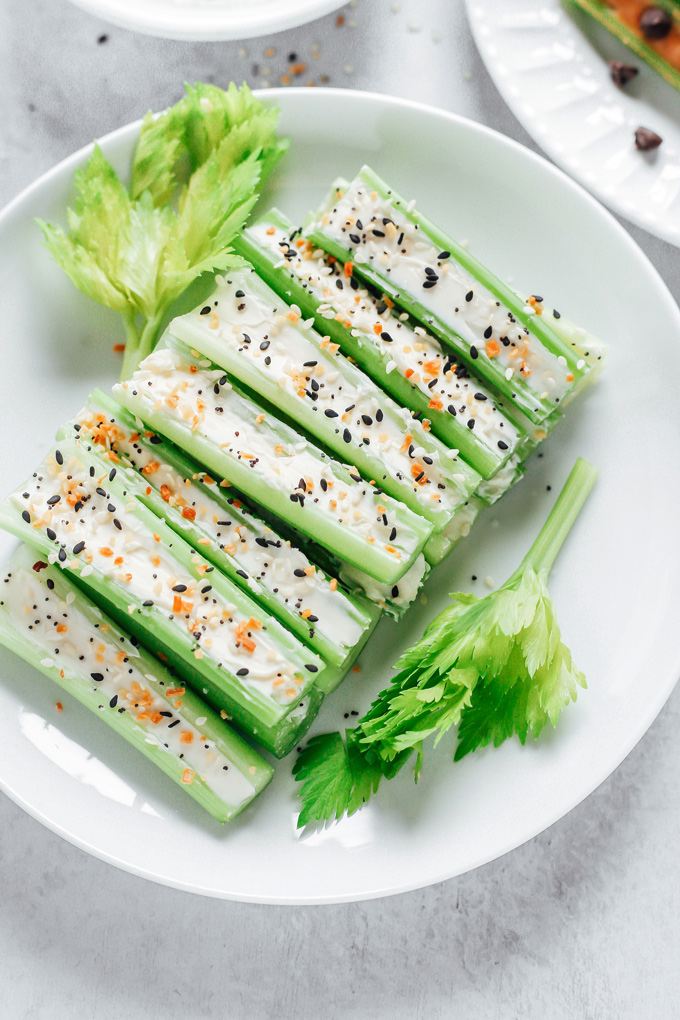 Moral of the story is don't skip on the celery like I use to. Find ways to make it work so you can benefit from all this stalk has to offer. Hopefully you try these ideas out and love it as much as me! And I'm telling you, coming from a hardcore snacker, this hits the spot.
Vegan Keto Celery Snacks
Filled with creamy goodness through every bite making this a snack to look forward to.
Ingredients
1 lb (16 oz) celery
1-2 tbsp vegan cream cheese
sprinkle of everything bagel seasoning, (per celery)
1-2 tbsp peanut butter
a few sugar free chocolate chips, (per celery)
Instructions
Remove celery root, trim and discard the tops of the celery. Clean and rinse then cut stalks in half.

Fill each stalk with either cream cheese or peanut butter then top with desired toppings. I top the cream cheese filled ones with a sprinkle of everything bagel seasoning and I top the peanut butter ones with vegan sugar free chocolate chips.

I also like to dip celery in my vegan spinach dip, so good!
Notes
The measurements are an estimate. You an use more or less of either filling for each stalk and top with as much seasoning or chocolate chips as you like. 
~Pin This Recipe~