Baked Polenta Fries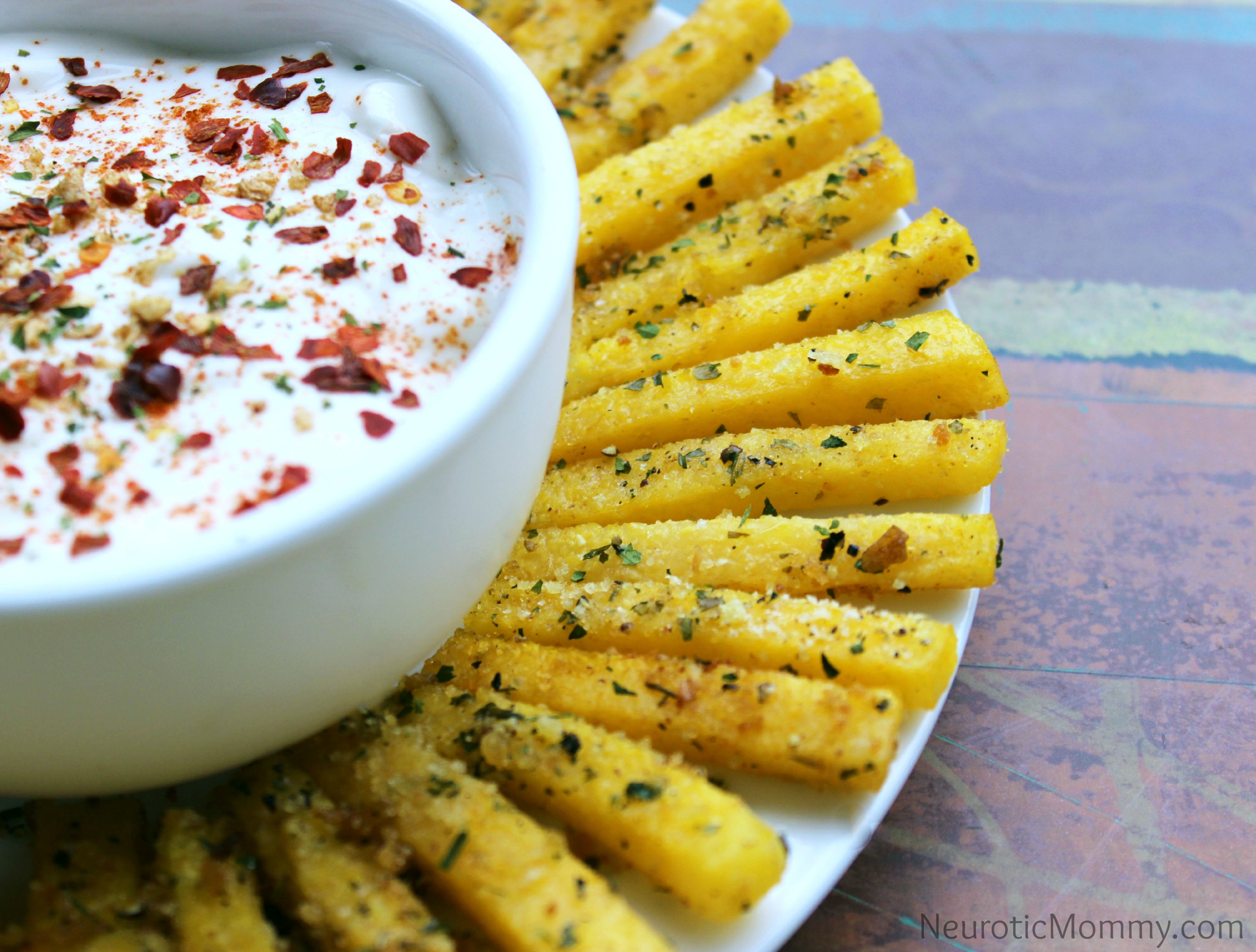 Ahhh I know what you're thinking. French fries are totes not healthy. But these aren't your ordinary fries my sweet healthees (nickname for my readers). These are oh so delicious baked polenta fries! Ah-Hem. Sided with a spicy "mayo" dipping sauce did you say? Oh yes I did (finger snaps).  Are ya having a drool fest yet? Ok Ok cyber tissues for everyone.
This was super easy and quick to make. I don't know about the rest of you Moms out there or anyone in general who wants to be all barefoot and NOT pregnant in the kitchen all the live long day. I look for things I can make sometimes that are in and out. Fast food made healthy. Eff all that other garbage. I rather take the 10-15 minutes to whip something up than to stop at a fast food joint. Which pretty much takes the same amount of time and effort. But it's something I use to be guilty of too! So I get it. But I've learned to break that habit. And you will too…Phew.
Regular fries are usually stripped of any and all nutrients then deep-fried in some sort of heart attack oil. So basically you're really not eating any real food. Just emptiness that can do more harm than good. I totally understand fries can be delicious but I ain't got the time to be blockin' the way to this big ole heart of mine. Ya feel me? LOL.
Ingredients
1 pound (18ounces) organic ready made polenta
salt/pepper to taste
1 tbsp parsley flakes
2-3 tbsp bread crumbs
Spicy Mayo
1 c vegenaise mayo
2 tbsp crush red pepper flakes, (optional)
1 1/2 tsp parsley
1 tsp paprika
salt/pepper to taste
a squeeze from half a lemon (optional)
Method
Preheat oven to 350F and line baking sheet with parchment paper. Spray lightly with non stick cooking spray.
Cut polenta in the shape of fries.
Place on baking sheet and season with all the seasonings mentioned above. Bake for 20-25 minutes.
For the spicy mayo mix all ingredients in a medium bowl.
You can add as much of each seasoning as you'd like. It's your preference. If you want it even more spicy you can even add hot sauce. The choice is yours.
Enjoy!
Jenn's Note*** This is such a hit in my home. When I make these (and I often do) they go right away. Such a healthy alternative to regular fries. Polenta can be found at any grocery store or health food store. I purchase mine usually from Trader Joe's.