Banana Ice Cream with Mixed Berry Swirl
jump to recipe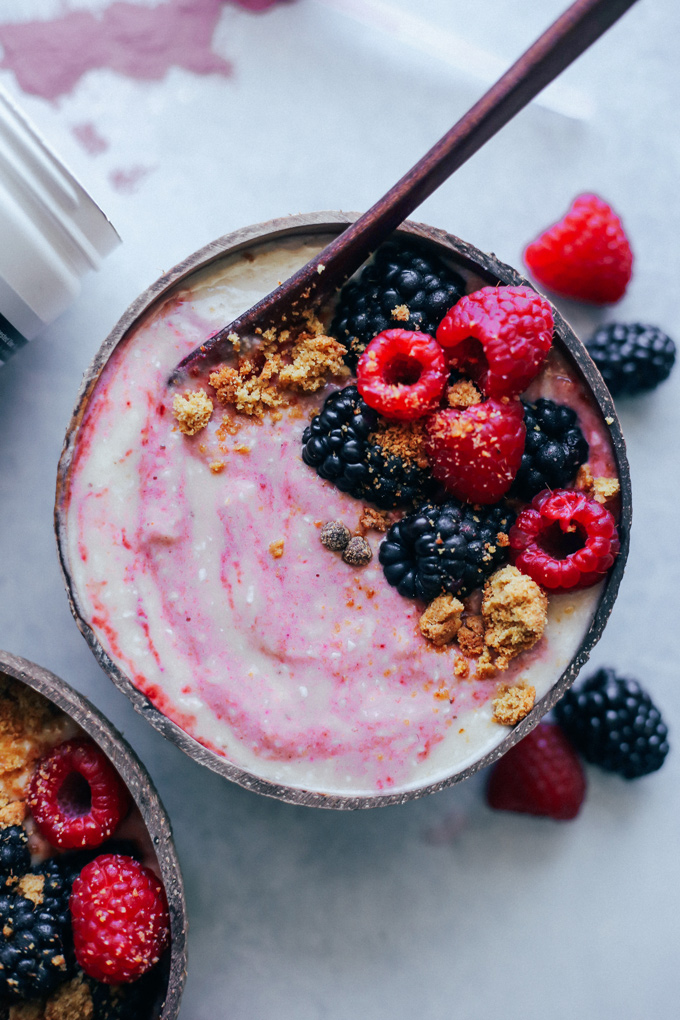 Let me start by saying that Banana Ice Cream with Mixed Berry Swirl gives me all the yummy feels for summer. School is almost out, the sun tries hard everyday to shine (much like us women), and the days in my hood are getting hotter and more humid (say goodbye to good hair days, lol). There is nothing more delish, more easier, more refreshing than ice cream that has zero guilt. Raise your hand if you've ever been victimized by a pint of dairy free Ben & Jerry's ice cream *raises hand*.
With this one there is zero fuss, zero muss and it's super duper good for you. And yes I'm a grown ass woman that says things like super duper and easy peasy. It's part of my vocabulary now that I have young ones running around. I embrace the corny. lol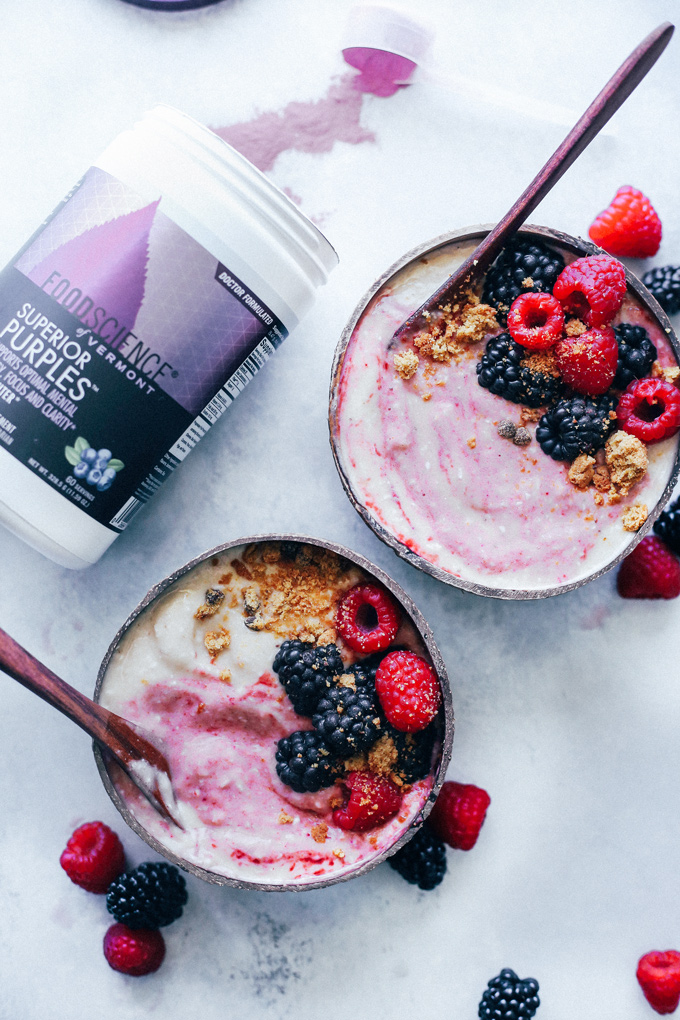 *Thank you to FoodScience for sponsoring this post. Check out FoodScience Superior Powders high quality, organic, and delicious products for taste you can trust!
Being a mom who just gave birth 5.5 months ago I really want to take care of my body. It goes through so much while pregnant, birthing, then after the fact your body needs so much time to recover, heal, and get back to it's new normal. A healthy immune system will be able to help you with all of that. I make sure I take my vitamins everyday to keep on top of aiding my body with what it needs. It's tough because there's so much out there product wise it can get super overwhelming.
I've been using FoodScience Superior Powders going on 3 weeks now and I'm super impressed. If you follow me on Instagram you know I've been dealing with postpartum hair loss which is scary and also super annoying. The last thing anyone wants is to pull handfuls of hair out of their scalp. Sometimes there's not much you can do because it's your body doing it's thing to recuperate. However I noticed a huge decrease in the amount of hair that's been coming out. So much so that I don't really notice it. It seems to be back to it's normal shed and growth pattern.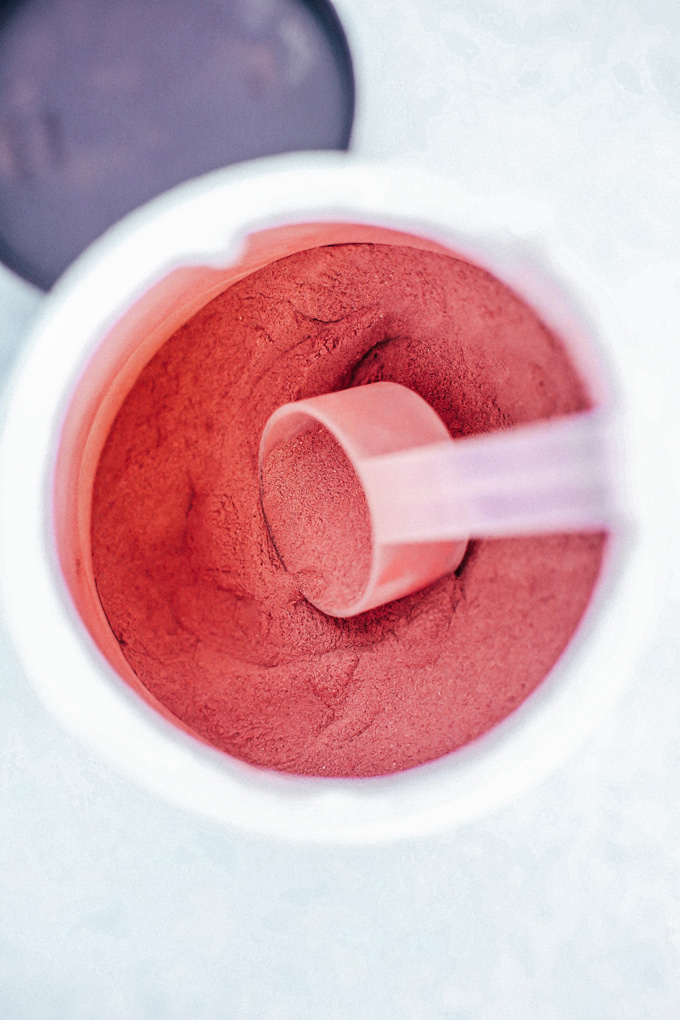 I've also noticed a brightness to my face. I mean it could just be my darling good looks but I'd say I was looking a bit drab for a bit. Maybe I didn't necessarily look drab but I felt drab on the inside.
I've been adding Superior Purples in my morning smoothies, in my Banana Ice Creams blends because it's super easy to throw in there without having it alter the taste so much. I don't like to just add this to water. I need to add it into something even dairy free yogurt is perfect for mixing too.  You only need a half scoop per serving once a day and there are 60 servings in one container. This makes Superior Purples not only good for you but also affordable as you won't go through it in just a few days. Something I noticed also and thought was convenient.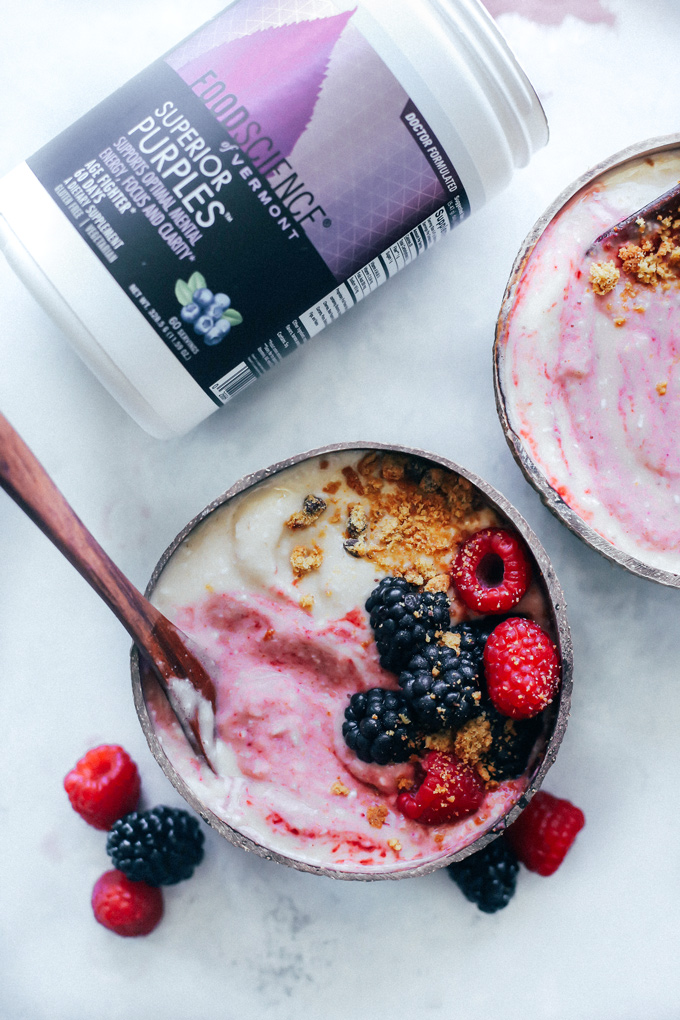 Besides all the wonderful physical things it aids in, this particular powder supports optimal mental energy and focus on clarity. It's doctor formulated which I was a bit skeptical about at first because I thought it could just be run of the mill ingredients but the ingredients in this are legit solid which is why I was impressed and agreed to test this product out.
You will find ingredients like blueberries, elderberries, blackberries, raspberries, plums, figs, raisins, goji, pomegranate, camu camu, acai, and strawberry in this blend.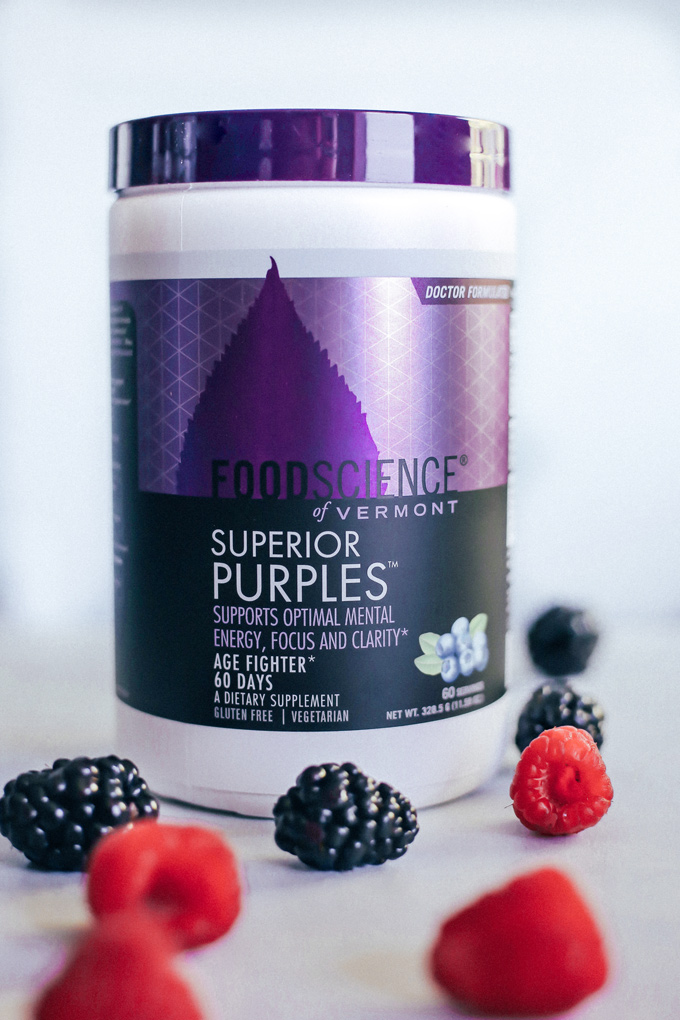 Superior Purples is a delicious healthy-aging drink mix that combines 19 whole fruits, vegetables, and extracts, using some of natures most provocative foods. Think darkly colored fruits and veggies because they naturally contain a variety of potent free radical scavengers as FoodScience likes to call them. These provide a variety of health benefits that help support the immune system, are brain and heart healthy, providing you with mental clarity and giving you a natural boost of energy.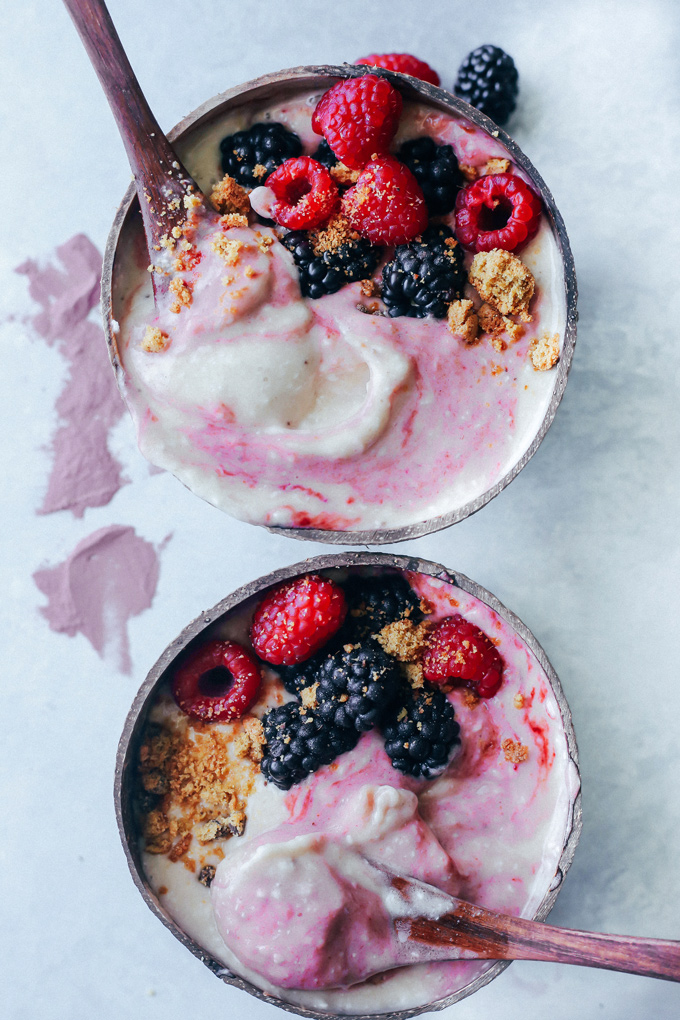 And this powder definitely does not take away the deliciousness of Banana Ice Cream. In fact it's what gives this beauty its Mixed Berry Swirl….how gorgeous right!?
To recap:
It's formulated to support smooth, healthy, radiant skin- immune function- cognitive and memory function- immune system function and much more.
Superior Purples powder drink mix combines 19 nutrient rich whole fruits and vegetables.
Contains health promoting phytonutrients like: anthocyanins, ellagic acid, phenolics, quercetin and others for total mind and body support.
Each jar contains 60 servings.
There are 3 Superior Powders
Superior Purples (vegan friendly)
Superior Greens (contains bee pollen)
Superior Reds (vegan friendly)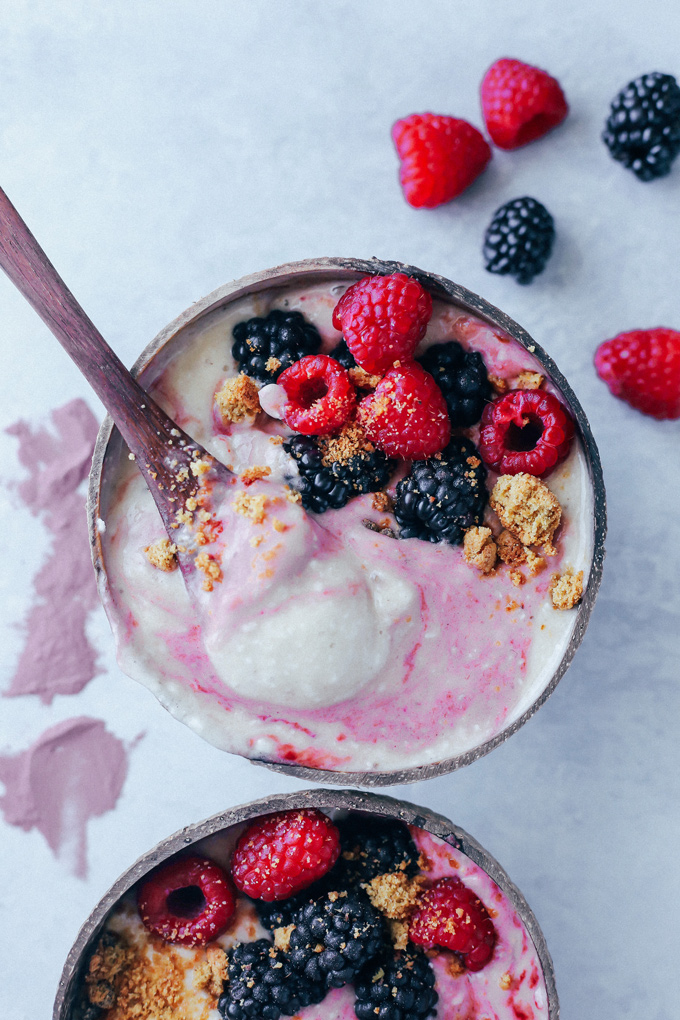 Superior Powders are available online and at your local Rite Aid®. Look for them in the supplement aisle. Each canister of Superior Powders contains 60 servings.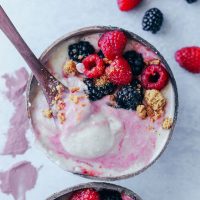 Banana Ice Cream with Mixed Berry Swirl
Cool down with this easy banana superfood ice cream, nourishing your body with whole fruits and vegetables from the inside out with Food Science Superior Purples Powder.
Ingredients:
4 frozen bananas
1 cup frozen coconut cubes
1/4-1/3 cup almond milk or any dairy free milk
2 dates
2 servings Superior Purples (1/2 scoop per bowl)
extra berries and granola to top (optional)
Directions:
Place all ingredients into the blender except superior purples and blend until ice cream like consistency. It should resemble soft serve. You may need to stop and scrap down the sides a few times.
Pour into smoothie bowls or glass jars, mix in half scoop of Superior Purples and top with desired fruits or granola. Enjoy!

I was selected for this opportunity as a member of Activate and the content and opinions expressed here are all my own.