Ultimate Loaded Grilled Vegan BLT
This is the Ultimate Loaded Grilled Vegan BLT minus the B…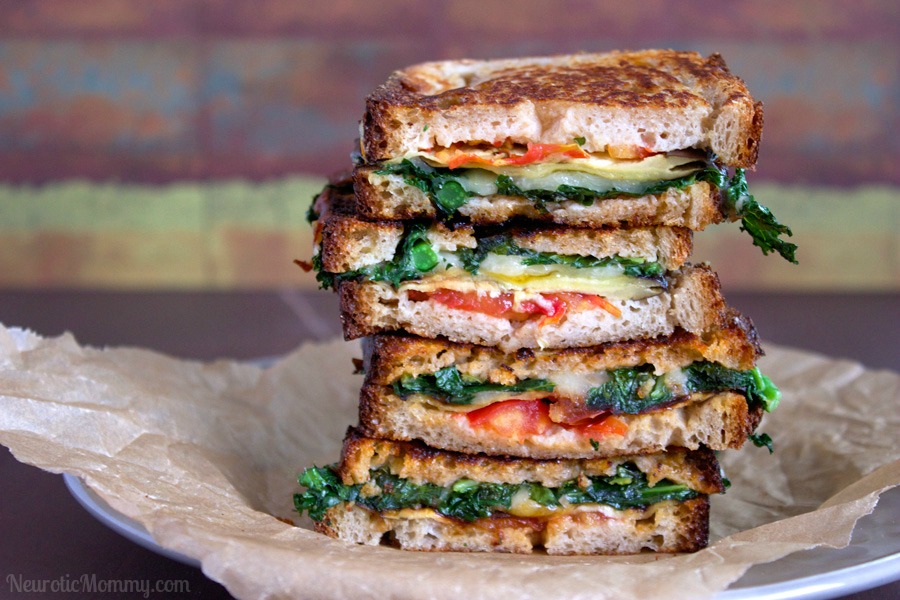 When you're stuck in your apartment because it's snowing or raining outside what is better than some comfort food right?! These sandwiches are not only stacked with goodness but they are on the healthier side of things. I mean not if you eat like three of them (although totally possible). However one is enough. This is the type of sandwich where you'll finish yours and look to the person next to you to see if they are going to finish theirs. And then, when no one is looking you proceed to shovel it down your pie hole like a wild boar hahaha. Just kidding (or am I?) LOL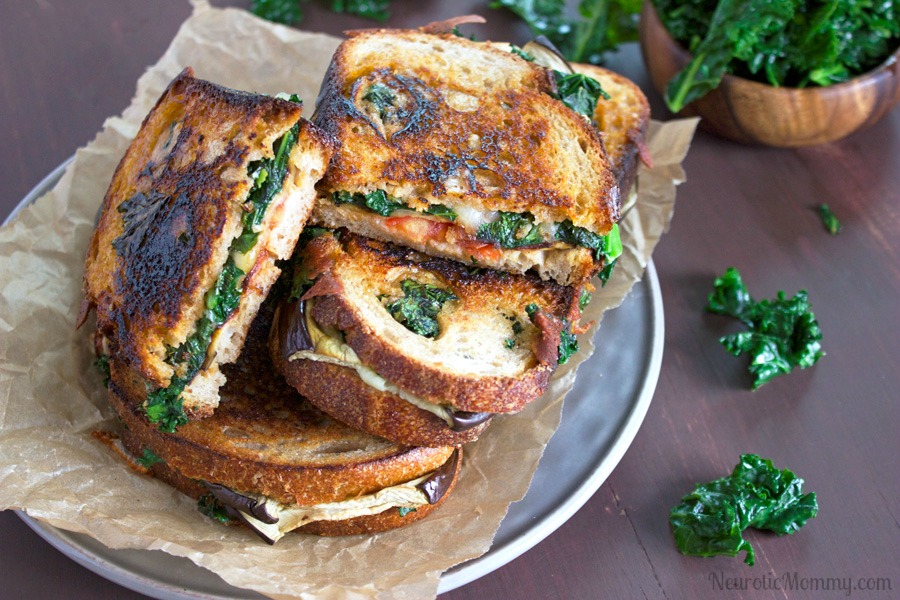 This version of the classic sandwich the BLT is made with kale, eggplant, tomatoes, vegan mozzarella and organic vegan thousand island dressing. If you need a moment or two to take all that in I completely understand.
The original sandwich is made with bacon. I know a lot of people who are bacon lovers and I also know a lot of people who just don't like bacon at all. I happen to be one of those people who doesn't like it.  Even before I switched over to being plant based I never really liked bacon. But hey, if that's your thang I'm not judging ya. Anywhoozers…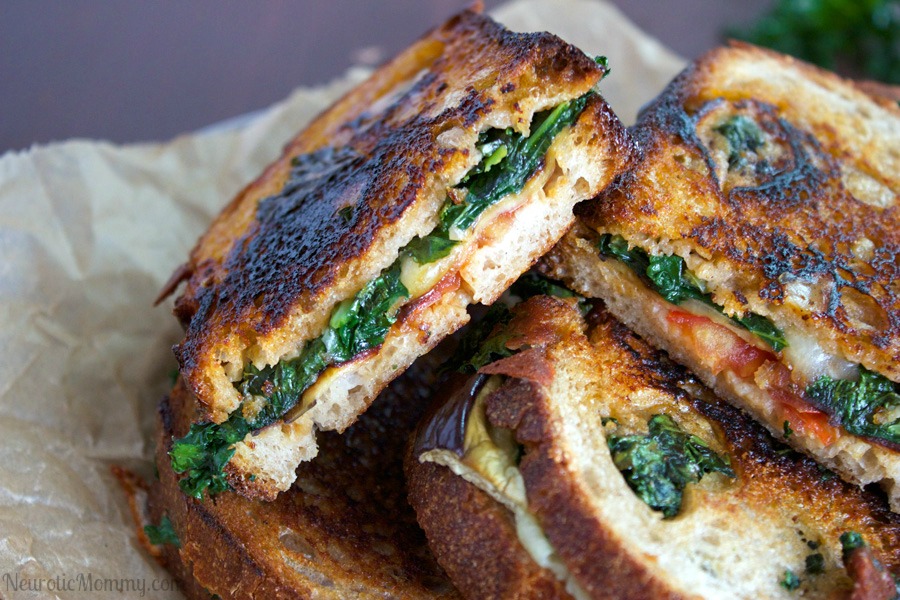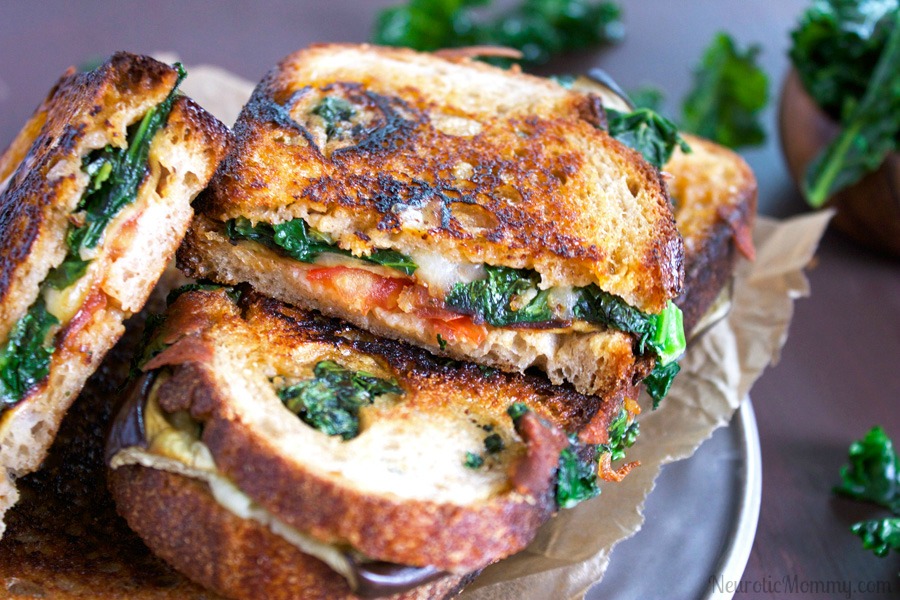 I swapped out the bacon and mayo and replaced it with grilled eggplant and thousand island dressing. I cleaned and cut the eggplant lengthwise and left the skin on. I sprinkled it with himalayan pink salt and let them sweat it out for about 15 minutes. I placed them in the oven and roasted them for 20 minutes. Totally delicious. All I did to the kale to soften it up was water sauté it for a few minutes. You can use extra virgin olive oil too. I've done both and both taste great. But don't go heavy if you use oil, only use about 1/2 a tablespoon per 2 cups of kale.
The bread that I used was perfect for this sandwich. It's actually a yeast free organic french sourdough bread. Amazing grilled, just amazing. I used coconut butter and spread it across the pieces that were going to hit the fry pan. It doesn't taste like coconut if that's what you're worried about but any vegan butter spread or even margarine will work just fine too. I like that lightly toasted buttery texture. What kind of grilled sandwich would it be without.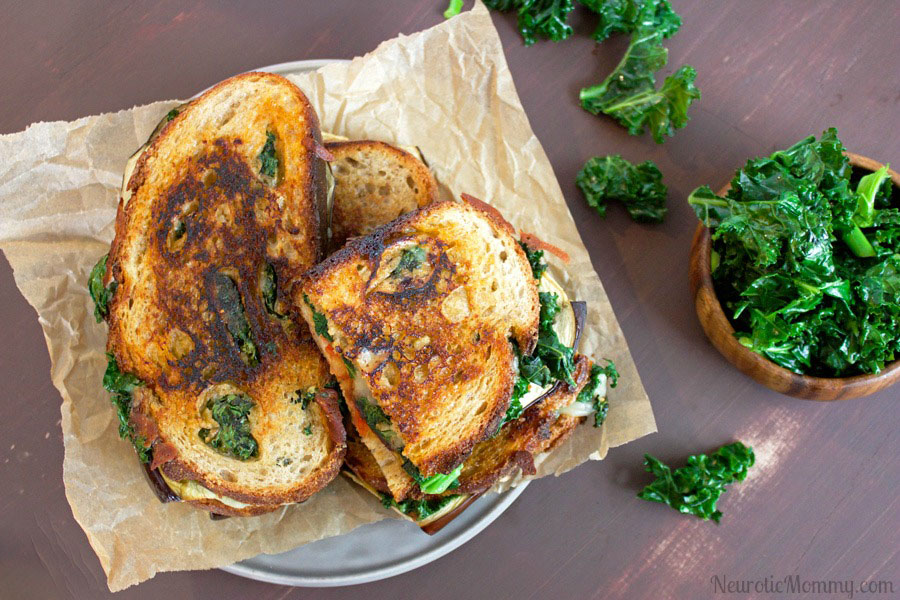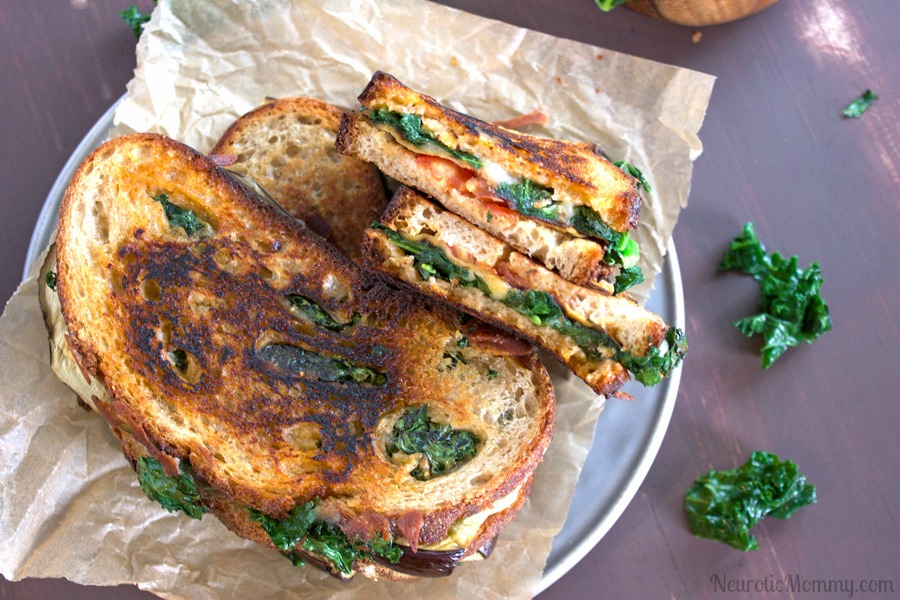 I added vegan cheese because my son and husband like it. You can opt not to use the cheese but I highly recommend it.
If you have a presser go for it but if not just use a fry pan and smash the sandwiches down with a large spatula. Sometimes the old school way is the best way.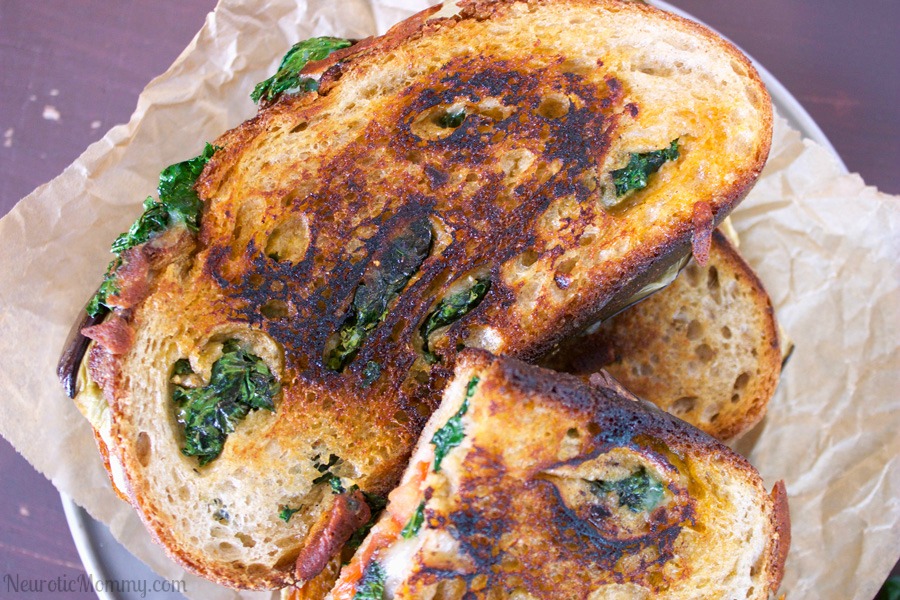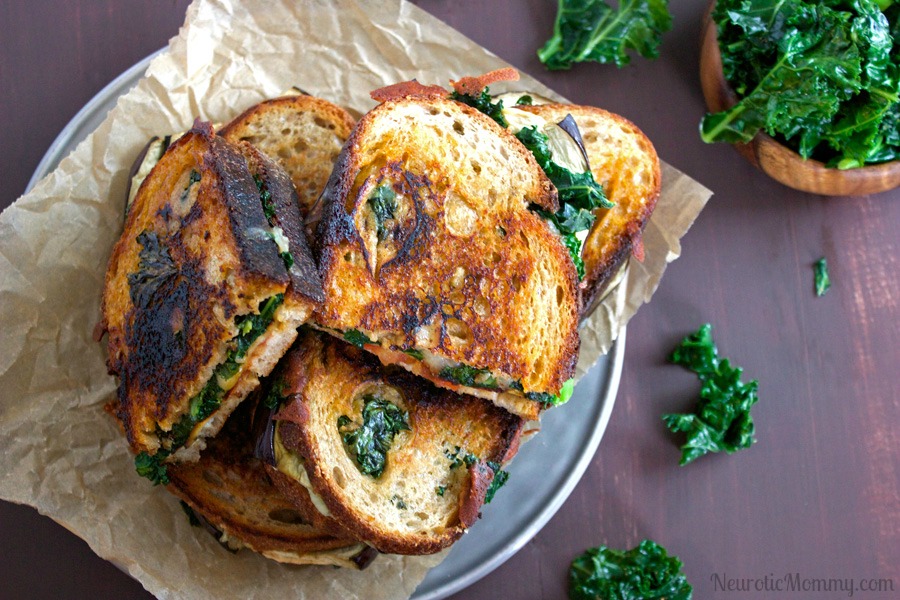 Instead of siding this sammie up with regular chips you can make kale chips or just have a small side of kale salad like I did. I used lemon juice and pink salt to dazzle it up and it was a perfect match for this wintery sandwich dream. You can even do soup! Soup and sandwiches are a married couple aren't they. Live it up people, live it up.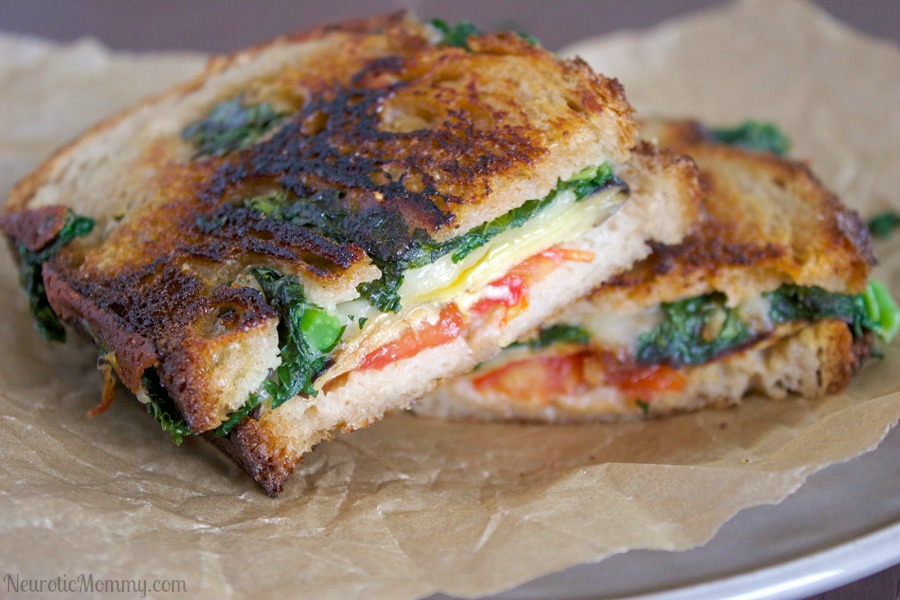 Ultimate Loaded Grilled Vegan BLT
Recipe Type: Sandwich
Author:
Prep time:
Cook time:
Total time:
Serves: 4
The Ultimate Loaded Grilled Vegan BLT will keep your belly full and your insides nourished.
Ingredients
8 slices of Sourdough French Bread
4 cups kale, lightly sautéed
1 tomato, sliced
1 eggplant, cut lengthwise
1/2 c vegan shredded mozzarella cheese
2 tbsp vegan thousand island dressing
vegan butter spread of choice
salt/pepper to taste
Instructions
Preheat oven to 400F and line baking sheet with parchment paper.
Clean and cut eggplant lengthwise leaving the skin on.
Sprinkle eggplant with pink salt, place it in a strainer and let them sweat it out for about 15 minutes.
Once that is done place eggplant on baking sheet and bake for 20 minutes.
Remove from oven and set aside.
Lightly water sauté kale. You can use extra virgin olive oil but only use 1/2 tbsp for every 2 cups of kale. Once that is done also set aside.
Butter the outside of each piece of bread that will be hitting the fry pan.
[b]Putting it Together[/b]
Place the buttered side of bread on the fry pan and spread thousand island dressing across it.
Take less than a handful of kale and distribute it evenly across the slice.
Sprinkle as much cheese as desired.
Top that with two pieces of eggplant and two tomato slices.
Close sandwich with other piece of bread leaving the butter side up.
Press down each sandwich with a spatula.
Cook on both sides until golden brown and crispy but not burnt.
Repeat process until all sandwiches are made.
Enjoy!